If you're looking for video conferencing software to connect with your team through audio and video virtual meetings, you've likely heard of GoTo Meeting.
GoTo Meeting is among the most popular options for video conferencing due to its simple interface and great features.
Having extensive experience in using video conferencing tools for over a decade, I am well-versed in various software, including GoTo Meeting, to conduct audio and video conferences.
This article will discuss what makes GoTo Meeting stand out among other video conferencing software and why it is an excellent choice for audio and video conferencing. 
What Is GoTo Meeting?
GoTo Meeting is a video conferencing tool that provides an excellent balance between cost and features.
You can schedule, host, and record meetings with your team. They also offer drawing, encyrpted audio and video and more features.
How Does GoTo Meeting Work?
GoTo Meeting works by allowing you to set up a meeting via the hub page, send invites, add the session to your Google calendar, and more needed to create an outstanding video conference.
You can also use screen sharing, do meeting recordings, note taking, and participate in a chat.
When signing up with GoTo Meeting, you can choose the free version or a paid plan. Once you have designated a plan, you can set up a meeting or join a discussion.
Anyone can install the app on their mobile device and join meetings without obstacles.
---
GoTo Meeting Features
GoTo Meeting offers many useful features, including:
1. Screen Sharing And Chat
GoTo Meeting allows screen sharing for your whole screen or a specific portion of your screen. The sharing provides a brush to set color, size, transparency, and the ability to make drawings disappear.
There is also a fading feature to make the drawing disappear after a few seconds. You can access the chat with a pop-up window during meetings.
2. Advanced Conferencing Features
GoTo Meeting offers unlimited cloud recording. When you record meetings, they go to a pre-configured folder unless they are set to go to cloud storage. After the meeting, you can review the recording and get highlights and full transcription.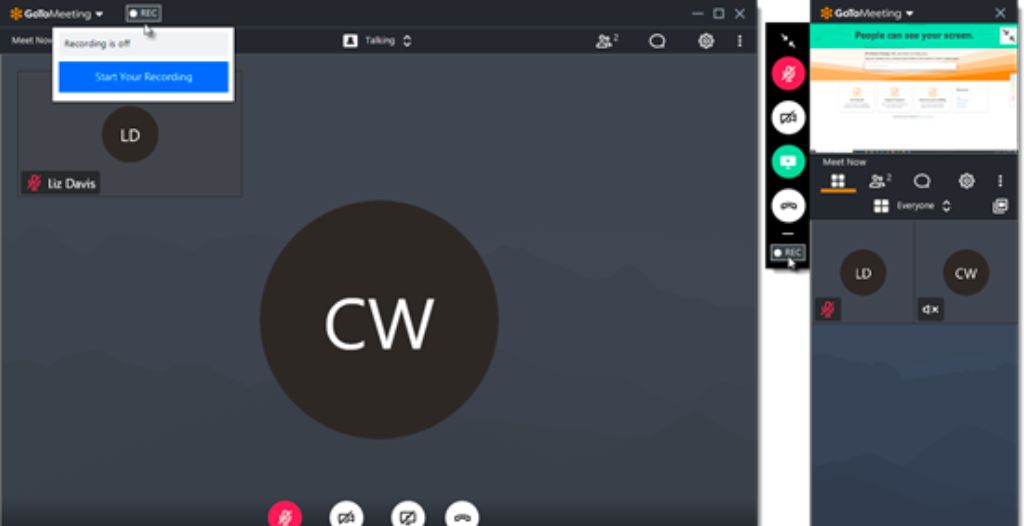 GoTo Meeting lets you trigger reactions such as raising your hands, putting a thumbs up or down, emojis, etc. GoTo Meeting enables you to integrate directly with Google Workspace or Microsoft 365 calendar apps.
This allows you to schedule meetings and share them with others immediately. It also offers add-ons to add meeting invites directly from Outlook or Google Calendar.
3. Mobile Conferencing
GoTo Meeting lets you schedule a mobile conference. GoTo Meeting has an app that can be downloaded for any mobile device and allows participants to join with full functionality from their mobile device. 
4. Security
GoTo Meeting provides HIPAA-compliant software packages with a built-in security feature. They provide 256-bit encryption, allow your information to be stored on SOC2-certified data centers, and offer risk-based authentication to flag any unusual logins.
5. Smart Assistant
GoTo Meeting's Smart Assistant feature can help you with taking notes. You can also share unlimited cloud recordings with a simple web link.
The recording includes audio, any screen-shared content using drawing tools, and any other shared content, as well as a written transcript. 
Unlimited cloud recording can also be searched to cut action items or any other part of the meeting. Searching with the Assistant will automatically adjust the playback of the content. 
In order for video conferencing technologies like Zoom to reach mainstream use, it needed the following things to reach greater maturity such as camera technology, smartphone popularity, computer chip manufacturing, and more.
– Hendrith Vanlon Smith Jr, CEO of Mayflower-Plymouth
---
GoToMeeting Benefits
GoToMeeting provides several benefits, including:
1. Allowing Full Control Over Participants
GoTo Meeting allows you to take over control of the equipment of an attendee. Suppose they struggle to find information during a presentation or have another issue. This feature allows you to show them exactly where the data is or combat the problem.
It can be done instantly if you or a coworker need to share documents with multiple people. They provide you with most of the feature options with other video software, such as add-ons that can customize the experience of the GoTo ecosystem.
3. Only Need A Data Connection
You can host meetings anywhere with GoTo Meeting. All a host needs is an internet connection that has decent quality. This makes it simple to join discussions because you just need a link to join, similar to Zoom meetings. 
4. Ability To Host Large Meetings
With GoTo Meeting, you can host meetings with up to 250 users. This enables you to turn your meetings into webinars, all-company events, or large-scale customer conferences. 
5. Integrations
GoTo Meeting offers several integrations per organizer. To maximize productivity, the GoTo ecosystem offers integrations with Google's Calendar, Chrome, Zapier, and more.
The software provides a versatile feature to integrate with almost anything you need to invite users, manage your meeting, and more.
Pros
Custom package options

Annotation during screen sharing for clients

Meeting recording

Useful meeting features
Cons
No whiteboard function
Our Rating
Features:

4.9

Security:

4.9

Support:

4.9

Pricing:

4.8
---
Downsides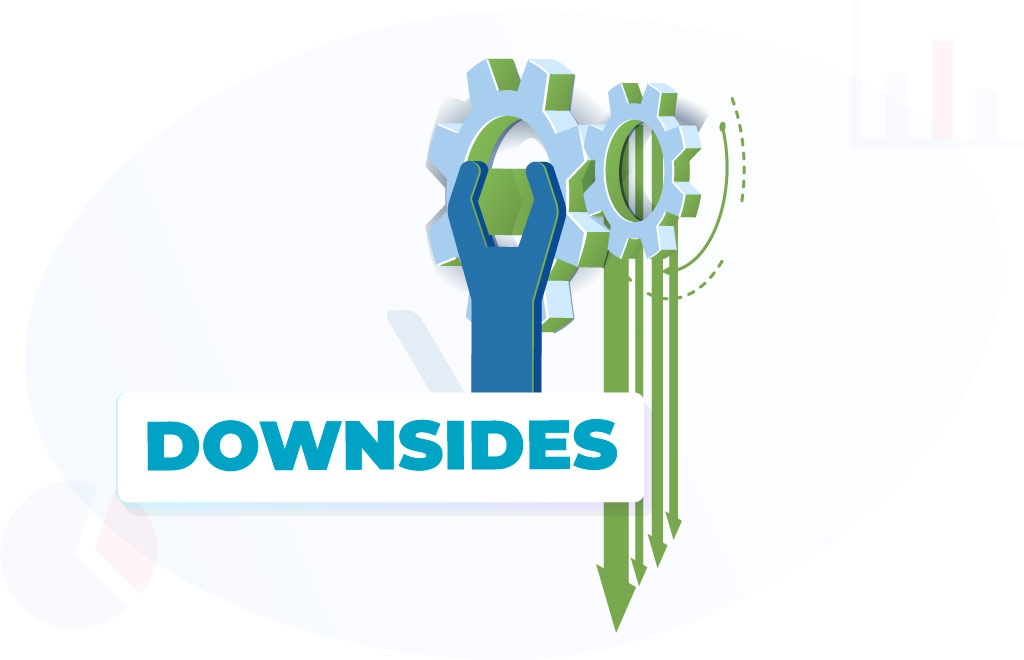 While GoTo Meeting provides many great features per organizer, it suffers in a few key areas.
No True Whiteboard Feature
GoTo Meeting doesn't offer a true whiteboard feature like Zoom meetings and other platforms. To use a "whiteboard" effect, you have to pick a white screen; it doesn't offer any specific tools.
No Virtual Backgrounds
Unlike Zoom meetings, you can't set a virtual background with GoTo Meeting. Instead, they provide a free license for ChromaCamPro, a third-party app allowing you to blur your background. 
How To Use GoToMeeting?
To use GoTo Meeting, you will need to sign up and download the app.
After that, you will have options to start an instant meeting, a one-time rooms meeting, start your own personal meeting room, join a discussion, view past meeting recordings or stats, copy a meeting invite to send it to others, edit or delete meetings, search for users, add a meeting to the calendar and more.
---
GoTo Meeting Pricing
The GoTo Meeting entry-level plan, the Professional plan, starts at $12 per month, billed annually. It includes up to 150 participants per organizer, HD video, screen sharing, unlimited meetings, no meeting time limits, business messaging, a private meeting room, breakout rooms, and hand-raising.

The Business plan starts at $16 per organizer billed annually and includes up to 250 attendees, unlimited cloud recording, transcription, slide to PDF, Smart Assistant, note taking, drawing tools, keyboard and mouse sharing, meeting lock, and co-organizers.

The Enterprise plan provides custom packages. The custom packages include everything from the previous two packages plus in-room links, mobile cloud recording, a customer success manager, onboarding and training, and volume discounts.
GoTo Meeting offers a free version, but you can only host up to 3 attendees for 40 minutes.
GoTo Meeting User Testimonials
---
GoTo Meeting Alternatives
GoTo Meeting is conferencing solution; however, it may not be ideal for every purpose and business. This is how GoTo Meeting compares with other popular platforms.
GoTo Meeting Vs. Zoom
Zoom is very easy to use and offers great security with its end-to-end encryption. GoTo Meeting is more designed for business and offers more useful features for paid plans.
Zoom is also a lot more expensive if you want to gain access to these features. However, it offers a free option but limits meeting time and other features, so I would always choose GoTo Meeting over it.
GoTo Meeting Vs. Demio
Demio is one of the strongest webinar tools on the market, known for its simple interface that allows you to host meetings easily.
Unlike GoTo Meeting, it offers multiple customization options for webinars and a diverse range of virtual events.  It is also much easier to use and provides an outstanding experience to all participants.
Demio offers an amazing user interface and features, and I would definitely say it offers the largest number of useful features. Feel free to check our Demio review for an in-depth features analysis.
GoTo Meeting Vs. GoToWebinar
While GoTo Meeting provides more of a business format, GoToWebinar specializes in hosting webinars and provides a speaker and audience format rather than a meeting-type structure.
It also supports a greater number of viewers, up to 1000, which makes it a better choice for large meetings and webinars.
GoTo Meeting provides limited reports after a meeting, while GoToWebinar offers detailed info on the number of clients, polls, survey responses, and more.
Both of these tools are useful and provide the ability to meet with clients. However, they have different purposes and functions.
FAQs
Do I Have To Install GoTo Meeting To Join A Meeting?
No, you don't have to install GoToMeeting to join a meeting. You can join a meeting online, via mobile phone, and more. 
Is There A Limit To Attendees With GoTo Meeting?
Yes, there is a limit to attendees with GoTo Meeting. With the top paid plan, the limit is 250; with the free plan, the limit is three attendees.
Is GoTo Meeting The Right Choice For You?
There are so many uses for video software in business. It allows you to interact not only with your team but also with potential customers or clients.
Choosing GoTo Meeting will provide your business with useful tools during meetings, such as chat, an easy-to-use user interface, screen share, participant control, and functionality.
However, I would always recommend Demio if you are looking for equipped software suitable for large teams. Their wide range of outstanding features and customizable options will guarantee you a seamless video conferencing experience.
If you want to start organizing webinars easily, I believe you should give Demio a try and explore its features.
Our #1 Recommendation: demio