Freelancers, especially online translator, rely on steady stream work to sustain their income levels.
As more multinational companies expand their businesses worldwide, the freelance online translator is highly sought after these days.
Below, we have listed some of the best ways you can get paid for translating online today.
Most of the platforms listed below have a plethora of jobs for online translators available on a daily basis.
Popular Platforms for Freelance Translators
Freelance platforms provide a great way for online translators to find translation assignments.
These websites function as an intermediary between freelance online translators and the companies that need such services.
You can make money online by offering business translation services as a freelance service provider or you may partner up with translation companies for consistent work.
Here are some of the most popular platforms you can explore if you know two or more languages.
1. Fiverr (

Editor's Choice

)
Fiverr is a popular and free-of-cost platform that has over 14 million users worldwide.
The plethora of jobs available vary in scope and role, but translating services remain amongst the most popular.
You can easily register and create an account here, and set your rate based on an hourly rate or by project.
Be sure to create a compelling and impactful introduction about your services and offers.
Once you get a client, make sure that they leave a review.
The more reviews, the higher the ranking on Fiverr, and the easier it is to find work for freelance online translators.
---
2. PeoplePerHour.com
PeoplePerHour has a similar concept to Fiverr.
You just need to register and create an account, and you can find online jobs for freelance online translators right away.
This site has an advantage in that they have an online job board section where "Urgent" jobs are listed.
With that said, you can find work almost immediately if you bid soon enough on these jobs.
---
3. Lionbridge
Lionbridge has a similar manner of working.
The platform offers AI, testing, and certified translation services.
There are several translation opportunities available that enable you to get paid for translating and earn an additional income working online.
You can earn a fair amount of money on a per-hour basis, depending on your skills and the complexity of the assignment.
---
4. Tomedes
Tomedes is a freelance translator agency that offers certified translation, business translation, and website translation, among others. This is one of the more popular in the translation industry.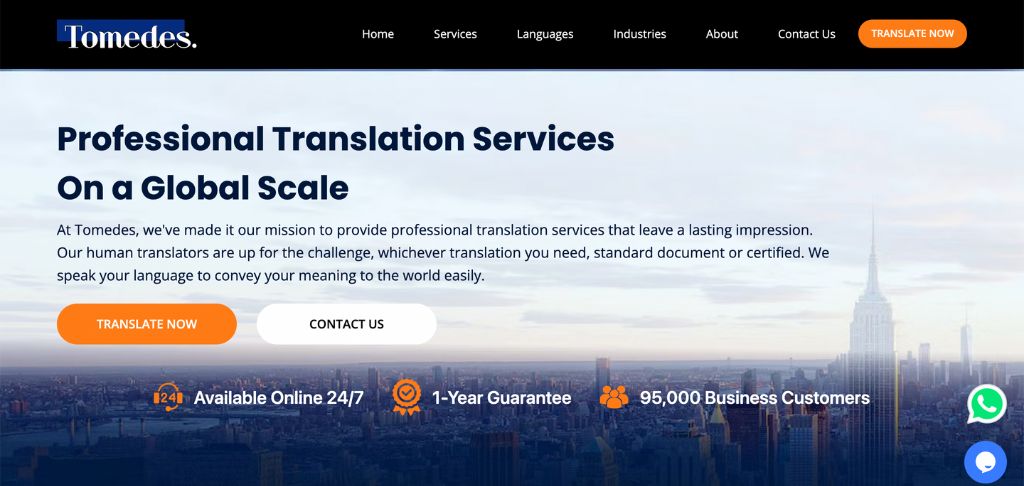 There are many freelance possibilities available.
You can start receiving regular projects once you pass the preliminary requirements and tests from the company.
If you can translate some of the popular languages, you can earn several streams of income using Tomedes.
---
5. Acclaro
Acclaro is different from other freelance sites, in that it only accepts people with prior experience.
As such, the rate of pay is higher.
Similar to an agency functioning, you get paid directly from Acclaro as opposed to the client.
You do need language qualifications, previous translation experience, or a literature degree.
Moreover, the salaries are good, ranging between $70,000 and 80,000 a year.
---
6. Translate.com
Translate.com is a popular platform that hosts jobs such as social media and blog posts, and support tickets.
Tasks are assigned on a first-come basis, and you can receive payments through PayPal.
All jobs are fully remote and flexible.
---
7. Unbabel
Unbabel offers a translation subscription service, where people and companies get their online content translated.
Common content types include blog posts, newsletters, customer service, and product descriptions.
The payment is on an hourly basis, and typical wages are $8 per hour.
The more time you spend translating on the site, the more you get paid.
---
8. OneHourTranslation.com
The application process on OneHourTranslation.com involves taking an online exam.
This site includes coveted jobs for freelance translators online, and once you take the exam you would need to send in relevant certifications.
If you are accepted, you get paid and can work as per your schedule.
You can also get access to their MasterCard, which allows you to withdraw earnings from anywhere worldwide.
---
9. Rev
Rev involves translating captions and documents from one language to another. Rates are between $0.05 and $0.07 for each word. The site also has captioner and transcriptionist jobs. Payments are sent weekly via PayPal.
---
10. TextMaster
TextMaster offers web content writing, proofreading, and translation services.
Earnings can be up to 15¢ per word. Once you reach a certain minimum account balance threshold, you can request payment via PayPal.
---
11. Tethras
If you are fond of mobile apps, then this is a good opportunity for you in the world of translation industry.
Tethras works mainly with mobile developers, providing translation services for their apps, in different languages.
You can begin to offer similar translation services for the company.
Once you register, you receive notifications on new jobs that are available.
You can check the job requirements, and accept them.
Once you complete the task, you receive the money via PayPal.
---
12. Aberdeen Languages Services Ltd.
Aberdeen offers business translation services, with 24/7 availability and competitive rates.
It also includes a desktop publishing segment, which translates the documents and creates finalized brochures.
You can apply to this site if you are an international freelancer, as their jobs are all remote.
---
13. CSC Translation
CSC Translation provides business translation services. Their emphasis is on quality content.
You can send in your resume and credentials to their email address, and see if you are eligible.
---
14. GlobaLink Translations Limited
Globalink focuses on the healthcare segment, especially medical, psychological, pharmaceutical, and research translations.
The company is constantly looking to expand its network of translation reviewers and translators.
You can contact them via phone, email, or fax, or complete an information form online on their website.
---
15. Linguistic Systems Inc.
Linguistic Systems Inc. or LSI has over 7,000 freelance translators working for them. If you would like to become a freelance translator, you might want to look into this one.
The company specializes in publishing, manufacturing, pharmaceutical, information technology, and legal fields.
You need a Bachelor's degree and a minimum of 2 years of experience as a freelance translator.
You also need access to basic software and email.
The application process requires you to take a few short tests to check for proficiency in translating between language pairs.
---
16. WordExpress
WordExpress provides global translation services in over 100 languages.
The company offers full-time positions and uses professional interpreters for many tasks such as legal translation.
You can begin the application process by emailing your resume to the company.
---
Start Selling Your Own Translation Work
You can also sell your own translation work online.
This is an excellent opportunity for you to create your own products to sell.
Being a freelance translator doesn't have to be just about finding other people's projects to work on, you can also create and sell your own translated works.
What Can You Translate and Sell Online?
If you have extra time, you could translate books into other languages and sell them online.
With that said, you can also sell short stories, songs, poems, or anything else translated.
Many of the classical texts do not fall under the purview of copyright law anymore, so these can be translated too.
You can translate these texts into a book or an eBook, and sell them online.
You can translate any writing that has a demand.
However, be sure to check on copyright issues first.
Create a Glossary
Translating jobs can also include creating a glossary.
A glossary can be a great way for people to get access to common terms in a particular subject, across different languages.
One of the examples is the IMF Glossary, which encompasses English, French, and Spanish.
It focuses on common terms related to accounting, money, and macroeconomics.
Glossaries do not have to restrict themselves to a particular topic.
You can create a glossary on any subject that you are knowledgeable about.
Common glossaries include terms on stand-up comedy, Harry Potter, surfing, and basketball, among others.
Receive Royalties From Your Translation Work
Another salient way to receive additional income is by translating an existing book.
You can reach an agreement with the writer, and receive royalties on translation.
Each time the translated book sells a copy, you can receive a percentage of the sale.
Literary translations can often be difficult to find, but if you are proactive you can land some good jobs.
Most writers are not going to easily trust someone with their book.
So, you do need to build rapport and understanding with that writer.
Although the initial work of finding such projects is difficult, once you get such a job, it can set you up for the long term, as it continues to make money without additional work.
Live Jobs for Translation
Types of Live Translation Jobs
Real-time freelance translators are in high demand these days.
If you are bilingual and proficient in translation, you can offer your services as a real-time interpreter.
Many jobs require such skills, such as online international business meetings, and police interviews.
As more jobs operate remotely, getting paid for translating online without being in the same location is easy.
With Zoom calls or Google Meet, you can instantly translate for the client during their international meetings.
Type of Live Translation
You do need to decide which type of live translation job you wish to go for.
For example, police interpreters will often work with lawyers, solicitors, and police stations.
The more niche and specialized your language skills are, the higher the rate you can start charging.
Other Money-Making Ideas for Translators
Tutoring
If you are bilingual, or know several languages and are proficient in translation, there are several other ideas that are not restricted to online jobs for freelance translators.
Tutoring can be an excellent way to earn extra money.
There are many people who wish to learn a foreign language.
You can easily reach these customers by creating your account on platforms such as Verbling or italki, which bring teachers and students together.
Just create your account, make a video introduction of yourself, and set your rates.
Then, you can start tutoring!
Transcription and Subtitling
You can leverage your translation skills for jobs in subtitling, transcription, and captions.
Popular platforms that specialize in these services include REV.com, GoTranscript, and GMR Transcription.
Average monthly pay on these sites ranges between $1,000 and $4,000, with flexible hours of work which can help you handle the rising cost of living and higher energy costs.
Things to Keep In Mind
Know the Colloquialisms
If you are an aspiring freelance translator, you should know the local colloquialisms of the language, the usage, and practice.
Knowing these aspects will accelerate the scope of jobs you can find through freelance translator job boards.
Translation Into a Native Language
It's easier to choose jobs for freelance translators that enable you to translate from a second language into your native language.
This helps you understand if the translated text reads correctly.
Fluency Tests
If you are applying for jobs as freelance translators via a translation agency, you might need to take fluency tests first.
Most agencies require potential candidates to take these tests to gauge their skill level.
It will also showcase your level of precision and accuracy when it comes to your translation skills.
Native Speaker
Agencies that represent you for potential jobs will need to make sure that you will deliver on quality.
They need that assurance that quality will not be compromised.
As such, many agencies require potential candidates to be native speakers.
How Much Money You Can Expect to Make
There is no fixed rate that you can make as a freelance translator.
It all depends on your skill level, your rate, and the number of clients you have.
The range of tasks will often vary, from translating simple correspondence such as emails to translating a few hundred pages of text.
The amount you make will depend on the level of difficulty in the job, and your own negotiation skills.
You can set your rate by the hour or by word.
Per word rates range between $.10 and $.20, while hourly rates range between $10 and $100.
It all depends on your abilities and your speed.
How to Get Certified as a Translator
A professional certification can propel your career as a freelance translator.
There are many certification and training programs online.
However, the ATA or American Translators Association remains the most popular choice.
You will need to write a certification exam, and if you pass that, you can write the designation "CT" or Certified Translator after your name.
Having a certification does provide a level of trust to your new clients, and also ensures a higher rate.
What are the Most Lucrative Translation Jobs?
We've compiled a list of the highest-paying translation languages, along with the average annual salary for each one, below.
German – $60,000 per year
Spanish – $48,000 per year
French – $45,000 per year
Dutch – $44,000 per year
Japanese – $42,000 per year
Russian – $43,000 per year
Italian – $36,000 per year
Chinese (Mandarin) – $35,000 per year
What are the Key Driving Factors for the Growth in the Translation Services Market?
The demand for translation services is largely attributable to the growing importance of regional markets in today's enterprises and in the consumption of audio-visual material.
What are the Most Important Markets for Translation Services?
The fields of law, finance, medicine, tourism, and travel are the most popular ones in which to find a freelance translator's services.
Which are the Major Translation Service Markets by Geography?
The largest markets for translation services are located in North America, Europe, and Asia-Pacific.
Ready To Start Translating Online? 
Freelancers have multiple translation platforms at hand for finding jobs, but it is hard to find a platform that has many job offerings and offers reliable payments.
Fiverr is one of the largest freelance platforms in the world, and it has thousands of opportunities for translators. It is available worldwide and is completely free to use, so even beginners can register and start their translation business.
If you need a trustworthy platform for translation job offerings, I believe you should check out Fiverr today and see if there is anything worthy of your time.
Our #1 Recommendation: Fiverr