If you are looking for a way to sell your handmade products online, Etsy may be the perfect platform for you.
We have spent countless hours researching the best tactics to become a successful Etsy seller, and we are excited to share our findings with you.
In this beginner's guide, we will teach you how to set up an Etsy store, create listings, and market your products.
We will also discuss how to manage your Etsy account and optimize your listings for maximum visibility and sales.
So whether you're a complete beginner or just looking for some tips and tricks, read on for everything you need to know about how to sell on Etsy.
Quick Summary
This guide offers a step-by-step process to set up an Etsy store, create listings, and market products.
It covers key aspects like understanding Etsy's demographics, managing fees, and using Etsy's advertising options.
Top tips include professional product shots, SEO optimization, unique About Me section, and customer appreciation.
How to Sell on Etsy Step by Step
1. Decide Whether Etsy Is the Right Platform for Your Business
Before you set up an Etsy store, it's important to do your research and make sure that Etsy is the right sales platform for your products.
After all, there are many different ecommerce platforms to choose from, and each one has its own strengths and weaknesses.
This section will go through some essential statistics about the platform, such as audience demographics, what handmade items are selling well, and all the different costs of selling on Etsy.
This will help you determine whether Etsy is the right platform for your business.
Key Takeaways
83% of Etsy users are women between the ages of 18-35.
The most popular items to sell on Etsy are bridal items, jewelry, clothes, and home decor.
To sell on Etsy, you'll need to pay a $0.20 listing fee for each item.
Etsy charges 6.5% of the sale price for each item you sell as transaction fees.
50% of Etsy users don't complete their purchases because of the high shipping costs
In addition to the transaction and Etsy listing fees, you will be charged a payment processing fee.
Etsy sellers in some countries will be subject to regulatory operating fees.
Etsy only does business in USD, so if you deal with other currencies, you will be charged a currency conversion fee.
Etsy fees can make up about 30% of your product revenue.
Etsy allows you to advertise your products on its platform to increase your visibility and sales.
Etsy has offsite ads feature where they can promote your products on other websites and social media platforms for 15% of the sale price.
For $10 per day, you can opt for Etsy Plus and get 15 free listings and $5 in Etsy ads credit in addition to some features like the ability to customize your Etsy store and email Etsy customers when an item is back in stock.
Etsy Users Demographics
Etsy has about 96.3 million active users with the majority of them being women (83%) between the ages of 18-35.
Most of Etsy's traffic comes from the United States, followed by the United Kingdom, Canada, Australia, and France.
What Items Sell Best on Etsy
Bridal Items
Jewelry & Ornaments
Clothing
Accessories (Scarves, Hats, etc.)
Vintage Items
Notebook & Journals
Posters & Stickers
Candles
Organic Cosmetics
Sewing and Crochet Pattern
Phone Cases
craft supplies
Toys & Baby Items
Listing Fees
Etsy charges you $0.20 per item to list a product in your shop for four months, or until the item is sold.
If your item doesn't sell within four months, you will have to pay another $0.20 listing fee to relist it.
There is no limit to how many times you can relist an item and there is an auto-renew option to keep your listings active without having to manually relist them every four months.
Shipping Fees
As an Etsy seller, you are in charge of shipping your products to your customers.
This includes the cost of shipping materials, such as envelopes, boxes, and packing peanuts, as well as the labels.
The costs vary depending on how much your product weighs, where it's being shipped from and to, and the shipping method you choose.
So you have to factor in these costs when pricing your products.
Keep in mind that 50% of buyers don't buy from Etsy shops because of the high shipping costs, so try to offer free shipping whenever possible.
Transaction Fees
When you sell an item on Etsy, they will charge you 6.5% of the listing price as a transaction fee.
So if you sold an item for $100, you have to pay a $6.5 commission.
payment processing fees
Customers can buy from Etsy shops using Credit and Debit Cards, PayPal, Apple Pay, Etsy Gift Cards, or any other approved payment method.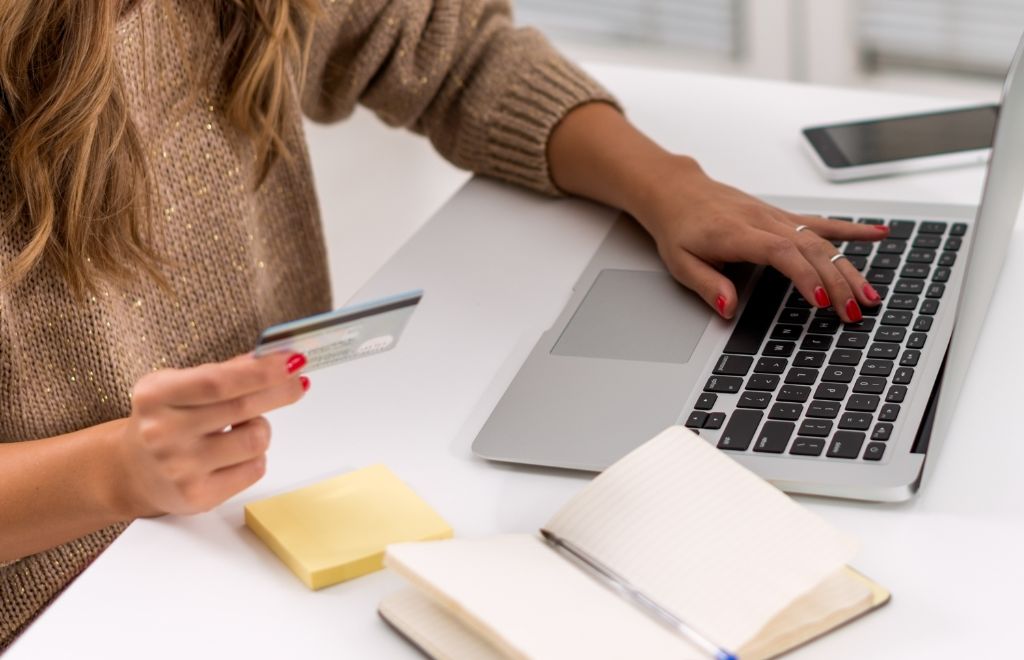 And as a way to make the payment process on Etsy Shop more seamless for your potential customers, Etsy Shop will process all etsy payments for you.
So instead of receiving etsy payments directly from buyers to your account, you will receive them through Etsy.
This is a great feature because it reduces the risk of fraud and gives customers more confidence when buying from Etsy shops.
It also helps you become more organized because you will receive all the Etsy payments for your orders in one place.
However, there is a downside to this convenience: payment processing fees.
etsy will charge you a processing fee, which is a set rate + a percentage of the total order, which varies by country. Etsy payments are a little bit different than any other online store.
Here are the current payment processing fees for some popular countries:
United States: 0.25 USD + 3%
United Kingdom: 0.20 GBP + 4%
Canada: 0.25 CAD + 3%
Australia: 0.25 AUD + 3%
Regulatory Operating Fees
On top of transaction and listing fees, Etsy sellers in certain countries need to pay a "Regulatory Operating Fee."
This fee is mainly due to the increase in Digital Services Tax in some countries and etsy is still working on how to absorb these costs.
Some of the countries that are currently being charged this fee are:
United Kingdom: 0.25%
Spain: 0.4%
Turkey: 1.1%
France: 0.4%
Italy: 0.25%
Currency Conversion Fees
With international sales becoming more and more common, it's important to be aware of how currency conversion fees can affect your Etsy business.
etsy only deals in US dollars, so if your bank account is in a different currency, you will be charged a conversion fee by your bank.
Plus, if you are dealing with different currencies, Etsy might charge you a 2.5% currency conversion fee on top of the payment processing fees.
With so many payment processing fees, it's estimated that Etsy fees can make up approximately 30% of the Item's revenue.
Ads
Etsy offers 2 types of Ads.
The first is Etsy Ads, which are ads inside the Etsy marketplace and customers can see them while they are browsing Etsy.
The amount your pay for Etsy Ads depends on the Cost per Click (CPC) and how often your Etsy ads are clicked.
For example, if you sell Candles and want everyone who searches for "Scented Candles" to see your ad, your CPC might be $0.1.
This means that every time someone clicks on your Etsy ads, Etsy will charge you $0.1.
So if 100 people click on your ad, that's $10.
Just note that you will be charged even if the person clicking on your ad doesn't buy anything from you, so it's important to track your conversions.
The second type of ad Etsy provides is Offsite Ads.
These are Etsy ads that are shown on other websites, like Google or Facebook, and they link back to your Etsy shop.
So if you are looking for more exposure for your shop, Offsite Ads might be a good option for you.
Unlike Etsy store ads, when you opt for offsite ads, you will pay a percentage of your total sales, rather than CPC.
The current rate is 15% for Etsy shops that made less than $10,000 and 12% for shops that made more than $100,000 in the past year.
An offsite ad is a good option if you don't have any marketing experience as the experts at Etsy will handle everything for you and you will only pay them once you make a sale.
Etsy Plus
For an additional monthly fee of $10, you can upgrade to Etsy Plus which gives you some great benefits, such as:
15 free listings
$5 of ad credit
Discounts on custom domains(www.yourshop.com)
Customers can sign up to get emails when your items are back in stock
Advanced shop layout options
Discounts on shipping boxes
30% discount on cards and other printable
2. Create an Etsy Account
If you decided that Etsy Shop is the right platform for you, the next step is to create an Etsy account.
Creating an account on Etsy is free and easy, all you need is to:
Go to Etsy
Click Get Started
Type in your Email Address and click Continue. We strongly recommend you use a business account to keep your personal and business finances separate
Type in your First Name and Password, then click Register
And that's it! You've taken your first step to sell on Etsy successfully
3. Open an Etsy Shop
Now that you have your account set up, it's time to open your Etsy store!
To do that, follow these steps:
Go to Etsy
Scroll down and click on Open your Etsy Shop
Click on Let's do this
You will be asked questions about what brings you to Etsy and if there is anything you'd like help with. Just click Skip this question and move on
Click Start your shop
Now, it's time to customize your Etsy business.
This can be the difference between making a sale and not, so it's important to take your time and make sure everything is perfect.
In the next few sections, we will go through how to customize your Etsy shop for maximum conversions.
4. Select Your Shop Preferences
This is pretty straightforward.
You will be taken to a page to choose your shop language, country, and currency.
Choose the ones that apply to you and click Save and continue
5. Enter Your Etsy Store Name
Choosing a name for your Etsy shop is more important than you think.
Some might say it's even as important as your product!
We understand that it's hard to come up with a name for your shop, but don't worry, we have some tips that might help:
Keep it short and sweet. Long names are hard to remember and you want to make your customer's shopping experience as easy as possible.
Make sure it's easy to spell. You don't want customers to misspell your shop name and end up on a different site.
Avoid using numbers or special characters. Again, you want it to be easy for customers to find your shop.
Avoid using personal names. Having a brand name gives you more credibility and makes you look more professional.
Make it brandable. Don't put what you sell in your shop name. For example, "The Best Handmade Soaps." You may sell other things in the future and this will limit you.
Consider how it feels. People buy what makes them "feel better" not what they need.
Try to find a name that will describe how they will feel when they buy your product.
For example, if you sell scented candles, you want your name to be relaxing, if you sell jewelry, you want it to be luxurious, etc.
Don't add Etsy to your name. Customers already know they're on Etsy, so there's no need to remind them.
Do a Google search. Make sure your shop name isn't already taken by another online business or website.
You don't have to stress about finding the best Etsy shop name right now. You can always change it later if you need to.
When you're ready, just click Save and continue.
6. Add Photos
A good photo is key to selling on Etsy.
Your customers can't pick up and feel your product, so it's important that your photos give them a good idea of what they're buying.
Here are some tips for taking great product photos:
Use a white or neutral background. This will make your product stand out and look more professional. It will also give a clean feeling to your shop.
Use natural light. If possible, take your photos near a window or outdoors. This will make your product look more vibrant and alive.
Use close-up shots. Customers want to see all the details of your product, so make sure your photos are close up and clear.
Use props sparingly. You don't want your product to get lost in a sea of props. Use them sparingly and make sure they complement your product, not take away from it.
Take multiple photos. It's better to have too many photos than not enough. This way, customers can see your product from all angles.
Showcase different variations. If you have different color options or sizes, make sure to take photos of all of them.
It's also recommended to take a photo of all of them together to show how they look side-by-side.
Show the product in use. Take photos of your product being used. This will give customers a better idea of how the product looks and feels when it's being used.
Use scale shots. If your product is small, it might be helpful to take a photo with something else to show the real size.
For example, you could take a photo of your earrings next to a coin. or take a photo of a candle in someone's hand.
This will give customers a better idea of how big or small your product is.
Use packaging shots. If your product comes in a box or with packaging, make sure to take photos of that too.
Customers want to see how it will arrive and what it will look like when they open it.
Show how it's done. If you sell handmade products, take a few behind-the-scenes photos of you making the product.
This will make the customers feel more connected to you and that they are buying from a real person.
Edit your photos. Make sure to crop, straighten, and edit your photos before uploading them to Etsy. Just don't overdo it!
Videos
In addition to photos, you can also add a small 5-15 second video to your listing.
Videos are a great way to show how your product works or how it looks in real life.
I understand that it's scary to be in front of the camera, especially if you have anxiety (who isn't) but adding a video to your listing can really boost your sales, so try to get out of your comfort zone and give it a shot!
And if you really can't bring yourself to be in front of the camera, you can always hire someone to do it for you.
7. Fill In Your Listing Details
So far, we've taken care of the visual aspects of your listing.
Now, it's time to fill in the written details.
This is where you'll tell customers everything they need to know about your product, including the title, who made the product, category, tags, materials, etc.
This section will go into how to write great Etsy listings to maximize your chances of selling.
Title
The title of your listing is one of the most important parts.
This is what will show up in the Etsy search results, in addition to your product photo, so you want to make sure it's catchy and on point.
Here are some tips:
Use keywords that describe your product. Keywords are basically the words that people will use to search for your product.
For example, if you sell handmade earrings, some keywords could be "handmade earrings," "sterling silver earrings," "dangle earrings," etc.
Don't overstuff your title with keywords. Etsy's search algorithm is smart enough to figure out what your product is about, even if you don't use a million keywords
Make it short and sweet. You want to make sure the whole title shows up in the search results, so keep it short and make every word count.
Make it easy to read. No one wants to read a title that's all jumbled up, so make sure it's easy to read and flows nicely.
About the Listing
This section asks 3 questions:
Who made the item
What is the item
When was the item made
Just choose the answers that apply to you and your product and move on.
Category
Choose the category that best describes your product.
Etsy has a lot of different categories, so take your time to browse through them and find the one that fits your product.
💡

Pro Tip:
Research your competitors to see what category they are using for their products, what kind of titles they are using, etc. This will give you a good idea of what's working and how you can stand out.
Renewal Options
As mentioned earlier, Etsy charges you $0.2 to list your item on their website for 4 months.
If your item didn't sell within that timeframe, you must renew the listing and pay another $0.2.
This section asks whether you want to automatically renew the listing if your item didn't sell after 4 months or you would like to do it manually.
I recommend automatically renewing your listings because it's one less thing to worry about.
Type
Simply choose whether the listing is for a physical or a digital product.
This is important for the shipping section (more on that later.)
Description
This is your chance to really sell your product and tell customers everything they need to know.
The more information you can provide, the better. Customers appreciate knowing what they're getting and how it's made.
Here are some tips:
Use rich, descriptive language to paint a picture of your product. Remember, people can't see or touch your product, so it's up to you to really bring it to life with your words.
Start with a bang. The first few sentences of your description are the most important because that's what will show up in the search results. So make sure it's attention-grabbing and really sells your product.
Be friendly and personable. Write as you would talk to a friend.
Use keywords, but don't overdo it. As with the title, you want to use keywords that describe your product.
But don't stuff your description with a million keywords because that will just turn people off.
Think about what questions people might have about your product and make sure to answer them in the description.
For example, if you're selling a dress, people might want to know the materials, dimensions, how it's made, etc.
Use bullet points to list out important information. This makes it easier for people to scan your description and find the information they're looking for.
Proofread, proofread, proofread! Nothing will turn customers off more than a listing full of typos.
Production Partner
This section is for people who have someone else help them with the production of their product.
For example, if you design a shirt but have someone else print and ship it, you would put their information here.
This is optional, so you can skip it if it doesn't apply to you.
Section
Most Etsy sellers have more than one product, so this is where you can create sections to group your listings.
This is optional, but I recommend doing it because it makes your shop look more organized and professional.
Plus, it makes it easier for customers to find what they're looking for.
To create a section, simply click on Add your first section, type in the name of your section, and click Save.
Tags
This helps both customers and Etsy search engine understand what your listing is about.
Think about the keywords people might use to search for your product and use those as tags.
You can only have 13 tags for each listing, so choose them carefully.
Here are a few tips:
Use relevant keywords that describe your product.
Use a mix of single words and phrases. For example, if you're selling a dress, you might use the tags "dress," "women's dress," and "summer dress."
Don't repeat the same word or phrase more than once.
Don't worry about misspellings and plurals. Etsy will automatically correct them.
Include synonyms. For example, if you're selling slippers, you might use the tags "slippers," "shoes," and "footwear."
Include things like color, size, style, material, who is it for, etc. For example, if you're selling a shirt, you might use the tags "red," "men's size large," and "cotton."
Materials
This is where you list the materials used to make your product.
This is important for people who have allergies or sensitivities and will help Etsy to show your listing if someone is searching for a specific material.
8. Inventory & Pricing
This is where you decide how many of your product you have in stock and how much you want to sell it for.
It's always a good idea to check what your competitors are selling their similar product for and price your product accordingly.
9. Variations
If you have more than one version of your product, you can create variations.
For example, if you're selling shirts, you might have a variation for size and color.
To create a variation, click on the add variations and fill in the information.
You can also set the quantity and price for each variation.
10. Personalization
If you offer personalization for your product, such as engraving, switch the toggle to "on" and enter the personalization instructions for your customer.
If you don't offer personalization, leave it as "off."
11. Shipping
Handling shipping is one of the scariest parts of selling online, you just don't know how much it's going to cost, how long it's going to take, or how many headaches it's going to give you.
Fortunately, Etsy has a tool that can automatically calculate shipping fees for you.
This tool works by using your location, your buyer's location, the weight of your product, and the dimensions of your product's packaging to calculate shipping fees.
All you need is to:
In the Shipping prices section select the Calculate them for me option.
In the Origin zip code section enter the zip code your are shipping from
In the Processing time section select how long does it take you to prepare the order and put it in the mail.
Customers love to have their products as soon as possible, so try to be as quick as you can. And don't lie, it's okay to take your time, just be honest about it.
In the Where I'll ship section, choose the countries you will ship to.
Mine is setup to United States and worldwide, yours could be different depending on the sop preferences you set in step 4.
In the Shipping services section select how you will ship your product.
For me, it's setup as 6 USPS mail classes by default and I can edit those by clicking on the edit link. Agian, yours could be a bit different.
In the Free Shipping section, you get the option to offer free dometic and/or international shipping.
If you wish to do that, just check the corresponding checkbox.
The most important thing is price your item accordingly, so you don't lose any money.
I've seen many people offering free shipping and then wonder why they are not making any money.
In fact, some of them even lose money!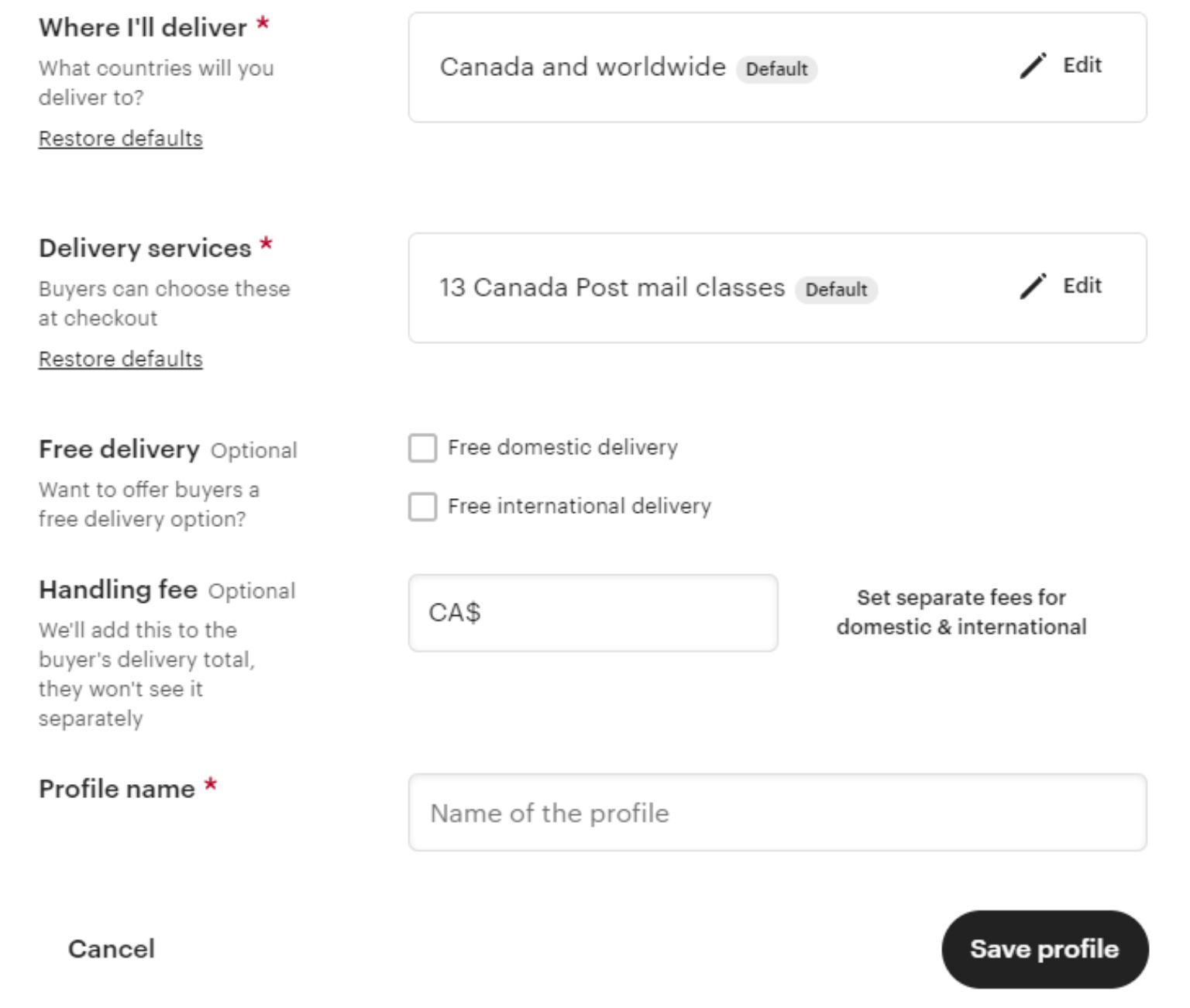 Product fulfillment consist of so many hidden fees that you need to consider before offering shipping.
These fees could be the storage cost, packing cost, time cost, and even the gas to get to the post office.
Ad the Handling fee section is your chance to charge your customers for those fees.
This fee will be addded to the total shipping cost and charged per order not per each product so keep that in mind.
You get the option to save the shipping details, so you can use them for future listings.
We recommend you to do it by clicking Save as a shipping profile.
If you ship internationally, you will need to add your Tarif number in the Customs information section.
This will be used to calculate any taxes and duties when your product arrives in another country.
The final step would be to just enter your item's weight and size (when packed) and click Save and continue.
After clicking on Save and continue, you will be taken to a page that displays how your listing will look like on Etsy.
You will have the option to Add more listings or Do this later.
If you have more handmade items to list, Click on Add more listings and redo all the steps for each item.
If you are done, click on Do this later.
12. Choose How You Will Get Paid
Now, let's talk money. After all, that's why we are here, right?
Etsy will ask you for your Country of residence, name, date of birth, Personal ID, Taxpayer address, etc.
Make sure to write everything correctly, because if you don't, uncle Sam will come after you.
Next, you will need to select where your bank is located from the dropdown menu, then fill in your bank account number and routing number or connect your bank via PLAID.
When you finish filling in your bank account info, just click Save and continue.
13. Set Up Billing
In the previous step, you added your tax info and how you'd like to receive the money.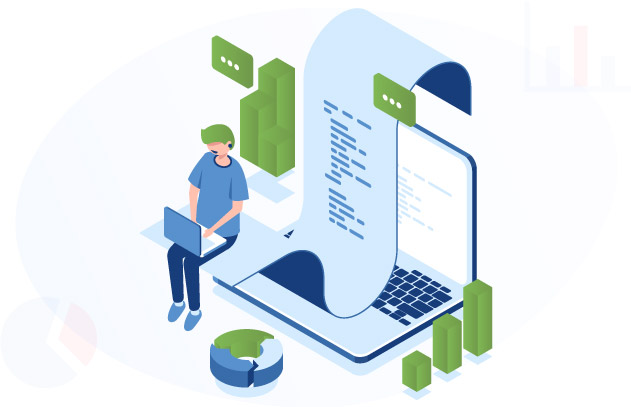 This step is pretty simple, you just need to add your credit or debit card info.
Etsy uses this card to charge you for listing fees ($0.2), purchase shipping labels, and any other fees you might incur while using their platform.
You will also need to add a billing address. This is the address where Etsy will send you an itemized bill each month.
After adding your card info, just click Save and continue.
14. Shop Security
The last thing you need to do before you start selling on Etsy is to set up shop security.
Etsy will ask you to set up two-factor authentication to protect your shop from fraud and theft.
Simply select an authentication method from the dropdown menu and follow the instructions.
15. Customize Your Etsy Shop
This is an optional step, yet very important if you want to stand out from the competition.
Etsy gives you a number of ways to customize your shop.
You can add a banner, change the color scheme, add sections to showcase specific vintage items, add your shop policies, shop announcement to announce changes in your shop or write a welcome message, and even add an about page to introduce yourself and share your story with your potential customers.
You can also connect your social media accounts to your Etsy store.
To do that, go to Shop Manager -> Marketing -> Social Media -> Social Accounts, then choose the accounts you wish to connect.
We strongly recommend you take the time to customize your shop and add your touch to it.
It's what will make your shop unique and make the customers feel that they are dealing with a legit Etsy business, not just a random person who is out there for their money.
Top Tips To Be Successful Selling on Etsy
Simply making an account and setting up a store won't do the trick. Unless your product is particularly interesting. But we haven't seen such a revolutionary product in a while. So, if you want to be a successful seller on Etsy, you are going to have to learn some tricks. 
Use Professional Product Shots
Stunning photographs of your Etsy items are a certain way to increase your sales. Indeed, having high-quality photos of your products taken is essential to your success on the site.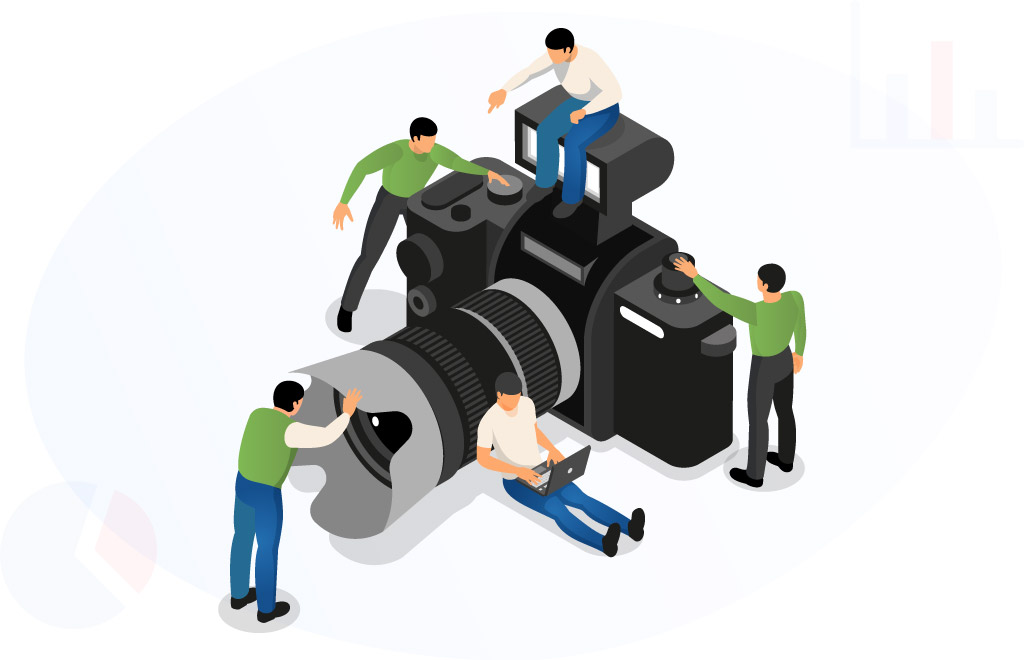 Customer surveys conducted by Etsy reveal that visual representations of products are crucial to a shopper's final decision. Also, the quality of your pictures is usually more important than shipping costs, reviews, or even the price of the item itself!
Do not fret if hiring a professional is out of your price range. You may find several guides online to assist you in improving your product photos.
Create an Eye-catching Logo and Banner
Having a memorable logo and other branding elements is also crucial for a thriving Etsy store. Remember, your storefront is often a customer's first impression of your business.
If you're not good at graphic design, the Internet has a lot of free tools that can help you, such as Canva.
Make Your Etsy Shop SEO-optimized
Etsy has its own search algorithm, much like Google. Its goal is to provide the most relevant results to shoppers during product searches.
Whether you're selling antiques, handcrafted products, or craft supplies, it's important to be upfront about it and use relevant keywords.
In order to improve your Etsy store's visibility in search results, consider the following:
Include relevant tags and keywords in your product listings

Add attributes to your listing

Ensure that your store stays relevant by consistently updating it with new products and information

Provide a positive customer experience 

Encourage customers to leave comments 

Complete your "About Me" page
Have a Unique About Me Section
84% of Etsy sellers operate their businesses from their homes, as reported by the company's 2021 Global Seller Census.
Every businessman has a tale to tell, it's just a fact of life. It's important to tell your story and emphasize your strengths if you want to stand out in a competitive industry.
We understand if the thought of sharing details about the person behind the company makes you uncomfortable. Self-promotion isn't always the easiest thing to do. Yet, this is an opportunity to interact with your audience and educate them on who you are and what you do.
If you're having trouble deciding what to include on your "About Me" page, consider including some of the following details:
Tell your potential buyers how you got started. How and why did you decide to begin?

Showcase your unique qualities. Is there a certain way that you do things?

Show your viewers what goes on behind the scenes. Use high-quality photographs and videos to demonstrate what a typical day looks like for a store owner.

Let them see who they're dealing with when they buy from your company. If you want to make a sale, you need to cultivate relationships with your customers. Do not forget to introduce yourself to your potential customers!

Connect your various social media accounts. Tell your clients how they may continue the conversation with you after they leave the store.
Send Thank You Messages to Customers
Thank you notes sent after a customer makes a purchase are a terrific way to show your appreciation. Such attention to detail may be crucial in attracting and maintaining a loyal customer base.
Feel like you're at a loss for words while composing your message? For some inspiration, consider the following:
Tell the client you appreciate their purchase and can't wait for them to get the item they ordered from you.

If they have any questions, have them contact you.

Send them a message letting them know when to anticipate the package's arrival.

Give them a promo coupon for a discount on their next purchase.
Frequently Asked Questions (FAQS)
How Much Does It Cost to Become an Etsy Seller?
It costs $0.20 per item to become an Etsy seller.
What Can You Sell on Etsy?
You can sell handmade goods, vintage items, craft supplies, and digital products on Etsy. Craft supplies are a very popular category on Etsy. Craft supplies are what Etsy is known for. You have probably seen a lot of Etsy ads online for craft supplies.
What Is the Most Popular Thing to Sell on Etsy?
Handmade, personalized jewelry is the most popular thing to sell on Etsy.
Who Pays for Shipping on Etsy?
While Etsy sellers handle the packaging and shipping, the buyers are the ones who pay for shipping on Etsy.
Is It Cheaper to Sell on Etsy or Shopify?
No, Etsy is more expensive the Shopify but you get a lot of benefits from Etsy, such as more exposure and more traffic to your shop, so it's definitely worth it, especially if you don't want to deal with the hassle of creating your own website or online store.
How Do I Get Paid?
You can take etsy payments from a broad number of payment methods, including credit and debit cards, PayPal, Google Wallet, Apple Pay, and Etsy Gift Catem. No matter how or where a customer purchases from you, the funds are always paid immediately into your bank account in your currency.
How Does Etsy Protect Sellers?
Etsy protects sellers with the Seller Protection Program. If a problem arises during a transaction, you can rest easy knowing that you're covered thanks to the Seller Protection program. In the event that you and your customer cannot come to an agreement, and the transaction otherwise qualifies, Etsy's dispute resolution system will assist you in reaching a settlement.
Do You Need a Business License To Sell on Etsy?
No, it is not necessary to get a business license to sell on Etsy.
Ready To Set Up Your Etsy Store? 
Selling handmade vintage items on Etsy is a great way to earn some extra money online or even make a living.
It's easy to set up and get started, and there are millions of online shoppers looking for unique and handmade vintage items.