Internal links are hyperlinks placed on pages on your site that point to another webpage or resource, such as an image, document, or video on the same website. An internal link allows users to navigate your website easily, and using the best linking strategies can improve the overall SEO rating of your website.
We are experts in creating internal links and using them to improve the pages on our website by using different strategies. In this article, we will evaluate and recommend the best internal linking practices you can use as a site owner to improve your website.
Quick Summary
An internal link is a hyperlink that sends the viewer to another page on the same website.

Internal links help Google to understand the relationship between different pages of your website, give Google information on site structure, and more.

There are several advantages of using internal links, including helping users to easily navigate your website, reducing your website's bounce rate, and helping search engines index pages.
What Is An Internal Link?
An internal link is a hyperlink that sends the viewer to a different page on the same website [1].
Internal links differ from external links, which link to pages on another website. 
The objective isn't to make your links look natural; the objective is to ensure that your links are natural.
– Matt Cutts, Software Engineer and Administrator at the US Digital Service
11 Best Internal Linking Practices To Follow
Here are some of the ideal practices you can follow to build internal links on your website:
1. Create A Lot Of Content
To create many internal links on your website, you need to create internal pages with quality content. With lots of content, you will have infinite linking opportunities and won't have to worry about building a good internal linking structure for search engines.
2. Link To High Authority Pages For Improved Ranking
The Authority Transfer technique is a crucial method to distribute link authority to critical SEO pages of your website. You can use SEO tools to find these pages and add internal links to them. 
3. Use Internal Link Anchor Text
When it comes to images, you should link them with the help of anchor text. If you want to link images, ensure the alt tags are written correctly and use descriptive anchor text. 
4. Link Deep
While building your internal links, there are two types of links to avoid. The first one to avoid is building links to the homepage of your website.
Your homepage will already have too many links pointing toward it, so instead of having more links that point to it, focus on strengthening your other internal pages by linking those pages.
Another common mistake is to link in the Contact page to add a call to action at the end of the post. This isn't recommended unless it is completely necessary. 
5. Ensure Links Have Context
The key purpose of internal linking is to offer a better user experience. Google prefers websites that provide a great user experience. When you add internal links to content, you are telling the user that the linked pages will match the context of that content.
6. Use Relevant Links
When you're creating your internal linking strategy, you need to ensure the website you link to is related to the content of the website you are linking from.
7. Be Reasonable With How Many Internal Links You Use
Depending on the length of your content piece, you can add 2 to 5 links. For a 1500-word piece of content, five internal links would be enough.
You must ensure that the links are spread evenly throughout your content. You don't need too many links on your site just for the sake of having them.
Creating internal footer links used to be a common practice that is now obsolete. In 2013, footer links started to be hit with a penalty.
If you are still adding footer links for better results, it's best to start avoiding them because Google will count these internal links as spam.
9. Don't Use The Same Anchor Text On Several Different Pages
Using the exact match anchor text for two separate pages confuses Google and can lead them to conclude that the two web pages have the same information. 
10. Add Internal Links High Up On Pages
Internal links that are placed high on a webpage increase the time spent on the website and reduce the bounce rate. 
11. Use Internal Links To Help With Indexing
Google typically discovers and indexes important pages of a website. If you have a lot of website pages that exceed your crawling budget, Google may only index a limited number of these pages. With internal links, Google finds it easier to discover which pages to index, even ones buried deeper in your silo structure.
---
The Importance Of Internal Linking
When Google crawls websites, it follows internal and external links using a Google bot. The bot goes to the homepage of a website and starts to follow the first link it comes across on the website.
By following these links, the bot can understand the relationship between different pages on a site. 
In addition to understanding that relationship, Google also divides the total link value between all the website links. Usually, the website's homepage has multiple internal links and carries the most link value. More links in a post mean more value.
Internal links also give Google information relating to your website structure. Adding links to pages on your site can help you build a hierarchy of your site, enabling you to provide more value to important web pages. 
Google views websites with more links to be more important, and a strong internal linking structure will also help you increase the number of pages ranked on your site [2].
Advantages Of Using Internal Link Structure
The advantages of using internal links include:
A proper link strategy helps users navigate your website easily. With the help of anchor text links, you can direct users to relevant websites they would enjoy. If the content in these linked pages is related, the user tends to stay longer on your site, which increases page views [3].

Internal linking can also help you reduce your website's bounce rate. If people don't engage with your content, they may leave the website without reading through the content entirely. If you can optimize the content with internal links, your bounce rate will be greatly reduced.

When a Googlebot crawls your website, it will search all the links and pages that are easy to index, but if you build a proper internal structure, the bots can make their way through more in-depth pages that are generally rarely visited.
What Is Link Juice For Websites?
Link juice is a term that refers to a value being passed from one site to another by using hyperlinks. Google considers links to be voted on by another website that approves the value and authenticity of your website.
Link juice building can be done through various techniques. For example, if website one receives four links from four different websites and website two receives four links from two other websites, website 1 will rank higher than website two because they receive link juices from more websites.
Another thing to consider is determining the percentage of link juice received.
If website one gets a link from a website that links to other sites and website two receives a link from a site that only links to website two, the percentage of link juice that website two gets will be more than website one.
In the case of using do-follow links, the link juice is distributed equally among each outgoing link on the website. 
Avoid Internal Link Automation For Your Website
It is best to avoid the automation of internal links for your website for several reasons. The tools used for internal linking don't have the best knowledge about web pages that need maximum link juice.
For a larger website, link automation can lead to the creation of over 1000 exact-match anchor texts for multiple pages on your website. 
This can lead to search engines like Google flagging your website as spam. Link automation tools also can't think from a user's point of view to create meaningful internal links.
FAQs
What Are NoFollow Links?
Nofollow links are links that don't count as a point with Google, don't help your page rank, and won't help your page's placement in SERPs.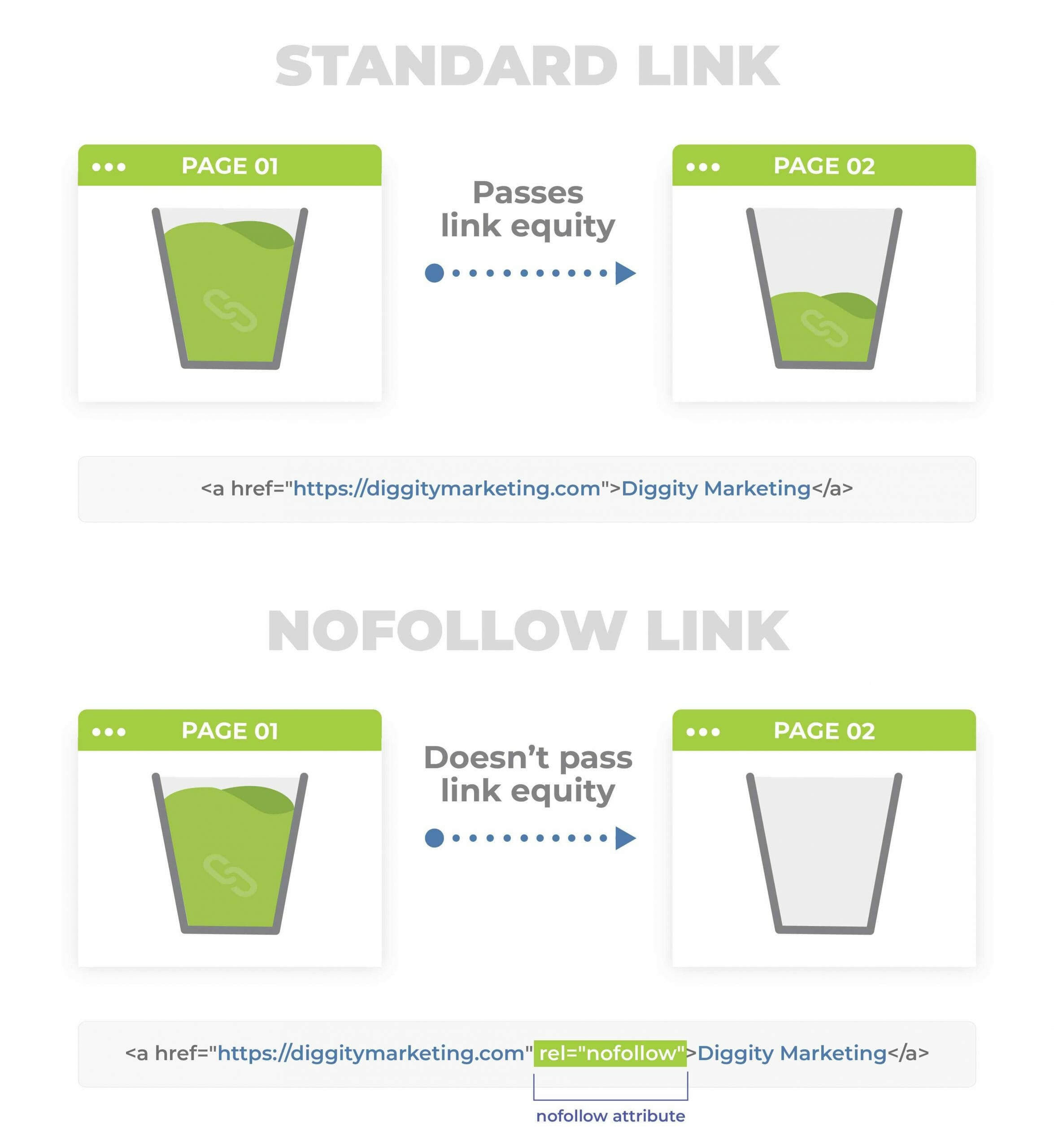 What Are Four Types Of Internal Links?
Four types of internal links are contextual links, navigational links, image links, and footer links. Some of these links are helpful for SEO, and others aren't.
Can You Use Too Many Internal Links?
Yes, you can use too many internal links. Adding too many links to your website content can hurt your Google ranking. Google doesn't crawl pages with over 150 links.
How Many Links Are Ideal?
Two to three internal links are ideal for every new piece of content. The links should come from an authority page plus those within the relevant topic. 
How Important Are Internal Links?
Internal links are very important for ranking your website with Google and other search engine crawlers. When you follow effective internal linking strategies, you can easily work toward establishing site architecture without getting into complications.
Following the best linking practices throughout your website will allow you to build a strong profile, improve the SEO rank of your website and provide users with a smooth experience. You can track your rank with some of the best SEO rank tracker tools.
References
https://www.cnet.com/culture/counting-links-the-easy-way/

https://www.cnet.com/culture/dont-buy-into-the-paranoia-about-pagerank-sculpting/

https://www.cnet.com/tech/services-and-software/linking-threats-under-the-radar/