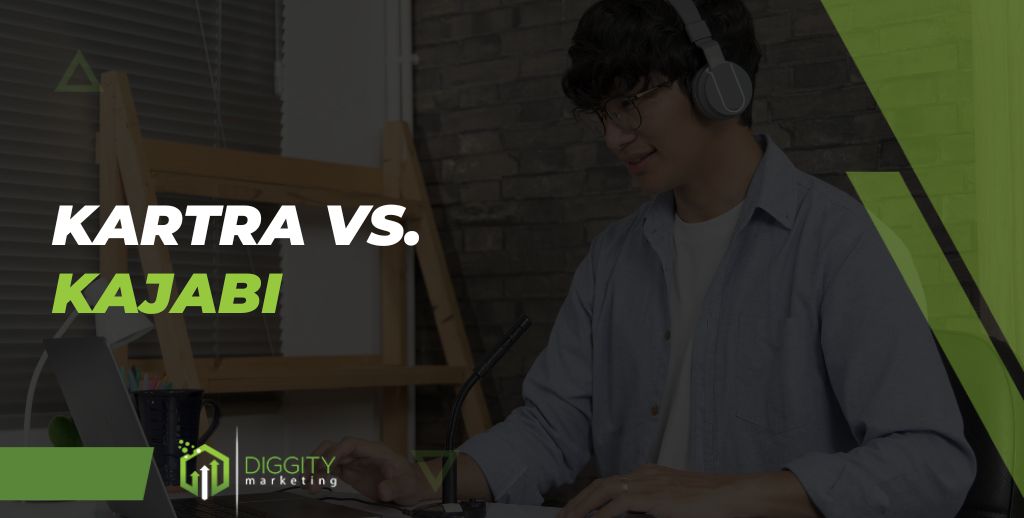 Creating online courses is the beginning of a successful e-learning business. Equally vital is the ability to effectively market your courses, generate leads, and foster a loyal community around your brand. 
In the ever-evolving landscape of online course platforms, Kartra and Kajabi have emerged as two powerful contenders, each offering robust marketing and sales capabilities tailored for knowledge entrepreneurs.
Through extensive research and personal experience in the field, I've delved into the intricacies of these platforms, carefully weighing their strengths and weaknesses. 
What Is Kartra? 
Kartra is an exceptional all-in-one sales funnel builder designed to enhance the online presence and streamline the management of various businesses.
With its comprehensive suite of software tools, Kartra offers a competitive edge against platforms like Kajabi, Infusionsoft, and Leadpages, providing users with a robust solution for optimizing their online business.
This marketing platform's strength lies in its ability to serve as a complete business management system.
It empowers users to create and customize captivating landing pages, capture leads, and convert prospects into customers. 
I love that Kartra allows for such a depth and breadth of cloud storage, and I can easily store anything related to business practices at the touch of a button/upload. It's simple and affordable and useful for marketing automation as well.
– Riley W., Merchandiser for Hamilton
---
What Is Kajabi? 
Kajabi is an online business platform designed to empower content creators and knowledge entrepreneurs in building and marketing their digital products, particularly online courses.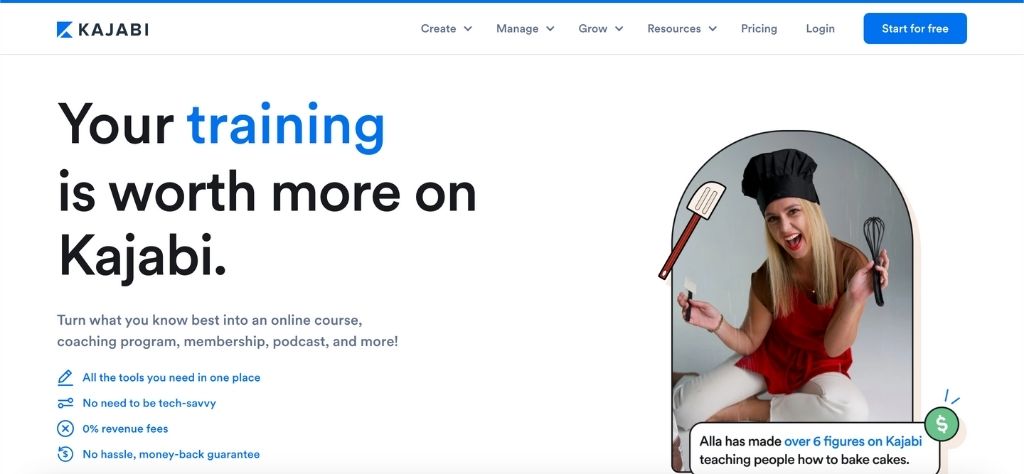 With its user-friendly interface and advanced features, Kajabi offers a seamless solution for creating and monetizing educational content.
One of the key features of Kajabi is its intuitive course-creation capabilities. Users can easily develop and structure their online courses, from organizing lessons and modules to uploading multimedia content such as videos, PDFs, and quizzes. 
It also enables creators to design attractive product pages and unlimited landing pages, ensuring a visually appealing and engaging experience for potential customers.
In addition to course creation, Kajabi provides robust marketing tools to help content creators promote and sell online courses effectively.
Users can email marketing campaigns, automate customer communication, and even create membership sites with exclusive content for paying customers. 
This enhances customer retention and fosters a sense of learner community, facilitating interaction and engagement.
---
Affiliate Management Comparison
Kartra 
Kartra offers a powerful affiliate program in all of its plans, allowing you to create an affiliate questionnaire to ensure the right affiliates promote your business.
This process not only screens potential affiliates but also establishes clear terms and conditions for partnership.
With Kartra, monitoring and managing your affiliate network is effortless. You gain comprehensive insights into each affiliate's performance, including earnings per click, sales, conversions, and rebills.
This data lets you track their progress and make informed decisions regarding your affiliate partnerships.
Kajabi 
Kajabi offers affiliate programs exclusively for its Growth and Pro Plans. Within Kajabi's affiliate center, users have a range of capabilities to manage their affiliate network effectively.
This includes approving, registering, overseeing affiliates, and setting up share links for easy promotion. 
It provides comprehensive tracking of affiliate form submissions and conversions, along with detailed reports for performance analysis.
Users can also set commission percentages, calculate affiliate earnings, and make timely payments. 
The main page of the affiliate center offers a convenient overview of essential statistics such as clicks, form submissions, and conversions, allowing users to monitor and assess the performance of each affiliate.
Winner: Kartra surpasses Kajabi in terms of advanced affiliate management system features. It offers a comprehensive set of tools, such as advanced email marketing capabilities and a powerful sales funnel builder.
Lead Management Comparison
Lead management is vital in driving sales and revenue growth for your business.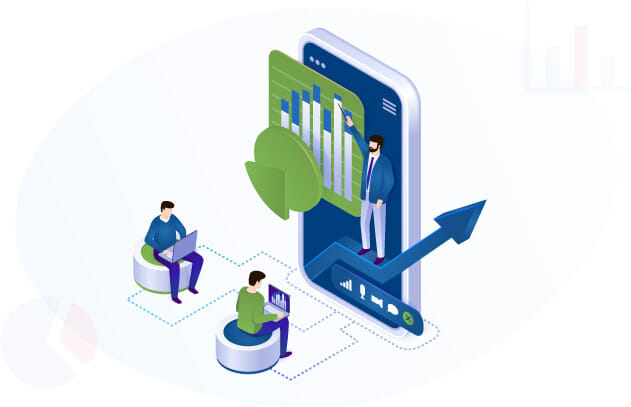 When comparing both platforms, they offer powerful lead management tools to help you capture, organize, and engage with your leads.
Kartra 
Kartra helps you gain in-depth insights into every aspect of your leads, including their subscriptions, past purchases, helpdesk tickets, email interactions, clicked links, memberships, and even booked appointments. 
This comprehensive understanding allows you to effectively categorize your leads into subgroups, ensuring that your behavioral adaptive marketing messages align with their interests and needs. 
One of Kartra's standout features is its automated lead scoring capability, enabling you to identify and prioritize the leads with the greatest value for your business. 
You can automate interactions and tailor your engagement strategies by setting up triggers based on tags or lead scores.
Kajabi 
With Kajabi, you can create dedicated landing pages, incorporate opt-in forms within your blog posts, and utilize pop-ups to collect email addresses effectively.
However, generating leads is only part of the equation. Managing those leads is equally important for maximizing revenue potential.
Kajabi provides robust lead management capabilities by organizing all your contacts, whether they are leads or existing customers. 
You can segment your contact list, assign tags, and import contacts from third-party integrations like Mailchimp.
This allows you to send customized emails, nurture leads through the sales funnel, and track and tag potential clients for targeted engagement. 
Additionally, Kajabi offers Assessments, a valuable tool for surveying students and gathering feedback, ensuring that your digital products or online courses remain in high demand.
Winner: Kartra is the winner. It provides better lead management and nurturing features. 
Email Marketing And Automation Comparison
Kartra and Kajabi excel in helping users create impactful and targeted email campaigns, automating their email marketing efforts, and optimizing their return on investment.
Kartra 
Kartra provides a comprehensive set of tools for email marketing tasks, including list creation, contact importation, and list management.
It also offers a wide range of email templates, enabling users to craft visually appealing and engaging emails effortlessly. 
With numerous customization options, users can design unique emails tailored to their brand in minutes.
Kartra even allows split testing, enabling users to optimize their emails for desktop and mobile devices.
It also empowers users with behavior-based automation, enabling the delivery of highly relevant messages to their leads.
Users can experience improved open rates, engagement, and click-through rates by segmenting subscribers into appropriate sales funnels.
The platform's advanced automation capabilities enable users to create personalized email marketing campaigns that effectively target their audience based on their actions and behavior.
Kajabi 
In addition to Kajabi's marketing features and support for online courses, it also provides a wide range of email templates designed for various purposes, such as event showcases, announcements, and newsletters. 
These templates can be easily customized to suit your preferences, allowing you to personalize the layout and features of your emails.
Kajabi also offers assistance in writing effective subject lines to enhance the impact of your messages.
With Kajabi, you can segment your email list, enabling you to send targeted broadcasts to specific types of subscribers.
The platform allows you to create email sequences using conditional "if" and "then" rules, empowering you to automate your communication based on specific triggers. 
Although Kajabi needs the visual builder found in Kartra, it offers additional automation features for pipelines, posts, events, forms, and more.
Winner: Kartra is the winner because it offers split testing compared to Kajabi. 
Customer Support Comparison
Both Kartra and Kajabi understand the importance of assisting their users throughout their journey. 
Kartra 
Kartra provides a live chat feature for immediate assistance; however, the support hours are limited.
Alternatively, users can submit support tickets via email, yet response times may exceed 24 hours. 
To find answers to common queries, Kartra offers an online FAQ section.
Also, users can access Kartra's technical documentation, which provides detailed information on advanced components and integrations. 
For further guidance, Kartra's Training Center offers tutorial videos to help users leverage the platform's features for successful marketing campaigns.
These resources aim to support users in onboarding and addressing any issues they encounter.
Kajabi 
Regarding customer support, Kajabi offers a range of helpful resources to assist its users. Accessing the Help tab on the bottom left corner of the platform opens up various support options. 
Users can benefit from 24/7 live chat support within the Kajabi dashboard, allowing them to connect with live agents for immediate assistance. 
However, it's important to note that this feature is not available for Basic plan users, who can instead submit a request or access live chat support during specific hours on business days. 
Additionally, Kajabi provides access to Kajabi University, a valuable resource offering hours of detailed training to help users master the platform's powerful tools and grow their businesses effectively. 
Users can also attend Kajabi webinars held daily from Monday to Friday and join the active Kajabi Facebook community, where they can receive answers and support from a community of over 28.3k members.
Winner: Considering the live chat features, Kajabi outperforms Kartra's 24/7 availability, however this is limited for Basic plan users.
Pricing Comparison
Kartra 
Kartra offers four subscription plans with various features and pricing options. While no free trials are available, users can get started with Kartra for just $1 during a limited-time offer.
The plans are as follows:
Starter plan – priced at $99/month
Up to 2,500 leads

1 custom domain

Send 15,000 emails/per month

50GB video bandwidth

Host 100 pages

20 products

Build 2 membership sites

Add 1 team member

1 helpdesk
Silver plan – priced at $199/month
Unlimited bandwidth

Create unlimited pages

Unlimited products

Unlimited membership sites

Up to 12,500 leads

3 custom domains

Unlimited emails

Unlimited team members

Unlimited helpdesks

Kartra agency
Gold plan – priced at $299/month
Same features as the Silver plan, except:
Up to 25,000 leads

5 custom domains
Platinum plan – priced at $499/month
Same features as the Silver plan, except:
Up to 50,000 leads

10 custom domains
Additionally, users can avail themselves of up to a 25% discount by paying annually for any of Kartra's plans. 
Kajabi 
Kajabi offers three subscription plans, all of which include unlimited landing pages and unlimited emails. Additionally, it provides a free 14-day trial for users to try out their platform. 
Moreover, Kajabi offers a 30-day money-back guarantee, allowing users to claim a refund if they cancel their subscription within the first 30 days.
The subscription plans for Kajabi are as follows:
Basic Plan – priced at $149/month
Up to 1,000 students/members

1 website

Create and sell 3 products

3 pipelines

Up to 10,000 contacts

1 admin user
Growth Plan – priced at $199/month
1 website

10 admin users

Removal of Kajabi branding from pages

Up to 15 products

15 pipelines

Up to 25,000 contacts

Up to 10,000 members

Access to automation

Affiliate management

24/7 Chat Support
PRO Plan – priced at $399/month
Up to 100 products

100 pipelines

Removal of Kajabi branding from pages

Access to automation

Affiliate program management

Up to 100,000 contacts

Up to 20,000 members

3 websites

25 admin users

24/7 Chat Support

Theme Editor

Access to Experts Academy
Users can also benefit from up to a 20% discount when they pay annually for any of Kajabi's plans.
Winner: It's a tie! Kartra's starter plan is a great choice if you have a limited budget. It offers good value for the price.
However, if your main focus is building membership sites, Kajabi's Growth plan is worth considering. Surprisingly, it is priced the same as Kartra's silver plan.
Kartra Vs. Kajabi: Which One Is the Best Choice?
Kartra and Kajabi are both exceptional platforms, providing a comprehensive solution for managing your online business. From creating sales pages to managing memberships and email campaigns, everything you need is right at your fingertips. 
After careful analysis and comparison, Kartra stands apart as a clear winner. With its advanced marketing features, Kartra not only simplifies the process of starting an online business but also provides an array of tools to sell your digital and physical products effortlessly.
If you want to help your business experience success, then you should check out Kartra today and harness its capabilities.
Our #1 Recommendation: Kartra