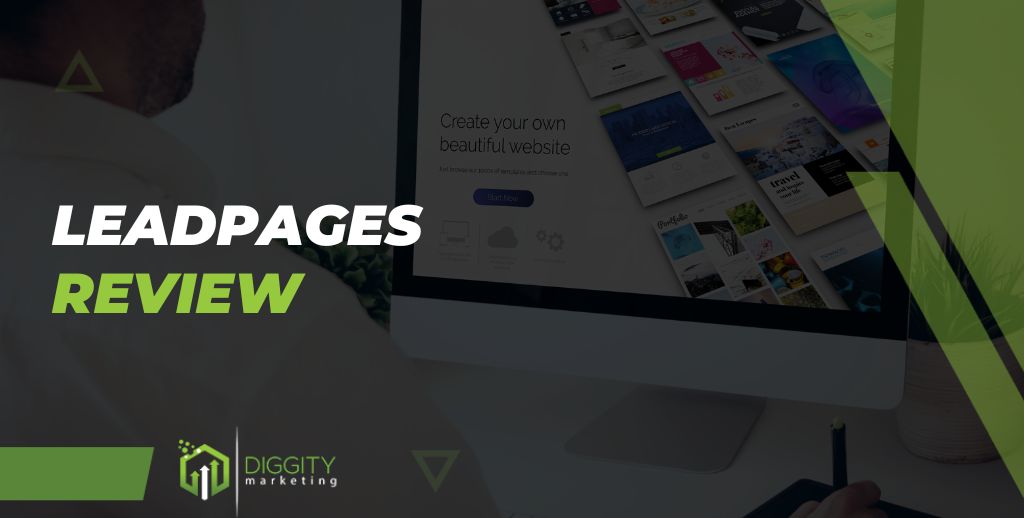 Creating a landing page, let alone a full-blown website, would take hundreds of hours, money, and several experts in various fields. 
Fortunately, landing pages and website builders such as Leadpages do all the heavy lifting to offer intuitive interfaces for creating web pages without technical expertise.
As a seasoned web developer, I have had the opportunity to work with various service providers throughout my career.
Leveraging this knowledge, I will guide you through a comprehensive Leadpages review analyzing how it works, features, pricing, alternatives, and more.
What Is Leadpages?
Leadpages is a landing page tool that launched in 2010 before Redbrick, a company that owns various digital tech properties, acquired it in 2020.
Besides a new landing page, the platform provides tools for building websites, connecting with audiences, and closing sales.
How Does Leadpages Work?
Leadpages works through a straightforward drag-and-drop feature and a collection of over 200 templates, enabling users to build landing pages quickly. It also has tools and integrations that allow users to set up and track alert bars, pop-ups, and A/B tests and reach prospects via text, email, and social media with a few clicks.
---
Leadpages Features
I tested Leadpages thoroughly, identifying nine features that help users create effective landing pages and connect with clients.
1. Drag And Drop Builder
The page builder uses a drag-and-drop builder that allows you to customize your landing page or any of Leadpages' templates. It provides a preview of the page on the right, while the left side offers options such as:
Page layout

: to build your page's basic grid layout in terms of rows and columns

Widgets

: building blocks of the page, including elements such as opt-in forms and buttons

Page tracking

: tracking and analytics code as well as basic SEO settings — like meta title

Page styles

: including customization options such as fonts, background images, etc.
However, this drag and drop editor is flawed as it lacks precision. I struggled with it to get elements to snap where I wanted them.
2. Hosted Landing Pages
Although hosting is not one of Leadpages' best selling points, you can have the company host your landing page.
The landing page builder also lets you download the HTML codes for your pages, so you can host them through the cPanel of your current host if you already have one.
3. Leadpages Templates
You get over 200 landing page templates, although most only have slight variations. Still, it helps that they are mobile responsive. 
The templates come in two forms, including standard and drag-n-drop. Standard templates have fewer customization options but are easier and faster to use. I could click and edit my details in about five minutes.
4. Alert Bars
Leadpages' Alert Bars work like pop-ups that only slightly interrupt the user experience. They are mobile-friendly and non-intrusive, allowing you to easily add CTAs on pages without straining the user's screen real estate.
They are easy to set up. You don't need any coding or plugins, and the platform guides you through each step of the process, including how to choose themes, colors, and text.
5. Pop-Ups
Also called Leadboxes, Leadpages pop-ups take over the user's screen, capturing their attention with offers and conversion prompts. They annoy visitors but may be handy in capturing leads that would otherwise get away.
Landing pages need to look appealing, but most of all they need to convert.
– Russel Brunson, Co-Founder of ClickFunnels
6. Website Integrations
The pages and conversion elements you create through Leadpages allow for about 40 integrations, including the following categories: Analytics tools, CRM, Email marketing, Live Chat, Payments, Video, Scheduling Tools, Webinars, and A/B Testing.
A/B tests offer a quick way to deploy variations of your landing page templates and test how different elements perform. 
You can examine the effect of various wordings, buttons, color schemes, or the whole design. It's an advanced, time-consuming feature, so I recommend it only if your site gets significant traffic.
7. LeadDigits
LeadDigits is an SMS tool that helps you reach your prospects via text. This niche feature lets you provide your customers and prospects with enticing information or opt-in prompts. 
You want to use LeadDigits if you can get your visitors to provide their numbers. After all, SMSs enjoy higher response rates than emails.
8. LeadLinks
Leadlinks works the same as LeadDigits but is meant for email marketing. It has time-saving functionalities like creating a link automatically signing customers up for a webinar or sublist with a single click.
The feature also allows you to categorize subscribers and send email blasts to select groups.
---
Leadpages Benefits
1. Usability
The platform is beginner-friendly. It maintains a straightforward user interface across its tools and provides adequate learning materials.
I especially appreciate that the editor has a drag-and-drop function, now an industry standard.
2. Integrations
Over 40 integrations are more than any single website could ever need. It means the platform can accommodate most of the tools you use or will adopt in the future, which leaves room for your web page and services to evolve.
3. Numerous templates
200+ templates are plenty. Admittedly, legacy website builders — like Wix — provide more templates and tools, but Leadpages offers a lot.
You can find almost every page arrangement on the platform through the free templates and several more via the paid ones.
Pros
Easy to use control page

Adequate features and tools

Supports multiple integrations

Lead magnets functionality
Cons
Costly

It doesn't allow responsive design
Our Rating
Value for money:

3.0

Tools:

4.2

Integrations:

4.0

User interface:

4.5

Customer support:

3.4
---
Leadpages Downsides
As mentioned above, Leadpages has a sluggish website builder. It's also costly and does not let you customize the standard templates.
1. Costly
A starting price of $49 a month is too high. This was where Leadpages lost to its competitors big time.
Even when paid annually, it only reduces to $37/month, which is still quite steep.
2. Faulty Website Builder
The drop templates are sluggish, and most widget boundaries are slightly off. It had elements snapping into the wrong positions, and deleting them only left spaces that could not be filled. This drawback won't ruin your campaigns, but it can be a bit frustrating to work with.
3. Uncustomizable Standard Templates
Sure, the standard templates are many, but they also resemble each other. They are not customizable, so you must opt for the frustrating drag-and-drop tool if you want more custom setups. Additionally, the best "premium" templates attract a fee.
4. No Responsive Design
Leadpages targets building mobile-friendly landing pages and even shows you a responsive preview. However, it does not let you decide how you want the elements to appear in the responsive version.
5. Scammy Free Trial
You get a 14-day free trial with this landing page creator, but this might quickly turn sour if you forget to cancel the subscription plan before the period expires. The company continues charging your credit card and does not issue refunds.
---
How To Use LeadPages?
Using Leadpages begins with a simple signup process that requires an email account and payment information. Then, you log into your account and choose a template for your landing page or use a blank canvas and the drag-and-drop tool. Here's a detailed guide:
Step 1: Create an account using an email address. And password, or use a connected Google account. You'll need to pick a price plan first.
Step2: Set up a card or PayPal payment account
Step 3: Start your free trial by creating a landing page. Click "Create New Leadpages" at the top right corner of your dashboard.
Step 4: Pick your preferred leadpage from the standard options and use the drag-and-drop editor to customize it.
Step 5: Publish the page directly by clicking "publish" or install a WordPress plugin to publish the landing page on a different host.
Step 6: Explore the other Leadpages features mentioned in this review.
---
Leadpages Pricing
Leadpages offers two pricing plans: Standard and Pro.
Standard Plan
This plan will set you back $37/month when billed annually, amounting to $144 yearly. It includes the following:
1 site

landing pages Pop-Ups

unlimited traffic & leads

free custom domain and hosting

tech support via chat and email

mobile responsive templates

lead notifications

40+ standard integrations

a 1-on-1 quick start call
Pro Plan
This plan costs $74/month if you pay annually ($300/year). It includes all of the standard plan's attributes with a few advanced features, such as:
3 sites

Online sales and payments

Unlimited A/B split testing

Priority tech support via phone, chat, and email
Still, Leadpages holds back on advanced integrations and an option for up to 5 Pro sub-accounts. You will have to contact the company for these options.
Leadpages User Reviews
I am a new member on Leadpages; l watched some of the pre-recorded webinars Mr. Bob is conducting; and so far, I am impressed with the detail he is explaining of the different functionality and applications. Keep going.
– Hector Torres, TrustPilot

I have tried many different websites/landing pages and online subscription based services in the past and it's the first time I do not get refunded for not canceling my subscription before the 14 days trial. It's especially frustrating as I've used it for less than a day and realized that the features I was looking for were not offered by Leadpages.com.
– Anthony Paulhe, TrustPilot
---
Leadpages Alternatives
I compared Leadpages against three competitors: Instapage, Unbounce, and OptimizePress, and this is how they match.
Leadpages Vs. Instapage
Instapage is a landing page builder that runs enterprise-level, while Leadpages targets small businesses.
Interestingly, Instapage provides over 200 templates, split testing, numerous integrations, and a drag-and-drop editor, much like Leadpages.
The two only differ when considering prices and the features included in each plan. For example, Instapage gives you unlimited A/B testing with its basic plan, which Leadpages doesn't.
You also get a heat mapping tool that Leadpages provides through integrations. It's a win for Instapage.
Leadpages Vs. Unbounce
Unbounce is a Canadian software company that helps users create landing pages. It is equally easy to use.
Additionally, it offers A/B testing, customizable templates, integrations, heat maps, mobile responsive design, and drag-and-drop functions which I found to be superior to Leadpages'.
However, Leadpages makes for a great Unbounce alternative if you consider prices. It also has more templates than Unbounce, but that's not enough to make Leadpages the winner.
Leadpages Vs. OptimizePress
OptimizePress is a landing page builder that specializes in WordPress sites. It has over 100 templates and supports A/B tests, mail integration, and mobile optimization.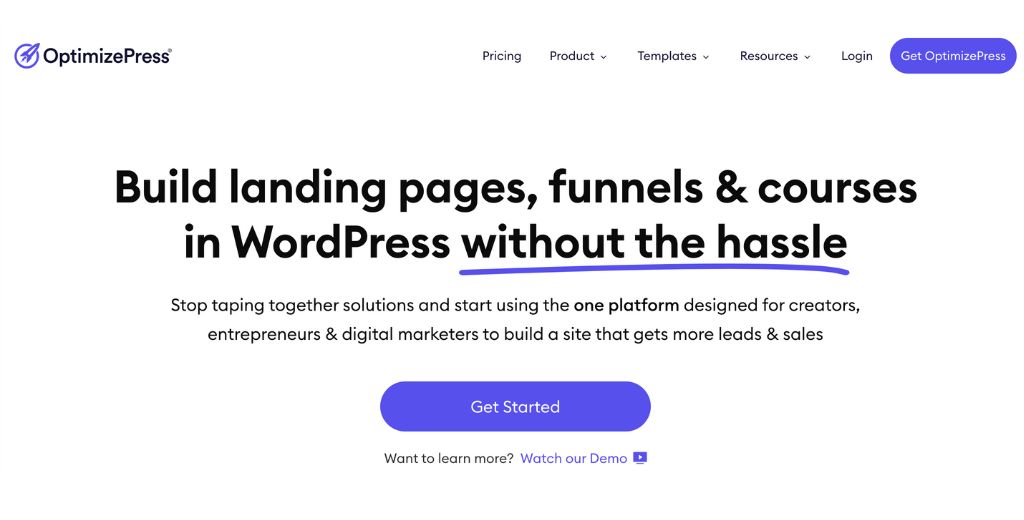 OptimizePress is a little low on tools, templates, and integrations than Leadpages. It comes lower priced and does the job for its target audience, including freelancers and small businesses.
However, it might disappoint enterprise-level users and those seeking more advanced tools.
---
FAQs
Is Leadpages A Website Builder?
Yes, Leadpages is technically a website builder. It specializes in high-converting landing pages, but you can build your entire site through Leadpages and the plugins it supports.
Is Leadpages Free?
No, Leadpages is not a free tool, but you can use its 14-day free trial offer once you sign up and submit your payment info.
Should You Invest In Leadpages?
Leadpages is an excellent platform with a balanced depth of tools and integrations. It also comes reasonably priced, even though some people believe they could find better tools at the same price.
Creating landing pages with Leadpages is quite easy, and it is a platform suitable both for beginners and professionals who want to create an outstanding online presence.
If you are looking to create a unique landing page without too many problems, then Leadpages is worth checking out.
Our #1 Recommendation: Leadpages