SEO tools are constantly used to assess the potential of a website to rank decently on search engine results pages.
Raven Tools and Semrush are obvious examples of these tools since they offer features that you can use to optimize your website to enable your brand to gain wider exposure in the long run.
As an SEO expert with years of experience, I have used both tools on several occasions and learned all their good and bad sides, and I will help you make the right choice for your business.
What Is Raven Tools?
Raven Tools is a cloud-based digital marketing platform with SEO and reporting tools for internal and external teams, marketers, and enterprises.
Some of these tools include keyword research, backlink research, competitor research, and rank tracking. This solution also provides white-label marketing reports, which are crucial for content creation.
Raven Tools started back in 2007 as a small platform in the SEO space, but today it has gone on to become one of the best in the business, constantly providing growth and offering the best SEO insights for digital marketers.
What Is Semrush?
Semrush is an all-in-one SEO tool that people and businesses use to increase their online presence and learn more about current marketing trends in the digital space.
This SEO tool is highly valuable for marketers and SEO agencies that specialize in SEO, PPC, SMM, keyword research, advertising research, PR, content marketing, marketing insights, and campaign management.
Semrush began as a small group of SEO and IT experts in 2008, but it has grown to become a potent platform used worldwide by marketers, people, and companies looking to enhance their online presence.
Keyword Research
Raven Tools
Raven Tools has a keyword research tool that allows you to check for keyword suggestions, PPC research, SEO research, and data from multiple keyword sources.
Once you input the keyword or phrase you are interested in, the tool will provide you with tons of similar phrases, along with their volume, competition, and cost-per-click (CPC).
You can also use the keyword rank checker tool if you need to research a competitor's entire domain or isolate one page to identify important keyword information.
Semrush
Semrush has a powerful keyword tool called the "Keyword Magic Tool" that delves into keyword research to help you analyze the search volume of keywords, keyword difficulty, and the search intent behind them.
When you use the keyword magic tool to search for a keyword, you will see related keywords and top domains that were focused on that keyword and had a PPC ad for over 12 months.
You will also be able to see the amount of ad traffic, the ad traffic price, and the total number of ads for that keyword [1].
Winner: Semrush offers better keyword research features, allowing you to analyze numerous factors that lead to a specific keyword's success and determine which will work best for your business.

---
Site Audit
Raven Tools
Raven Tools provides you with a site audit feature that shows the problems found on your website and provides suggestions on how to solve them.
You can also schedule site audits, customize how you audit your site, and track your audit progress to produce reports for clients interested in such information without following a complex how-to guide or paying a high price tag.
Semrush
Semrush has a free SEO audit tool that you can use to detect issues within your website and get them fixed appropriately.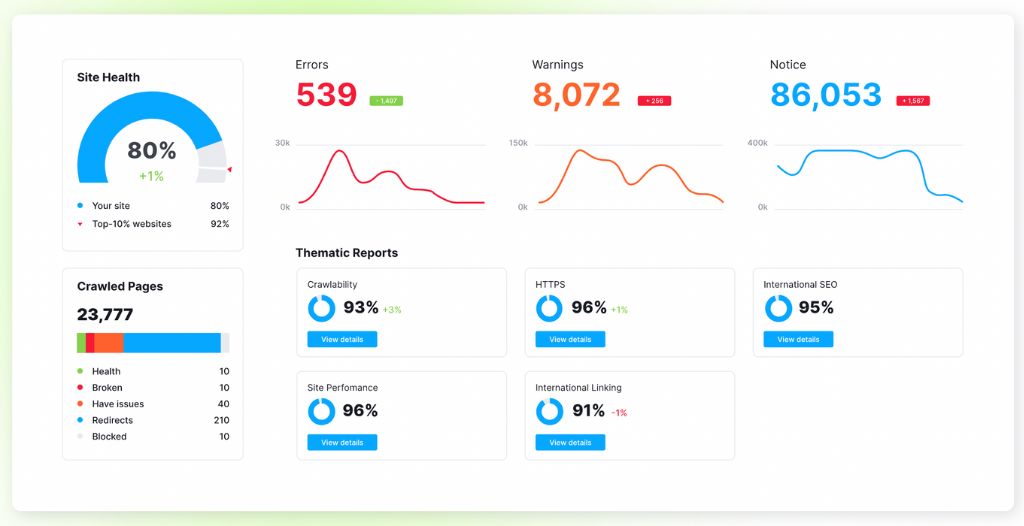 You can also use this tool to collect technical SEO reports showing if your website is crawlable and determine your site's performance and internal linking issues.
Winner: Although both tools have a great site audit feature, I would give a slight advantage to Raven Tools because of the option to schedule site audits.

---
Rank Tracking
Raven Tools
Raven Tools has a rank-tracker feature that lets you control how often you want your website checked on SERPs for changes to your ranking.
You can perform up to 1875 weekly keyword rank tracking; however, if you want to track the most competitive keywords beyond this number, you must pay $1.20 per keyword.
However, note that Raven Tools provides rank-tracking services only for a select group of search engines, including Google, Yahoo, Bing, Baidu, and Yandex.
Semrush
Semrush offers three SERP tracking tools that allow you to regularly monitor your site's rankings and those of your competitors. 
These tools include position tracking for tracking keywords, domains, and competitors; a sensor for tracking the volatility of search engine results pages based on daily changes; and ranks for researching the domains with the most organic visibility in various markets.
All you need to do is enter the domain and click "set up tracking" on any of these tools, and you will be provided with the domain's position, visibility, and estimated traffic alongside other SERP features.
Winner: Semrush is an absolute winner in this case because its SERP tracking tools are the best on the market.

---
Backlinks
Raven Tools
Raven Tools has a backlink explorer that lets you see who is linking to any website, be it yours or your competitors, so you can identify backlink strategies and opportunities from your competitors.
This tool also allows you to evaluate the quality of the links on your website or a specific page.
Semrush
Semrush has a backlink audit tool, a backlink gap tool, and a link-building tool to help you get authoritative links to your website and save you the time of reaching out to prospects that lead nowhere.
With these tools, you can easily access a database containing over 43 trillion backlinks, so you can find quality backlinks you can count on to boost your website's SEO performance.
Winner: Semrush has a database with over 43 trillion backlinks, so it is a more efficient option if you are looking for better backlink tools.
Pricing
Raven Tools
Raven Tools has five price plans, starting with the Small Biz plan at $49 per month, the Start plan at $109 per month, the Grow plan at $199 per month, the Thrive plan at $299 per month, and the Lead plan at $479 per month. However, if you subscribe yearly, you get up to a 30% reduction in each of these prices.
Semrush
Semrush has three different pricing plans, which you can subscribe to monthly. These pricing packages begin with the Pro plan at $119.95, the Guru plan at $229.95, and the Business plan at $449.95. You also get to save up to 17% if you choose to subscribe annually.
Winner: Raven Tools is a more affordable option, especially if you are a beginner in SEO optimization. Still, Semrush is fairly priced for a platform with this many features and advantages.
The point of an audit is to focus your efforts on the priorities. Make sure that you have someone who will be responsible for executing the high, medium, and low priorities from the SEO audit so that you can improve your business visibility online.
– Brett Farmiloe, Digital Marketer and Founder of Markitors
Frequently Asked Questions (FAQs)
What Are Semrush Toolkits?
Semrush toolkits are a combination of multiple tools, such as keyword and rank tracking tools, that you can use to optimize your website and achieve a successful SEO campaign.
How Can I Earn Money From Semrush?
You can earn money from Semrush by taking advantage of its affiliate program. It offers a $200 commission for every new Semrush subscription and $10 for every new trial activation.
What Tools Can Raven Tools Integrate With?
Raven Tools can integrate with over 20 tools. Some of these tools include Google tools such as Google Analytics and Google Search Console and others such as Alexa Rank and Authority Labs.
Get Started With Semrush For Your Website Today
Raven Tools and Semrush offer immense benefits and can help you achieve whatever SEO objective you have for your website.
While both tools are world-class, Semrush has the edge regarding key offerings, usability, and performance, and it has proven to be the best SEO tool for years.
You should have at least one of these tools in your toolbox if you want to take advantage of SEO to the fullest.
Our #1 Recommendation: Semrush