Search engine optimization tools are important for promoting your business online, generating traffic to your website, and ensuring it is well-ranked on SERPs.
AgencyAnalytics and Semrush are vital examples of these tools because they offer impressive features and can assist you in implementing an efficient SEO strategy for your business.
I have spent years alternating between these platforms for different businesses, and the insights in this article will help you make the best decision for your business.
What Is AgencyAnalytics?
AgencyAnalytics is an SEO reporting tool for marketing agencies. It can help you prepare reports for clients on SEO, PPC, call tracking, and email marketing. It also supports direct integration with over 75 applications.
AgencyAnalytics was established in 2007 as a small organization set up to provide reporting solutions, but it has become one of the best platforms globally, helping over 6,000 agencies achieve global success.
What Is Semrush?
Semrush is an all-in-one SEO tool that people and businesses use to increase their online presence and learn more about current marketing trends.
This SEO tool is highly valuable for marketers and SEO agencies that specialize in SEO, PPC, SMM, keyword research, competitive research, PR, content marketing, marketing insights, and campaign management.
Semrush began as a small team of SEO and IT experts in 2008, but it has since become a powerful platform used by marketers and companies who want to enhance their online presence.
Site Audit Comparison
AgencyAnalytics
AgencyAnalytics has a site audit tool that lets you identify and resolve common SEO issues that may affect the ranking of your website or that of your client.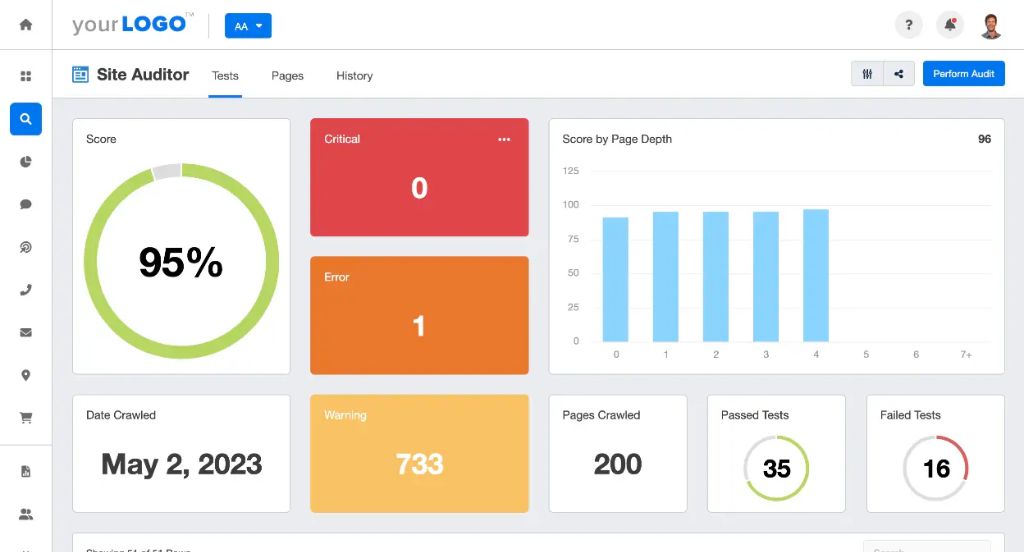 You can check for over 40 site errors, monitor your website regularly for errors, run automated scans on a weekly or monthly basis, and highlight your improvements in a report to show to your clients.
Semrush
Semrush has a free SEO audit tool that you can use to detect issues within your website and get them fixed appropriately.
You can also use this tool to collect technical SEO reports showing if your website is crawlable and determine your site's performance and internal linking issues.
Winner: Semrush is the winner because it allows you to check for hundreds of errors and helps you easily control your linking and performance issues.
Rank Tracker Comparison
AgencyAnalytics
AgencyAnalytics has a keyword rank tracker that can help monitor changes in your website's SEO rankings and even those of your competitors.
You can also track keywords for any location or language, and what's more interesting is that you can add your findings to a keyword ranking report to keep your clients up-to-date with the latest happenings.
Semrush
Semrush offers three SERP tracking tools that allow you to regularly monitor your site's rankings and those of your competitors. 
It comes with position tracking for keywords, domains, and competitors and a sensor for tracking the volatility of search engine results pages based on daily changes. Semrush also helps you determine ranks for researching the domains with the most organic visibility in various markets.
All you need to do is enter the domain and click "set up tracking" on any of these tools, and you will be provided with the domain's position, estimated traffic, and online visibility.
Winner: Semrush has one of the best rank trackers on the market, and it beats AgencyAnalytics in every feature offered.
Backlinks Comparison
AgencyAnalytics
AgencyAnalytics has an impressive backlink checker that can keep track of new and lost links and form reports based on your findings.
The backlink checker allows you to consider factors such as the quantity and quality of the links on your website by closely examining key metrics, such as anchor text, trust flow, and citation flow.
Semrush
Semrush has a backlink audit tool, a backlink gap tool, and a link-building tool to help you get authoritative links to your website and save you the time you would spend looking for prospects.
It allows you to easily access a database containing over 43 trillion backlinks, so you can find quality backlinks that will boost your website's SEO performance.
Winner: Semrush has the edge over AgencyAnalytics, too, as it has different variations of backlink tools that can help you track over 43 trillion backlinks.
Price Comparison
AgencyAnalytics
AgencyAnalytics allows you to purchase its services per client and campaign or sign up for a subscription.
This pricing model includes the Freelancer plan at $12, the Agency plan at $18, and the Enterprise plan. The Enterprise plan is custom-made, has additional features, and requires contacting sales for price negotiation.
These plans offer different features, such as unlimited users, the number of keywords tracked, and the number of SEO campaigns. It also offers a money back guarantee.
Semrush
Semrush has three different pricing plans, which you can subscribe to monthly. These pricing packages begin with the Pro plan at $119.95 per month, the Guru plan at $229.95 per month, and the Business plan at $449.95 per month. You also get to save up to 17% if you pay annually.
Winner: AgencyAnalytics is a winner as it allows you to subscribe only when you need it for a specific campaign or choose one of their affordable monthly subscription plans..
Creating an SEO report for website analytics allows you to look at data such as conversions, sessions, and clicks. If you're going to take the time to examine each piece of data, it's best if you're able to get the most out of your efforts.
– Chuck Kim, SEO Expert and Co-founder of Executive Digital
Get Started With Semrush for Your Website Today
AgencyAnalytics and Semrush offer immense benefits and can help you grow your business with the help of SEO tools.
While AgencyAnalytics might consider itself the best reporting tool, Semrush takes the edge in terms of its key offerings, usability, and other factors that indicate high performance.
You should have at least one of these tools in your toolbox if you are interested in taking advantage of SEO to the fullest.
Our #1 Recommendation: Semrush