Semrush and BrightEdge are two world-class SEO solutions used for digital marketing and SEO campaigns.
While Semrush might be well known in the SEO space because of its robustness, BrightEdge holds its own with its impressive features.
Our SEO experts have done an extensive research to understand better how these tools compare and help you make the right decision for your businesses.
Quick Summary
The primary goal of BrightEdge is to give marketers real-time research and rankings that will see their websites have the edge over their competitors on SERPs.

Semrush prides itself on giving you more data and insights that your competitors cannot access, making your website a top performer in the SEO space.

Semrush is quite flexible and more versatile for different SEO activities than BrightEdge.
What Is Semrush?
Semrush is a highly trusted tool used to handle all forms of activities, such as SEO, content marketing, site audit, competitor research, and social media marketing in the internet space.
This tool also assures you of organic traffic, access to over 24 billion keywords, website audits, white-labeled reports, and website tracking and analysis.
---
What Is BrightEdge?
BrightEdge is an SEO solution created to give marketers real-time research, recommendations, and rankings needed for search engine optimization.
BrightEdge works mostly for large enterprises, including B2B and B2C clients in finance, retail, automotive, and e-commerce.
Its data cube feature, for example, develops an initial yet comprehensive list of keywords your content ranks in. This includes insights about your competitor's performance as well.
---
Semrush Vs. BrightEdge: Comparison
Semrush and BrightEdge may be excellent SEO tools, but when compared, they do differ in some ways. To critically analyze this, let us take a look at how they compare below using certain metrics:
1. Pricing:
Semrush Pricing
Semrush offers three monthly plans, starting with the pro plan at $119.95 per month, the guru plan at $229.95 per month, and the business plan at $449.95 per month. You can also pay annually and save up to 17%.
BrightEdge Pricing
When it comes to pricing, you will have to contact BrightEdge by filling out the provided form on its website page. Once that is done, a representative will discuss their products and the price options for your business. 
---
2. Integrations
Semrush: Integrations
Semrush can be integrated with Google products and other tools, like Wix, Surfer, Yoast, etc.
BrightEdge: Integrations
BrightEdge integrates well with Moz, Majestic SEO, Adobe Systems, and Google Analytics.
---
3. Training:
Semrush
Semrush comes with various training options, such as in-person, live, webinars, documentation, and the Semrush academy.
BrightEdge
BrightEdge only offers training through its webinars.
---
4. Keyword Research and Reporting
Semrush
Semrush's keyword researching and reporting tools are very efficient and can boost your traffic and conquer various search engines.
These tools also allow you to find any keyword's organic and advertising value based on search volume, intent, keyword difficulty, competition level, and other metrics.
BrightEdge
BrightEdge's keyword research and reporting tools provide insight into what you can achieve on search engine result pages. 
With its technical SEO tools, you get to hone in on specific aspects of keyword groups, volume, and rank, and you also get to understand the performance of your content using its keyword trending graph feature.
BrightEdge's keyword tools also help you understand how the SERP layout adapts to each keyword so that you can better predict your expected and actual performance across different search results.
---
5. Site and Content Audit Comparison
Semrush
Semrush has what it calls a "Content Audit Tool" that provides a competitive analysis of your website's subfolders and personalizes your content audit based on real-time metrics from Google Analytics and Google Search Console.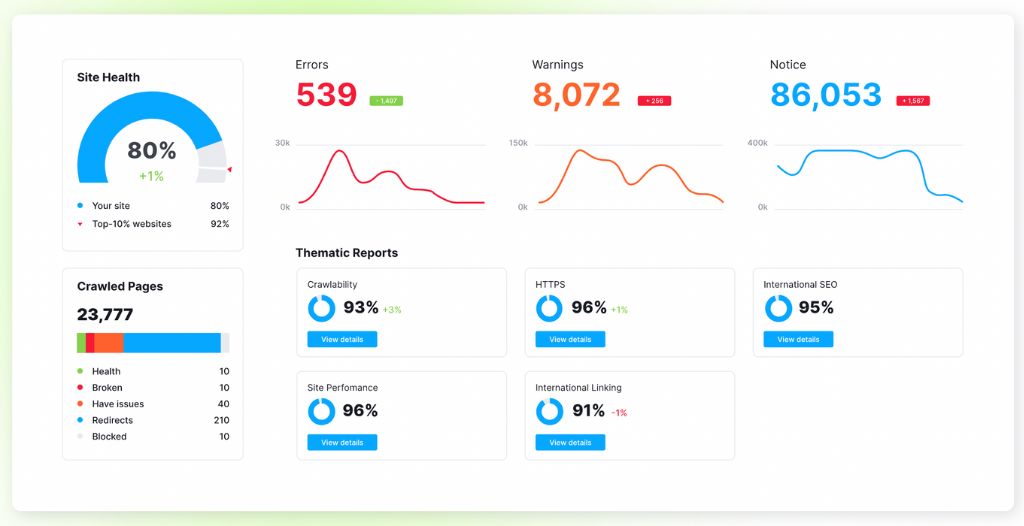 This tool also carefully peruses your workflow so that you can make certain improvements by either rewriting or removing, updating, reviewing, or erasing your content.
For this reason, once you have defined the scope of your audit, you can analyze and find pages that need improvement in terms of ranking, spot the weakest content, keep track of the target pages and metrics, and much more.
BrightEdge
BrightEdge has what it calls ContentIQ that can help you audit any website content and crawl millions of pages for improved organic search and performance.
This tool is integrated with the BrightEdge platform with a story builder dashboard. It reports to track website errors and see how fixing them can contribute to increased site visits, optimized content, conversions, and revenue.
---
Semrush Vs. BrightEdge: Verdict
Semrush and BrightEdge are SEO platforms that offer similar SEO tools equally capable of promoting marketing and SEO campaigns.
However, because BrightEdge is mostly focused on large enterprises with its pricing tailored to fit such businesses, Semrush might be the preferred option to go for by many individuals and businesses because of its flexibility and price affordability.
Nonetheless, if you run a large business and purchase BrightEdge products, you can be confident that you are using a premium software solution that should give you the best services.
Failing to prioritize SEO means your competition will always outrank you in Google search, winning the attention of your target audience. But by conducting keyword research and considering your audience's search intent, you can create compelling resources that attract searchers and turn prospects into loyal customers.
– John Hall, Co-Founder of Calendar
---
Frequently Asked Questions (FAQs)
What Is BrightEdge Used For?
BrightEdge is used for promoting SEO campaigns through keyword tracking, SEO recommendations and audits, site crawl customization, backlink management, and much more.
Is Semrush Free?
Semrush is free, but you only get to use its free account with limited features. The advanced features will require you to opt for a paid plan.
Is Semrush Worth Using For A Small Business?
Yes, Semrush is worth using for a small business, especially if you want to promote that business online and attract the right clients.
---
Which Tool Do We Recommend in 2023?
Semrush and BrightEdge are two top SEO solutions today that can do the job regarding SEO performance and optimization. These tools will enable you to capitalize on opportunities, yielding measurable results.
Semrush will always be my first choice as it is versatile and suitable for content and digital marketers since it is equipped with the best SEO tools. It will help you create an efficient digital marketing strategy and easily boost your performance. Try Semrush today to grow your platform successfully.
Our #1 Recommendation: Semrush