RankActive and Semrush are among the best SEO solutions you can use for your business. They offer world-class features and have top-tier clients who have testified to their services being impeccable.
As an SEO expert with years of experience, I have done my research on both tools, and I will reveal in this article my findings to help you make the best choice for your business.
What Is RankActive?
RankActive is a renowned SEO platform that offers a limited set of SEO products to webmasters, SEO enthusiasts, and marketers. You can use this tool to create successful SEO campaigns and report your findings to your clients.
RankActive started in 2014, and ever since then, it has become one of the leading solutions, with clients from all across the globe.
What Is Semrush?
Semrush is a content marketing platform people and businesses use to elevate their online presence and keep in touch with current marketing trends in the online world.
This SEO tool is highly valuable for marketers and SEO agencies that specialize in SEO and PPC campaigns, SMM, keyword research, competitive research, content marketing, and campaign management.
Semrush started in 2008 as a small group of SEO and IT specialists, but today it has evolved into a powerful platform used worldwide by marketers, individuals, and businesses who want to improve their online presence.
Rank Tracker Comparison
RankActive
RankActive has a tool called Rank Tracker that provides an in-depth understanding of what's going on with your website's ranking on search engines.
This tool is your best bet if you want to be aware of rank changes, analyze keywords based on the collected data, track your competitors' performance, and learn how to improve your website.
Semrush
The Semrush rank tracker is a position-tracking tool that allows you to monitor the rankings of your site and your competitors.
All you need to do is enter the domain and click "Set up tracking," and you will be provided with the domain's position, visibility, and estimated traffic, alongside other SERP features.
Winner: Both SEO tools have a great rank tracker tool, but because of the additional information you get when analyzing your rankings, I would always choose Semrush.
Site Audit Comparison
RankActive
RankActive's Site Auditor is quite effective as it allows you to perform regular checks on your web pages to identify any on-page errors, find and fix broken links, and ensure that your website is healthy.
It follows robots.txt instructions to ensure the meta tags are correctly done with relevant content so that search engine bots can see your website and crawl and index approved pages.
Semrush
Semrush has a free SEO audit tool you can use to detect issues within your website and get them fixed appropriately. You can also use this tool to collect technical SEO reports showing if your website is crawlable and determine your site's performance and internal linking issues.
Winner: While Rank Active has a great site audit tool, Semrush has the edge due to tools that analyze performance and detect linking issues.
Keyword Research Comparison
RankActive
RankActive has a keyword research tool called Keyword Finder that can help you get the right keywords related to the main keyword you are targeting, commonly referred to as LSI keywords.
It also helps you know the keywords your competitors are ranking for so that you can devise a search optimization strategy that will yield a list of trending keyword ideas to promote your website's online visibility.
Semrush
Semrush has a keyword research tool called the "keyword magic tool" that delves into keyword research and analysis to help you build a better SEO strategy.
When you use the keyword magic tool to search for a keyword, you will see related keywords and top domains focused on that keyword, the amount of ad traffic, and the total number of ads for that keyword.
Winner: Semrush is the winner because it has one of the best keyword research tools on the market that will help you easily build a successful SEO strategy.
Competitor Analysis Comparison
RankActive
RankActive has a Competitor Inspector tool you can use to perform competitor analysis to get certain information about your competitors, such as their traffic, rankings, visibility, and keywords. The tool also provides information about competitors' SEO tactics and how to capitalize on them effectively.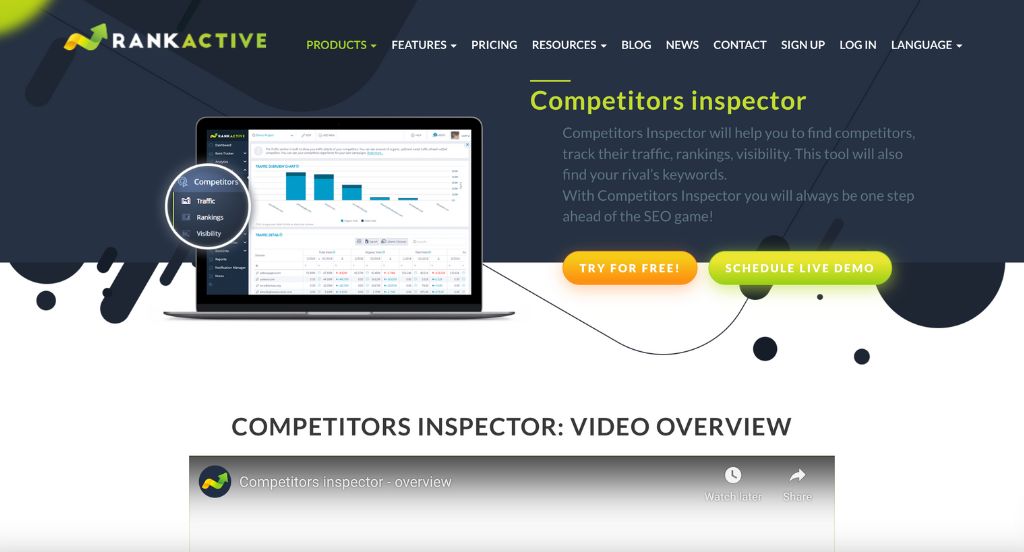 Semrush
Semrush has four tools you can use for competitor analysis. These tools include the traffic analytics tool, the organic research tool, the advertising research tool, and the social media tracker tool.
They will provide specific information regarding your competitors, such as their traffic source, bounce rates, social media pages, and ad structure, which will help you determine the best strategy for your online presence.
Winner: Semrush takes the edge over Rank Active because it offers more tools and provides a deep dive into your competitor's performance.
Price Comparison
RankActive
RankActive has four pricing plans per month. They include the Minimal plan at $99.99, the Optimal plan at $149.99, the Ultimate plan at $229.99, and the Flexible plan at $144.95 monthly.
You can also subscribe to each of these plans annually, and you will receive a 15% discount. As always, each plan has its offerings, meaning the higher the plan, the more features you can access.
Semrush
Semrush has three different monthly subscription plans. These pricing packages begin with the Pro plan at $119.95 per month, the Guru plan at $229.95 per month, and the Business plan at $449.95 per month. You also get to save up to 17% if you pay annually.
These plans differ in terms of the number of projects, Google Data Studio integration, historical data, keyword metrics updates per month, and results per report, among other features.
Winner: Rank Active is an obvious winner when it comes to price because its best plan is priced in the medium range, making it a lot more affordable than Semrush.
Competitor analysis and research can show you the background, links, makeup, and rankings of any site you type in—meaning you can spy on your competition, see where they are doing well and where they are lacking, and create your strategy based on their analytics.
– James Leff, SEO Expert and CEO at JSL Marketing and Web Design
Get Started With Semrush For Your Website Today
RankActive and Semrush offer immense benefits and can help you achieve success on search engines and attract a wide audience.
Although both tools have great offers, Semrush takes the edge simply because of its more versatile package.
It offers more than just six tools and focuses on areas other than SEO, such as content marketing and advertising, which are also very important for your website.
If you want to create a successful SEO strategy, adding Semrush to your toolkit is a must.
Our #1 Recommendation: Semrush