First, you'll get hard data from the latest case studies. The studies cover the state of AI in the marketing industry, the winners and losers of the last big update, and whether going viral helps with SEO.
Next, the guides will give you some new skills to put to work. You'll learn how to find out if PBNs are still working, how to apply AI to create SEO-friendly content, and how to do your own tracking of Google Update changes.
The top SEO headlines are waiting for you at the end. Google has announced the broad core updates are done and provided some details about how they catch fake reviews. There's also a new reviews update that's no longer just about products.
The State of AI in the Online Marketing Industry: 2023 Report
https://www.authorityhacker.com/ai-survey
Mark Webster, writing for Authority Hacker, brings you this massive survey on how digital marketers use their new AI toys. More than 3,800 marketers were included in the survey.
They were asked dozens of questions to reveal insights like the following examples:
75.7% of marketers are now using AI tools for work
85.1% of marketers are using AI for article writing
60% of marketers feel positive about the rise of the AI industry
Only 30.1% of Marketers think AI will negatively impact search traffic in 5 years.
54.9% of respondents suspect they've received undisclosed AI content from a service provider
The respondents came from various backgrounds, including website owners, freelancers, agency owners, and more. The results suggest that AI already powers many marketing operations at different levels.
The survey also revealed some of the pioneering users' frustrations. 63% of respondents cited inaccuracies in the copy as a major issue with the current functionality. Despite high trust in some other areas, fewer than 15% of users report trusting keyword data generated by AI.
Still, everyone seems eager to forge ahead. 90% of marketers are confident that they will be able to learn and adapt to these new tools.
Check out the full article for a complete breakdown of how SEOs report using A.I.
Surfer AI Launch Date Announced for May 23, 2023
Surfer's AI tool's release date has been announced.  This is the same tool that Matt Diggity helped design which takes care of article research, outline creation, content creation and SEO optimization in a single button press.
Watch the case study where Matt talks about his website that grew from 0 to 50,000 visitors per month, with pure AI content.
To sign up for the waitlist and take advantage of the launch bonuses, head on over here: https://surferseo.com/ai/
Next, you'll get a better understanding of the impact of the last Core Update through a look at its winners and losers.
Google's March 2023 Core Update: Winners, Losers & Analysis
https://www.amsivedigital.com/insights/seo/googles-march-2023-core-update-winners-losers-analysis/
Lily Ray lets you know who is celebrating after the end of the last big update. Her analysis looked at 7,000+ domains and the positions that they held before and after.

This update's winners included some of the biggest sites on the internet. Below, you can see them listed next to the absolute change in visibility they achieved—
wikipedia.org +605.29
amazon.com +345.20
ebay.com +112.90
imdb.com +75.92
nih.gov +61.40
These were the top 5 biggest losers, based on the absolute loss of visibility they experienced—
wiktionary.org -141.39
urbandictionary.com -84.29
thefreedictionary.com -44.62
cambridge.org -42.55
yelp.com -41.40
In her analysis of the list of 7,000 sites, she judged that eCommerce and shopping were the winningest categories, though a significant amount of the growth went to a few huge players (such as Amazon).
Reference/dictionary sites showed up in both lists. Bigger reference sites appeared to benefit greatly, whereas smaller reference sites lost a ton of visibility.
Lily also noted some strange trends in the travel industry. Sites that directly sell services (such as home sites for hotels) did well, but affiliate sites that rated and reviewed hotels all suffered. This may be an early warning sign of Google's changing priorities in search.
The final case study of the month asks (and answers) how much going viral is really worth as a strategy.
Does Going Viral Help With SEO? Not Really
https://ahrefs.com/blog/viral-seo/
Patrick Stox brings you this look at the real SEO benefits of having a viral moment. As he notes early on, a viral moment can bring on a huge influx of news stories and social media mentions. That should mean a big change in visibility, right? That's not what Patrick found.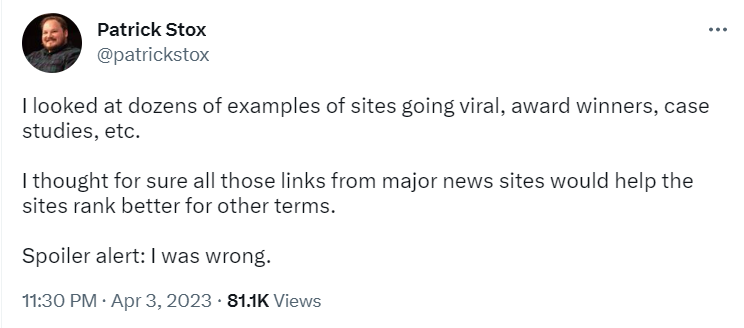 He used an interesting example: The Four Seasons Landscaping company that was (presumably due to a scheduling mixup) the host of a presidential press conference.
This business received hundreds of new links as a result of this event, many from the largest print and TV news sources in the United States.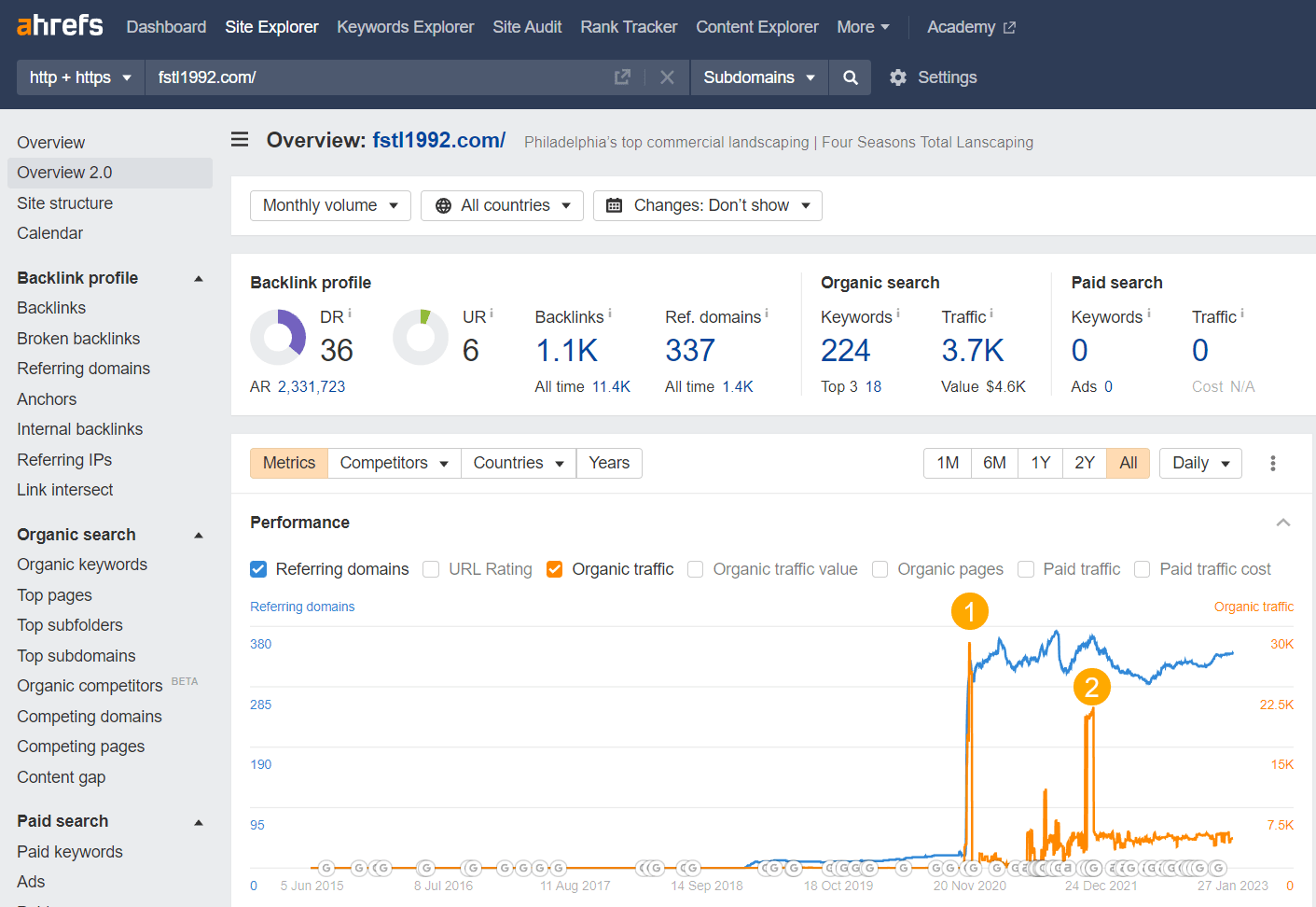 Patrick uses analytical sources to show you how the company reacted and benefitted from these new links. As he points out, this company isn't even hitting the first page for most of its key terms (and most competitors are also small businesses).
The company claims, at the time this article was written, that they had netted only 3 new clients from the attention.
Patrick follows up with several more examples you can check out in the complete article. Each time, he points out mistakes that these companies made, but the trend remains clear that an explosion of media mentions doesn't seem to deliver growth on its own.
With the case studies for the month closed, you're ready to move on to the guides. First, you'll learn about the state of PBNs after the last round of updates so you can decide where they belong in your strategy.
Pbns & the Google Spam Update – Do They Still Work?
https://rankclub.io/pbn-link-spam-update/
Rob Rok takes a data-driven dive into the performance of PBNs after a series of updates rocked the link-building world. As he noted, "search spam" was a major target of the recent updates. Many suspected that links like PBNs would be targeted.
He set up a series of tests to determine how the updates had impacted PBNs. Using a method from one of my old blogs, he sent links from PBNs in his network to a number of small, stagnating test sites.
From there, he waited several months to see how the test sites would respond to the fresh link from the PBN. His testing showed a strong and sudden reaction from all the test sites. A few sites jumped into the top 10 results for related terms.
Rob concluded that the updates didn't harm the viability of PBNs. Every single test site saw a response, and they were all positive.
Check out the full article to see the data from the test sites and some more analysis from Rob on how these results were possible. Next up, the good people at Moz will help you start putting AI to use with new recommended practices.
AI for SEO and Content Marketing: A Friend, Not a Foe (For Now, at Least)
https://moz.com/blog/ai-for-seo-and-content-marketing
Ann Smarty takes you through a look at how you can start getting friendly with AI. First, she argues that most SEOs shouldn't feel threatened unless their content never expresses a human opinion or reflects expertise (the two things she argues AI can't do).
It's not going to replace your pillar pieces, but the value she does see in AI is as a sort of virtual assistant that can be activated throughout the day to kickstart, simplify or automate SEO tasks.

She provides you with a long list of ways you can use AI, including all of the following examples she explains in the article:
Product descriptions strictly based on existing specifications
FAQ sections and pages
YouTube video descriptions (or YouTube video summaries to use on your site for accessibility)
Your About page and/or bio to use on social media profiles
Image anchor text for your whole article/page
She closes the guide with some extra news about upcoming AIs that are promising even more applications in the future. She introduces you to some projects that may soon help you create your own reliable stock art and convert blog posts directly into videos.

For the last guide of the month, we're jumping back into talking about the updates. It will teach you how to use simple metrics in GA4 to handle your own update tracking.
How to Compare Hourly Sessions in Google Analytics 4 to Track the Impact of Major Google Algorithm Updates (Like Broad Core-Updates)
https://www.gsqi.com/marketing-blog/
Glenn Gabe brings you a new update-tracking solution he developed based on a Twitter reply.
He was recently asked if there was an easy way to compare Google's organic traffic hourly (for example, while an update was rolling out). A report like this is possible with GA4 , and Glenn helps you build it out so you can see what's happening to your site live.
Glenn takes you through a complete tutorial of his process so that you can follow it yourself. The nine steps cover all the settings you'll need to apply to get the report that provides the right information.
On top of the helpful steps, he uses visuals to show you where to find all the right session, segment, and timeframe options.
This guide is a short one because the process is really simple when you know where to look. Once you've figured it out, it will be set up every time a new update hits. You may be waiting awhile because, as our first news item states, the last update is confirmed complete.
Google March 2023 Broad Core Update Done Rolling Out
https://searchengineland.com/google-march-2023-broad-core-update-done-rolling-out-394724
Barry Schwartz brings you this confirmation from Google that the March 2023 Core Update has finally concluded. It was finally listed as completed on the 28th of March. This was one of the longest updates to roll out. It took nearly two full weeks to complete.
As usual, Google did not provide any specific guidance for people whose sites were affected. There are no actions to take, but Google has provided a list of questions to ask yourself as a troubleshooting method.
Updates are usually followed by minor, unannounced tweaks that can help sites that have been over-targeted. However, in most cases, you'll need to wait until the next update to recover from some issues.
That's all there is to say about the last core update, but it's not all that Google had to say recently. They've also revealed how they're catching and removing dishonest reviews.
Google Reveals How It Catches Fake Local Business Reviews
https://www.searchenginejournal.com/google-maps-fake-business-reviews/483664/
Roger Montti brings you this look at Google's report on fighting fake reviews. Google published this information themselves, stating that the machine learning systems had just recently been updated.
Google seems proud of the differences. They've announced that the combined machine learning tools and live teams have so far removed—
Over 200 million photos
7+ million videos
115 million reviews
20 fake business profiles
They disclosed to the FTC that they now have a variety of saved signals that can identify fake accounts. Duplicate content, word patterns, and other intelligent text matching is used to spot bad reviews.
They've also extended their capabilities against other types of spam.
Google can now scan images to detect any content (such as phone numbers) overlaid on them.
This is just another in a long line of updates to Google's fight against low-quality results. It's being directly followed up with a major update for reviews.
Google Releases April 2023 Reviews Update
https://searchengineland.com/google-releases-april-2023-reviews-update-395561
Danny Goodwin brings you this announcement that Google has released its 2023 reviews update. This is a notable update because it's expanding beyond the product reviews update to also cover services, businesses, destinations, and media.
This change means that product review guidance is now just called "review guidance" across all Google documentation. This seems to suggest that all the rules that have applied in the last few product review updates will now apply to all types of reviews moving forward.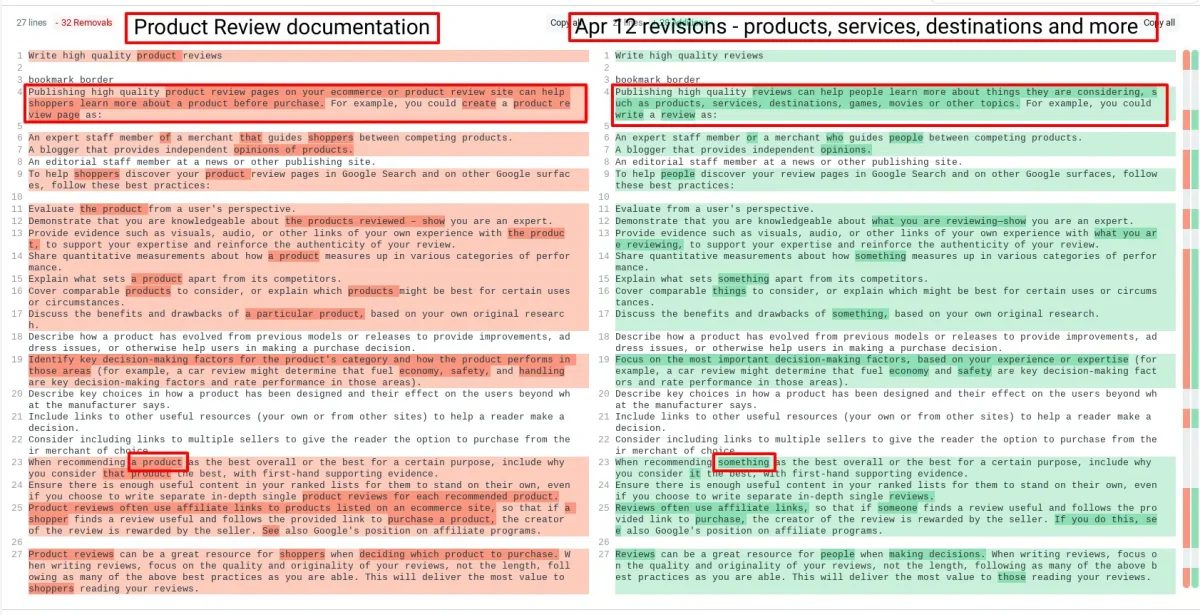 The recently updated review guidance from Google can be found here.
That's all for this roundup. Check back next time to learn the latest about SEO news, big algorithm updates and the march of A.I.
Got Questions or Comments?
Join the discussion here on Facebook.