If you want to amplify your SEO efforts with AI, this is a roundup you shouldn't miss. We've gathered together some of the most essential guides, case studies, and news headlines to keep you ahead of the competition.
The guides are the first. They'll give you the tools you need to use generative AI to increase E.E.AT. scores, understand Google's own systems, run better campaigns with machine learning, and use ChatGPT to find keyword variations.
Next, the case studies will give you real data on what's working in SEO. You'll learn how one site grew 200% with image-based SEO, the experiences of SEOs who removed AMP, and the results of an interesting experiment that disallowed humans.
At the roundup's end, we've included some headlines you shouldn't miss. Google is planning some huge changes, Shopify is enhancing its on-page experience with AI, and Google has made a big update to Product Rating policies.
4 Ways to Leverage Your Website's E. E. A.T. Using Generative AI Tools (Part 1)
https://www.ezoic.com/guest-blog-4-ways-to-leverage-your-websites-e-e-a-t-using-generative-ai-tools-part-1/
Saleh Ahmed brings you this two-part guide to analyzing and filling content gaps using AI tools. In it, he covers how you can fill in competitor data and search queries using AI, assign topics more effectively, and generate topic clusters from competitor sitemaps.
After an introduction, he starts with some steps for priming any AI you use for content-level improvement. He provides a series of starting prompts you can use to guide the AI toward the right parameters, including all of the following—
Does the content provide original information, reporting, research, or analysis?
Does the content provide a substantial, complete, or comprehensive description of the topic?
Does the headline and/or page title avoid being exaggerated or shocking in nature?
After that, he gives you examples of how tools like ChatGPT and Bard respond to these prompts and prepare themselves for the next step. The steps are designed so that you can use most major AI systems to complete them.
His advice carries you through four levels of different prompts until the tool is ready to analyze your content.
The guide continues with advice on directing the parameters you've created with these prompts to analyze your content and that of your competitors. Check out the complete guide for more content tips.
Next, you'll learn about some AI systems that may already be impacting your content—Google's own.
Google's Helpful Content & Other AI Systems May Be Impacting Your Site's Visibility
https://www.mariehaynes.com/google-ai-systems/
Marie Haynes brings you this look at how Google is reshaping SEO with AI. In it, she dives deep into how AI has already significantly changed Google's ranking system. She follows up with some tips you can follow to avoid big losses across these changes.
First, she makes the case that nothing is more important to SEO than aligning with Google's quality criteria. Now, she argues, AI is doing a lot of the work of judging and ranking content based on that criteria, and she has some ideas for how you can play by AI's rules better.
She comprehensively breaks down how Google's AI systems have been operating since 2016, with some graphs that track the introduction and resolution of major traffic volatility since then.
Then, she takes you through all of the AI/Machine systems that are currently at work. She covers—
The Helpful Content System
SpamBrain
Reviews System
(Hundreds more, as she explains)
For each system or series of systems, she gives you some analysis of how they work and what signals they use. She explains how you can do better to please these systems and which factors matter most.
The complete guide is incredibly thorough and could provide a good foundation for you or any employees you want to understand AI in SEO.
Next, you'll learn some precise steps you can use to get keyword variations from your favorite AI tools.
How to Use ChatGPT to Uncover Keyword Variations Other Tools Miss (Prompts Included)
https://searchengineland.com/chatgpt-keyword-variations-tools-miss-prompts-429665
Tony Hill brings you this look at how you can use ChatGPT to find keyword variations other tools might miss. The process involves a series of prompts, so you can use the same principles on any of your favorite AI tools.
The guide jumps directly into the steps with the basic keyword "drones" as an example. Starting with this single term, Tony takes you through five steps that will get you a narrowed list of effective variations.
The guide doesn't end there. Tony takes you through another set up steps that you can follow to find words and phrases that your potential customers might need. Finally, he provides some best practices for adding missing word variations to your lists.
With all the steps laid out, you can test this technique out for yourself in a half hour or so. It may become one of your AI-enabled habits. For now, we're ready to dive into the month's data studies. In the first one, you'll learn how one company used image thumbnails to earn a 200% increase in traffic.
Foot Locker Image SEO Case Study: 228% Increase for Google Image Thumbnails
https://brodieclark.com/foot-locker-image-seo/
Brodie Clark brings you this case study into a big traffic increase for Foot Locker.
As an introduction to the results, he provides some quick background on how Google image thumbnails are generated for category pages. Foot Locker had been an example in an earlier guide he created about thumbnails, and this study looks at the actions the company took to correct their problems—as well as the results.
He jumps right into those. Foot Locker went from having no image thumbnails appearing for any of its important category pages to having nearly all pages producing multi-image thumbnails.
Brodie illustrates the difference by showing you images of how SERPs looked for Foot Locker results before and after the changes. Even from just one image, the change is striking. The company's result covers significantly more of the page with half-a-dozen images.
In numbers, the changes across the site accounted for a rise from ~60K organic visits per month to now 195K organic visits per month. The traffic is still increasing.
Brodie continued by documenting the steps the company took to resolve the issues. He covers a long list of changes they made while troubleshooting issues related to—
Image relevance
Image quality
Alt text
Product title
>8 relevant images
Sequence of appearance
Transparent backgrounds
Product arrangement
Check out the complete study for more information about how you can target the same issues with your own sites or clients. Next, you'll learn how the AMP removal may still affect your sites.
How It's Going After Removing Google AMP Pages 3 Weeks Ago
https://www.seroundtable.com/remove-google-amp-status-35724.html
Barry Schwartz brings you a condensed look at some of the changes that have followed the removal of AMP. He covers his own site (SEO Roundtable) as an example and provides you with a look into his site data three weeks afterward. He followed the AMP removal guidelines closely, so his experiences may be instructive for site owners attempting the same thing.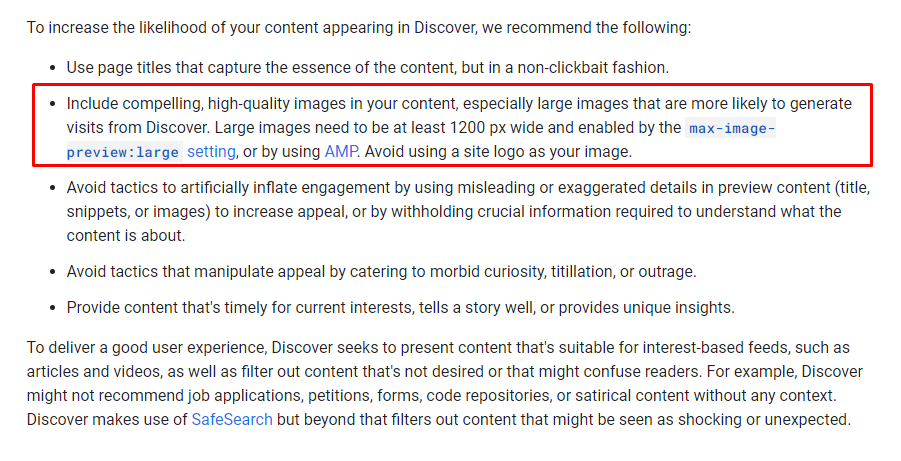 He recorded a few problems with the initial removal. He warns readers that Google was still referencing AMP URLs in canonical pages early in the process. This turned out to be a delay in reporting that was easily resolved.
As many SEOs likely fear, there were some problems with Discover. For a brief time, the site was not showing up at all, and when images did appear, they were not the proper size. This was resolved with a minor fix.
Overall, Barry described the process as going smoothly. Several weeks later, no major problems are holding the site back. You should be able to enjoy the same results by following Google's guide (linked just above) and considering the troubleshooting steps Barry discusses here.
The last study in this week's roundup is an eyebrow-raising test of Google's cloaking detection and response.
Disallow Humans (Bad Cloaking)
https://ohgm.co.uk/bad-cloaking/
Oliver H.G. Mason tests Google's cloaking limits by fully banning humans from his site and watching how Google responds.
As a quick reminder, cloaking is when you show two different pages to crawlers and human searchers. Google considers cloaking to be spam and has worked to control it since it emerged as an early black-hat technique in the 2010s
Oliver's test tracked the modern response from Google's detection systems. Human searchers were sent to a nearly blank page with a simple message about the website being closed. Crawlers could still access the original content.
The interesting result was that Google didn't appear to have detected the change at all. Traffic did begin to decline, but it was a slow and moderate decline even three months after Google had indexed the change.
Oliver suggested that the results may have come from over-tuning of Google's detection mechanisms. He theorized that the systems policing this practice may be primed to hunt for adult topics rather than a page that's simply empty.
The results may be interesting to SEOs who want to run their own tests. For now, let's jump to the news. First, Google has made a major announcement regarding Howto and FAQ results.
Google Reduces the Visibility of Howto and FAQ Rich Results in Search
https://searchengineland.com/google-reduces-the-visibility-of-howto-and-faq-rich-results-in-search-430452
Google has announced that they are effectively demoting HowTo and FAQ rich results. As part of the changes, fewer rich results will be appearing in all searches. Fewer FAQ results will appear overall, and How-to results have been restricted for desktop searches.
The formal announcement provided several more details. First, FAQs will now only appear reliably for well-known, authoritative government and health websites. They can still appear for other sites and topics but will not be shown regularly.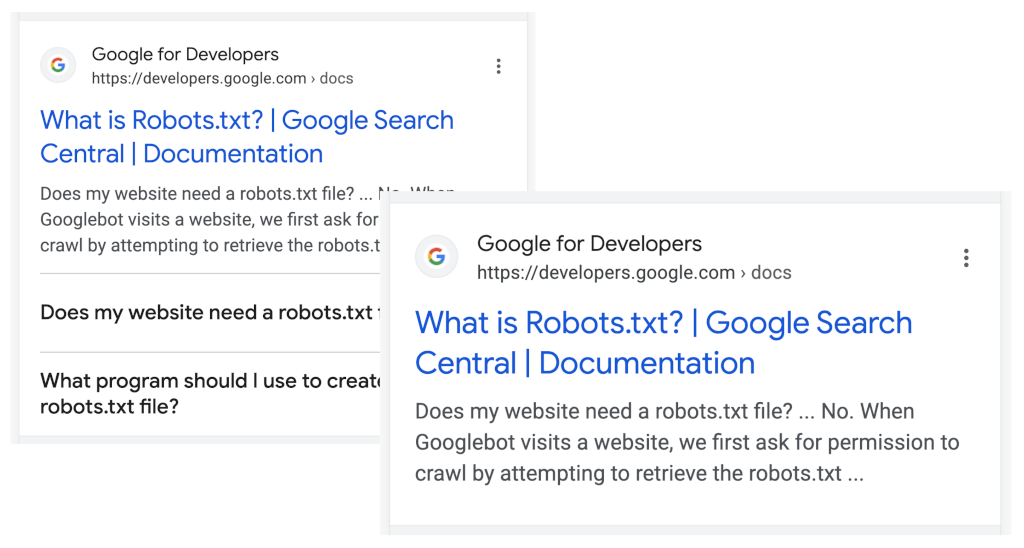 How-To rich results will only be shown for desktop users and not users on mobile devices. They remind you that with mobile indexing, Google indexes the mobile version of a website as the basis for indexing.
To have How-To rich results shown on desktop results, the mobile version of your website must include the appropriate markup.
Google provided guidance for site owners who may still have structured FAQ data on their sites. For the time being, it is not necessary to remove it. Google claims that leaving the data in place will have no visible effects on search results.
The changes rolled out over the week of August 14th, and should already be in effect. Watch for any changes to your results immediately. Next, Google has announced a change in its AI policy for review content.
Google Updates Product Ratings Policies on Automated AI Content
https://www.searchenginejournal.com/google-updates-product-ratings-policies-automated-ai-generated-content/492777/
Google made a recent major announcement that it is restricting the use of automated and AI-generated content for the purpose of reviews like those left on GMB or self-submission forms.
The announcement clarifies that website owners should report any apparently AI-generated reviews that appear as spam using the <is_spam> attribute. The addition to the rules appears below—
"Automated Content: We don't allow reviews that are primarily generated by an automated program or artificial intelligence application. If you have identified such content, it should be marked as spam in your feed using the <is_spam> attribute"
A set of penalties were included along with the announcement. Violators may face warnings or suspensions.
While the announcement may seem significant, Google has maintained roughly the same policy for every earlier kind of inauthentic review. This change only extends that policy to content that has been generated by AI (as opposed to a fake review written by a human).
That's all for this month, but it's a lot to chew on, especially if you're jumping into AI with both feet. Check back next time for more of the latest news, guides and case studies on SEO and AI.
Got Questions or Comments?
Join the discussion here on Facebook.