The next set of core updates just hit, and you probably need some answers. In this roundup, we'll be looking at the analysis of what's happened, as well as some other important tricks and advice that dropped this month.
We'll start with three big case studies. First, we'll look at an analysis of the July Core Update. Then, you'll find out what 3.6 billion articles can tell you about building evergreen content. Finally, you'll learn whether data proves that content performs better when it's easy to read.
Then, we'll move on to the month's guide. It covers how to optimize for your own In this July SEO news roundup, from core update analyses, to deep-dive case studies, we've got you covered. Also find out how branded search can lead to some …..
Finally, we'll cover the news. First, Google released a search spam algorithm update. They've also announced that they won't be blocking 3rd-part cookies on schedule. Finally, John Meuller declared that sometimes "there's no SEO solution." We'll take a look at what all this means.
Analysis: Google Core Update July 2021
https://www.sistrix.com/blog/google-core-update-july-2021/
Steve Paine of Sistrix brings us this look at the Google core updates that rolled out through July. This update is the next phase of an update that first began rolling out in June. The new phase was announced on July 1st and has been rolling out since then.
So many updates have dropped in a short amount of time that it's honestly hard to separate all of the effects. However, Steve has plenty of Sistrix data about the sites that gained and lost visibility, and he noted several interesting movements.
Some sites in the entertainment sector did really well. Spotify, for example, jumped in June and then jumped again in the July updates. Last.fm was also a big winner.
Not all sites were so lucky. More than a few financial sites took a beating in the spam update that happened around the same time. This shouldn't come as too much of a surprise.
Google has been holding these sites to higher standards in the last few updates, and now they may be experimenting with new criteria to judge the sites that survived the last hits.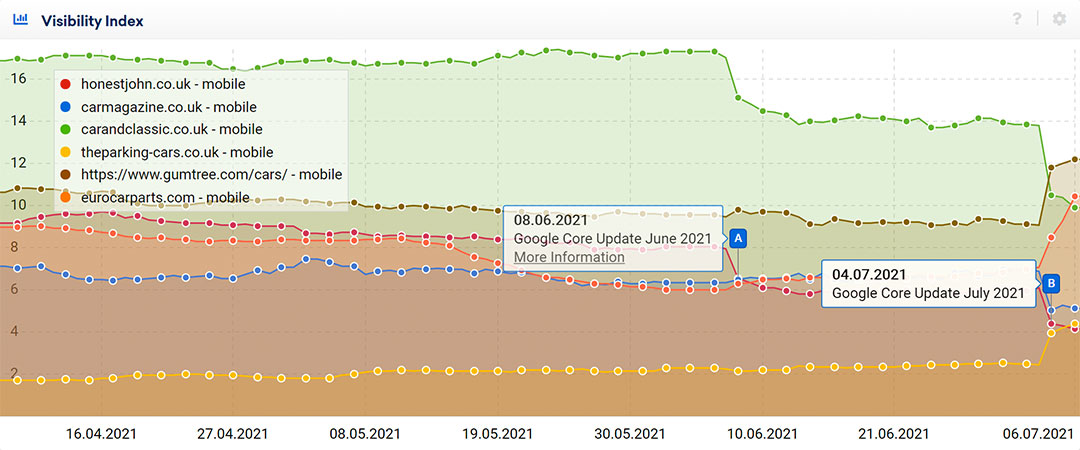 Another interesting effect was that some sites improved after being hit in previous updates. Steve shows that some sites that were mauled during the December update (losing more than half of their traffic in some cases) suddenly recovered.
Check out the article for more analysis and a long list of the top winners and losers. Next up, we'll look at what more than 3 billion data points can tell us about what makes content evergreen.
We Analyzed 3.6 Billion Articles. Here's What We Learned About Evergreen Content
https://backlinko.com/evergreen-content-study
Brian Dean of Backlinko brings us this look at how to understand evergreen content. A lot of factors were considered in this analysis, including the format and promotional channels.
He broke his findings into some snackable bites that can easily be applied to the content you create going forward. For example, he found that lists represent one of your best chances to go evergreen.
Lists and how-to posts do best over the long haul compared to almost any other format
Best-of lists perform even better than lists in general
Posts that include year dates in the title (2020, 2021)
He also discovered some types of content that had very little chance of achieving evergreen status.
Press releases tend to do badly and expire quickly after release
Podcasts rarely get shared at all and do much worse than lists
Presentations seem to perform the worst of all
His analysis also showed that where content launched or was promoted could play an important role.
Content that performs well on Reddit has a great chance of becoming evergreen
Performing well on Twitter doesn't seem to help much at all
Social Media Examiner, HBR, and Mindful tend to publish the highest amount of evergreen content
The full guide contains even more analysis about building content with a high chance of going evergreen. Our final case study also deals with content. It's a study that looks at whether the readability of your content plays a role in its SEO performance.
Flesch Reading Ease: Does It Matter for SEO? (Data Study)
https://ahrefs.com/blog/flesch-reading-ease/
Michal Pecánek of Ahrefs brings us this analysis of how the Flesch Reading Ease (FRE) Score impacts content performance over time.
You may have seen this score used in many content-analysis tools (for example, the Hemingway App). It tells you how easy your content is to ready based on factors such as the size of words use or the length of sentences.
But does this score matter?
Michal starts by pointing out that Google has never defended this score outright. He quotes John Mueller saying in 2018 that he wasn't aware of any algorithms that accounted for FRE.
The data that Ahrefs collected across 15,000 keywords seemed to confirm that it's not a factor. Their study revealed no correlation between the FRE score of content and how well it ranked.
With that said, Michal was split on whether it should be applied to your content. For one, he points out that poor readability can contribute to many other problems that do affect performance.
Bounce rates and low dwell time from frustrated readers can signal to Google that your content is just not serving searchers' needs. However, you can also frustrate your readers by trying to dumb down content just to chase a score that's less important than your message.
To back this up, Michal provides some additional data on topics. He reveals that the top-ranking engineering pages online tend to have awful FRE scores. However, top food pages have much better scores.
He concludes you're better off sticking to solid writing practices than focusing on FRE. That concludes the data studies for the week. Let's move on to the guide.
How to Optimize for Your Own Branded Search
https://moz.com/blog/optimize-for-branded-search
Ann Smarty of Moz brings us this look at how to tailor your SEO for branded searches. Branded searches are terms that contain your brand or product name. It can include your business, product, or key team members.
As Ann points out, these kinds of searches can be really important to your strategy. For one, they come with high intent. Someone who is looking up your brand is probably close to buying. They're checking out your company, and what they see on SERPs can be a huge influence.
Ann recommends that you assess your position by starting with the suggestion box. When someone types in your brand (even before they've clicked on search), you want to know what's being recommended to them. Quite often, it's competitors with terms such as:
(Brand) competitors
(Brand) alternative
(Brand) free alternative
These same types of suggestions tend to fill the "people also ask" box. As she points out, you can't stop this from happening, but you can optimize for these search terms to guide people back to your own site.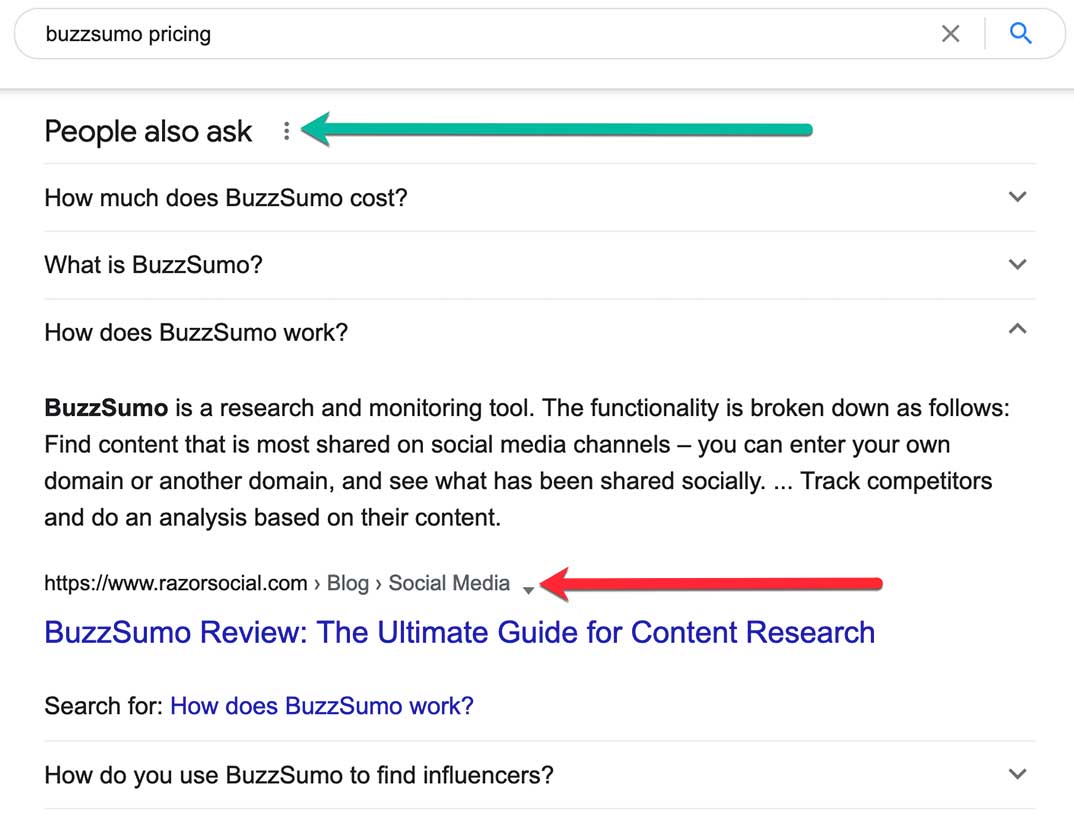 For example, you can start building FAQ schemas to provide direct answers to questions about your brand competitors. You can also publish blogs around them or address them in your knowledge base.
When your site is the top result or snippet for these brand mentions, you control the conversation. You'll find some more advice and spreadsheet templates for monitoring and reacting to changes in your brand searches in the guide.
For now, let's move on to the news. We'll start by looking at some of the "what" questions behind Google's spam algorithm update and what it's reported to do.
Confirmed Google Search Spam Algorithm Update On June 23rd & 28th
https://www.seroundtable.com/google-search-spam-algorithm-update-june-23rd-31649.html
Barry Schwartz of SEO Roundtable brings us this look at a part of the recent core updates. The spam-specific update started and ended in late June with very few details except for the fact that it was happening.
The first part of the spam update took place on the 23rd. A second part followed on the 28th, and both were complete by the end of the day.
Barry and other SEOs have learned a little more about it since launch.
In a conversation with Barry, Danny Sullivan of Google confirmed that the update was global and that it would cover image results and others.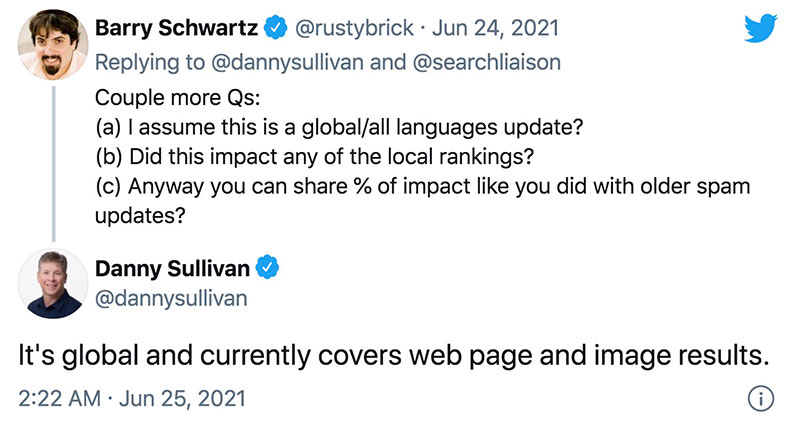 The reaction from the community was mixed. On several forum conversations that Barry covered in the article, people reported that many sites were hit. Others claimed that the update was necessary because the recent core update enabled many new types of spam.
You can track the volatility in several tool graphs that Barry provided in the piece.
For now, it doesn't seem that the spam update has resulted in as many changes as other recent updates.
However, Google hasn't ruled out additional spam updates to further control the effects.
Google isn't moving swiftly in all their updates. In our next news piece, you'll learn why Google has delayed the plan to block third-party cookies until 2023.
Google Delays Blocking Third-Party Cookies in Chrome Until 2023
https://www.theverge.com/2021/6/24/22547339/google-chrome-cookiepocalypse-delayed-2023
Alex Castro of the Verge brings us this look at Google's decision not to phase out third-party cookies. The controversial decision (dubbed the "cookiepocalypse" by some users) has now been delayed by more than a year.
In a published statement, Google declared that the delay was planned in compliance with the United Kingdom's Competition and Markets Authority (CMA) law.
This law recently resulted in many sites implementing popups to users to allow them to choose cookie options. Google has chosen to work more closely with regulators to ensure that the update doesn't violate anti-competitive practices.
Google has promised to provide more specific dates at a later time. For now, the update will take part in several stages. Stage 1 will provide guidelines for advertisers to update their services. Stage 2 (completing at the end of 2023) will phase out the cookies entirely.
In the final bit of news, we'll look at some recent QAs by John Mueller and what they may tell us about Google's plans going forward.
Google's John Mueller: Sometimes There's No SEO Solution
https://www.searchenginejournal.com/googles-john-mueller-sometimes-theres-no-seo-solution/412734/
Matt Southern of SEJ brings us this look at a recent Reddit thread where John Mueller took part in some detailed QAs with site users.
The whole thread may provide valuable insights to people who have questions about why a site won't rank. However, not everyone is going to be pleased with what John had to say. He pointed out that (by design) some problems don't have an SEO solution.
He addressed a frustrated user who couldn't figure out why his site's traffic tanked six years ago and couldn't recover no matter what he tried. He pointed out that both product and content sites can suffer from problems that SEO couldn't correct, such as a declining search volume.
He advised the user not to spend more on SEO solutions and to consider the possibility that the site's value had just expired regardless of any tactics that could be applied.
Want to work through all this news with a great SEO community? Join the conversation on our Facebook page below.
Got Questions or Comments?
Join the discussion here on Facebook.