October's SEO roundup comes in the aftershock of several huge Google updates and developments that may determine the future of AI content. Get caught up here with the latest case studies, guides, and news.
First, the case studies will update you on the latest data. This month's items are about the updates, including how Google foreshadowed some Helpful Content Update (HCU) changes, how the HCU deployed from rollout to impact, and what you can do about HCU visibility loss. You'll also get two perspectives about the winners and losers of the core update.
After that, the guides will help you adjust to some of the new changes. You'll get two looks at how to take advantage of recent AI upgrades.
Finally, you'll get caught up on the month's biggest news. Google confirms the helpful content update is complete, has quietly removed the tag "Written by People, and has made the controversial announcement that links are not a major search factor (I have some thoughts about it).
The September 2023 Google Helpful Content Update – Did Google's Announcement in April About Page Experience Foreshadow What We're Seeing With the Current HCU(X)?
https://www.gsqi.com/marketing-blog/september-2023-google-helpful-content-update-hcux/
Glenn Gabe brings you this look at the Helpful Content Update and why it may be having the impact it had on the hardest-hit sites. He takes you through some recent statements by Google and provides data to help you understand how these ideas are now being used.
He starts you with some image examples of sites that saw significant drops. Glenn argues that he's found an important pattern in these hard-hit sites: They all have the dual problems of unhelpful content and bad UX.
Among other trends he noticed on these sites were large ads, auto-playing videos, pop-ups, and other intrusive elements. Google has become more committed or more advanced at targeting these issues as of this update, and as Glenn explained—they warned you.
Glenn refers to a recent change to Google's guidance on helpful content. It recommends that website owners focus on user experience overall rather than trying to score higher core web vital scores.
He argues that this policy is now being enforced, and the sites hit by this update were the first to feel the effects. The changes to best practices go beyond web vitals and require website owners to think more carefully about ad placement, readability, and other issues that compromise content quality.
Check out the complete guide for more of Glenn's thoughts. For now, you can jump into some theory on what to do about these changes if your website is targeted. You'll start with one of the most comprehensive HCU breakdowns yet available.
Google's Helpful Content Update: Full Review, Analysis, and Recovery
https://on-page.ai/pages/helpful-content-update/
Eric Lancheres brings you this deep look into the HCU, which he argues is one of the most impactful updates in a long time. He tackles the motivations behind the update, some theories for how the algorithm works now, his ongoing tests and experiments, and so much more.
He starts with a comprehensive look at the signals Google was putting out before the update landed. You'll find a list of links to all of the official statements and his arguments for what they're hinting toward.
Then, he gives you a history of the "AI Classifier," an AI-driven process that he argues was a large part of this update and that Google is using to judge article-type content in particular. He covers some theories of how this process works and how it may be evaluating your content
He also makes a case for how he believes the Google Algorithm itself is changing after this update. He introduces the new "helpful score," which is now a ranking factor, and shows you how it may already be leading to serious changes in your ranking position.
That's really only the beginning of his analysis, however. The rest of the article features before-and-after comparisons, small case studies of affected sites, and his predictions for the future.
His article has far more than can be covered here. Make sure you check it out to find some solid advice and a ton of graphs and data to help you make sense of what you're seeing. Next, you'll find another perspective on HCU, focused on the steps you can take right now for recovery.
The September Helpful Content Update: Why You Were Affected and What You Can Do
https://www.mariehaynes.com/the-september-helpful-content-update-why-you-were-affected-and-what-you-can-do/
Marie Haynes brings you this look at corrective actions you can take if your site was one of those hit by the latest HCU.
She has a theory for why many sites were negatively affected. She argues that there are strong reasons to believe that sites most affected were those that prioritized SEO tactics over authentic first-hand experiences.
Her analysis spotted the following trends among the affected recipe and lifestyle sites—
Bloggers with health claims in recipes without proper support saw a decline.
Sites with excessive, unnecessary content (long background sections).
Some had allowed ad companies to take over their Jump buttons so that "jump to recipe" was actually "jump to the ad."
She diagnosed most affected sites as having low-value or unhelpful content.
As she points out, if the Helpful Content System detects low-quality content—it becomes a site-wide classification Only a few sections or pages of bad content need to exist to cause problems for your entire site.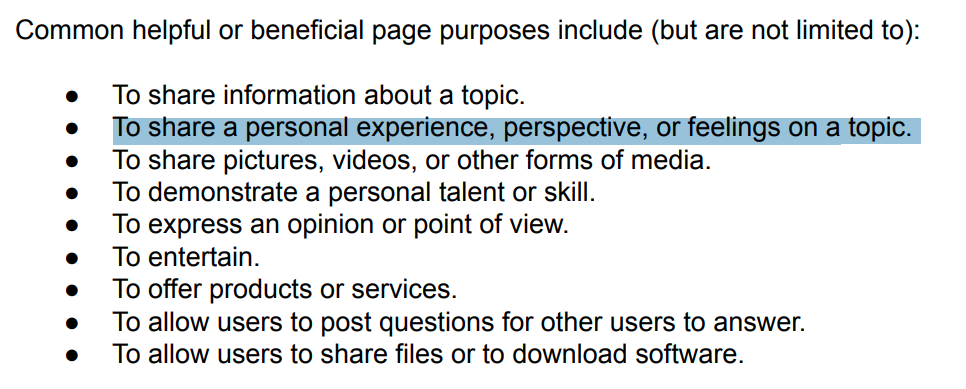 She believes that the rater guidelines offer some clues to help you recover. First, she recommends that you shift your content goals toward what is being rewarded, namely:
Becoming known for your topic
Making your content shareable
Adding a forum to generate UGC
See her guide for a more complete explanation and more tips. The next guide also has some ideas on quality. It will teach you the importance of utilizing quality data.
Now that you have somewhere to start with the HCU, let's jump into the months next big update. It starts with a look at the winners and losers of the core update with an analysis from the Sistrix team.
Google Core Update August 2023 – Data and Analysis
https://www.sistrix.com/blog/google-core-update-august-2023-data-and-analysis/
Steve Paine brings you this post-update look at how the changes are affecting major sites in UK search. He tracked the volatility through the peak on September 1st until the announcement it had concluded on the 7th.
He includes for you several tables that cover the biggest winners and losers. You'll find the 20 largest winners and losers by both percentage and absolute changes in position.
As a preview, here are both the top 5 winners and losers by change in absolute position—
Top 5 Winners
wiktionary.org
apple.com
webmd.com
britannica.com
cambridge.org
Top 5 Losers
wikipedia.org
ebay.co.uk
google.co.uk
amazon.co.uk
company-information.service.gov.uk
Steve identified two niches in particular as worth some extra attention. Large general retail sites seemed to experience lost rankings across the board. Reference domains seemed to do much better than they have during recent updates. Their positions mostly didn't change.
Next, you'll get some more Analysis on this update from the team at Amsive.
Google August 2023 Core Update: Winners, Losers & Analysis
https://www.amsive.com/insights/seo/google-august-2023-core-update-winners-losers-analysis/
Lily Ray brings you this next look at the Core Update. She focused her analysis on some of the factors that may be driving the changes, including the rise of AI content, and changes in how Google perceives user experience.
She starts with a look at the most affected sites broken down by their niche/category. She found that some categories were highly over-represented. Among the most affected were news sites, review sites, health sites and travel sites.
Reddit.com was recorded as one of the most rewarded sites, with a 64.68% increase in its visibility. She dove further into this result, noting that UGC (user-generated content) sites in general experienced very good results, though none were close to matching Reddit.
Among the losers, she highlighted the results of some news sites, some of which saw declines in visibility over 70%.
Lily also identified what appeared to be a trend with significant gains and losses among different review sites. Review sites that emphasized the user's personal experience were rewarded, while sites that lacked real experience seemed to see declining visibility across the board.
Additionally, she noted that many lyric sites rewarded in the March update seemed to lose a lot of their gains.
Check out her full analysis for more information on winners and losers. For now, you're ready to move on to the guides. To begin, you'll learn about the importance of quality data and how to build it.
What Is Quality Data and How It Connects Search, Content, and AI Success
https://www.searchenginejournal.com/what-is-quality-data-and-how-it-connects-search-content-and-ai-success/496287/
Lemuel Park wants you to understand the essential role of quality data in building a foundation for enhanced AI, search, and content marketing strategies.
He identifies poor quality data as a root cause of numerous problems, including operational disruptions, useless insights, and bad decision-making regarding search. Quality data, he argues, will have the following attributes—
Completeness: It should contain all the necessary data elements.
Consistency: It should not conflict.
Uniqueness: It should not be duplicated data
Timeliness: It should be regularly updated to remain current and readily available.
Validity: It should contain the expected values and follow proper structure.
Conformity: It should adhere to the standardized formats of your organization.
He has some ideas for marketers who are looking to improve the quality of their data so that they can use it more effectively. Among other strategies, he argues that you should—
Avoid multiple disparate data sources that give an incomplete picture of your consumer behavior. Do this by ensuring your data sources are complete and include both real-time and historical data.
Consider generative AI a vital part of your strategy, and make sure that its priorities are built into your marketing goals from the start.
Test outputs continuously to ensure your tools work for your use cases
See his entire piece for more advice on the importance of data quality, and how businesses can do more to ensure it. Next, you'll learn how generative AI fits into the future of branding, and how the knowledge graph can help.
GenAI and the Future of Branding: The Crucial Role of the Knowledge Graph
https://moz.com/blog/gen-ai-and-the-future-of-branding
Sara Moccand-Sayegh has some advice for how you can create a stronger brand by developing your content to receive branded mentions in AI generative content.
She argues that using the knowledge graph is an effective way to ensure your brand can be featured and lower the risk of hallucination on GenAI tools that use Google as a source.
For those who may not be aware, Google's Knowledge Graph is the search engine's massive database of facts about billions of people, places, and things.
These stored facts help Google avoid problems like hallucination by keeping permanent, change-resistant records of information that is known to be factually correct (for example, the height of the Eiffel Tower).
Your brand, and the important details about it, can be added to this knowledge graph. Sara argues that you should make this a priority, and has some advice on how to make it happen.
First, she provides you with a comprehensive explanation for how concepts (including brands) become included on the knowledge graph. After that, she moves on to instructions. She lays out how to turn your brand into an "entity" that can be added and confirmed on the graph.
As she explains, the way you create content plays a large role in whether your brand can appear. She provides a comprehensive explanation for how you create unique identifiers, attributes and other elements that can speed your brand's entry into the graph.
Check out her complete guide for detailed explanations. For now, you're ready to move on to the news. First, Google has confirmed that the HCU is now complete.
Google September 2023 Helpful Content Completed Rolling Out – Targeting Seo-First Content
https://www.seroundtable.com/google-september-2023-helpful-content-update-done-rolling-out-36127.html
Barry Schwartz brings you this news, direct from Google, that one of the largest updates has finished rolling out. He has some closing thoughts on how it ended, and what it might suggest about what comes next.
As he states in his report, this update caused many in the SEO industry to feel directly targeted. Barry argues that this update may have finally accomplished what both previous HCUs (in August '22 and December '22) were working toward.
It certainly generated a lot of SEO chatter, which Barry covers across X (formerly Twitter) and other sources. September 20th and 26th seemed to be the times when most SEOs began to see changes.
Barry also covers the reaction from Google, including John Mueller, who promised to push things even further in upcoming updates. Google has been resolute so far that there won't be any rollbacks of the changes.
Check out his complete article for links to Google statements, SEO chatter, and more. If you worried these changes might be an attack on AI content, the next news item may make you feel better.
Google Quietly Removes 'Written by People' From Suggestions for Website Owners
https://finance.yahoo.com/news/google-quietly-removes-written-people-165608826.html
Thomas Germain brings you this report that Google has removed the suggestion "written by people" as a suggestion for website owners.
As he reports, Google has made human-written content a priority for years. In fact, the first sentence of Google's statement about the last update claimed that it was designed to ensure visitors see content "written by people". Google never described how the original "by people" requirement was enforced, or what penalties might be applied.
The phrasing has now been updated to emphasize that content must be written "for people". This change suggests that AI content is fine so long as it is useful to readers. Google may no longer be interested in (or able to) police content generated through AI.
Google hasn't offered much clarification in the wake of this change, and they probably won't until the next update offers us a few more clues. The last piece for the month concerns some more statements by Google, and it has generated a lot of chatter among SEOs.
Links Are Not a Top 3 Google Search Ranking Factor, Says Gary Illyes
https://searchengineland.com/links-google-search-ranking-factor-gary-illyes-432422
Danny Goodwin brings you this story about recent statements by Gary Illyes.
Gary claims that people (SEOs presumably) overestimate the value of links. He went further by saying they weren't even in the top 3 most important factors and that it was possible to rank without them.
His comments follow comments by other Google team members, including Duy Nguyen, who stated last November that "backlinks as a signal has a lot less significant impact compared to when Google Search first started out many years ago." Even further back, in 2014, Matt Cutts insisted that decreasing the value of links was a long-term goal.
SEOs reacted with doubt. For my part, I think that this is a better description of how Google would "like" the policy to work. Actual SERPs seem to paint a very different picture.
As an example, Parasite SEO (the practice of building links on significantly more authoritative sites) has proven to be powerfully useful in just the last couple of years. Just because Google would prefer links not to be effective does not mean they've accomplished that for all niches.
For now, we're waiting to hear more. Google may react more comprehensively to limit the power of links in the future. Or, as they've done with AI, they may find a way to be at peace with it.
If there's any change, you can read about it here in one of our future roundups!