Stay ahead of the competition with the latest SEO news, analysis, and tips. This roundup, featuring the latest core update and some big AI changes, has everything you need to hit the ground running.
Big news opens this roundup. You'll see the first early analysis on the new broad Core Updates, learn about the removal of FAQ snippets, and find out what's rolling out alongside Google's new Search Generative Experience (SGE).
Next, you'll get the latest numbers from recent case studies. You'll get some data-based arguments for why AI optimization may be the future of SEO and how other SEOs are making the most of these new tools. You'll also see an analysis of how digital "goliaths" are doing SEO and what one SEO learned as a Google Search Quality Rater.
The guides, at the end, will empower you with some new techniques. They teach you how to strike the right balance when creating AI content and how to beat existing power players when jumping into new niches.
Google August 2023 Broad Core Update Is Live – What We Are Seeing Now
https://www.seroundtable.com/google-august-2023-core-update-35927.html
Barry Schwarts brings you this news about the drop of the latest Core Update. This one arrived on August 27th and is still continuing as of this writing.
The official Google announcement claimed the rollout would take approximately two weeks. However, even three weeks after the launch, Google has yet to announce that the rollout has ended.

This rollout may be taking extra time due to the amount of changes. According to the details Google released, all types of content are being targeted for adjustments. Google declined to state the percentage of all queries/searches impacted.
Barry reported the first obvious tremors in an update article he published on the 12th. He tracked SEO chatter across major forums and found that there were significant reports of dropping traffic. Several SEOs reported traffic changes as significant as -35%.
Most of the volatility may be yet to come. While Google hasn't given us many details about this core update, they have been more direct about another change. FAQ snippets are disappearing for many results.
Google Removes FAQ Snippets from Search Results
https://www.sistrix.com/blog/google-removes-faq-snippets-from-search-results/
Johannes Beus breaks down Google's recent decision to remove FAQs and How-to rich results from most SERPs.
The move was announced in a Google Search Central post in early August. At the time, Google claimed that these types of results were being cleared to create a "cleaner" and "more consistent" search experience.
Under the new guidelines, FAQs will only be shown for authoritative government and health websites. How-tos will continue to appear for desktop results but not mobile results.
So far, there's no news on if or when How-to results will be removed for desktop users. Google provided this reminder for users who still plan to use markup for desktop searches.
Note: With mobile indexing, Google indexes the mobile version of a website as the basis for indexing. To have How-To rich results shown on the desktop, the mobile version of your website must include the appropriate markup.
Johannes took a look at how SERPs had changed since the announcement. According to his data, FAQs were nearly completely eliminated from mobile results by early September. This followed the removal of nearly half of them around June of 2023.
This was not Google's only major change this month. They also introduced links to web pages within the SGE's AI-powered answers.
Google Search Generative Experience (SGE) Officially Rolls Out Links to Web Pages Within Answers
https://searchengineland.com/google-search-generative-experience-officially-rolls-out-links-to-web-pages-within-answers-431324
Barry Schwartz brings you this news about a new SGE feature that could have major implications for SEO. As announced by Google earlier this month, SGE users will now see an arrow icon next to AI answers that directs them to relevant pages.

Google claims that this feature will show the websites that were used to generate the information for the AI answers. Depending on the answer given, it may show one or several sites as sources.
U.S. users should already see these changes reflected in searches. In the coming weeks, it will roll out to other countries, including Japan and India.
This feature is not necessarily in its final state. Google has tested other models and may continue to update.
The move has been supported by many SEOs who want to see their sites get credit for being used to generate AI answers. It may open up a new avenue for optimizing AI. The first data piece of this roundup has some ideas for how that may work.
Forget SEO: Why 'AI Engine Optimization' May Be the Future
https://venturebeat.com/ai/forget-seo-why-ai-engine-optimization-may-be-the-future/
Sharon Goldman brings you this analysis of the potential for AI engine optimization in the future. A series of experts were interviewed on their predictions for how AI optimization might appear and how SEOs should prepare.
They predict several major changes that SEOs may need to adapt to, including—
Old online advertising models will die. AI agents and foundational models will capture the ad dollars as advertisers pay to get their messages included in generated responses.
Web crawling may not be efficient anymore as more and more consumers stay in GPT tools to get information
"Personal" AIs will emerge to mediate between consumers and other AIs
Check out the complete article for in-depth interviews with several AI industry players and analysis of recent AI moves by major players. Next, you'll learn what a recent survey says about how SEOs are using AI right now.
(Survey) Generative AI and SEO Strategy: Getting the Most Out of Your Tools
https://www.searchenginejournal.com/generative-ai-and-seo-strategy-getting-the-most-out-of-your-tools/493591/#close
Matt G. Southern brings you some AI insights from Search Engine Journal's State of SEO Report. A series of SEO experts were asked to answer questions about the AI tools that were being used in their strategies.
The survey revealed some interesting trends, including—
81.5% of SEO professionals report that generative AI has already had some effect on their SEO strategy.
Freelancers (23.5%) and business owners/operators (24%) are more confident that generative AI won't require them to change their SEO approach.
72.4% of respondents anticipate it to have positive benefits.
68% of SEO experts intend to implement automated processes using AI tools.
Matt predicted some additional possibilities based on the results. He predicts that humans will remain an important part of auditing and perfecting content and that the rising popularity of voice AI searches will mean big changes for SEOs.
Next, you'll find out what's important in SEO right now, from the perspective of an SEO who tried being a Google Search Quality Rater.
I Secretly Worked as a Google Search Quality Rater (You Can Too)
https://zyppy.com/seo/google-search-quality-rater/
Cyrus Shepard brings you this look at his time as a Google Search Quality Rater. These raters are responsible for reviewing sites and providing information Google may use to promote or demote sites in key niches.
Google had no problem allowing an SEO to sign up. While confidentiality agreements cover parts of the experience, Cyrus was able to share a lot about how the process works and what SEOs can learn as raters.

First, the test to become a quality rater is apparently a challenging one. Even with a long background covering Google's guidelines, Cyrus reported failing it on the first attempt.
While he couldn't provide information about what he was asked to evaluate and why, he did provide a list of the publicly available factors he thought were especially important in light of what he learned.
He named "Page Quality" at the top of this list, noting that the current guidelines devote 70 pages to it. He also identified Needs Met, User Intent, and Reputation as factors that are particularly worth studying.
Cyrus suggests that some SEO teams could seriously benefit from getting at least one team member to sign on and serve a short time as a Google Quality rater. So far, he's keeping the position.
The guides are up next. First, you'll get some ideas for creating balanced AI content.
Balancing Creativity With Caution When Using AI to Create Content
https://moz.com/blog/use-ai-with-creativity-and-caution
Bethan Vincent brings you this look at some of the practices she's developed while working with AI writing tools. Based on her experiences, she created some basic rules that you can apply to create high-value AI content.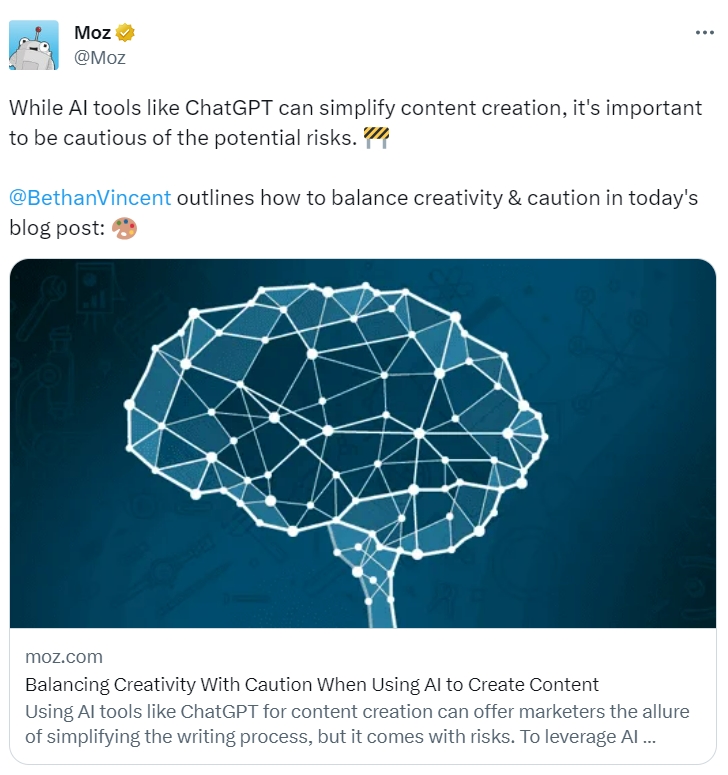 First, she shares some warnings for big organizations. She stresses that, due to AI using inputs to learn, it is vital that anyone building AI content avoid providing proprietary information.
Be careful about entering client information to build content because it could be used to train the model. It may also show up for other users of the AI system.
Bethan also warns you against automatically trusting the outputs you receive from AI. While AI hallucination is one problem, she reminds you that there's also a possibility that even the original information retrieved by AI isn't correct. Human eyes are still essential for catching errors.
She recommends that anyone using AI for quality content create a step to verify sources, figures, and facts. She also recommends that you double-check any links that are created by generative tools.
After providing some warnings, Bethan has some advice for using AI to the best of its current abilities. She lays out how she's developed her own process to use AI for the acceleration of original ideas, to analyze completed content, and to create more variations for a different perspective.
Check out the entire guide for some thoughtful tips on how to make AI content better. In the final guide of the month, you'll learn some strategies for taking on the sites that are already at the top of a given niche.
Beating Incumbents at Content in Competitive Spaces
https://www.kevin-indig.com/beating-incumbents-at-content-in-competitive-spaces/
Kevin Indig brings you this advice on how new companies can beat the existing brands with the right content investments. He starts off by covering 4 key mistakes that he believes companies bring to new niches—
Underestimating what it takes to create really good content
No content strategy
Don't assess competitors
Ignoring product advantages
He recommends several steps for building strategies more effectively. One solution he recommends is what he calls a "content moat." In his definition, this is content your competitors can't steal or improve because it focuses on what only your product does best.
For example, he describes how you can emphasize that your product is cheaper, or has more features, or best matches a specific audience. The content you create around this can't easily be stolen.
He also recommends going "deep" when facing a large competitor. This refers to focusing on highly specific topics while larger competitors with more products are forced to cover many topics broadly.
See the complete guide for more ideas on advantages you can take, including out-executing them with a faster content schedule or building a better tech stack.
That's all for this month's roundup. Make sure to return next month for more news on SEO and how AI is changing it.