This month's roundup has the latest SEO data studies, guides, and news headlines you need to stay ahead of the competition.
To start, you'll get some data from our studies. The first one is a poll of marketing teams, including major names like Spotify, on their implementation of AI. The next is a deep-dive case study into how one brand took a commanding lead in the volatile insurance niche.
Then, you'll pick up some new skills from our guides. First, you'll learn how to use the new Google Perspectives feature. Then, you'll learn how to improve your informational content by using points of view.
At the end of the roundup, you'll find a lot of recently breaking headlines you shouldn't miss. Learn about mysterious queries, the latest new launches by Google, how Google uses AI, and how to make the most of the newly-available Google Analytics 4.
Marketing Teams Are Using AI to Generate Content, Boost SEO, and Develop Branding to Help Save Time and Money; Study Finds
https://www.businessinsider.com/marketing-industry-using-ai-save-time-money-boost-productivity-study-2023-6
Aaron Mok brings you this look at a recent client poll by the platform Bynder. The company polled 104 major clients about their AI usage, including major brands like Spotify, Puma, and Canon.
More than half of all respondents to the poll reported that their marketing teams were already using AI. They reported using it to automate basic tasks, generate email/social media drafts, and quickly paraphrase other content.
Aaron followed up to find out how ChatGPT was being used. He got responses from various founders, marketing directors, and other leaders. They reported using AI for tasks like product descriptions and even generating business proposals.
AI is still an emerging technology. The adoption rates seen in this poll suggest that it will play a large role in marketing going forward, especially for companies large companies in competitive niches.
Check out the complete article for the link to the study and more analysis of AI's potential. Next up, you'll find out how the company Progressive overwhelmed competitors in the insurance niche to become the #1 SEO presence in two years.
How Progressive Is Winning the SEO Insurance Industry
https://www.kevin-indig.com/how-progressive-is-winning-the-seo-insurance-industry/
Kevin Indig brings you this case study examining the rise of Progressive (a national-scale insurance company in the United States). Several years ago, this company was firmly in 4th place. Now, it's beating all competitors, and Kevin details how.
First, he reminds us that this is an incredibly difficult niche. It's highly regulated, has strong competition, and the buying cycles are typically very short. It takes serious effort to see movement in this niche.
Still, Progressive was able to manage it with three strategies that Kevin goes over in great detail
Keeping content quality high by cleaning up underperforming, cannibalizing or outdated content
Improving Topical Authority by migrating disjunct content formats to a separate domain
Building a brand through memorable mascots and boatloads of $$$ spent on advertising
He took several lessons from his analysis that he condensed into several strategic questions you can ask yourself if you hope for the same results:
Does all of your content get traffic? If not, what's your game plan for it?
Do you have topics or formats on your domain that could dilute your core topics?
Are your brand impressions growing?
Don't miss his complete guide if you have some content problems. The results speak for themselves, and he has much more advice (and helpful graphs) for you to learn from.
Learn From Others' Experiences With More Perspectives on Search
https://blog.google/products/search/google-search-perspectives/
Lauren Clark (Google's Product Manager), brings you this detailed look at the new Perspectives feature now available in some searches. She describes this feature, what it is meant to accomplish, and how it pulls its results.
As she explains, this is an AI-powered feature meant to provide more access to real opinions from sources across the internet.
The new feature will highlight results that are drawn from forums, QA sites, and social media. They will include long and short-form videos, images, and written posts.
The features will also include information about the person who posted the content (for example, their name, profile pictures, or the popularity of their content) when possible.
Lauren claims that in addition to the other stated goals, Perspectives is intended to make it easier for users to find expertise and experience. The update also comes with some changes to how review content is ranked.
See the full guide for a complete introduction to this new feature. Next, you'll get some ideas on improving your informational content with another kind of perspective.
How and Why You Should Create Informational Content With POVs
https://moz.com/blog/informational-content-with-povs
Victor Ijidola brings you this look at creating more compelling informational content. He argues that by providing a point-of-view, you can make this content drive sales more effectively. In this guide, he lays out how.
By using a POV, he means to provide your own perspective or to personalize the information so that it could only have come from your own experience. This practice can help you avoid creating generic, cookie-cutter content.
He presents some detailed arguments for the power of the POV. First, he argues, it helps you form a deeper connection with your visitor. Sharing a POV helps readers feel that they are beginning to know you. A relationship is created when you reveal your personality or preferences.
Victor argues that the connections you build through authentic perspective can create or attract more committed fans to your content. He also argues that it has the potential to make readers more likely to invest in content after reading the opening paragraphs and eventually more likely to convert.
He follows up his arguments with some tips for how you can create some POV-driven content. He recommends exploring your product's keywords and identifying the areas where you have strong opinions or background. As he reminds you, POV isn't just about opinion. You want to be able to back up your view.
With the month's guides finished, you're ready to take on the latest headlines. First, you'll learn about a bizzare Local Guide Program keywords that may also be appearing in your client's Google Search Console.
The Mysterious Appearance of "Local Guide Program" Queries in Google Search Console
https://www.seroundtable.com/local-guide-program-gsc-35575.html
Glenn Gabe brings you his own investigation into a mysterious keyword. During a client audit, he found out that the keyword Local Guide Program was driving traffic to pages across his client's site. The problem was, he couldn't figure out why.
He checked out similar sites and found that the keyword was appearing there, too. These pages did not appear to have any relevance to this keyword or to be participants in a Google program of the same name.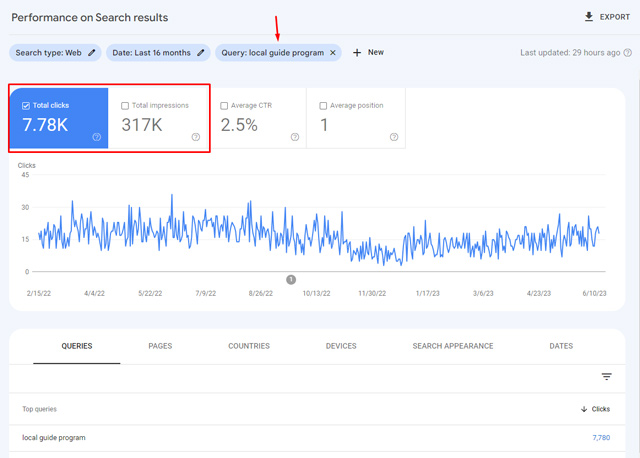 All the traffic was coming from desktop searches, nearly 100% of it. It was also coming from multiple countries. Furthermore, it was always reported that every checked page was always ranking #1 for the term. For many sites, this keyword alone accounts for a decent amount of traffic.
As of yet, the mystery remains unsolved. Glenn was unable to find any answers on his own, or any answers in the various forum posts that have covered the same topic.
SEO should keep an eye on the situation, especially if this keyword is appearing in their client's console reports. If it's a bug, the traffic may suddenly disappear after an update—creating an issue for SEOs and their clients.
Next, Google has a new feature going live. The Perspectives feature we discussed above is getting it's own menu filter on SERPs.
Google's Perspectives Search Menu Filter Is Now Live on Mobile in the US
https://brodieclark.com/google-perspectives-filter/
Brodie Clark brings you this look at the new search menu filter that appeared shortly after the launch of the Perspectives. Now, mobile users will be able to filter their results down to exclusively the items that appear for perspectives.
This development may be worth noting for SEOs. Any filter that limits results to personal essays and videos will likely bypass brand websites or other properties where SEO is typically performed. This may be the start of another big change in how content is valued and produced.
Brodie speculates that the entire Perspectives feature may be an attempt by Google to win back some search share from its growing rival tiktok. The Perspectives feature and filter makes it significantly easier for searchers to find short-video results.
Make sure that you check out the complete article for some images and explanations of how the new filters work. You'll find some ideas you can use to start developing content that can rank on this new and potentially revolutionary search features.
Next up, Google has another announcement. It claims that its upcoming algorithm will eclipse ChatGPT.
Google DeepMind's CEO Says Its Next Algorithm Will Eclipse ChatGPT
https://www.wired.com/story/google-deepmind-demis-hassabis-chatgpt/
Will Knight brings you this look at recent statements by the CEO of Google's DeepMind projects. The CEO, Demis Hassabis, claimed that the next project, AlphaGo, would be powerful enough to eclipse the current capabilities of ChatGPT.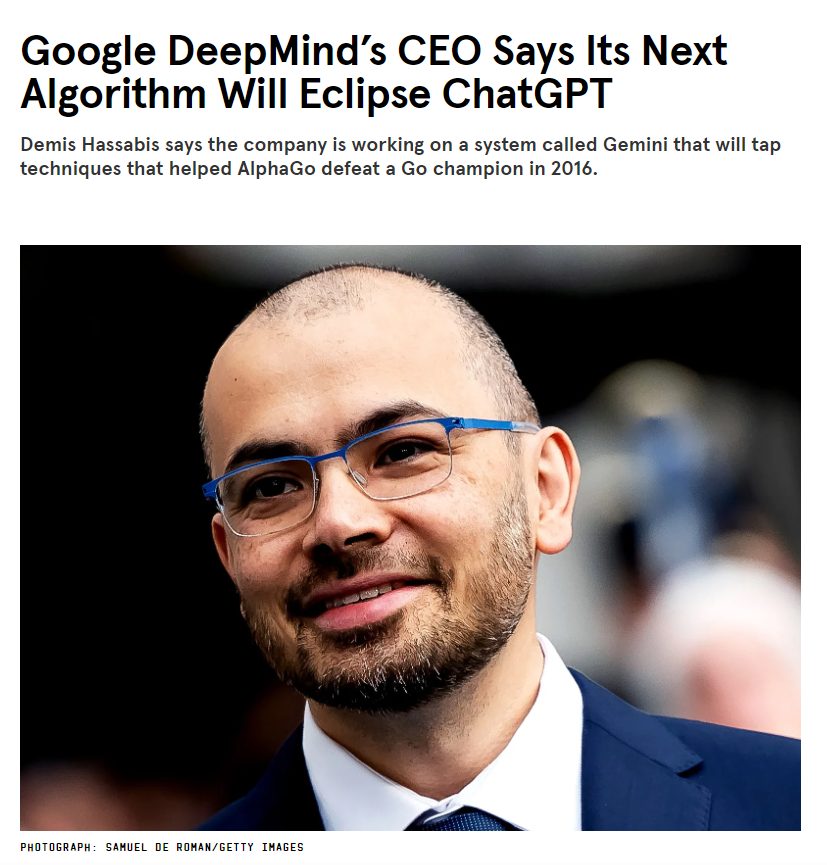 As Will reports, AlphaGo has been in development for a while. In 2016, the program defeated a champion player of the strategy game Go. The project rests on proprietary techniques like reinforcement learning and detailed trees of alternative options to generate more effective responses.
While Google may have some high hopes for AlphaGo eclipsing ChatGPT, the program currently remains in development. That isn't to say Google has been absent from the AI race. Its other AI product, Bard, is already out.
As the next new item will show, Google has already begun to implement AI into its searches.
People Also Search For, or Do They Always? How Google Might Use a Trained Generative Model
https://www.gsqi.com/marketing-blog/google-generate-query-variants-paa-pasf-patent/
Glenn Gabe brings us this look at how Google may already be using AI. He spotted Google being approved for a patent with an interesting name: Generating Query Variants Using A Trained Generative Model.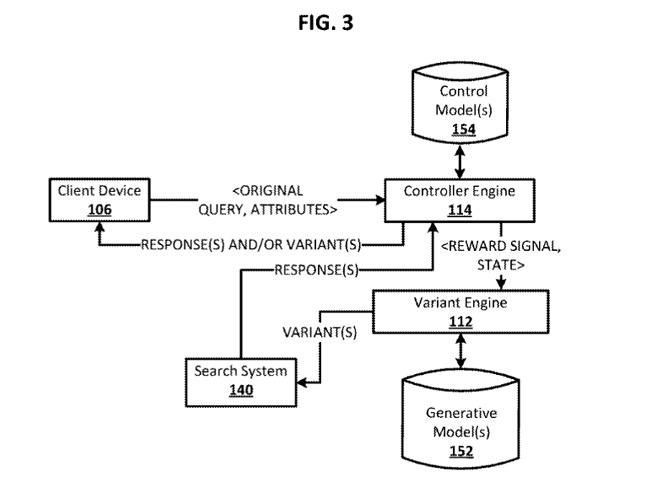 The patent may have just been granted, but as Glenn notes, the first application was filed in 2018. The patent is complex and comprehensive, though Glenn does his best to break down the different parts so you can understand them.
According to the patent, the model can be trained to generate query variants (queries like the ones that fill features like People Also Ask). Supposedly, the model should be able to generate queries it has not been trained on by looking at similar examples.
The patent further lists generating new answers as a capability of the model. It is also claimed to be able to refer to specific models for various online tasks. For example, it can swap between a shopping and traveling models depending the query it receives.
In the final piece of news for the month, Google has one more important announcement.
Google Analytics 4 has replaced Universal Analytics
https://support.google.com/analytics/answer/11583528?hl=en&sjid=16342823653420824356-NA
Google's team brings you this announcement on the full arrival of GA4. With this announcement, important support has ended for standard Universal Analytics properties. The announcement includes a migration timeline to help you understand what steps to take nest.
As of July 1st, UA no longer processes hits, including in any accounts that contain 360 properties. You may still be able to see some properties processing data, but this will stop stoon.
The next date you need to remember is July 1, 2024. When this date arrives, all UA users will no longer be able to access their accounts or retrieve any historical data. Make sure you have everything out before then.
That covers this month's roundup. Come back next time to learn more about AI, upcoming core updates, and all the SEO news you need to stay on top.
Got Questions or Comments?
Join the discussion here on Facebook.