Are you feeling on top of the competition now that you're nearly halfway through the year? If not, this roundup should give you the edge you need with the latest data studies, guides, and news alerts.
In the first case study, you'll get a behind-the-scenes look at how a site earned one million visitors. Then, you'll get a breakdown of the latest review update and another breakdown of what it may target now and in the future.
The guides are next. You'll learn new skills to help you develop content from AI and find out what matters most to make the first page in 2023.
The roundup closes with some headlines you shouldn't miss. You'll get confirmation that the Reviews Update is finally over, a notice to export your analytics data, the resolution of the 'site name' error last month, and some of the latest official guidance on creating helpful content.
Examine SEO Case Study: 7 Lessons to 1 Million Monthly Visits
https://ahrefs.com/blog/examine-seo-case-study/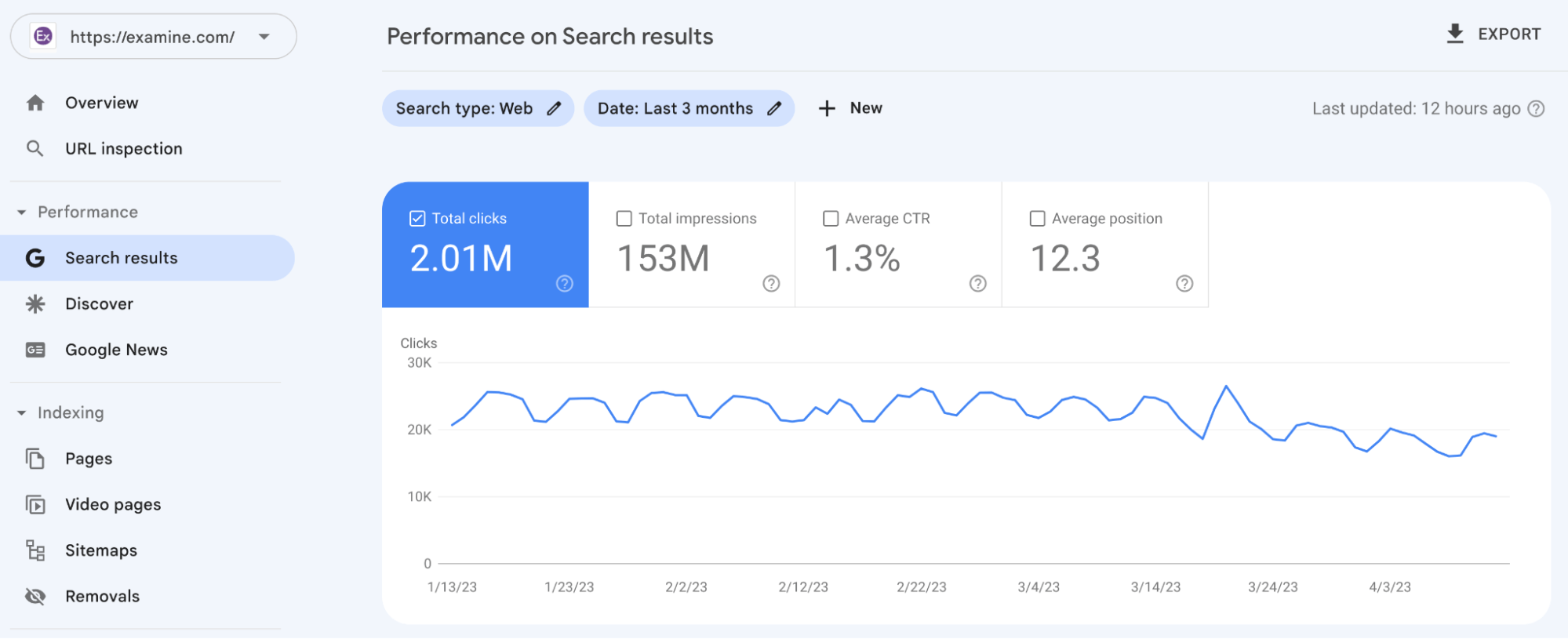 Bill Widmer brings you this case study covering Examine.com's journey to 1 million visits. This is an interesting case, as he notes because the site didn't focus hard on either SEO or backlink outreach.
Throughout the study, Bill details the unique ways the Examine.com team built its audience and credibility. He points out how the site has generated a significant number of mentions from journalists by creating highly valuable data content.
Examine.com publishes expert analyses of food and supplement nutrition claims. This is highly valuable content for journalists, allowing the site to pull mentions from news giants like The Guardian. It has over 1000 of these backlinks now.
As Bill points out, it owes this relevance to some incredibly high standards for its high-detail content. Only subject matter experts produce the articles, and each piece passes through three different editors (also experts) before being posted.
It is a massive investment, but Bill also reminds us that Examine didn't arrive here by guesswork. By policy, they audit their SEO every six months. This has allowed them to pursue this strategy with the confidence that it would pay off.
See the full guide for even more lessons about how Examine reached a million visits—even after being hit by a recent update. Speaking of updates, the next study has some interesting facts about the most recent Product Review Update. It was more volatile than ever.
Google's April 2023 Reviews Update More Volatile Than the Previous Product Updates
https://searchengineland.com/googles-april-2023-reviews-update-was-more-volatile-than-the-previous-product-reviews-update-data-providers-say-398825
Barry Schwartz brings you this post-review report on the April 2023 Product Update. It may have felt like this one was bigger or messier than the previous ones. It was, and Barry has the data on why.
First, Barry points out this review went beyond previous product reviews by also covering
Services
Destinations
Media
He backs this up with a collection of visuals that cover insights from all the top tools, such as Ahrefs, SEMrush, and Rank Ranger. These charts and graphs cover the times of peak volatility, the number of URLs newly appearing in the top 10 results, and breakdowns of the volatility by niche.
For example, you'll learn about the large impact this update had on health, finance, retail, and travel niches.
Why was this update so volatile compared to the past one? The next case study by have some clues. The author argues that the update was targeting a wide-scale but unnamed factor.
Google's Newest Reviews Update Elevates Real-Life Experience
https://www.amsivedigital.com/insights/seo/googles-newest-reviews-update-elevates-real-life-experience/
Lily Ray has an interesting interpretation of the latest reviews update, and in particular, a theory for why Google removed the word "product" from it. She argues that this update was targeted at real-life experiences.

This is a big case to make, but she brought some evidence. First, she notes that Google has recently started to emphasize "experience" in its directions to searchers and search raters.
Google defines experience more clearly in their Google Search Quality Rater Guidelines as
"Experience: Consider the extent to which the content creator has the necessary first-hand or life experience for the topic. Many types of pages are trustworthy and achieve their purpose well when created by people with a wealth of personal experience. For example, which would you trust: a product review from someone who has personally used the product or a "review" by someone who has not?"
As Lily points out, Google has built out a number of references to similar terms like "authenticity" and "original research." in recent history. She also has some data evidence from the recent update.
For example, she showed that many big update winners emphasize personal experience. She uses mom bloggers as an example of a niche where the update rewarded sites that focused on personal experience.
She also tracks rank changes in audio and entertainment sites that support her theory. Check out the article for her complete argument.
I take a wait and see approach to this theory for now, but it's worth considering as future updates roll out. You're ready to jump into the guides, starting with a look at how content is evolving with the expansion of AI.
How Content Is Evolving Thanks to AI
https://moz.com/blog/content-evolving-with-ai-whiteboard-friday
Ross Simmonds bring you this Moz Whitebaord on how AI is likely to change the development of your content at every level, from workflow to creation.
Near the start of the guide, you can find a graphic that fully illustrates how he expects AI to work for you as it continues to develop. He tracks and explains the changes that are possible for research, brainstorming, briefs, drafts, and publishing.
In the rest of the piece, he goes into greater detail on all of this. For example, he talks about how AI can amplify human abilities in the planning stage by generating ideas, expanding them into outlines, and giving you drafts to review before you've even really started your day.
He argues that SEOs should start focusing on using AI as an augment to the experience and strategy that they bring.
Everything AI is still in flux. We don't yet know how good it will get or how much it will really cost to use effective models.
The next guide will focus on the present. It looks at what's necessary to reach the first page right now.
How to Get on the First Page of Google in 2023
https://ahrefs.com/blog/how-to-get-on-the-first-page-of-google/
Joshua Hardwick brings you this look at what he thinks it takes to make the first page. This isn't just a list of general tips, though, Josh takes you through the entire decision process that takes a failing page and prepares it to compete with the current Page 1 winners.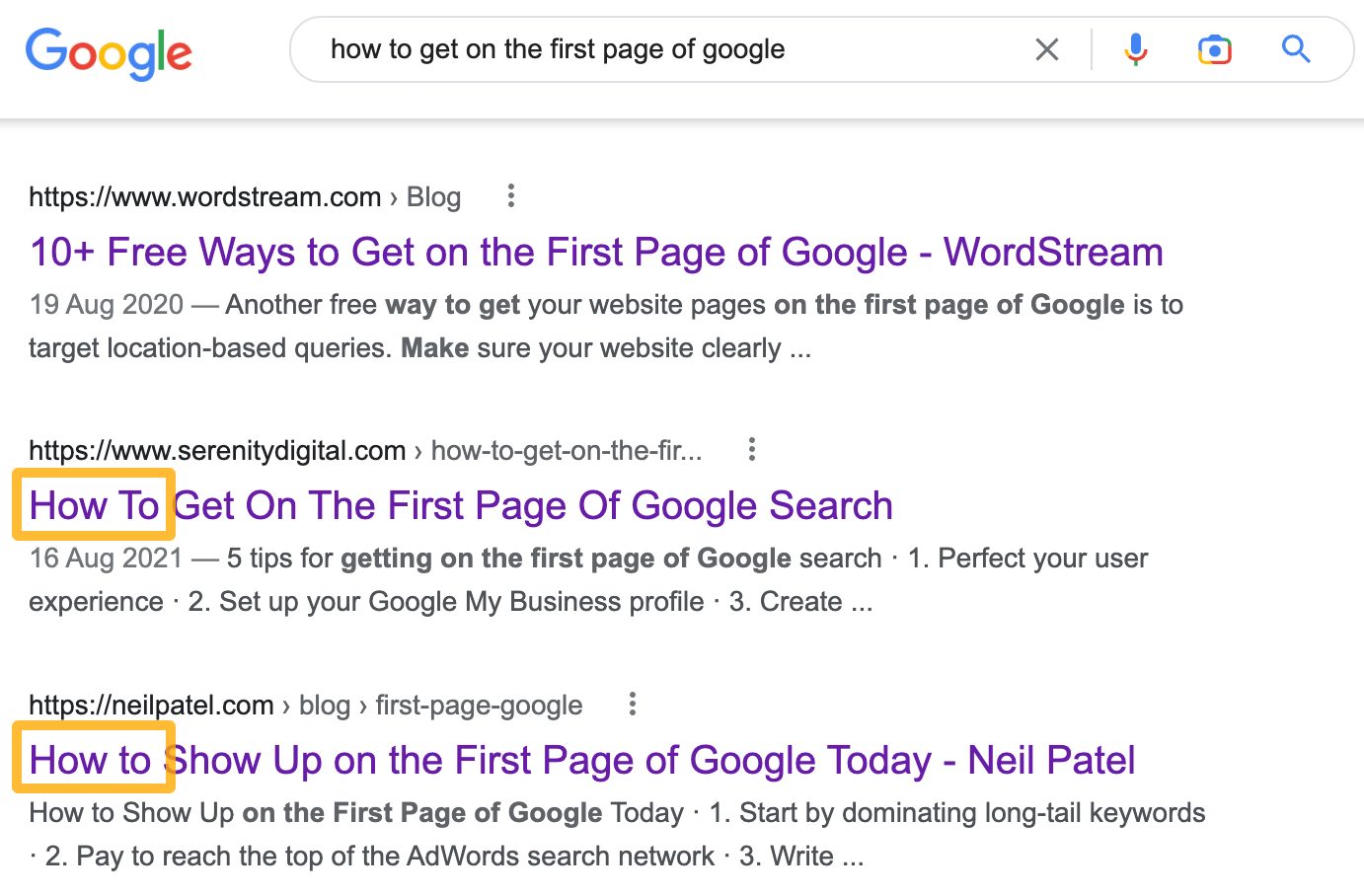 Like many modern guides, it treats understanding search intent as the first priority. He reminds you that the first step is always finding out what is already ranking for the niche.
If all results are in one format (for example, a "how-to" guide), that's likely the only format that will be competitive for that term now. No keyword mastery can overcome this requirement.
The full guide takes you through each modern requirement and lays out the tasks you need to complete to move to the one. It's a good guide for beginners and a decent troubleshooting checklist for experienced SEOs who may have fallen behind on the trends.
Now that you have some new skills. let's jump to the big headlines of the last month. First, the most recent big update has now ended.
April 2023 Reviews Update Is Officially Over
https://www.searchenginejournal.com/april-2023-reviews-update-is-officially-over/485471/
Roger Montti brings you this announcement from Google about the reviews update that hit your sites starting on April 12th. As of April 25th, the review is officially considered concluded, and any ranking changes will likely have other causes.
As we already noted in the case study at the top, this study was confirmed to have affected a lot more than products.
Google announced that the update covered reviews about services, destinations, digital products, and more. Only 3rd party reviews (such as GMB reviews) were confirmed not to be included.
Roger takes you through some of the post-update chatter from top SEO forums. For many, the mood was not great. SEOs are showing exhaustion with the number of updates they've endured in a short amount of time. Many reported large drops.
The article closes with some advice on recovering if you've experienced drops. You'll get some more actionable advice in the next news item. It gives you the deadline for saving your valuable analytics data.
Export Historical Data From Universal Analytics Before July 1, 2024
https://support.google.com/analytics/answer/13510998
Google's team brings you this announcement that you'll need to export your historical data out of Universal Analytics (UA) or risk losing it all. While the title only mentions one deadline, there are 2 of them here you'll need to note if you're still using this service—
July 1, 2023: Sunset for standard Universal Analytics properties
July 1, 2024: Sunset for Universal Analytics 360 properties and the Universal Analytics platform turndown
The announcement provides you with links to solutions you can use to export your data. They'll give you the full steps for exporting to existing cloud storage, generating CVS report downloads, or using Google Sheets to back up data. Don't worry, you've got a lot of options.
Google has another announcement for you. You may have been seeing bad titles for your website and now it (might be) fixed.
Google Updates Site Names in Search Results After Numerous Complaints
https://searchengineland.com/google-updates-site-names-in-search-results-after-numerous-complaints-397214
Barry Schwartz brings you some news and resolution about the "site names" issue that was infuriating site owners in late April. If you didn't see for yourself, Google announced an update to an issue that was causing the wrong titles to display in SERPs
The announcemen of the Fix came directly from Danny Sullivan, who said a change had been rolled out to prevent some sources of the problem. He encouraged anyone who was still having problems to send a report to Google through their official form.
While that was the last Google statement, Glenn Gabe claimed that the issue was still happening on a number of sites. In a series of examples he provided, he showed SAAS websites that were mistitled as health websites, brands mixed with page names, and other problems.
It seems Google may still be looking for the right solution. While you're waiting, they have some more new updates for you.
Google Updates Helpful Content Guidance, Streamlines Search Console Reports
https://www.searchenginejournal.com/google-updates-helpful-content-guidance/485012/
Matt G. Southern brings you more information about a series of updates Google made to their content guidance and other resources.
First, Google's official content guidance now includes a section on "page experience." You new section is relatively short, and you can see it all below—
"Google's core ranking systems look to reward content that provides a good page experience. Site owners seeking to be successful with our systems should not focus on only one or two aspects of page experience. Instead, check if you're providing an overall great page experience across many aspects. For more advice, see our page, Understanding page experience in Google Search results".
This section follows an earlier announcement that Page Experience Reports in Search Console will now be a hub for all Core Web Vitals and HTTPS reports. Google is further emphasizing that multiple signals make up the complete page experience.
A significant amount of SEO changes have happened in just the last few months, and we've barely begun to see the fallout from AI. Visit again for more news, guides, and in-depth analysis of SEO.
Got Questions or Comments?
Join the discussion here on Facebook.