The digital space is highly competitive, and if your website is going to stand out, it needs to have an excellent SEO tool that can boost its organic traffic and improve its search rankings.
SEO PowerSuite is a tool every website needs for top-notch keyword research, competition research, and site audits.
As an SEO expert who has used this tool for years to help several growing businesses, I will reveal everything you should know about it, including its features, benefits, and pricing.
What Is SEO PowerSuite?
SEO PowerSuite is a one-stop SEO software that offers competitive solutions such as the keyword research tool, backlink checker, and site audit tool to help your website rank on search engines and achieve other SEO campaigns.
SEO Powersuite began in 2004 as a backlink-building tool. Today it has evolved to become a powerful toolset with four main components: the LinkAssistant, Rank Tracker, SEO SpyGlass, and Website Auditor.
How Does SEO PowerSuite Work?
SEO PowerSuite works by helping your website improve its search rankings and overall SEO performance to gain an edge over your competitors.
Once you have created a new project in your dashboard, you can begin by utilizing any of its tools.
For example, with the Rank Tracker tool, you can conduct proper keyword research and analysis, analyze your competitors to get keyword ideas and filter the keywords so you can focus on the best ones to generate organic traffic to your site.
---
SEO PowerSuite Features
These are some of the best features of SEO PowerSuite:
1. Keyword Research
SEO PowerSuite has keyword research software that allows you to do top-notch keyword research, irrespective of your experience.
The software has 24 keyword-finding tools and seven research methods covering every search engine, which is excellent for checking high-performing keywords and knowing the keyword difficulty.
You can also see ranking keywords, find keyword gaps, get keyword suggestions, collect long-tail keywords, perform keyword tracking, research competitors' keyword tactics, and undertake negative keyword research.
2. Website Audit
SEO PowerSuite has a website auditor SEO that performs different functions, from auditing on-site SEO to identifying redirect chains, broken links, technical errors, crawling content, and password-protected sites.
You can use this tool to crawl websites, check for technical issues such as slow pages, see how your pages and resources interlink, and generate XML sitemaps to enhance your URL structure for search engine bots.
3. Backlink Analysis
SEO PowerSuite has a backlink analysis tool called SEO SpyGlass, which you can use to assess the backlink profile quality of your website.
This tool can compare your backlink profile to your competitors and detect potentially dangerous backlinks that can weaken the health of your site's backlink profile.
Another exciting thing about this tool is that it can generate backlinks for your website from different sources, such as Google Analytics, Google Search Console, and CSV files.
Doing this will improve the quality of links on your web pages and significantly boost your backlink profile.
4. SEO Content Optimizer
The SEO content optimizer is a tool for managing your website's content to ensure it meets peak standards for your audience.
You can use this tool to write SEO-friendly content, make your web pages SEO-friendly, analyze your competitors' content, and know the exact number of keywords to use in your text.
---
SEO PowerSuite Benefits
These are the biggest benefits of using SEO PowerSuite:
1. Local SEO
SEO PowerSuite can present you with local search results from Google, which are essential, especially if you run a brick-and-mortar business.
You have to know your local competitors and narrow your search down to the street level, which SEO PowerSuite can do quite well.
2. Competitor Research
SEO PowerSuite lets you know who and what you are up against in the digital space.
Using SEO PowerSuite to perform robust competitor research can improve your backlink profile, reinforce keyword strategy, increase high-quality traffic, and outrank your competitors.
3. Helps Create SEO-Friendly Content
You can create killer content and optimize it to generate organic traffic for your website, all with SEO PowerSuite.
This tool creates a set of guidelines to optimize your content to ensure it ranks better on search engine results pages, giving you the edge over your competitors.
4. Keeps You Up-to-Date With Your SEO Progress
SEO PowerSuite has an alert system that provides timely information on changes that can happen with your website's search engine optimization.
It will help you decide what steps to take to ensure the proper adjustments are made, and search engine optimization is improved.
Pros
Fantastic crawling ability

SEO tools and reports

Accurate keyword rank tracking

Compatible with multiple search engines
Cons
The free version is minimal
Our Rating
Ease of use: 4.8
Security: 4.6
Customer support: 4.5
Pricing: 4.5
---
Downsides Of SEO PowerSuite
Some users of SEO PowerSuite have stated that it comes with too many features, which may pose a challenge, especially for beginners.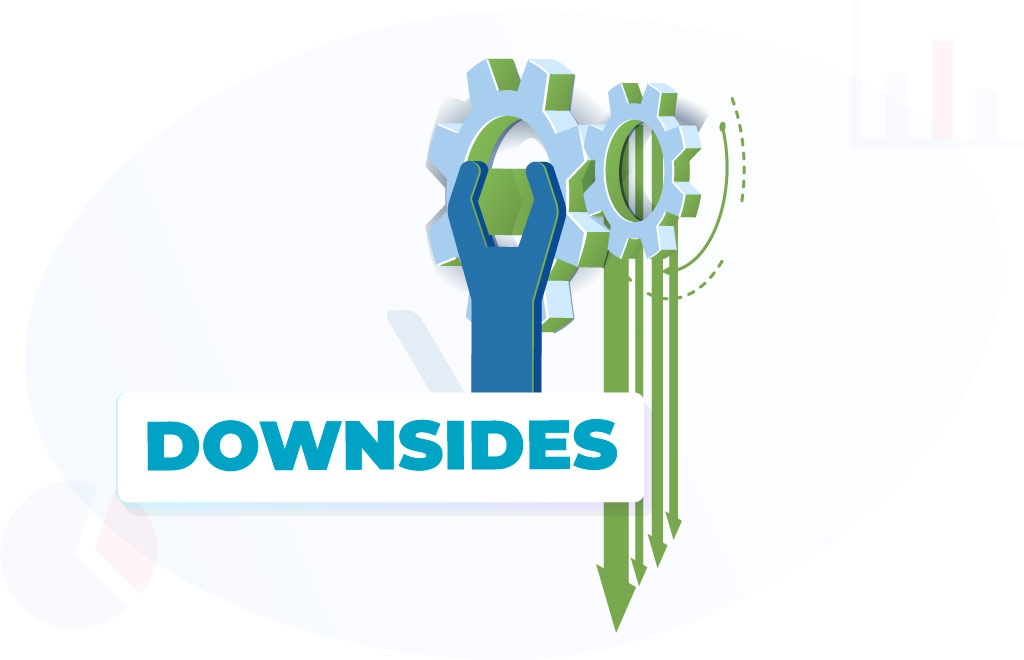 Others have also noticed that the tool is a bit slow on weaker computers, especially when doing web audits for large websites with thousands of pages. Some SEO PowerSuite tools may not work well on older devices, which can be a huge disadvantage.
How To Use SEO PowerSuite
To use SEO PowerSuite tools, download the software package to your computer for free, with no time limitations or credit card required.
All you need to do is provide your name and email address, and you will be sent the download details, which include the download links and the installation instructions, straight to your email.
Once you have downloaded and installed it, you will be provided with a guide on implementing its SEO features to get the best results for your campaign.
SEO Powersuite Pricing
You can purchase SEO PowerSuite by heading to its main page and clicking on pricing. This will direct you to its price packages, which include:
The Free plan at $0

The Professional plan for in-house use at $596 per year

The Enterprise plan for client work at $1396 per year
You can buy the complete SEO PowerSuite pack or get the tools separately. Once you make your choice, you will be directed to the checkout page, where you will be asked to provide some information, such as your name, email address, and billing currency, before making a payment.
Payment options include Visa, Mastercard, PayPal, American Express, wire transfer, UnionPay, and Discover.
User Testimonials for SEO PowerSuite
I have been using the professional version of SEO PowerSuite for many years, which is simple and valuable. I like that the data remains on my PC and that I can archive it to have a history. Among the apps that I use most, there is undoubtedly Rank Tracker. Great product.
– Massimo Sgambato, TrustRadius

I do digital marketing work, both creative and technical, and have a strong focus on SEO for both websites and YouTube. SEO PowerSuite has been my SEO toolkit of choice for many years. It is the best value-for-money professional toolkit.
– Tim Rowley, TrustRadius

The SEO PowerSuite is a comprehensive and powerful suite of SEO tools that can be a valuable asset for anyone who provides SEO services. If you want to improve your client's search engine visibility, I highly recommend it.
– Dan Lavie, Trustpilot
SEO PowerSuite Alternatives
SEO PowerSuite Vs. Accuranker
SEO PowerSuite offers more features than Accuranker and is also more affordable, starting at $596 per year compared to Accuranker's $129 monthly.
SEO PowerSuite also has more support options, making it easier for you to get in touch and receive feedback than Accuranker.
SEO PowerSuite Vs. Zutrix
SEO PowerSuite may be more popular than Zutrix, but Zutrix offers a reasonable number of features at an unbelievable starting price of $9 per month.
SEO PowerSuite, on the other hand, offers more features and has more helpful resources with each of its packages, but it is more expensive.
SEO PowerSuite Vs. Pro Rank Tracker
SEO PowerSuite offers a broader range of features and is more expensive than Pro Rank Tracker, with Pro Rank Tracker mainly offering rank tracking, API access, and SEO reporting.
These solutions are suitable for web-based deployment; however, SEO PowerSuite supports Windows and iOS, while Pro Rank Tracker only supports Windows.
Blogging weekly about your target keywords is a great way to boost your website's SEO. But it's important to make sure your content doesn't mimic other content ranking for those same keywords; otherwise, you'll have a hard time beating them out in search results.
– Erin Fabio, SEO Expert and Founder of Grit Studio
FAQ
Does SEO PowerSuite Offer A Free Trial For New Users?
Yes, SEO PowerSuite offers a free trial for new users, although with limited features. You need to subscribe to its two or three-year price plans to get access to all of its features.
How Does SEO PowerSuite Calculate Keyword Difficulty?
SEO PowerSuite calculates keyword difficulty by looking at the ten top-ranking pages for every term and analyzing all kinds of SEO stats about each page: the number of linking domains, on-page optimization rate, and domain age.
SEO PowerSuite Final Thoughts
I highly recommend SEO PowerSuite because it can perform competitor analysis, monitor backlinks, and run website audits, making it an extremely powerful tool for every type of website.
SEO PowerSuite  is an efficient SEO tool that provides various features to help meet your SEO demands. 
If you are a website owner who wants a solid backlink profile, you can count on SEO PowerSuite.
It is an exquisite tool that will help every website perform valuable SEO research and rank better on SERPs, so give it a shot today!
Our #1 Recommendation: SEO PowerSuite