Serpstat is an SEO tool that helps you learn what content to put on your site and what on-page changes to make to get ranked in Google and other search engines.
As experts in SEO with decades of experience optimizing websites for ranking and content, we have used Serpstat and hundreds of other SEO tools for optimization over the years.
In this article, we will explore all the pros, cons, and benefits of Serpstat and help you decide whether it is the right choice for you. 
What Is Serpstat?
Serpstat is an all-in-one SEO tool that manages your domain authority with search engines. Serpstat helps you build your online presence by using organic keywords, tracking your Google ranking, tracking competitors and their gaps, and more.
---
How Does The Serpstat SEO Tool Work?
Serpstat helps you find keywords your site should rank for. The product offers search suggestions and allows you to analyze your main competitors to see the source of their search engine traffic.
Think of Serpstat as an SEO tool focused heavily on keyword research. It adds in some backlink analysis and serves as a rank-tracking tool, making the product a very capable resource for an agency serving clients in the SEO space.
Successful SEO isn't about tricking Google; it's about partnering with them to give the best search results for Google users.
– Phil Frost, CEO of OPKO Health
---
Features
1. Serpstat Keyword Research
The most effective way to use Serpstat is to learn about keywords for your website. You can use this solid SEO tool to identify keyword search volumes, ranking difficulty, the cost per click amounts for paid advertising, and more. 
The future of SEO isn't link building; the future of SEO is an amazing user experience.
– Neil Patel, Co-Founder at Crazy Egg
2. Audit Your Site
You can also generate Serpstat's site audit report and get information about your site's overall SEO optimization. The site audit feature rapidly points out high-priority errors you should address immediately.
It also gives you a list of ways to improve your website and help it rank more effectively. 
This powerful SEO tool produces a site audit report you can use as a reference to make changes to your website. You can send the report to your team or complete the recommended changes yourself. 
---
Serpstat Benefits
1. Ability To Perform A Competitor Analysis
One of the most useful features this marketing tool provides is its ability to compare one domain to another. Often, the best way to build traffic to your site is by doing what your competitors do better.
Also, use the tool to see related key terms that a competitor isn't yet ranking for to give you some viable low-competition options.
The tool is capable of analyzing PPC (pay-per-click) ads by competitors, enabling you to copy what is working well when paying to advertise your website. 
2. Track Keyword Ranks
Rank tracking is another helpful function you get on the Serpstat dashboard. To use the rank tracker, add keywords you want to track rankings for. You will see a full report daily that goes into an analysis of each keyword's rank. 
3. Backlink Analysis
Serpstat can help with link-building efforts as well, thanks to the backlink analysis tool. This feature enables you to analyze backlinks at one or more selected domains.
The final report for backlinks contains the number of backlinks, the referring domains, the overall domain rank of a site, and more. 
4. Affordable Pricing
Serpstat is an affordable SEO tool starting at $55 per month for their base plan.
The base plan includes 4,000 searches per day, API access, site audit, 15,000 position checks per month, competitor ranking, scheduled reports, and more. They also offer a 7-day free trial to try the tool risk-free.
5. Clean Design
Serpstat offers a clean design and easy-to-use interface that allows you to view your top-ranking keywords, search engine traffic, organic keywords, and backlinks in one place. They make it simple to see in real-time how your website is ranking.
6. Ad Analysis
Serpstat provides a tool to analyze advertisements by providing critical information on keywords triggering ads in search results. You can search competitors' pay-per-click ads to research which ones work and which don't. You can also analyze ads from a specific domain, landing page, and an analysis of your competitor's advertising cost.
Pros
Complete SEO Ranking Tool

Affordable Pricing

Simple to Use

Available As a Free Trial
Cons
The audit explanations can be technical and hard to understand

SEO reports are limited and not very configurable
Our Rating
Features

4.5

Usability

4.5

Pricing

4.3
---
Downsides
While there are many benefits to Serpstat, it does come with a couple of downsides you need to consider.
1. Expensive For Large Websites
Serpstat's Enterprise plan starts at $499 per month. If you need the features of the enterprise level, such as the extended interface and API credits, white label reports, and up to 7 users, this option can add up quickly.
2. Site Audit Can Take A Long Time
The more pages your website contains, the longer the site audit will take. If there are several pages on your website, the site audit can take hours to load and complete. Their server doesn't do well with processing large amounts of data at once.
---
User Testimonials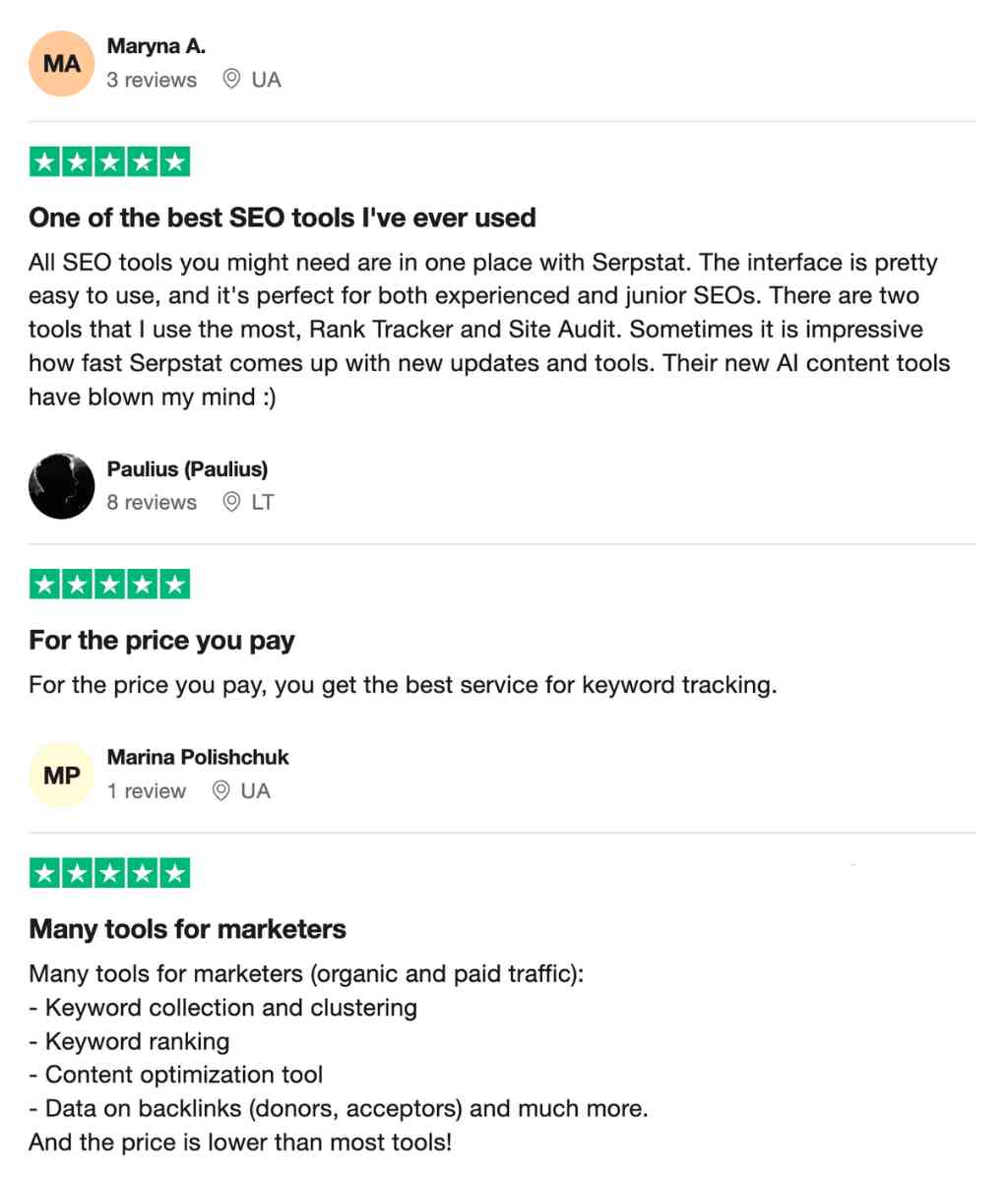 ---
Serpstat Compared to Other Competitors
SEMrush
Serpstat and SEMrush fill the neds of an SEO specialist. Each SEO software suite is crafted to give you the information you need to get your pages ranking correctly. Each offers helpful and accurate information, though SEMrush provides more of it.
 If you want the largest feature count, SEMrush is the clear winner. The software may not win on value, though. It's significantly more expensive and offers some tools you may not need.
Serpstat also tracks more keywords than SEMrush at its lower price plans.
 If you want the best tool with all the op features, you can pay much more to get SEMrush. Otherwise, you should stick with Serpstat and save money while getting mostly the same services.
Ahrefs
Ahrefs is a well-known keyword research tool and SEO optimization product that's especially good for analyzing backlinks.
When you want top-quality reports and accurate information, you can get excellent results using Ahrefs. You will pay more for this tool than you will Serpstat, though; in some ways, you'll lose tools and value. 
Serpstat offers more advanced keyword research features, giving you full keyword clustering information you won't get from Ahrefs. It's also important to note that some of Ahrefs most powerful features are only available for its most costly plans. We covered these features in our in-depth Ahrefs review.
Ahrefs starts off at $99 per month and quickly grows to $199 per month, $399, or even $999 per month. Serpstat starts off at a lower $69 per month and offers most of its features at its lowest price point.
Users that want the very best quality and every analysis feature for links should consider Ahrefs, but for most users, Serpstat is a better deal with enough features to meet their needs. 
Spyfu
Spyfu is a keyword tool that takes a deep dive into search term analysis and tracking while offering more straightforward tools in other categories. It can be used for looking at link profiles and examining competitors, but not as comprehensively as Serpstat.
The tool also lacks an on-page SEO audit feature and doesn't check for mobile keywords specifically. When you care about looking at different keywords more than anything else, Spyfu is a cheaper alternative than Serpstat. 
It lacks many of the functions that Serpstat provides, though, and can leave you without all the tools you need to look at meta tags and examine all the other important SEO factors that Serpstat helps with.
---
FAQs
What Is SERP In Digital Marketing?
SERP in digital marketing stands for search engine results page. It's the list of relevant search results that appear after you type in your search term.
Getting your page to appear higher up in the list will encourage more visitors to travel to your website or the traffic your site gets to its pages.
What Is Serpstat Used For?
Serpstat is used for evaluating the search volume and keyword difficulty of many different organic keywords. It's primarily a content marketing tool, but it also helps you assess your site to ensure its meta tags and other on-page ranking factors are correctly set.
Is Serpstat Free?
Yes, Serpstat is free for a small number of daily searches with limited information. If you want to test the tool to see what it can offer you, you have a free option available.
If you want to complete any significant SEO research, you will have to pay for at least the Lite plan for $69 per month.
How Do I Contact Serpstat?
To contact Serpstat, fill out the contact form on the company website, and the company will call you quickly.
---
Do We Recommend Serpstat?
If you're looking for a tool for organic search, Serpstat should be one of your first options. We've tested dozens of SEO tools, and it works better than most and just as well as more costly competitors.
The product helps you find related keywords while accounting for keyword difficulty, and that's just one of its many functions. 
Get it to get the data you need to compete in organic SEO and paid search, and you'll give your business a real advantage. Whether you have an e-commerce site, or another type of website, this tool is helpful if you want your business to appear on the first page of search engines.
Our #1 Recommendation: SERPSTAT