SEO is crucial for increasing your website rank and searchability. There are hundreds of SEO tools on the market, and Sistrix and Ahrefs are some of the most popular platforms.
As an SEO expert who has optimized several websites over the years, I have used both tools to improve my SEO strategies. In this article, I will evaluate Sistrix and Ahrefs based on their features, price, and more to help you choose the right SEO tool.
Quick Summary
Ahrefs is among the most popular SEO tools that can help you research your website position and allows you to perform thorough research on your competitors.

The Sistrix platform has gained recognition over the years as an SEO staple for its customizable platform. 

Both Ahrefs and Sistrix offer keyword tracking, rank tracking and optimization, and backlink analysis features.
What Is Ahrefs?
Ahrefs is among the most popular SEO tools and offers a variety of features to help you thoroughly research your website and conduct competitor research with the goal of increasing organic traffic to your site.
Ahrefs also allows you to track specific keywords for which your website and other pages rank.
What Is Sistrix?
Sistrix is an SEO platform that has grown in recognition over the years and is aimed at professionals experienced with optimizing websites and building links. Sistrix uses a module-based customizable platform to give you a great deal of control.
When you sign up with Sistrix, you are offered multiple modules that you can choose from to optimize campaigns.  
Features Comparison
Ahrefs
Site Audit Tool
The Ahrefs site audit tool analyzes website performance by detecting common SEO errors.
An audit allows you to identify the following:
Problems with traffic growth in an organic search

Problems that decrease conversions

Reasons why visitors leave your site

Technical errors
The Site Audit tool crawls every page of your website and provides an overall SEO report. The technical report includes server settings, internal page performance, HTML tags, website speed, and site structure.
Site Explorer
The site explorer gives you insight into your website's performance with search engines, including Google. It gives you an in-depth look at organic traffic and backlinks of any URL or website and how well they are doing with paid and organic search rankings.
The site explorer helps you spy on competitors' websites and analyze link management to evaluate the quality of their backlinks. You also get historical data on paid search keywords and the ads your competitors use.
Keyword Explorer
The keyword explorer has a base of 3 billion keywords to give you thousands of relevant keyword suggestions. Keyword analysis gives you data on search volume and advanced features like clicks, return rate, and keyword difficulty score.
You can search up to 250 custom keywords for analysis to see the estimated number of clicks for a location, SERP, CPC data, and more.
Content Explorer
The content explorer allows you to identify new trending content in the region using keywords. 
You can search any keywords and get relevant pages with useful SEO metrics, including:
Domain rating

Number of links

Expected traffic for the content

Social metrics

Date of publication of content
Domain Comparison
If you need to compare several domains, Ahrefs has the tools for you. You can choose up to five domains, and the tool will compare SEO metrics and provide visualized reports.
Batch Analysis
Ahrefs batch analysis tool allows you to check important SEO metrics for up to 200 URLs. The reports will show the number of backlinks, URL rating, domain rating, estimated organic traffic, and the number and type of backlinks.
SEO Toolbar
The SEO tools can also help you monitor mobile organic search data on Google.
Rank Tracker
This tool allows you to gain access to your website to track keyword rankings in real-time, including:
Tracking the visibility of website positions

Dynamics and historical data of website rankings

Evaluation of average position for specific keywords
The metrics tab allows you to analyze metrics for specific keywords, including:
The position in SERP

The keyword difficulty parameter compares documents on the network and the number of backlinks and total requests for them. 

Cost per click on Google ads

Traffic

Cicks forecasting

CPS
The SEO tools offered can also help you to monitor mobile organic search data on Google. 
Sistrix
SEO Module
Sistrix is a module-based platform that gives SEO professionals SEO data for their domain and competitors for a complete visibility index.
Compared to Ahrefs, this service offers fewer metrics to analyze. Sistrix doesn't have parameters such as keyword difficulty, clicks, cost per click, return rate, and SERP features.Their SERP analysis is more simple and less detailed.
Optimizer Module
Sistrix offers several plug-in modules, including the optimizer module, to optimize your website and digital marketing campaign for higher rankings.
This tool allows you to see keyword overviews, track ranking changes, analyze URL structure, check SERP competitors, and trace social signals.
The tools also visualize backlink structure, historical data, anchor text, and broken pages. It also features an ads module to analyze the campaigns of competitors and the links and formats they use.
Links Module
The links module helps with links that point to your website's current performance and links that point away from your website. You can check the strengths and weaknesses of your backlinks with a real-time assessment tool.
The links module provides the following:
Domain analysis with link rating

Link source's visibility rank

Broken link analysis

Link types summary

Historical data of external links

Overview of new links

Competitor domain analysis
Ads Module 
The ads module helps you set up ads on Google and determine strategies to improve your CTR. Using the ads data can allow you to get the data of your competitors' ad campaigns, spy on their CPC, and track re-targeted ads.
They also offer unlimited access to all domains in the database for digital marketers.
Social Module 
The social module allows you to track social shares and website visibility in real time and discover strategies for growing your presence on social media platforms.
It allows you to identify the best-performing content, locate audiences and view the latest content for any website provided. Data collected includes comments, likes and shares data, and more from various social platforms.
Marketplace Module 
The marketplace module provides useful features for Amazon business activities that give you product data and tools for research. The visibility index offers metrics for products, merchants, and stores.
This useful module analyzes data to evaluate your visibility in the marketplace and gives you optimization recommendations. You can also spy on competitors' market data.
Regardless of how niche or mainstream your market is, great content is an important focus of SEO.– Kristopher Jones, Founder of LSEO
Pricing Comparison
Ahrefs
Lite ($99 per month):

 Includes an SEO dashboard, site explorer tool, keywords explorer, site audit, rank tracker, and alerts.

Standard ($179 per month):

Includes everything from the lite package plus six months of historical data, history position chart, SERP updates, batch analysis, the content gap from competitors, broken backlinks, outgoing links, domains and countries comparison, and calendar view.

Advanced ($399 per month):

Includes everything from the previous two plans plus dashboard folder organization, keyword search options, two years of historical data, site structure, HTML source, HTTP authentication, and Google data studio.

Agency ($999 per month):

Includes everything from the previous plans plus unlimited history, access management, pay-by-invoice feature for maximum control, directory listing, audit log, API, and SSO.

Ahrefs also has a seven-day trial offer for $7.
Sistrix
Start ($110 per month):

 Includes one user account, visibility index, keyword research, domain analysis, backlink index, 10,000 results per analysis, 3 months of data history, 30,000 crawled URLs, 500 keywords, and chat support.

Plus ($220 per month):

Includes everything from the start package plus three user accounts, 50,000 results per analysis, 5 years of data history, 500,000 crawled URLs, and 2,000 keywords.

Professional ($385 per month):

Includes everything from the previous two plans plus six users, 100,000 results per analysis, 13 years of data history, 2,000,000 URLs crawled, 5,000 keywords, and chat and telephone support.

Premium ($662 per month):

Includes everything from the previous plans plus 12 users, roles and rights management, audit log, unlimited results per analysis, 4,000,000 URLs crawled, and 10,000 keywords. 

 

Sistrix also has a seven-day trial offer for the Start and Plus plan.
FAQs
What Is Sistrix Visibility?
Sistrix visibility is a value for the visibility of a particular domain within Google search results. Sistrix visibility has been considered the standard for measuring SEO success since 2008.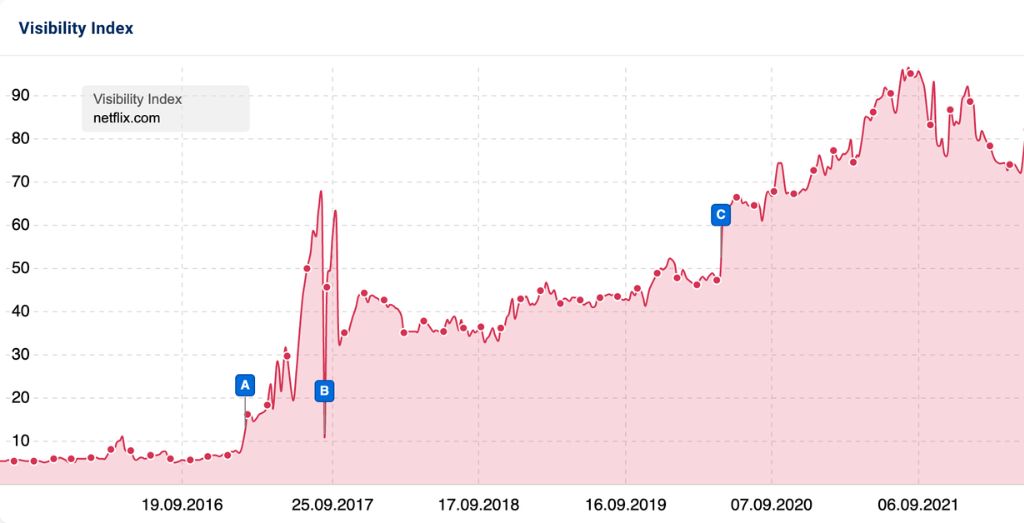 Does Ahrefs Offer A Free Version?
No, Ahrefs doesn't offer a free version. Some of their tools can be used for free, however, such as their keyword generator.
What Is Sistrix Smart?

 
Sistrix Smart is a free SEO tool that is free for beginners and anyone who signs up for a free account.
Is Ahrefs A Great SEO Tool?

 
Yes, Ahrefs is a great SEO tool. It is one of the most trusted tools in the industry by both individuals and professionals.
Ahrefs Vs. Sistrix: Which Is Better?
SEO campaigns are crucial for faster and higher rankings for your website. Both Sistrix and Ahrefs have advantages and disadvantages, but the best SEO tool for your company depends on the features you prioritize, your budget, your SEO goals, and more.
Ultimately, whichever tool you choose for your business, you can benefit from helpful features such as keyword ranking, competitor research, tracking on social media, and more.