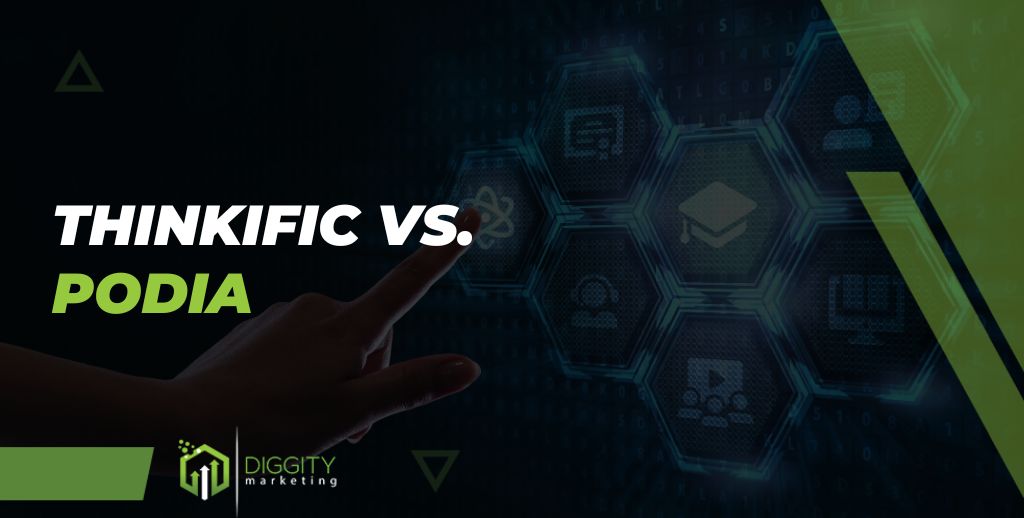 E-learning is catching on fast, with a market share worth hundreds of billions and counting. Its applications are limitless, from training employees to individual upskilling with short courses.
I have attended many online courses and created courses using online learning platforms. Over the years, I have a gained experience from both the teacher and student perspective.
Drawing from my experience, I will thoroughly test Thinkific and Podia, competing platforms that let you tailor online courses for our audience. 
What Is Thinkific?
Thinkific is an online course platform that started in 2012, allowing users to host and sell online courses, build communities, and monetize memberships.
Its unique selling point is that it facilitates high interactivity through discussion forums and provides for online certification.
What Is Podia?
Podia is a training website builder that started in 2014 before relaunching in 2017. Like Thinkific, it focuses on helping users sell interactive online courses and monetize subscriptions.
Podia lets you email students through its dashboard and provides statistics such as open rates. Besides the online course business, it allows you to sell digital downloads.
---
Thinkific Vs. Podia Comparison
Thinkific and Podia are great platforms designed to create and sell online courses. However, they have some notable differences.
1. Course Builder Features
Thinkific
Thinkific lets you monitor student progress, generate reports, and issue course completion certificates, which Podia fails to provide.
You can also set restrictions and minimum scores for your assessments. However, the completion certificates feature is only available for higher plans.
I found Thinkific's course creation tools useful with pre-made templates, allowing me to tailor online courses without starting from scratch.
They were also fairly comprehensive and enabled me to set presell landing pages.
Looking at the content delivery formats, Thinkific offers more interactive classroom features than Podia.
You get videos, live streams, exams, surveys, narrated presentations, images, PDFs, audio, quizzes, and multimedia.
Podia
Podia tramps Thinkific with its email marketing integration. I could schedule emails detailing the structure of my online course, and they'd be sent if someone signed up.
The platform conveniently does not limit the number of subscribers or emails I can send.
However, I found Podia lacking in many areas. For instance, it did not have templates, even though it allowed me to create landing pages before customizing the course.
I also found Podia's content formats limiting. It only provides for the following: links, text, quizzes, and files such as videos, audio, and PDFs. 
Before proceeding to the next chapters, I couldn't find course compliance features such as assessments and matching passing grades.
Winner: Thinkific won this round by a landslide because of its course compliance features and numerous ways to share content.
When I wanted to learn something outside of school as a kid, cracking open my World Book encyclopedia was the best I could do. Today, all you have to do is go online".
Bill Gates, Co-Founder of Microsoft
2. Customization And Design
Both online course platforms are short of the numerous design and customization options I'm used to.
They allowed me to tailor my pages—most actions involved uploading and organizing my content for the platforms to present on the static front end.
Thinkific
This online course platform provides an interactive interface with pre-made templates and a drag-and-drop tool for site building. I could experiment with colors and fonts, among other elements.
Additionally, the platform lets me export themes, customize them further, and put them back in, while Podia only allows third-party codes with its top-tier plan — Grow.
Still, Thinkific needs integrations and advanced features like a funnel builder. You would have to download many plugins for that.
Podia
Podia provides an elegant and simple interface with just enough customization options to distinguish your site from other Podia users. You get a site builder, course creator, and community builder.
I could customize my images' and videos' dimensions, corners, and aspect ratios. The platform also offers the standard drag-and-drop feature that we are used to.
It works for all elements, including videos, newsletters, testimonials, images, etc.
However, the site does not provide advanced customization options. I could use custom mode to edit all colors but couldn't access theme templates.
Winner: It's a tie. Both platforms provide straightforward interfaces that get the job done but lack key advanced tools.
3. Marketing Features
Marketing tools are key to the success of your online training. They save you from mundane tasks and spare your energy for use on the actual service delivery.
Thinkific
Thinkific provides some clever tools to monetize your course quicker. For example, you get an affiliate program and white labeling.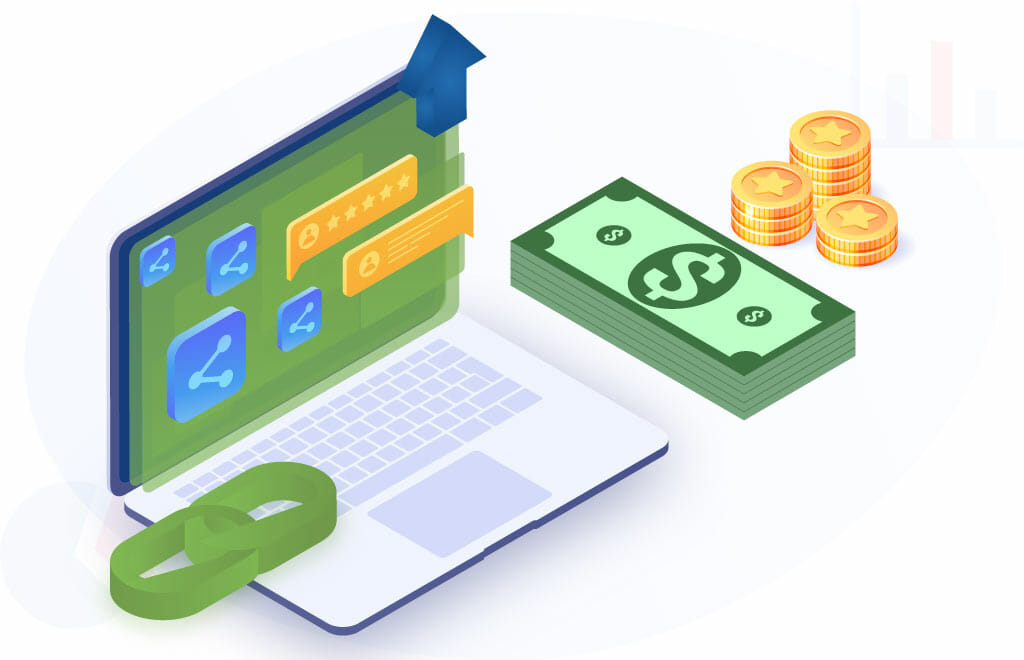 The latter allows you to rebrand their services as your own, so your clients don't know the online courses have anything to do with Thinkific.
It also offers some integrations like Mixpanel, Segment.io, and Infusion, which Podia lacks. Additionally, you get an email marketing feature. It is basic but effective.
I used the email feature to send course updates and was able to segment my students.
Yet, you'll have to consider third-party integrations if you want more advanced automation on Thinkific.
Podia
Podia, too, has an affiliate program and allows white labeling. It supports email campaigns and has a live messaging widget that facilitates real-time customer service.
I found this feature useful as it helped me filter more leads.
The email marketing tool you get with Podia is superior to Thinkific.
It tracks important metrics and provides analytics on email opens, bounces, clicks, and unsubscribers. The platform also tracks revenue.
Winner: Podia is the undisputed winner of this match because of its advanced email marketing tool and analytics.
4. Customer Service
Both platforms have detailed help centers and FAQ sections, but the similarities end here.
Thinkific
There are extensive self-help resources on the Thinkific site, including a demo of their features and topics on migrating your content, getting started, customizing your site, and managing learning content.
You can reach Thinkific via Live Chat or phone from Monday to Friday, 9-5 PST, or through an online form. The higher plans also come with priority phone support.
However, the customer service team is only available Monday to Friday at specific times.
Podia
Like Thinkific, Podia has extensive self-help resources and Live Chat. Unlike Thinkific, it prioritizes a human connection and does not have AI-powered responses.
Podia's customer service team is highly responsive, typically getting back within minutes. It is also more available than Thinkific's customer support, as you can reach them on weekdays and weekends.
However, they are only available from 9 am – 6 pm ET and 10 am -2 pm ET on weekends.
Winner: This race was tight, but Podia gets the trophy for providing more humanized, incredible customer service available every day.
5. Data Analytics
Data analytics are pivotal to creating and learning from different marketing strategies. Both platforms offer data analytics with slight differences.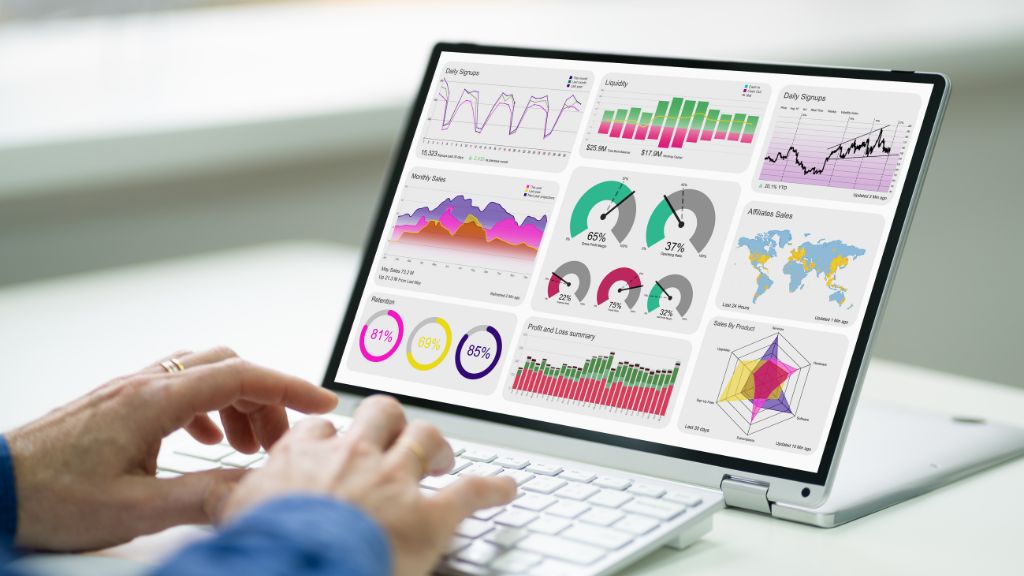 Thinkific
The platform provides reports, although most reporting features are only available on the Start and Grow add-on package. I obtained metrics on enrollment, revenue, orders, and student engagement.
I also applied filters such as date, course, new or existing customer, and more.
It helps that the platform provides charts and graphs that make it easy to visualize and understand the data.
Podia
Podia provides significant analytics natively, which can help identify bottlenecks in your growth.
The metrics I found most useful include the following: sales, churn rate, enrollment date, last active time, and student progress.
The student user experience reports are not comprehensive if you are a data nerd.
Still, I uploaded videos from my Vimeo account through Podia's link embed feature, which allowed me access to more advanced reporting via Vimeo.
Winner: Podia wins because it has slightly more report metrics and a backdoor to free advanced reporting via Vimeo.
6. Integrations
Thinkific
Thinkific supports the following integrations: Stripe, Paypal, ConvertKit, WordPress, Salesforce, MailChimp, ActiveCampaign, Mixpanel, Google Analytics, Aweber, and InfusionSoft.
Thinkific's Basic plan only allows you to set triggers to kickstart actions in third-party apps. You must upgrade your plan to send triggers from third-party apps back to Thinkific.
Podia
Podia provides the following integrations: Mailchimp, Aweber, ActiveCampaign, Drip, ConvertKit, MailerLite, Stripe, Paypal, Olark, Sumo, Fomo, Google Analytics, Facebook, Pinterest, Zoom, YouTube Live, Pinterest, Hotjar, and Calendly.
Additionally, Podia lets you embed content from over 1,900 sites with its native iFramely member feature.
Winner: Podia is the winner because it provides significantly more integrations than Thinkific.
7. Pricing
Both course tools offer a lifetime free account with some limitations.
Thinkific
Free Plan

: only allows up to three courses, 1 community, 1 administrator, 2 spaces per community, and email and chatbot support for 30 days.

Basic Plan

: costs $36/month, offers free access to the accelerator program and beats the free account with 5 spaces per community, creates unlimited courses, and full email and live chat support. 

Start

: costs $74/month and beats the basic plan with 10 spaces per community, Live lessons, membership and payments plans, bundles and add-on packages, assignments, and Thinkific Mobile.

Grow

: costs $149/month and allows 20 spaces per community, API access, bulk enrollments, bulk students emailer, white labeling, and phone priority email support in addition to what the Start plan offers.
Podia
Free Plan

: provides email marketing features, community, 1 download, 1 coaching product, course drafting, webinar drafting, and full website access, but charges 8% transaction fees.

Mover Plan

: charges $33/month and has no transaction fees. It also offers unlimited digital downloads, courses, unlimited coaching, and chat support.

Shaker

: costs $75/mo and provides affiliates as well as third-party code.
Winner: Thinkific wins this round. Even though it is slightly more expensive, Thinkific provides more price plans with better details and does not charge your transaction fees on the free account.
Thinkific Vs. Podia: Which Is Better?
Thinkific and Podia are functional online training platforms that will get the job done on a basic level. Still, I have used more feature-packed products for less.
I recommend Teachable as a much better alternative to Thinkific and Podia. It is the best online course platform with all the features the two offer and other extras. 
You get an easier interface, a drag-and-drop editor, templates, inbuilt marketing and sales, email marketing tools,  reporting and analytics, many payment options, blog creation, student management support, and more.
If you need a good platform to create an online course, you should try Teachable.
Our #1 Recommendation: Teachable