Known for delivering free web hosting services, 000webhost has a unique angle in the web hosting market. But is free hosting all it's made out to be?
If you're bootstrapping your website build or looking for low-cost hosting for a personal project, 000webhost may be worth considering. But what about everyone else?
In this 000webhost review, we put it to the test and share pros, cons, and performance data so you can decide if 000webhost is worth it for your website project.
Quick Summary
000webhost offers free web hosting, ideal for personal projects and website testing.
It provides basic features like PHP, MySQL, and cPanel, but has resource limitations.
It's not recommended for serious business websites due to potential security and resource concerns.
Our Verdict: Is 000webhost Worth It?
| | |
| --- | --- |
| Features | Details |
| Uptime Guarantee | 99.0% on the free tier, 99.90% on paid plans. |
| Free SSL | Yes |
| Hosting Types | Shared |
| Resources | From 1 website, 300MB disk space, and 3GB bandwidth. |
| Email Accounts | None on the free tier, between 1 and 100 on paid plans. |
| Support | None on the free tier, 24/7/365 on paid plans. |
For a free hosting service, 000webhost isn't bad, per se. However, our assessment is that for most people, it will not be a suitable choice due to a few reasons:
Resource limitations
Safety and security issues
Limited support
Limited features
Costly add-ons
Loads of downtime
Poor loading speeds
If you're building a serious website for your business or another project on a low budget, we recommend looking into the cheapest hosting providers out right now.
Not only are they budget-friendly (and in some cases cheaper than 000webhost once you factor in its overpriced add-ons), but they also deliver world-class services and have been tested by our in-house experts.
000webhost Overview
000webhost was established over ten years ago as a free web host. It is a sister brand associated with Hostinger, one of the leading hosting providers on the market right now.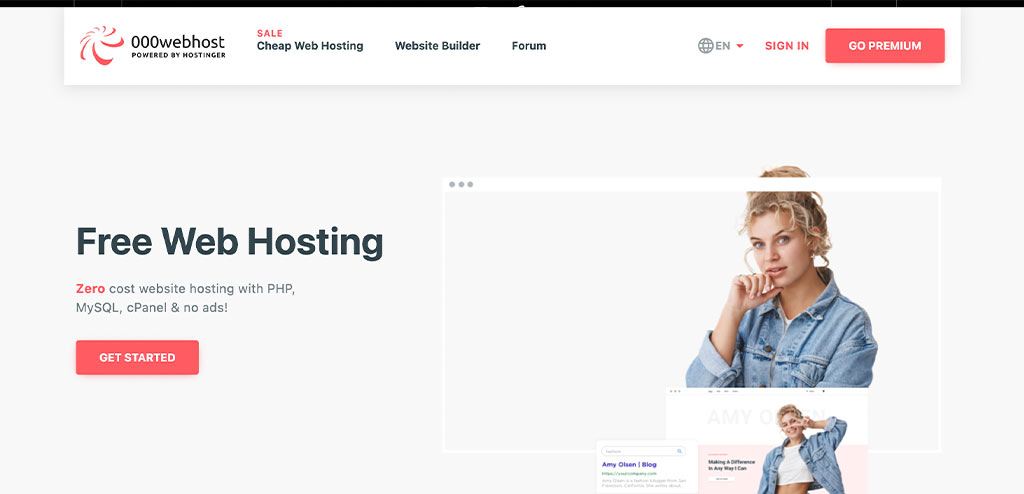 In fact, Hostinger has consistently shown up at the top of our list for many of our hosting reviews. It is one of the most affordable hosting providers and provides great value with its hosting services.
By comparison, 000webhost offers only a small portion of what Hostinger does. However, compared with many other free hosting services, it doesn't serve ads alongside your content, and it includes a few of the perks of paid hosting in its free tier, too (like access to MySQL, PHP, and cPanel).
Is Free Web Hosting Worth It?
If you're not sure whether free hosting is worth it for your website, start by considering your needs and then looking into the pros and cons that free hosting offers.
For instance, with free service, you cannot access anywhere near the level of resources you would on a paid plan. If you're running a few test projects or have a small website for a project on the side, this might be ok. But if you intend on driving a fair bit of traffic to your site, you don't want to be limited by bandwidth or disk space caps.
No matter the size of your website, if you are using it for your business, you must also comply with the latest security protocol to prevent data breaches or insecure transactions your customers make. As such, free hosting may not be able to offer the level of security and customizations your website will need.
But in saying that, if you just want a simple, no-frills solution, free hosting may be perfect. 000webhost also comes with a free website builder, so you can get a site live for next to nothing.
How Free Hosting Works
When it comes to hosting, nothing is ever really truly free. A web hosting service needs physical servers to store website files. Website owners essentially lease space on these servers.
However, even free web hosting providers have hard costs for purchasing and maintaining these servers. Server prices range anywhere between $500 – $5,000 each. Not to mention the cost of electricity to run the server.
So how can hosting be offered for free?
The two most common methods are:
Placing ads on the hosted websites
Offering paid upgrades and add-ons.
Of the two, 000webhost falls squarely in the second basket and only works due to a strict resource limitation for free users.
The limitations we're talking about include:
Monthly bandwidth cap — limits the maximum amount of data and traffic your website can handle.
Lower guaranteed uptime — your server may experience bouts of downtime during which your website will not be accessible eat all.
Slower loading speed — your website will not be hosted on premium servers, and so performance will be affected.
Limited storage — if you have many photos or videos on your website, you may likely run into storage limitations, as free hosting only offers a very small amount of included disk space.
There are some cases where such limitations won't affect the operation of your website too much. But if you're running a business, we can't stress enough how free hosting will cause more harm than good and lower your credibility online by delivering a poor user experience and facing more downtime issues than paid hosting does.
000webhost's Plans & Pricing
000webhost's basic plan is absolutely free. It promises zero-cost hosting with PHP, MySQL, and cPanel with no ads for as long as you need it.
It's not a free trial. There is no time limit for how long you can access the free tier, and you don't need to provide payment details to create an account. There are, however, a range of add-ons for which you'll need to pay. You can also easily upgrade to an affordable paid plan anytime.
But it's worth noting that if you decide to use a few add-ons, you may pay more for your hosting than with a reputable paid service.
| | | | | |
| --- | --- | --- | --- | --- |
| Features | Free Account | Single Shared Plan | Premium Shared Plan | Business Shared Plan |
| Number of websites | 1 | 1 | 100 | 100 |
| Storage | 300MB | 50GB | 100GB | 200GB |
| Bandwidth | 3GB | 100GB | Unlimited | Unlimited |
| Email Accounts | None | 1 | 100 | 100 |
| Support | None | 24/7/365 | 24/7/365 | 24/7/365 |
| Initial Price | Free | $1.99/mo | $2.99/mo | $3.99/mo |
| Renewal Price | Free | $9.99/mo | $12.49/mo | $16.99/mo |
If you're considering using 000webhost's free plan, it's important to understand the full list of features you will not get access to. These include:
No support
No email accounts
A lower uptime guarantee of 99.0% (this is also lower than the acceptable industry benchmark)
No free, custom domain
No backups
No SSL certificate
No caching
No DNS management
No subdomains
No SSH access
No Github integration
With a paid 000webhost plan, most of this limitations are lifted (depending on which tier you select). You also get far more resources essential for modern websites, and you get a 30-day money-back guarantee if you decide it's not for you.
However, in all honesty, 000webhost's plans are actually provided by Hostinger. You can check out our full Hostinger review for more details on these hosting services.
000webhost's Features
If you decide to use 000webhost, it's likely the free plan is what appeals most to you. So let's take a look at all of its features.
It's Free!
We can't go past the fact that 000webhost is free with no time limits. It's free for as long as you need it, and who doesn't like a good freebie?

As mentioned earlier, 000webhost won't place ads on your site like many other free hosting providers. But you will face service and resource limitations instead. Considering the hard cost 000webhost incurs to own and run a server, that's only fair.
As such, 000webhost's free plan is best suited to anyone learning to build websites, anyone who needs a free testing environment, or anyone creating a low-budget passion project who does not need the level of performance a business website requires.
Built-In Security & Firewalls
All hosting providers, even those offering free services, are required to deliver a certain level of security and data protection, and 000webhost is no different. It includes a firewall and DDoS protection on all plans, including the free tier.
There is also a dedicated team that monitors 000webhost's servers around the clock. However, you also need to pick up a fair bit of the responsibility for maintaining security on your site. We recommend that you install security plugins for an added layer of protection..
Also, it's worth noting that 000webhost was subject to a serious data breach in 2015. Everything has since been resolved, and the company apologized and resolved all issues as soon as possible. So it is now a far safer company than before the attack.
In any case, we do not recommend entrusting all the details of your website's security to a free hosting provider, as they cannot dedicate as many resources as paid services.
Uses Latest Technologies
Just because you use a free hosting plan, it does not mean you are limited to old or outdated versions of technology.
With 000webhost, all hosting plans are updated to the latest version of PHP and MySQL. You can also access more advanced capabilities like Curl, GD2, Zend, VML, PHP sockets, and .htaccess if necessary.
Custom Control Panel
If you're used to using cPanel, you can still do so with 000webhost's plans. However, you can also take advantage of its custom control panel that offers a range of supplementary admin, 1-click install, and site management tools. You'll also be able to park unused domains and manage any domains you purchase through 000webhost in the custom control panel.
000webhost's Ease Of Use
Other than being free, another of 000webhost's biggest advantages is how easy it is to use. We ran a few tests just to see how easy it is for people of any skill level to get started.
Is 000webhost Beginner Friendly?
Even absolute beginners who have never built a website before can get started with the click of a button. The onboarding process is very simple and smooth.
No matter your technical ability, installing WordPress or any other CMS is easy thanks to the range of 1-click installation tools.
Or you can use the free website builder that is integrated with your hosting account, Zyro.
Creating An Account
Creating an account is super straightforward. However, there are a lot of upsell offers to wade through. If you're unfamiliar with web hosting and what features you will need, these may seem a little confusing or daunting.
We suggest removing everything and sticking with the base free plan until you know what features you will need.
000webhost's upsell offers and add-ons aren't competitively priced. If you add a combination of these features, you'll likely end up paying far more than you would for a comparable paid hosting plan that also offers you more storage and other resources.
In any case, once you go through the process, your account will be instantly activated, and any upgrades you selected will be immediately available.
Creating A Website With 000webhost
There are a few different ways to create your website on 000webhost.
You can upload your website to FTP (file transfer protocol). This is suited to anyone with a few tech skills and who has an existing website with the files they can migrate into the 000webhost account.
Create a new WordPress website using the auto-installer. Your WordPress site will automatically be connected to your hosting account, and you can be on your merry way to adding your theme and plugins in no time!
Use the integrated website builder. If you have no web design or coding knowledge and find WordPress a little too advanced, you can try building a website using Zyro instead.
Upgrading Your resources
It is inevitable that there will come a time when 000webhost's free plan will no longer satisfy your needs. It is easy to outgrow the resource limitations of the free plans. When that time comes, you'll be glad to know that upgrading your plan or adding additional features is a very quick and easy process.
The whole journey is seamless and lets you unlock any additional perks that you need.
How Does 000webhost's Performance Hold Up?
000webhost talks a good game regarding its server reliability and loading speed performance. But we couldn't help thinking it might all just be talk.
So we put them through the same tests we run on all paid hosting companies too. Here are the loading speed and site performance data we gathered from Pingdom.
| | | |
| --- | --- | --- |
| Location | Performance Score | Load Time |
| Frankfurt | 84 | 1.60s |
| Washington DC | 85 | 1.04s |
| Tokyo | 84 | 2.32s |
| London | 84 | 1.63s |
| Sydney | 83 | 1.93s |
| Brazil | 84 | 2.05s |
All up, 000webhost's speed isn't too bad. It's consistently below 3 seconds in many regions all over the world. However, it should be noted here that this could also be due to the limited resources 000webhost websites can have.
With only 300MB of storage, that's not a great deal of available space for sites that need many images or other files. As such, the lean design you're squared into contributes to how quickly your website assets will load.
Regarding uptime and server reliability, 000webhost's free plan offers a guaranteed uptime amount of 99.0%. The industry benchmark, and the guaranteed amount offered on its paid plans, is 99.90%.
We get it. 0.9% may not sound like a big deal. But when you consider that it's up to 79 additional hours per year that your website could be down due to server downtime, that's a huge difference in our book.
Another way to think about it is that with the free option, your website will likely experience up to ten times as much downtime as paid plans and the industry benchmark.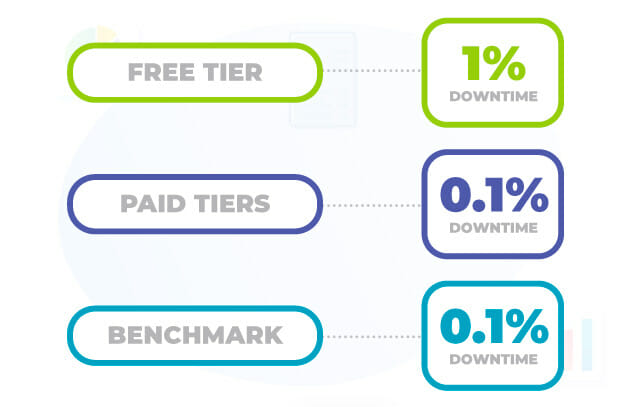 All in all, you get what you pay for, and considering it's a free provider, the results are decent.
000webhost's Customer Support
Perhaps the biggest downside to using 000webhost's free plan is that you will be left to your own devices. With no support, you will have to figure things out by yourself.
While the experience we had setting up a website was smooth and beginner-friendly, it can become frustrating to figure out what to do if you run into any complications.
Unlike the global companies leading the web hosting arena, 000webhost doesn't have a fully-fledged knowledge base to guide you. Sure there are some support articles and a forum as well, but it's not guaranteed you'll be able to resolve all your queries in a timely manner.
Not to mention that even 000webhost's customers on paid plans found the support services a little lackluster.
If you're a beginner, we recommend investing in a low-cost paid hosting solution that offers unparalleled support as part of your package. Not only will you get additional features, but the ability to hop on a live chat and have all your questions answered in real-time is also invaluable.
Frequently Asked Questions (FAQs)
Are Backups Included With 000webhost's Plans?
Only two out of 000webhost's four hosting plans include backups. The Free and Single Shared hosting plans do not include backups. The Premium Shared plan includes weekly backups, and the Business Shared plan includes daily backups.
Is 000webhost Good For eCommerce?
No, we would not advise using 000webhost for eCommerce due to the limited resources available and the lack of an SSL certificate on the free tier. If you are building an eCommerce store, consider using one of the paid plans offered by Hostinger, 000webhost's sister company.
Does 000webhost Have cPanel?
Yes, you can use flexible and free cPanel hosting with 000webhost. Read more about cPanel hosting with 000webhost here.
However, you can also access the custom dashboard, which many find to be more intuitive and user-friendly than cPanel. It includes free domain parking, a file manager, a web builder, a one-click installer for WordPress, and an option to unlock a second website.
Final Verdict: Is 000webhost Worth It In 2023?
000webhost is a good free web hosting service that offers many useful features. However, it is a web host for complete beginners and those who don't need a spectacular website for their business or products.
While 000webhost can be a good choice if you are tight on budget, you should try out Hostinger. This reliable web host offers a dozen features at an affordable price, making website hosting hassle-free.It will help you create outstanding websites and attract new audiences easily, so if this is your goal, sign up for Hostinger today.
Our #1 Recommendation: Hostinger