In today's digital landscape, where websites serve as the cornerstone of businesses, organizations, and individuals, finding the best cPanel web hosting provider has never been more crucial.
cPanel is undoubtedly one of the most popular control panels for web hosting available. Known for its user-friendly interface and powerful features, it makes managing your website a breeze.
As an SEO expert who has tried multiple cPanel web hosts to find the best-performing one, I will use my in-depth experience and understanding of the intricacies that underpin hosting solutions to provide you with the top cPanel web hosting providers for your hosting needs.
1. BlueHost (

Editor's Choice

)
BlueHost is a leading cPanel web hosting platform providing reliable and affordable hosting services since 2003.
This platform is intuitive and easy to navigate, making it simple for beginners to set up and manage their websites.
It offers a one-click WordPress installation, making it an excellent choice for bloggers and content creators. It boasts a 99.9% uptime guarantee, ensuring your website is accessible to visitors. 
I have been using BlueHost for several years and have had a positive experience. The platform has been reliable, and their support team quickly resolved any issues I encountered.
Pros
User-friendly interface

Free CDN

99.9% uptime

One-click WordPress installation
Cons
Higher prices upon renewal
Our Rating
Load time: 4.9
Support: 4.8
Security: 4.8
Pricing: 4.5
---
2. HostGator
HostGator is a well-known and reliable cPanel web hosting provider offering various hosting services for individuals and businesses. 
These hosting services include shared hosting, VPS hosting, and dedicated hosting. The platform also provides a 45-day money-back guarantee, allowing users to try their services risk-free.
HostGator provides many features and unique tools, including a website builder, one-click WordPress installation, and various e-commerce solutions.
These features make it easy for users to create and customize their websites according to their needs.
I have been using HostGator for several years and have had a positive experience overall, experiencing no significant downtime.
Pros
Unlimited storage

Free SSL certificate

Price-friendly
Cons
No Linux servers option
Our Rating
Load time: 4.7
Support: 4.6
Security: 4.7
Pricing: 4.7
---
3. A2 Hosting
A2 Hosting is one of the best cPanel web hosting companies known for its high-performance and reliable hosting services. 
With a wide range of hosting options, including shared hosting, VPS hosting, and dedicated hosting, A2 Hosting caters to the needs of individuals and businesses alike.
A significant benefit of A2 Hosting is its speed and performance. With their turbo servers, A2 Hosting offers 20x faster page load speeds than other hosting providers. This ensures a smooth and seamless user experience for visitors to your website.
Your website will have a 99.9% uptime with this platform, which will greatly benefit your visitors.
A2 Hosting is a reliable and efficient hosting platform that offers impressive speed and performance for my website.
Pros
Solid security features

Reliable customer support

Multiple server locations
Cons
No free domain name
Our Rating
Load time: 5
Support: 4.6
Security: 4.6
Pricing: 4.4
---
4. InMotion
InMotion is a premium cPanel hosting provider that offers various hosting solutions, such as shared and dedicated hosting for individuals and businesses.
With over 20 years of experience in the industry, InMotion has established itself as a reliable and trusted provider.
The platform provides a user-friendly control panel, making managing your website and hosting settings easy. Its servers are equipped with SSD storage, which enhances website loading speed and overall performance.
InMotion also provides reliable performance with its 99.9% uptime guarantee and excellent customer support to ensure a seamless hosting experience. 
InMotion is very reliable and prompt, and you can count on their support team to solve any issues you may face.
Pros
No bandwidth limitation

Free SSD drives

DDoS mitigation systems
Cons
No free backups
Our Rating
Load time: 4.5
Support: 4.5
Security: 4.5
Pricing: 4.3
---
5. SiteGround
SiteGround offers website owners a wide range of features and benefits. This platform has a user-friendly interface and intuitive control panel and lets you seamlessly manage and customize your website using its tools and resources.
SiteGround has a 99.9% uptime guarantee; with this, you can be confident that your website will be regularly accessible to visitors.
You can also count on SiteGround's excellent customer support. The team is available 24/7 to assist with any technical issues or questions that may arise. 
This is a decent platform you can use to satisfy your simple web hosting needs.
Pros
Servers in four continents

Free daily backups

Fast page load speed
Cons
Complex pricing structure
Our Rating
Load time: 4.6
Support: 4.3
Security: 4.3
Pricing: 4.2
---
6. GoDaddy
GoDaddy is a popular cPanel web hosting platform offering various services for individuals and businesses. 
One of the main benefits of using GoDaddy is its ease of use. The platform provides a simple and intuitive interface, allowing you to set up and manage your websites efficiently, even with limited technical knowledge.
GoDaddy provides a wide range of features and tools, including domain registration, website building, and email marketing, making it a comprehensive solution for all website-related needs.
GoDaddy has been a reliable web hosting platform. I found the interface easy to navigate, and their customer support was responsive and helpful. The various features available allowed me to create and maintain my website efficiently.
Pros
Easy-to-use builder tool

30-day money-back guarantee

Unlimited bandwidth
Cons
High renewal rates
Our Rating
Load time: 4.2
Support: 4.3
Security: 4.1
Pricing: 4
---
7. Scala Hosting
Scala Hosting is a reputable cPanel hosting service that offers a range of solutions tailored to meet the needs of website owners.
One of the main advantages of Scala Hosting is its innovative technology. The platform uses advanced server infrastructure and SSD storage, ensuring fast loading times and optimal performance for websites.
Scala Hosting is also known for its robust security features, such as free SSL certificates, daily backups, malware scanning, and protecting websites from potential threats and vulnerabilities.
Scala Hosting is fast and reliable, and the security measures ensure your data is protected.
Pros
Robust security and backups

Solid state drives

Powerful cloud hosting
Cons
Pay to use cPanel on VPS plans
Our Rating
Load time: 4
Support: 4
Security: 4.6
Pricing: 3.9
---
8. iPage
iPage is a decent cPanel web hosting platform known for its reliable services and user-friendly interface. With a range of hosting plans, iPage caters to the needs of individuals and small businesses. 
One of the stand-out features of iPage is its affordable pricing, making it an attractive option for those on a budget.
iPage offers unlimited disk space and bandwidth, allowing users to host multiple websites and handle high traffic volumes. 
iPage provides a range of marketing tools and credits for advertising platforms alongside features such as a free domain name, website builder, and access to popular content management systems like WordPress.
The platform's intuitive interface makes it easy to set everything up and manage your website.
Pros
Low price

Easy to use

Free website builder
Cons
No free backups
Our Rating
Load time: 3.5
Support: 3.6
Security: 3.8
Pricing: 4.3
---
9. DreamHost
DreamHost is a reliable and popular cPanel web hosting platform offering various features.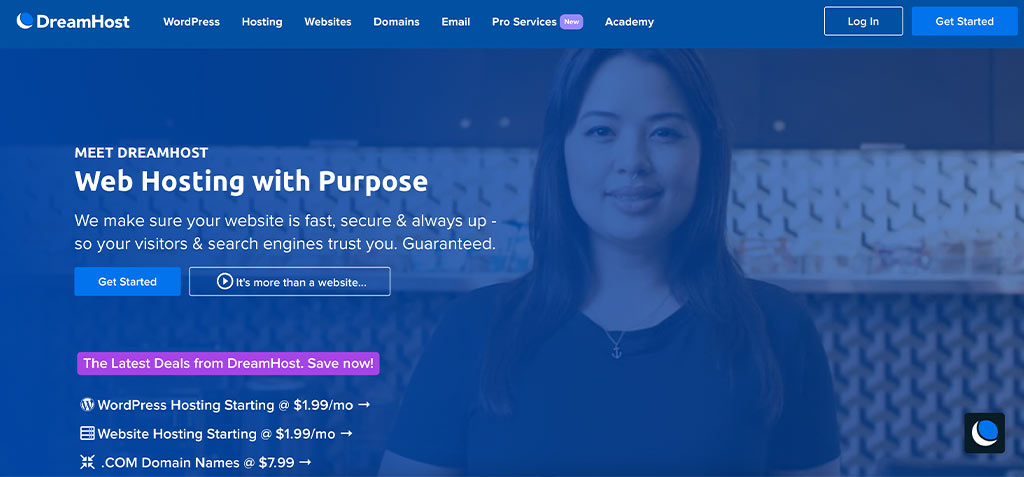 With a strong reputation in the industry, DreamHost has several features that make it a good choice for hosting needs. 
DreamHost offers unlimited bandwidth, allowing high traffic volumes without additional charges. Also, its user-friendly interface and one-click installation make it easy to set up and manage websites, even for beginners. 
From a personal experience perspective, DreamHost has consistently delivered reliable performance and excellent uptime for my websites. The unlimited bandwidth feature has been incredibly beneficial during peak traffic periods. 
Pros
Free WHOIS Privacy protection

Unmetered bandwidth on all plans

Free SSL certificates
Cons
No phone support
Our Rating
Load time: 3.3
Support: 3.2
Security: 3.9
Pricing: 3.9
---
10. MochaHost
MochaHost is a remarkable cPanel web hosting platform known for its affordability, a wide range of features, and excellent customer support. 
With a competitive pricing structure, MochaHost offers hosting plans suitable for individuals, small businesses, and even larger enterprises. 
The platform boasts a user-friendly interface and a variety of tools to help users quickly build and manage their websites.
MochaHost offers a 180-day money-back guarantee and has a high uptime guarantee of 99.9% that websites hosted on their platform experience minimal downtime, resulting in an uninterrupted online presence.
The platform's affordability, reliable uptime, and excellent customer support have benefited my website immensely.
Most web hosts use Linux-based servers with cPanel because it's the industry standard. The simple graphical user interface (GUI) makes it a cinch for new users to understand immediately where to look for specific features to manage websites, email and databases.
– Amy Nichol Smith, Tech journalist and Product expert at Forbes Advisor
Pros
Affordable tools

30-day moneyback guarantee

Free SSL certificate
Cons
Difficulty stopping automatic charges
Our Rating
Load time: 3.1
Support: 3
Security: 3.3
Pricing: 3.8
---
Buyer's guide
When searching for the best cPanel web hosting, several key factors should be considered to ensure a smooth and reliable hosting experience. 
1. Reputation And Customer Reviews
The reputation of a web hosting provider is a crucial factor to consider. Look for providers with a positive track record of delivering reliable and consistent services. 
A reputable hosting company is more likely to have established data centers, better infrastructure, and a higher level of expertise. Check online reviews and testimonials from current and past customers to get insights into their experiences. 
Pay attention to both positive and negative reviews to understand the strengths and weaknesses of each provider.
2. Robust Features
The hosting provider's feature set is critical to meet your website's requirements and accommodate potential growth. A good cPanel hosting provider should offer a wide range of features, including:
Sufficient storage and bandwidth:

Ensure the provider offers adequate resources to handle your website's traffic and data storage needs.

Domain management:

The ability to manage multiple domains and subdomains is essential, especially if you plan to host multiple websites.

Email accounts:

Look for options to create and manage professional email accounts associated with your domain.

Security features:

Check for features like SSL certificates, DDoS protection, firewalls, and regular backups to safeguard your website.

One-click installations:

Having easy access to popular website platforms like WordPress, Joomla, or Drupal can save you time during the setup.
3. Customer Support
Reliable customer support is crucial for a smooth hosting experience. Look for a provider that offers 24/7 customer support through various channels like live chat, email, and phone. 
It's also beneficial if the support team is knowledgeable, responsive, and capable of handling technical issues promptly. 
Check if the provider has a comprehensive knowledge base or community forums, as these resources can help resolve common issues without direct help.
4. Pricing And Payment Plans
The cost of hosting services is important, but it should not be the sole deciding factor. Compare pricing plans offered by different providers, but keep in mind that the cheapest option might not offer you the best value. 
You should also look for transparent pricing with no hidden fees or sudden price hikes. Consider the payment options available; some providers may offer monthly, yearly, or longer-term plans with discounts for longer commitments.
5. User Interface And Functionality
cPanel is a popular web hosting control panel that simplifies server and website management. Check if the hosting provider offers the latest version of cPanel with a user-friendly interface.
The control panel should provide easy access to essential features like domain management, file management, database management, email settings, and one-click software installations.
Once you have chosen a well-designed and intuitive control panel, it will save you time and effort when managing your website.
Hosting itself is inexpensive, and the differentiator is no longer price. Rather, hosts are offering courses, extra services or features, and other unique benefits that go beyond storage space, free email, and other tech specs.
– Tom Fanelli, CEO and Co-Founder of Convesio 
FAQ
Why Is cPanel Considered The Best Choice For Web Hosting?
cPanel is considered the best choice for web hosting because of its ease of use, versatility, and comprehensive tools.
It simplifies website management tasks, allowing users to create email accounts, install applications, manage databases, and handle other essential aspects of hosting without requiring extensive technical knowledge.
Can I Use cPanel With Any Web Hosting Provider?
No, you cannot use cPanel with any web hosting provider. cPanel is a commercial control panel that needs to be licensed by web hosting providers. 
Can I Transfer My Existing Website To A cPanel-Based Hosting Provider?
Yes, you can transfer your existing website to a cPanel-based hosting provider. Most hosting providers offer migration services or provide detailed documentation on transferring your website files, databases, and email accounts to their servers using cPanel.
Which cPanel Web Hosting Provider Should You Use?
cPanel offers a user-friendly interface and comprehensive features which make it a top web hosting choice for beginners and experienced users.
While many cPanel web hosting providers are out there, I would recommend BlueHost as my top choice. BlueHost has impressive features and is a popular choice among many businesses and individuals.
With BlueHost, you can easily manage your website, email accounts, databases, and other aspects of your online presence. The intuitive layout and robust functionality of BlueHost make it a powerful tool for a seamless and efficient hosting experience.
Our #1 Recommendation: Bluehost