In today's world, it's crucial to have uninterrupted communication and seamless connectivity. DNS hosting services facilitate web browsing and provide domain name system servers. This ensures that individuals can find your website in the digital space.
Many DNS hosting providers are available on the internet, but only a few offer top-notch services for your website.
As an experienced webmaster who has managed multiple websites for various clients, I am here to share my insights on the best DNS hosting providers based on their features and cost-effectiveness.
10 Best DNS Hosting Providers
1. Namecheap (

Editor's Choice

)
Namecheap is one of the world's best premium and free DNS hosting providers that offers dedicated servers tailored to meet specific website needs.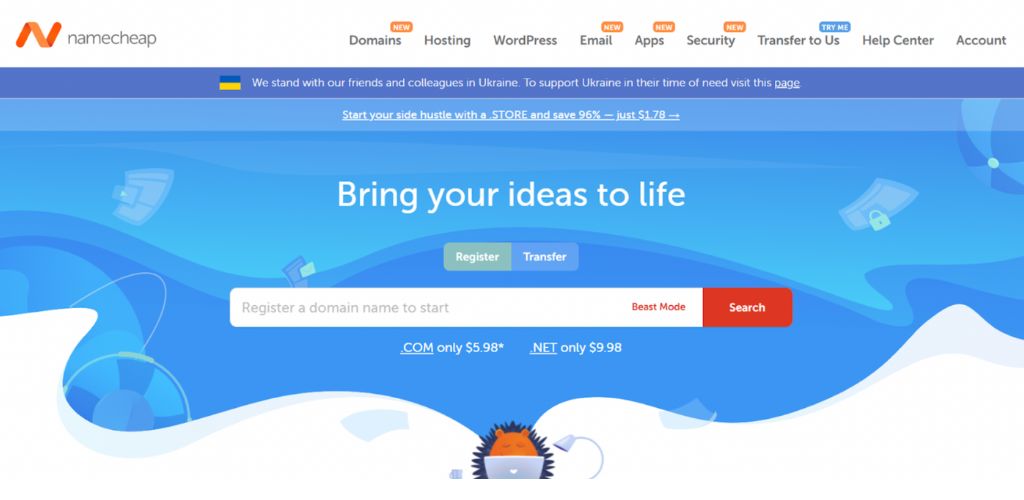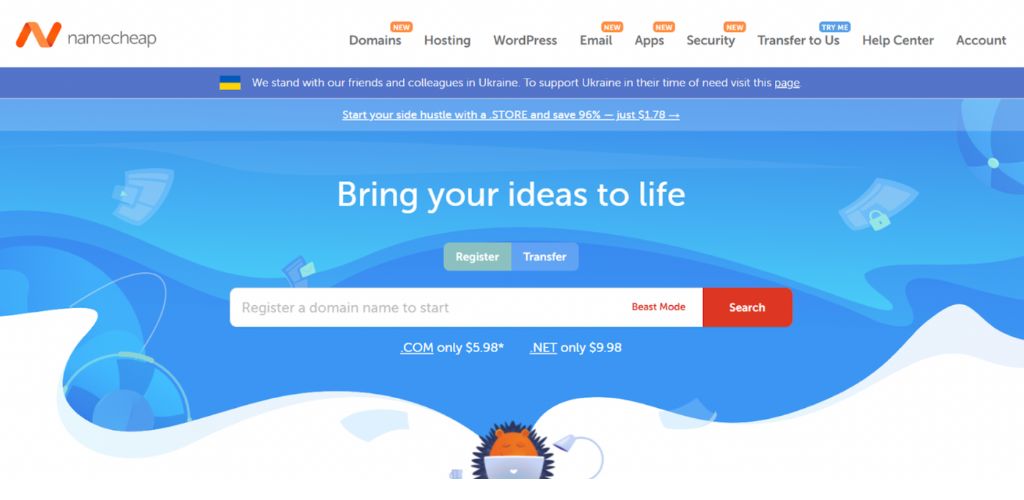 It has four server levels, which include:
Entry level ($41.88 monthly): Ideal for high-traffic websites, smaller applications, and resellers.

Medium level ($48.88 per month): Ideal for databases, small SaaS, large resellers, and various applications.

Advanced level ($139.88 monthly): Ideal for multi-user apps, extensive databases, large SaaS, and virtualization.

Outlet ($38.88 per month): Refers to all clearance or legacy servers made for users on a budget.
Namecheap also offers free DNS for new websites with little traffic. However, as your website becomes busier with more traffic and high demands, you can opt for the premium DNS from Namecheap for just $4.88 annually.
Namecheap has helped me connect several websites to the internet over the years, and their customer support has been the best during this time.
Pros
High-security standards

Great customer support

User-friendly cPanel

Free domain and migration
Cons
Very few data centers
Our Rating
Load time: 5
Support: 4.8
Disk Space: 4.8
Security: 4.9
Pricing: 4.9
Free Migration: Yes
---
2. Cloudflare
Cloudflare is a well-known solution offering an enterprise-grade authoritative DNS service with the fastest response time, unparalleled redundancy, and advanced security with built-in DDoS mitigation and DNSSEC.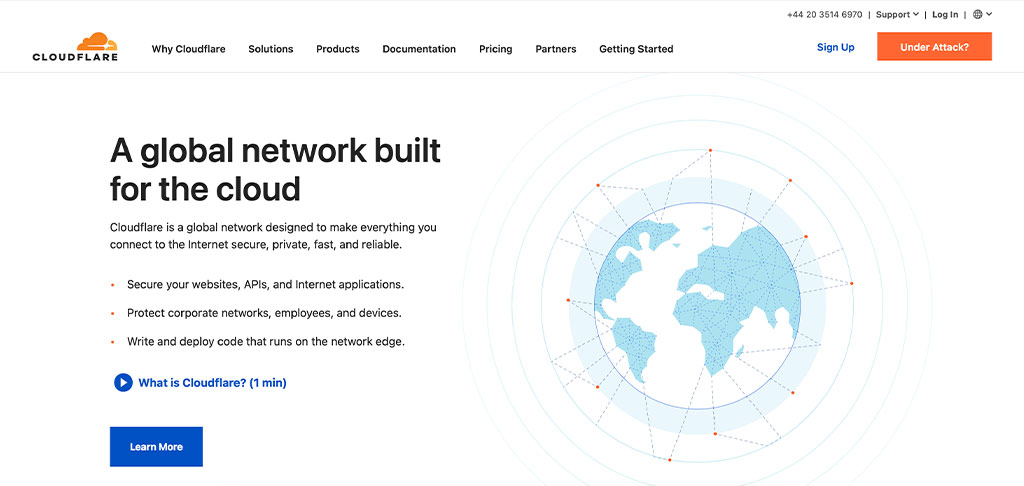 Once you upgrade your website's security and performance by subscribing to any of its plans, you get an easy-to-use DNS that optimizes your website.
You can compare plans to choose the best DNS package for your website, starting with the Pro plan at $20 per month, the Business plan at $200 per month, and the Enterprise plan, custom-made and billed annually.
My experience using Cloudflare has been remarkable, as I have kept several websites up and running without fear of traffic spikes, attacks, or outages.
Pros
Top-notch DDoS protection

Free SSL certificate

Reduces website loading time
Cons
Limited customization
Our Rating
Load time: 4.8
Support: 4.8
Disk Space: 4.5
Security: 4.9
Pricing: 4.9
Free Migration: No
---
3. ClouDNS
ClouDNS is a top DNS hosting provider created to provide fast and secure free DNS hosting and premium DNS hosting for various websites.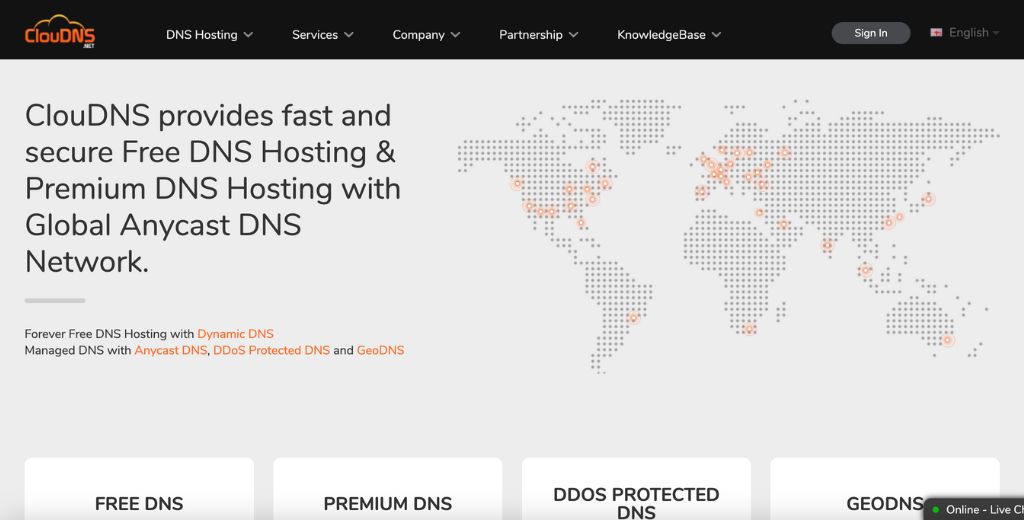 This platform has custom DNS services with custom server locations, custom server names, and DDoS protection for DNS.
These services are affordable, starting with the free DNS for first-timers up to the GeoDNS plan at $9.95 monthly.
I have used the free plan of the ClouDNS service, and in that period, there was zero downtime, proving that ClouDNS is indeed a unique platform.
Pros
Simple web interface

Risk-free DNS services

Excellent uptime
Cons
Limited customer support channels
Our Rating
Load time: 4.8
Support: 4.7
Disk Space: 4.5
Security: 4.6
Pricing: 4.9
Free Migration: Yes
---
4. DNS Made Easy
DNS Made Easy is a solution that offers secondary DNS and managed DNS services catered to meet the needs of different enterprises and ensure that their domain remains online 100% of the time.
An interesting fact about this platform is that it claims to be the fastest DNS provider, thanks to its unique proprietary triple IP anycast+ network that answers queries in less than 30 milliseconds, bringing businesses closer to their clients.
My experience using DNS Made Easy was good, but it is best suited for large enterprises seeking fast resolution times with little to no downtime.
Pros
Fast DNS load times

Full rest API and SDK support

Advanced traffic management features
Cons
May be overwhelming for new users
Our Rating
Load time: 4.8
Support: 4.5
Disk Space: 4.4
Security: 4.8
Pricing: 4.5
Free Migration: No
---
5. Quad9
Quad9 is a free DNS service that protects your domain name server from malicious threats such as malware and phishing by replacing your default ISP, which guarantees improved performance and maintains your privacy.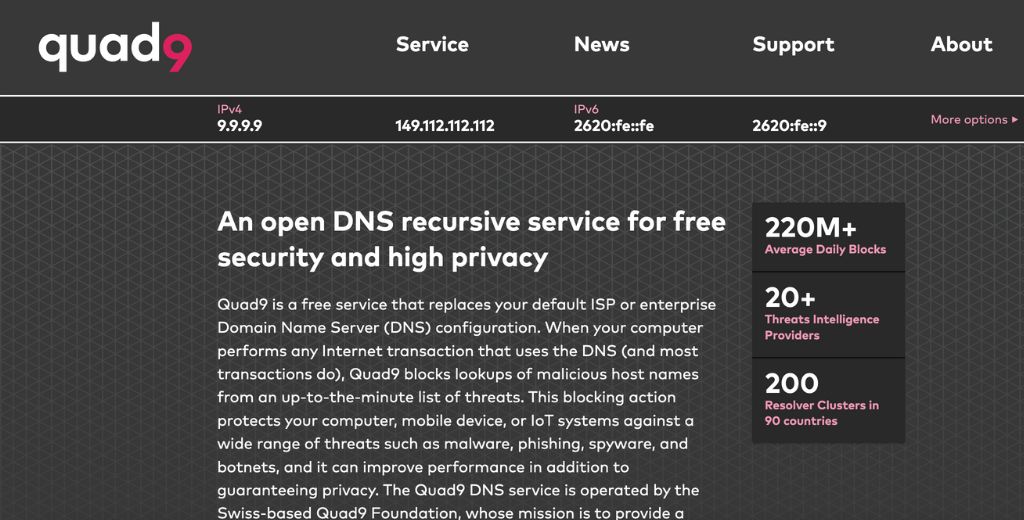 Quad9 is free to use, and all you need to do is configure your router or Wi-Fi access point to distribute these settings, which will extend protection to all the elements on your local network, including your IoT devices [3].
From my experience using Quad9, it is pretty efficient and offers impressive services for a free solution.
Pros
Free to use

Easy to setup

Improves web security
Cons
Doesn't have manual filtering
Our Rating
Load time: 4.6
Support: 4.3
Disk Space: 4.5
Security: 4.5
Pricing: 4.7
Free Migration: Yes
---
6. Dynu
Dynu offers a dynamic DNS service that allows you to give your home network or server a permanent address on the internet.
This solution offers fast propagation, translating to 100% uptime, outstanding technical features, and premium support.
To get started, set up a third-level domain name and choose from various software and scripts to keep your domain name pointed to the most current IP address, all for free.
Dynu is a decent DNS hosting provider with services anyone can utilize to protect their domain names at no cost.
Pros
100% free

Easy-to-use control panel

Supports multiple DNS records
Cons
Poor user interface
Our Rating
Load time: 4.2
Support: 4
Disk Space: 4.4
Security: 4
Pricing: 4.5
Free Migration: Yes
---
7. Amazon Route 53
Amazon Route 53 is a solution that provides a reliable and cost-effective way to route end users to your website via DNS servers and automatic scaling.
This web service lets you set up your DNS routing in minutes with domain name registration and customize your DNS routing policies to reduce latency and improve application availability.
From my experience, Amazon Route 53 is a web service that offers multiple DNS features, from private DNS to Geo DNS, which are very important and will be of great value to network professionals.
Pros
Super fast DNS server

Quick setup

Large API library
Cons
Costly for renewals
Our Rating
Load time: 4
Support: 4.1
Disk Space: 4.6
Security: 4.8
Pricing: 4
Free Migration: Yes
---
8. EasyDNS
EasyDNS is a service that offers superior services and continuous uptime with no hassle or compromise.
You can get a managed DNS service by subscribing to any DNS pricing package, free for entry-level DNS and starting at $37 per year with domain registration for its premium plans.
EasyDNS offers other DNS services, such as DynDNS, DNSSEC, high-availability DNS, and reverse DNS service.
From my experience, EasyDNS is a reliable DNS service that has proven to guarantee premium satisfaction and 100% uptime for websites that desperately need these services.
Pros
Excellent customer support

Offers monthly hosting

Provides cPanel features
Cons
No live chat
Our Rating
Load time: 4
Support: 3.6
Disk Space: 3.9
Security: 4.2
Pricing: 4.4
Free Migration: No
---
9. DNSimple
DNSimple is a top-tier DNS solution that offers secure and straightforward DNS hosting with tools that guarantee the high-level security of your domains.
The significant part about this solution is that you can quickly set up your domain with its DNS hosting by integrating with its API and having access to unlimited DNS records and queries.
My experience using DNSimple was positive, as I could use its innovative DNS service to keep my client's domains up and running with no setbacks.
Pros
Great security

Intuitive UI

Flexible management options
Cons
Difficult domain transfer
Our Rating
Load time: 3.5
Support: 4
Disk Space: 3.9
Security: 4
Pricing: 3.5
Free Migration: No
---
10. Google Public DNS
Google Public DNS is a free global DNS resolution service that you can use as an alternative to your current DNS provider.
With this service, you can speed up your browsing experience, improve your website security, and get the expected results without redirection.
To use Google Public DNS, configure your network settings to use the IP addresses 8.8.8.8 and 8.8.4.4 as your DNS servers or use the configuration instructions on the Google Developer page.
I gave Google Public DNS a quick try, and it is pretty simplistic and should solve primary DNS hosting challenges.
Today, with the increasing frequency of large-scale attacks against mission-critical online assets, taking your chances with a single managed DNS service is no longer sufficient; organizations need a secondary DNS service to effectively mitigate the growing risk to their operations and protect their brands.
– Carlos Morales, Chief Technology Officer at Neustar Security Services
Pros
Highly reliable

Free to use

Very secure
Cons
Little customer support
Our Rating
Load time: 4.5
Support: 3
Disk Space: 3.5
Security: 3.2
Pricing: 4
Free Migration: Yes
---
Buyer's Guide
It is essential to always look out for key features and ask yourself some questions before using a DNS hosting service.
That being said, below are just some things you should note when purchasing one:
1. Server Location
Knowing where your servers are located, on-site or off-site, should help you determine the type of DNS service that fits best. Also, if your services are primarily cloud-based, DNS services tailored to this should be your best bet.
2. Source of Traffic
When choosing a DNS hosting service, it is vital to go for one with servers in areas where your traffic originates. This way, you can be confident that your queries will be resolved quickly and efficiently.
3. Number of Domains
If you have an organization that runs multiple domains, it is best to get a sophisticated DNS hosting service that can handle and manage these domains at a price you can afford.
However, if you run a single domain, a simple DNS hosting service that can offer a simple DNS configuration should be enough for you.
4. User Interface and Functionality
Ensure to choose a DNS hosting service with a friendly user interface and high functionality.
This way, it will be easier for you and other users to utilize it and make changes where necessary without any hassle.
DNS underpins all important services that run over the internet, and in some cases, you can tell that a service relies on DNS because the addresses used by the service incorporate domain names, which are indexes into DNS's distributed database.
– Cricket Liu, Chief DNS Architect at Infoblox
FAQ
What Is The Difference Between A Name Server And A DNS?
The difference between a name server and a DNS server is that a name server is a server where your DNS information is stored so that it's accessible via the internet. DNS stands for domain name system and is a distributed database hierarchy for translating domain names into their corresponding IP addresses.
Are There Free DNS Services That I Can Use?
Yes, there are free DNS services that you can use. Google Public DNS is an example of one. However, ensure that these free DNS services can meet your needs before using them.
The Best DNS Hosting Provider According to Us
DNS hosting services are essential for website domain names today, especially to help prevent breaches and improve performance and response time for queries.
I would recommend Namecheap because it offers excellent services such as free and premium DNS and discounts of up to 50% if you want to buy WordPress hosting services or .com domains.
It also offers premium security and domain privacy, guaranteeing that you are always protected from fraud, identity theft, and spam.
Our #1 Recommendation: Namecheap