There's a lot to consider when you're choosing a domain extensions names.
You need to consider the different types of domain  selling their services. This can help you avoid potential scams, ensure the name you choose is suitable for your business, make sure it can be search engine optimized, and more.
Knowing exactly what to do, and not to do, can be really overwhelming.
With our extensive expertise in the domain registration field, we have conducted thorough research on your behalf. I
In this comprehensive article, we will share our findings on purchasing premium domain extensions names, offering insights into their true costs and guiding you through the process of making the best decision for your online presence.
Quick Summary
Domain name costs range from $10 to $20 per year, with some web hosts offering free domains in their packages.
Costs can be influenced by auto-renewal fees, privacy costs, and domain transfer costs. Beware of hidden fees and short-term discounts.
A well-chosen domain name boosts website visibility, user experience, and search engine rankings. Choose a brandable, SEO-friendly name to establish your niche.
What Is A Domain Name?
A domain name is a text that a user types into a browser window to reach a particular website. For instance, the domain extensions name for Google is 'google.com'.
A domain name is a one-of-a-kind signature for your website and this is the text that people type into website browsers to find your website.
Put differently, it is the name for your website that is included in your website address, for example, the name that goes after www.
And if you choose to create an email address with your domain extensions, it will be the name that goes after the @ sign.
There are also many different domain types to choose from. Let's dive into these next.
Generic Top-level Domains (gTLD)
These multiple domains are the most basic, and also the most widely used today. You have probably seen many of the seven most commonly recognized gTLDs around.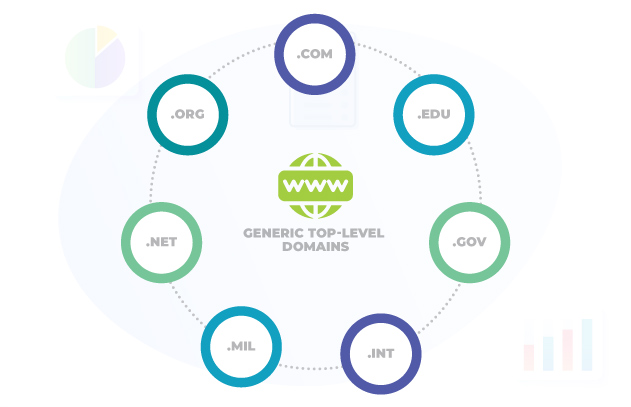 They include:
.com
.edu
.gov
.int
.mil
.net
.org
Country Top-level Domains (ccTLD)
These domain names indicate the website's specific country or region. For example, .uk is a country top domain. This would be important for businesses that are particularly based in the UK.
Internationalized Country Code Top-Level Domains (IDN ccTLD)
These domains are encoded and displayed in the web browser in a native language script or alphabet.
An example would be the Chinese script or the Arabic alphabet. This also means that these types of domains are country specific.
Why Do I Need A Domain Name?
You need a dream domain name because it would be difficult for users to remember how to access your website without one.
Without a domain name a user would need to type in the exact IP address of the server hosting the website. For example, 192.158.1.38.
Because of this anyone who wants users to be able to easily access their website must have a domain name.
Here are some of the key reasons why having a domain name is important.
To Help Your Business Establish An Online Identity
Creating a successful online business is dependent on having a domain name. This is what sets you apart from every other business on the internet.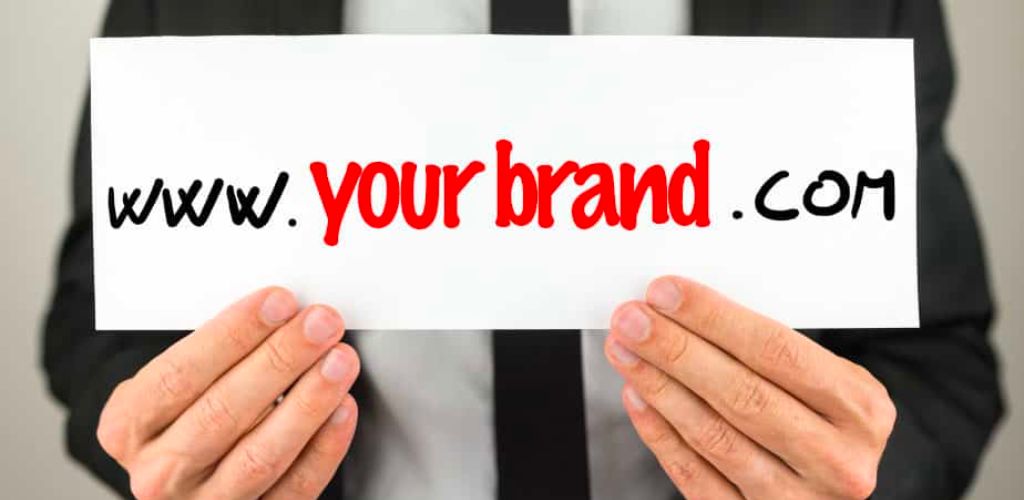 And, with the high level of competition these days, it is even more important that you choose a domain name that helps you to establish an online identity.
Without this, you'll have a really hard time gaining your users' trust. And you'll struggle to bring in decent traffic to your website.
Your domain name can also help you to establish a niche.
According to Business News Daily this helps you to establish a loyal customer base, reduce marketing costs, demonstrate expertise, and increase your profits.
To Create Your Own Brand For Your Blog Or Website
If you're a blogger or website owner, it's really important to have a brand. This is what sets you apart and also tells users what your niche is about.
Without this, it would be really difficult to give your blog a purpose.
If your blog or website has no niche or brand, you will struggle to market it, you won't know who your target audience is and you won't know what content to create. These are all things having a domain name helps to fine-tune.
To Use As An Investment
Domain names not only help you to establish an online presence or sense of identity, but they're also an investment.
If you're the domain owner of a premium domain name, for example, it becomes a valuable asset. A premium domain is one that is high-quality and can be sold for a large profit.
Today, many people also buy domain names and then sell them at a mark-up. If done correctly, this is a lucrative way to earn money.
How Do I Choose A Domain Name?
To choose a domain name, you'll need to keep these next key considerations in mind:
Your Domain Name Shouldn't Break Any Legal Terms
Have you heard of domain squatting or "cybersquatting" before? This is when someone buys a premium domain name that is trademarked as someone else's business and they hold it hostage until the business owner pays a large amount of money for it.
Although you probably have zero intent to become a cybersquatter, you could accidentally get caught up in a legal battle if you don't do your research.
Before choosing a domain name, make sure to check that it is not already a trademarked business.
Your Domain Name Should Be Optimized For Search Engines
The best aftermarket domain names to buy are optimized for search engines.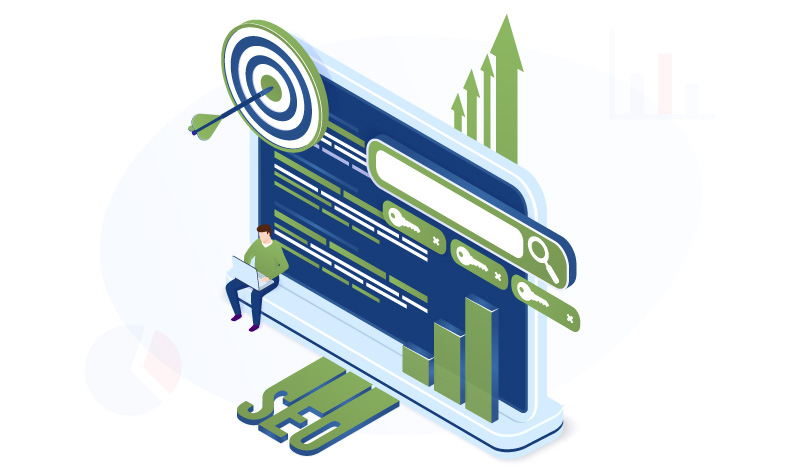 Search optimization is really important when it comes to making sure your business or website is seen by your target audience.
How you optimize your domain name will depend on what kind of site you build.
For example, if you are building a small website and plan to rank the home page you can buy an Exact Match Domain.
This is when you use the exact keyword you want to rank for as your domain.
For more information about how to optimize your aftermarket domain check out our free Evergreen On-Site SEO guide.
Where Can I Buy A Domain Name?
You can buy a domain name from many different registrars, but we'll cover the safest and most popular options here.
Go Through A Reputable Domain Registrar
We recommend that you use domain name registrar companies like GoDaddy, Namecheap.com, or popular web hosting services like HostGator.
These companies usually have website hosting packages that include free domain names.
It is also a good idea to check domain availability for your chosen name on the different registrars' sites. In some cases, the price can differ.
Using Domain Brokers
This is an option, but it is not as reputable as using hosting companies or well-known domain name registrars.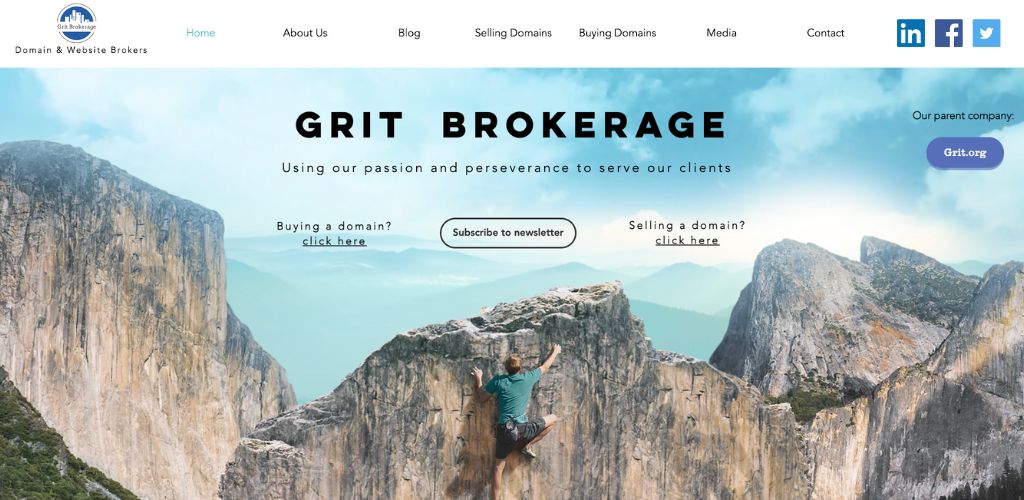 That's because brokers may be cybersquatters and already have your information. They may also put on hefty mark-ups.
While not all domain brokers are devious, it's best to exercise caution with this approach if you are a beginner or go with reputable registrars.
If you choose to use a broker Godaddy offers very reputable service.
Domain Resellers
You can also purchase domain names directly from domain resellers. This could be a company or private sellers who buy domains from a registrar to sell them to their own customers.
Many domain resellers sell premium domain names. A premium domain name is a high-quality domain that meets all the criteria, including engine optimization, brand-ability, etc.
This can be a legitimate way to buy aftermarket domains, but also exercise caution because note all domain resellers are ICAN registered.
Odys.global is an example of a domain reseller.
Backorder Domain Names
When a domain name owner doesn't renew their domain name in time it expires.
Usually there is a grace period between the expiration date and when the domain becomes publicly available for purchase.
A backorder service allows you to make a request that a registrar allows you to purchase the domain before it goes back up for public registration again.
This service can help you get a good domain name with a good brand without risking losing it to someone else.
Using a backorder service allows you to place an order in advance. The domain name cost could be somewhere between $25 – $99 once off.
What Should I Do If I Can't Get The Domain Name I Want?
If you can't get the domain you want, there are still a few steps you can take to try to obtain the one you chose.
It can be challenging to find an available domain. It's very common for the first few domain names you think of to already be taken, especially if your business or blog name is not unique.
In some instances, domain registration companies or your hosting provider of choice will give you other options, like a .cot or .site. But to maintain a reputable brand, a .com, .net, or .org is usually recommended.
So what do you do now?
Here are some steps to follow.
Check what the domain is being used for
You can do this by simply looking up the domain website to see what it's being used for. This helps to establish if it's an actual website or is subject to cybersquatting.
Find out who owns the domain name
You can easily check using the Whois directory. The Whois database provides a comprehensive record of domain name registrations and ownerships.
This includes technical contact information provided by registrars for domain name registrations.
The purpose of the Whois database is to make public the email address, phone number, and mailing address of the domain name owner.
GoDaddy, a well-known registrar offers a search tool for the Whois database.
All you do is type in the website's address for the domain name you want to buy and all the information of the domain owner will come up.
You can access the Whois domain lookup tool here.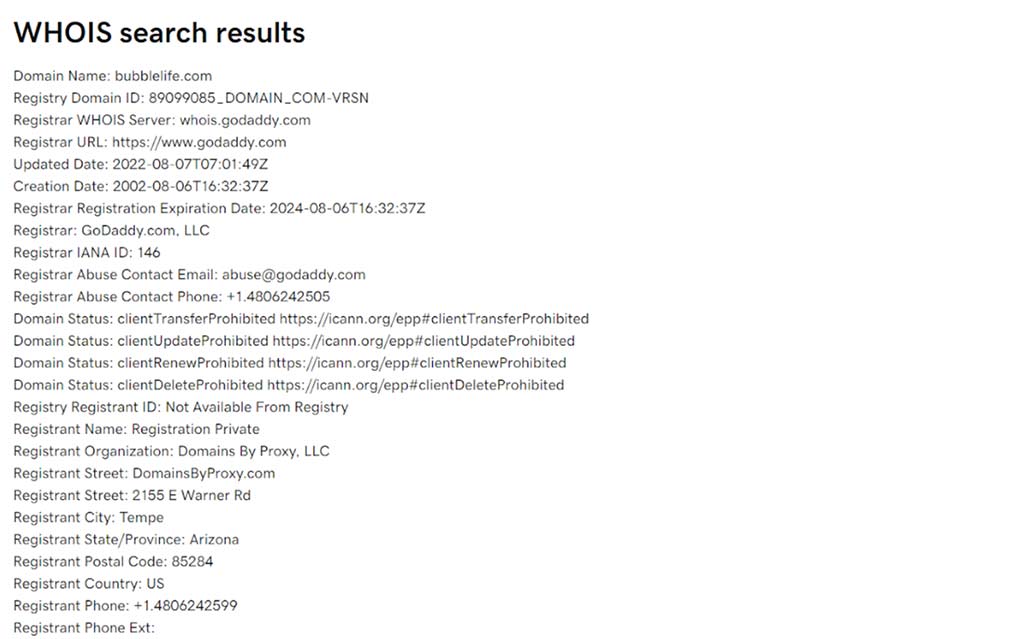 Decide what you can afford to pay for premium domain names
There's no way to know how much the domain name costs. This is up to the owner and you can only know for sure when you contact them.
Before you do, make sure you do some research to determine the value of the domain name.
This includes checking the following.
The keywords associated with the domain name and its potential to rank well on Google and other popular browsers. This determines how valuable it is.
The domain name has a generic value. This means it can be applied to many different industries or niches
It's brandable. Short and easy-to-remember premium domain names are usually the most brandable. The shorter the domain name the more the domain name cost.
The age of the domain. Domains that have been around for multiple years tend to be more valuable than new ones.
Get in contact with the owner
Once you've got all your ducks in a row, and you've decided that the domain name is worth buying, then you should get in contact with the owner to negotiate whether they are willing to sell it. And what their domain name cost price is.
What To Look Out For
When it comes to buying a domain name, you also need to be aware of things like scams. Here are some of the most important things to look out for.
Expiration Scams
Sometimes, most registrars offer discounted pricing scams.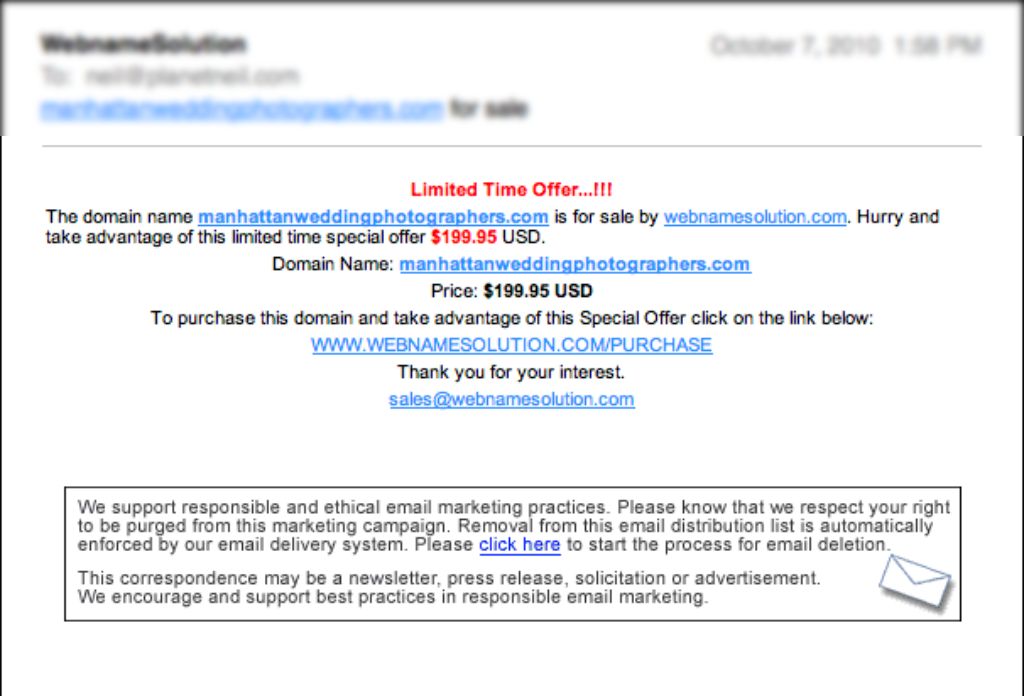 While discounts affect domain prices, they are legitimate. However, there are others who are doing it for unethical reasons.
For example, they offer a discounted amount on domain name registration for over a year.
Then, they only pay the registry for a year and keep the rest of the money you paid. You can use a site to check whether your expiration date matches what you paid for your domain.
Hidden Fees
It's not uncommon to find that what seems like a good deal actually ends up being far from it.
There can be registration fees hidden in the fine print in the terms and conditions.
Ultimately, you need to be aware of fees that are not stated upfront like transfer fees, long-term domain contracts, increased renewal fees, etc.
Short-Term Discounts
You may come across a registrar who offers discounts that allow you to get a cheap domain upfront.
But in many cases, this is followed by a massive increase in domain prices the following year.
In the long run, you don't really save anything.
Sticking to a reputable registrar like GoDaddy or Namecheap can help avoid issues like these
How Much Does A Domain Name Cost?
How much your domain name will cost also depends on your chosen registrar. The most commonly sought-after domain types are TLDs and ccTLDs. Both of these domain types are priced similarly.
In general, buying a domain name will typically cost you between $10 to $20 per year. When you're planning on buying a new domain name through a registrar who is also a web hosting service provider, you can get a free domain included.
HostGator, for example, has an introductory offer of $2.75/mo which includes a free domain along with other web hosting features.
HostGator is also a registrar who is eligible to transfer available domain names into your ownership. Their domain name costs around $12.95/yr.
Another popular domain registrar company, NameCheap sells domain names at a starting price of $5.98/yr.
When it comes to doing your registration, GoDaddy, on the other hand, offers a price as low as $0.99/year for a .com. The catch, however, is to consider what each registrar charges for renewals.
For example, both GoDaddy and Namecheap charge around $18.17 for the second year of your registered domain.
So when you're choosing between different  registrars, it's important to check what their renewal fees are.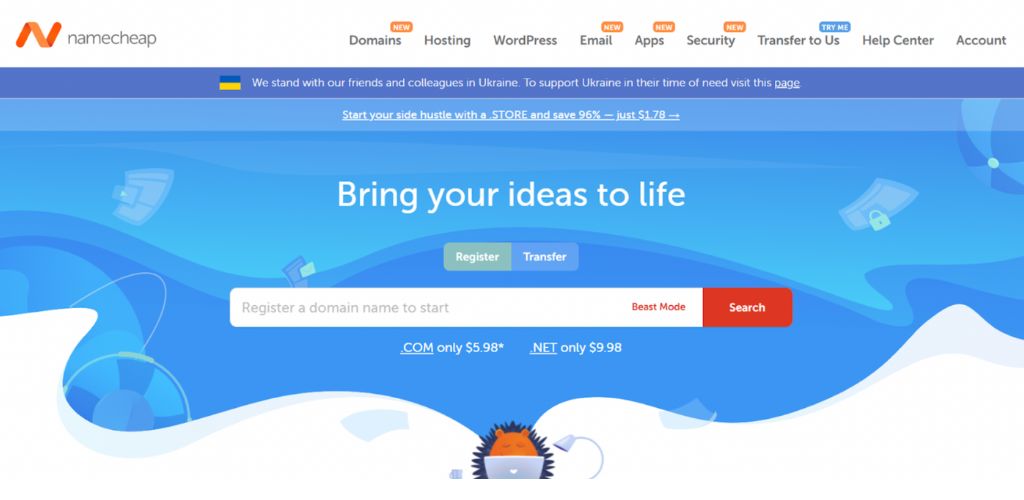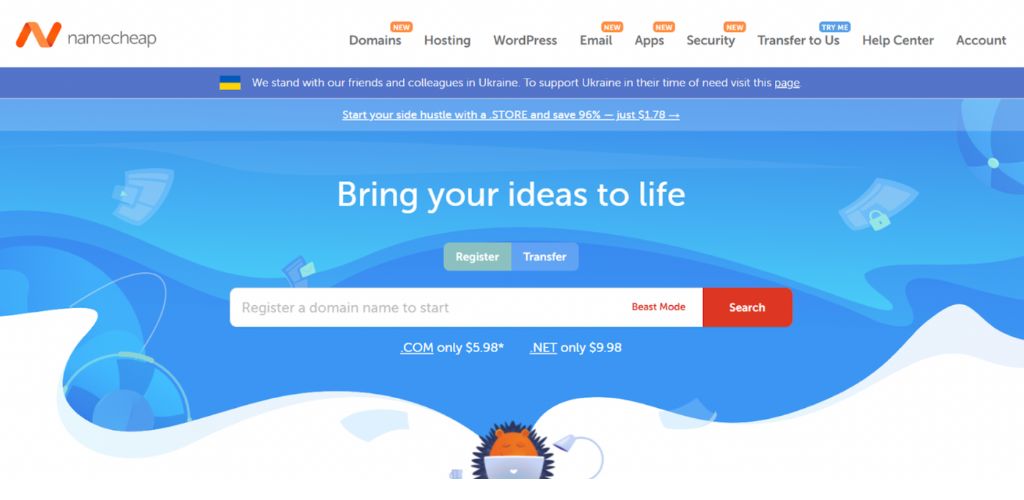 What Affects The Cost Of A Domain
There are also several factors to consider when it comes to domain name cost.
Auto-Renewals
When it comes to purchasing domain names, you need to take auto-renewal costs into consideration. Many domain owners are blind-sighted by some domain registrars' auto-renewal fees.
For example, GoDaddy sets auto-renewal as a default and only has a 45-day refund policy on this. You need to remember these terms in case you are not interested in an auto-renewal.
Privacy And Protection Costs
As a domain name owner, it is obligatory for your details to be registered in Whois records as part of free whois protection protocols. This means that people can easily look up your information.
When you're registering your domain name, you can check whether the registrar company offers full privacy protection on the Whois database. This usually comes with a renewal cost after a year.
Domain Transfer Costs
When it comes to domain name registrations, there may be transfer costs involved. The purpose of this registration process is so that it can be mediated through the Whois database for legitimacy.
This cost usually depends on your desired domain name and the hosting provider that you want to transfer your domain to. This can cost between $10 to $20.
However, most registrars don't charge transfer fees on top of your initial cost.
FAQs
Can I Get A Domain Name For Free?
You can get a free domain name when you sign up with a web hosting company. Some of the most recommended ones are BlueHost, HostGator, DreamHost, and Hostinger.
This may be a better option for you if you're also just starting out your website and need additional features and support.
Which Is The Best Domain Name Registrar?
Godaddy is considered one of the best domain name registrars. There are also other reputable options like Namecheap.
Many web hosting companies like HostGator also give you an option to purchase a domain name on it's own without choosing a web hosting package.
Also, if you choose a domain name registrar and end up being unhappy, you have the option to transfer your domain name to a different registrar.
Do I Need Both Domain Name And Web Hosting To Build A Website?
Yes, you will need both domain name and web hosting to build a website. All fully functioning websites need to have a domain name and web hosting service.
You cannot establish a brand for your business or a niche without having a domain name.
A domain name and web hosting are two different things. A domain name is your website's address on the internet whereas your web hosting is where your files are stored.
Are There Any Hidden Costs of a Domain Name?
Yes, there are a few hidden costs. A domain name registration must be renewed each year. An annual fee is charged for most domain names, in addition to a small ICANN fee ( although that fee is not a part of every domain extension). You can use the privacy feature that offered by a domain extension if you don't want your registrant information to be shown up in WHOIS searches.
What's the Relationship Between Domain Names and Search Engine Optimization (SEO)?
The relationship between domain names and Search Optimization (SEO) lies in the fact that a well-chosen domain name can influence your website's visibility, user experience, and search engine rankings.
Search engines do take the keywords in a domain into account when determining a site's ranking, but not to any significant extent; in fact, Google's algorithm is designed to discourage the use of overly keyword-stuffed domains.
What TLD Should I Choose?
You should choose a .com if you want the most credibility. However, other TLDs do have their advantages. The .me domain hyphen would seem tailor-made for online portfolios. Or you could just go with the cheapest TLD alternative.
Concluding Thoughts
Hopefully, after reading this you feel confident to purchase a domain name for your online business or website.
To summarize, it is always best to go through a reputable domain registrar.
And make use of the Whois database if you're uncertain about anything.
Remember to pay attention to any terms and conditions and avoid any seemingly cheap domains.
Finally, make sure the name you go with is highly brandable, SEO friendly, and will successfully help you to establish your niche.
You can also check out 7 Best Website Hosting Providers For Beginners to find reputable web hosting providers to point your domain to and host your new website.