Learning how to resell web hosting is not as difficult as you may think. Whether you are looking to build your own web hosting business or want to make some extra money on the side, reselling web hosting can help you achieve both outcomes.
A reseller web hosting business can be likened to renting out certain rooms of your home or perhaps running an Airbnb (Air Bed and Breakfast).
By making certain rooms of your home available to clients, you will be able to add a new stream of income without hiring contractors to build new rooms.
However, to succeed, you want to learn the ins and outs of web hosting reselling.
Drawing from our years of experience in the industry and thorough research of emerging trends, we're well-positioned to offer expert insights and recommendations that will help you make informed decisions about your reselling endeavors.
Today we'll discuss how you can make money from reselling web services, the best reseller hosting services, key reseller features you should look for, and outline steps to resell web hosting.
Best Reseller Hosting Providers  
1. Cloudways (

Editor's Choice

)
Overview
Cloudways is a cloud hosting platform that delivers fully managed hosting and allows clients to launch web applications on different cloud servers.
Features
Free SSL;

Free Migration;

Dedicated Firewalls;

Regular Security Patching;

Optimized with Advanced Caches.
Snapshot
Uptime:

99.99%

Support Score:

4.8

Load Time Score:

4.6

Disk Space:

25 GB to Unlimited

Price Range:

$10 to $120

Hosting Type Offered:

E-Commerce Hosting, WordPress Hosting, Dedicated Hosting, CDN Network.
Pros
Built-in caches;

Flexible hosting plans;

Team collaboration tools;

Round-the-clock support and live chat;

Security features such as unique SSL, IPs, and SiteLock protection.
Cons
No Email Hosting

No included CDN;

Complicated UI design;
---
2. A2 Hosting
Overview
A2 Hosting is one of the oldest and most popular web hosting companies. It has five hosting plans, including shared hosting plans, managed WordPress hosting plans, VPS, reseller and dedicated hosting.
Features
Website Staging;

Remote Backups;

DDoS Protection;

Unlimited Bandwidth.
Snapshot
Uptime:

99.98%

Support Score:

4.5

Load Time Score:

4.6

Disk Space:

50 GB to Unlimited

Price Range:

$6.99 to $530

Hosting Type Offered:

Reseller, VPS, Dedicated Hosting, WordPress Hosting, Shared Hosting.
Pros
Free website migration;

Free automatic daily backups;

Unlimited disk space and bandwidth;

Free eNom account to manage unlimited domains;
Cons
High renewal rates;

The Domain name is not free;

Restrictions on the cheapest plan;
---
3. HostGator    
         
Overview
HostGator is one of the cheapest website hosting providers in the website hosting industry. It has three web hosting packages: Hatchling Plan, Baby Plan, and Business Plan, all of which offer free domain registration and free SSL certificates.
Features
Ad Credits;

Unlimited Storage;

SiteLock Monitoring;

Easy App Integration.
Snapshot
Uptime:

99.99%

Support Score:

4.8

Load Time Score:

4.5

Disk Space:

10 GB to Unlimited

Price Range:

$2.75 to $148

Hosting Type Offered:

Reseller, VPS Hosting, Shared Hosting, Dedicated Hosting.
Pros
HostGator does not limit the traffic your website can get.

You can purchase hosting plans on a 1, 3, 6, 12, 24, or 36 months basis.

HostGator supports many programming languages, including Python, Perl, Ruby, and PHP.
Cons
Poor Backups
Unreliable Support
Tricky Prices
---
4. Bluehost

Overview
Bluehost is a web hosting service that powers over 2 million websites all over the globe. Not only does Bluehost offer web services, but it also offers SEO services such as content creation, marketing training, and graphic design.
Bluehost has four hosting plans: Basic, Plus, Choice Plus, and Pro, all of which offer custom themes, WordPress integration, and round-the-clock customer support.
Features
Free SSL Certificate;

Free CDN Included;

AI-Driven Templates;

Drag and Drop Functionality.
Snapshot
Uptime:

99.98

Support Score:

4.7

Load Time Score:

4.5

Price Range:

$3.95 to $125

Disk Space:

50 GB to Unlimited

Hosting Type Offered:

VPS Hosting, WooCommerce Hosting, Dedicated Server Hosting, Shared WordPress, Shared Hosting.
Pros
Free Domain for one year.

Bluehost offers round-the-clock email, phone, and live chat support.

Affordable

plans for as little as $3.95.
Cons
Expensive Renewal Rates
If you are looking to save a few coins, you can get a 63% discount when you purchase a plan from Bluehost by clicking our link.
---
5. SiteGround

Overview
SiteGround is a hosting provider that currently hosts more than 2 million websites around the world. SiteGround offers WordPress Hosting, WooCommerce Hosting, and Cloud Hosting, and it has three shared hosting plans:
Startup
GrowBig
GoGeek

1 Website;

10 GB Web Space;

Unmetered Traffic;

10,000 Visits Monthly.

Unlimited Websites;

20 GB Web Space;

Unmetered Traffic;

100,000 Visits Monthly.

Unlimited Websites;

40 GB Web Space;

Unmetered Traffic;

400,000 Visits Monthly.
Features
Free SSL;

Free CDN;

Free Email;

Managed WordPress;

Unlimited MySQL Databases and Data Transfer.
Snapshot
Uptime:

99.99%

Support Score:

4.9

Load Time Score:

4.5

Disk Space:

10GB to 40 GB

Price Range:

$6.99 to $13.99

Hosting Type Offered:

Cloud Hosting, Shared Hosting, WordPress Hosting, and WooCommerce Hosting.
Pros
SiteGround's hosting fees are quite affordable.

You will receive a free domain when you purchase your plan.

SiteGround backups your data daily.

Free Web Transfer
Cons
SiteGround offers a limited amount of space, especially on its shared hosting plans.
---
6 Steps To Resell Web Hosting
1. Choose A Reseller Web Hosting Partner
Instead of signing up for more server space from your favorite hosting provider, take some time to think about your reseller business and the kind of services you want to provide to your clients.
The route an established web development agency will take may be completely different from the route someone starting a hosting company will take.
Apart from the affordability of a web host, important features to look for in a hosting partner include the software, hardware, and operating system, as these will make your clients' experiences more enjoyable and efficient.
Before choosing a hosting partner, you should ask yourself the following questions:
What hosting needs do your clients have?

Do you want Linux or Windows reseller hosting?

How many clients do you expect to sell services to when you first begin?

Do you want to stick to traditional hard disk drives, or would you prefer faster solid-state drives?

Do you prefer the shared server resources offered by shared hosting, or do you need the scalable resources of VPS hosting?
The answers to these questions will help you compare ratings and reviews of hosting providers to find the plan that suits your needs and those of your clients.
---
2. Build Your Hosting Services
You probably know what your clients want, but put yourself in their shoes and imagine looking for a new hosting plan.
What features and services would capture your attention? Would you want free SSL certificates or automatic backups? Would you need add-on domain names?
If you choose Linux hosting, you will likely use cPanel and WHM to create and manage your hosting plans. If you have created and managed a web hosting account before, you probably know how control panels work.
However, as a reseller, you will now have access to WHM, which allows you to backup or transfer customer data, monitor and protect your server, and create cPanel accounts for your clients.
Before you set up your web hosting business, you need to handle the organizational tasks. If your hosting provider supports white-label hosting or private nameservers, you will want to update your nameservers and add your branding and logo.
WHM should direct you to where you need to go, but if you are having difficulty with this, you can click on Basic Web Host Manager Setup in the menu to the left.
Then, add your nameserver and contact information and scroll through the menu on the left to adjust the customization options for the cPanel interface.
Once you have done all these, name your hosting plans and allocate specific limitations and resources. You can do this by clicking on Packages in the WHM menu and following the prompts.
---
3. Set Your Prices And Configure The Billing System
You are not running a charity organization, are you? As the name suggests, reselling means that at some point, money will change hands.
Whether you are expecting to turn a profit or offering friends and family discounts, you need to determine how much you will charge for your services and how you will notify clients when their payments are due.
When you figure out how much you will charge for your services, an automated billing system will take care of all the billing functions.
Most reseller plans that include WHM and cPanel also include WHMCS, which automates all aspects of your hosting business, from generating invoices and collecting payments to sending reminders and covering client management.
---
4. Support Your Customers
As a web hosting reseller, the support you are able to provide your clients will either make or break your business. Providing stellar customer support is one of the best ways to make your business stand out.
Actually, when your customers are satisfied, they can help spread the word about your business.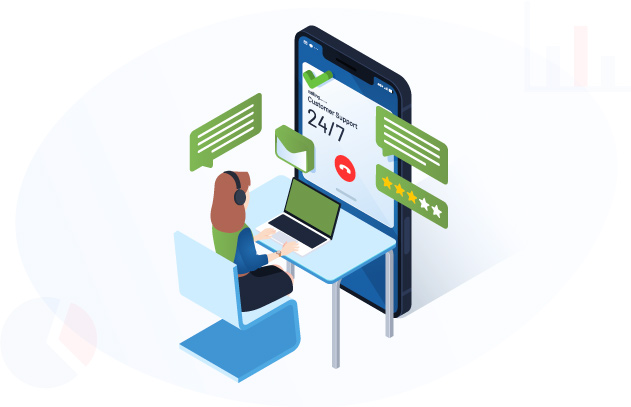 Customer support starts immediately after a customer lands on your website. If a customer has any questions about your services, they should be able to reach a representative via the live chat function.
Moreover, your site should be easy to use, and customers should not have any trouble signing up for services.
Once your customers have signed up for hosting services, they should receive an email welcoming them to your company. If your customers have any questions, they should be able to get in touch with an agent through phone, email, or live chat.
Most hosting parent companies include customer support as part of their reseller packages, meaning they handle all support requests.
You can decide to let the parent company handle all the support requests, support the parent company's support with your own team, or let the parent company handle technical support while you handle other requests.
---
5. Set Up Marketing
Your marketing efforts should be focused on a specific niche instead of marketing to anyone and everyone. First, you need to determine how you are going to reach potential clients.
For example, will you use Facebook ads and strategically-targeted landing pages? Do you have a budget for social media and search engine advertising?
Figure out the approach you are going to take and create measurable campaigns. If you have a limited budget, it would be best if you take an organic approach until you have enough money to invest in advertising campaigns and paid marketing.
---
6. Profit And Scale     
By now, you should be ready to start your hosting business. You have found your niche, built your website, laid out your service offerings, found a reliable hosting reseller, and started marketing your services.
Once you have brought your first few clients on board, you should start to break even. This, however, depends on your initial startup costs, how much you are paying for hosting, and how much you are selling your web hosting packages..
One of the perks of a reseller hosting business is that your customers will have a high CLV (Customer Lifetime Value). Provided that you offer high-quality customer service, your customers will stick with you for as long as you are in business.
---
Key Reseller Hosting Features You Should Look for
Your parent host will determine the hosting features you can access and pass on to your clients. Some important features to look for when sifting through hosting providers include:
High-Quality Servers:

When you choose a high-quality web host, you can offer different hosting types and a range of storage and bandwidth.

Bundled Features:

Bundled features allow you to offer other features such as domain management, website builders, email hosting, and cPanel access.

White Label Hosting:

White label hosting lets you brand your hosting business while using the services of a hosting provider.

Plan Customization:

Plan customization allows you to manage your hosting plans and customize certain features so that you can offer unique hosting service.
---
What Is Reseller Hosting?
Reseller hosting is a business model whereby hosting providers allow some or all of their web services to be sold by third-party organizations or individuals.
This kind of hosting allows third-party organizations and individuals to act as web hosting providers without building, operating, and managing a web hosting infrastructure.
As a web hosting reseller, you can rent a hosting server, brand the server with your own company, and sell that server space to clients.
Because everything is white-label, it is as if you are running your own web services company; however, your clients will never find out that it is not you. You can create your own hosting plans, offer additional features like website and email backups, and take payments.
---
How Do You Make Money Reselling Web Hosting Services?
To make money reselling web services, you start by purchasing a reseller hosting plan from a reputable provider.
Whether you are looking to start your own hosting company, offset your hosting costs, or earn an extra buck, you can quickly achieve these outcomes with a reseller web hosting business.
The web hosting industry has a low cost of entry compared to starting from square one as a hosting provider. Even with a handful of clients, the right hosting plan and the right pricing strategy can translate into a regular stream of income.
Once you understand how your goals of generating revenue fit with other business priorities (such as service quality), you should consider your market trends, customer profile, revenue targets, and competition, as these will help you price your hosting plans in a way that generates high amounts of revenue.
Of course, you want to start off slow, but ensure that you research and understand profit margins. A study the New York University found that computer service organizations can expect to earn a 6 percent profit margin.
Yes, you will want to cover your costs while remaining competitive but do not shy off from pushing for more profits.
---
How Does Reseller Hosting Differ From Affiliate Programs?
Reseller hosting and affiliate programs are two different ways to earn money in the web hosting industry, but they operate under distinct models.
If you have been looking for a way to make passive income by recommending services or products, then you have probably come across the terms "resellers" and "affiliates."
At their core, resellers, and affiliates share many similarities; however, the mechanics required for each are worlds apart.
This kind of hosting involves reselling a service under your own brand name, but you do not have to stress over the fulfillment of that service. On the other hand, affiliate programs involve sending clients to businesses in exchange for a commission on the sale.
How Much Does It Cost to Start A Web Hosting Company?
The amount of money you need to start your own hosting company depends on your initial customer accounts and how many customers you are seeking to serve.
While a domain name and web hosting are standard expenses, here is a breakdown of other expenses you may face:
Domain Reseller Account: $50 One-Time Fee;

Website Design Template: $100 One-Time Fee;

Domain Name Registration: $10 to $20 Per Year;

Customer Support Software: $5 to $199 Per Month;

Reseller Web Hosting Account: $15 to $400 Per Month;

cPanel/WHM (Web Host Manager) License: $200 to $425 Per Year;

WHMCS (Web Host Manager Complete Solution) License: $16 to $40 Per Month;
Introductory hosting plans are often set up on a shared server environment; however, you can resell hosting resources on more expensive VPS (Virtual Private Server) or dedicated server plans. You can also resell hosting packages as a master reseller.
Moreover, some web hosting providers use alternative hosting strategies where you can take a percentage discount from a variety of options (for example, GoDaddy), buy credits that you can redeem later for various services (for example, SiteGround), or purchase individual shared hosting accounts for resale (for example, Hostwinds).
---
Advantages Of Reseller Hosting
If you are looking to start a web hosting business, here are some of the benefits you can expect:
Low Startup Costs:

When starting out, you only need to invest in a website and enough hosting space for your first clients. There are no infrastructure costs, which means that you can keep your cost relatively low until you break even.

Income Opportunities:

If you have an existing online business, you can make additional profit from hosting by selling add-ons such as domain name registrations, dedicated hosting, dedicated IP, VPS hosting, and SSL certificates.

Focus on the Business:

With this type of hosting, you can focus on the business aspects instead of the technical aspects of running a hosting business. This is because the hosting provider you have purchased or rented from handles all tasks related to security, connectivity, and maintenance.

Affordable Hosting Plans:

Web hosting reseller plans are fairly cheap, making them a great option for individuals or third-party organizations looking to venture into the hosting business. Additionally, hosting simplifies things because you do not have to buy any equipment, technology, or infrastructure needed to become a hosting provider.
---
Disadvantages Of Reseller Hosting
Even though reseller hosting offers many benefits, here are some downsides of reselling hosting:
Limited Server Access:

You will have to go through your web hosting service provider for nearly everything since reseller hosting offers limited server access.

You Have to Set Some Time Apart For Customer Service:

As a hosting reseller, you are responsible for answering questions from your clients. If you do not set time apart to answer these questions, you could come off as unreliable and end up losing valuable clients.

You Are Dependant On Your Web Host:

The quality of your web hosting provider will determine the success of your hosting business. If your web hosting provider experiences a lot of technical issues or their server regularly goes down, your reseller business will be impacted.

It Is Difficult to Compete On Price:

Sine you are going to resell hosting, you will not be able to offer the incredibly low prices that most web hosts are able to offer. Therefore, you must come up with other differentiating factors that will help you capture the attention of prospective clients. Perhaps you can offer excellent customer service or include a hosting setup for free.
---
FAQs
Shared and reseller hosting are two types of web hosting, each catering to different needs and purposes. Shared hosting accounts are typically intended for one owner.
In addition, they often lack a management interface like cPanel.
Reseller hosting is, however, distinct. With a reseller hosting account, you can basically resell hosting via a platform such as Cloudways, which offers hosting from five IaaS providers: AWS, GCE, Linode, Vultr, and DigitalOcean.
Can Agencies Make Money by Reselling Hosting Services?
Yes, agencies can make money by reselling hosting. Reseller hosting is an excellent method for organizations to generate revenue.
Instead of establishing your own hosting, you can simply resell hosting from a third party for a profit. You may adjust your rates properly and provide enhanced service to your customers.
---
Which Reseller Hosting Service Do We Recommend?
Reseller hosting allows you to package and sell hosting without bearing any infrastructure costs, at your own price, and under your own brand. It is the perfect solution if you want to extend your range of services or if you are looking to supplement your income.
If you plan to resell hosting with a reseller hosting package, remember that you need to build your hosting services, set your prices, configure the billing system, support your customers, and focus your marketing efforts on a specific niche.
We have also highlighted five reseller web hosting partners from which you can choose that have the best hosting plans. If we had to choose one, we'd choose Cloudways. With super fast hosting and excellent customer service, it's our preferred hosting provider for reselling.
Our #1 Recommendation: Cloudways