Uptime scores, security, and server reliability promote site viewership and increase rankings on search engines.
JustHost, a web hosting service, promises reputable uptime scores and a secure hosting solution for your website.
With a decade of experience in digital marketing, I have assessed different hosting providers and gained insight into their performance. In this JustHost review, I will evaluate its features, how it works, its advantages, and its downsides.
What Is JustHost?
JustHost is a web hosting service with fully managed hosting plans based in Utah, United States. It is owned and managed by Endurance International Group.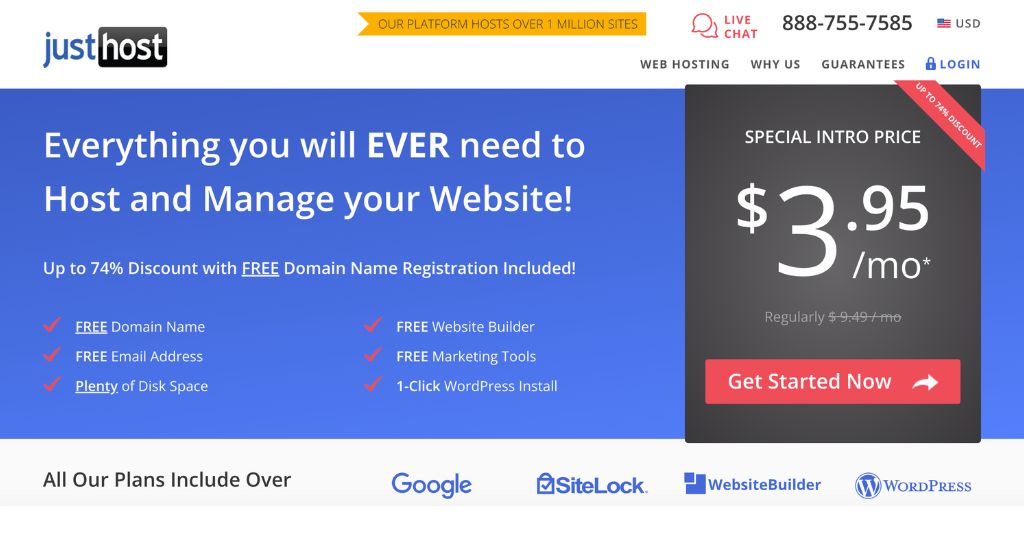 It has various features, including Cloudflare CDN, databases, cPanel and interface, WordPress installation, and CPU Protection that help you build and optimize your website.
How Does JustHost Work?
JustHost works by offering several web hosting packages. With shared hosting, your website shares server space with other sites. With dedicated hosting, your website is hosted alone on a dedicated server.
With VPS hosting, you get more control over your allocated server resources despite sharing the same server with a few other websites.
Besides, this web hosting provider offers complimentary services to web hosting and comes with domain registration and email accounts.
JustHost Features
Irrespective of your hosting plan, you will enjoy the following features.
1. Simple WordPress Installation
This hosting provider does not come with a WordPress hosting plan, but it makes WordPress installation easy. 
It comes with a one-click WordPress installation, and you can manage a WordPress blog on your cPanel, which has options to run your plugins and themes.
2. Cloudflare CDN
JustHost is compatible with Cloudflare CDN, which caches your website's static content by default to stop malicious threats and boost the site's performance. 
3. cPanel And Interface
It can be challenging to set up and manage a website if you don't have much experience. Also, even if you are an expert, you need a straightforward way to run a site.
JustHost has a simple cPanel backend with a user-friendly interface that makes it easier to manage various things, from profile settings to billing of your hosting account.
It is direct and the first thing you see after signing up without intermediate screens.
4. CPU Protection
JustHost has a system on shared servers that manage resources, including memory and CPU, so all sites can get a fair share. This prevents performance and speed problems.
5. Databases
JustHost comes with various services that help create your website, including Ruby, MySQL: and PostgreSQL databases, Python, Perl 5, CGI-BIN and CGI Library, Javascript, and Shockwave support.
6. Easy-to-use Website Builder
JustHost website builder is a drag-and-drop Weebly website creation tool offering hundreds of pre-made templates.
Weebly is a top choice for template-based website builders- it is easy to use and has plenty of customization options.
7. Weekly Backups
Website backups are important despite having security. JustHost offers weekly backups, but you must manually add them to prevent data loss.
However, you can enjoy automatic backups for your website if you choose the Choice Plus Plan that comes with the Site Backup Pro.
JustHost Benefits
JustHost offers great customization options, access to several free tools, and an easy-to-use interface. Here are its major strengths. 
1. Free Domain Name And Backup Protection
JustHost offers free domain registration for all hosting plans, but you will get charged a $15 fee if you cancel your subscription and decide to retain the free domain name.
Customers enjoy backup protection to prevent data loss, but only the Choice Plus plan gets automatic backups for your website.
If you are using a Basic hosting plan, you must do manual backups.
2. Solid Uptime
Reliable uptime is one of the critical aspects of a good website builder that ensures your site is up and running. 
Fortunately, JustHost offers a solid uptime, about an average of 99.95% in 2022. An uptime of 99.9% is considered an industry standard for web hosting services and translates to less than 0.01% downtime.
I used a website monitoring tool to track JustHost's uptime on my website. The results showed that JustHost didn't go down for 10 days. 
3. Reliable Security And E-commerce
There are several security features on the control panel's Add-ons tab, including:
Sitelock – offers malware scanning and removal, starting at $1.99 per month. You will need to pay more for domain privacy, about a $14.88 fee per domain.

SSL certificates – you get a free SSL certificate in the shared hosting basic plan and a premium SSL certificate if you go Pro Plan.

Spam Assassin –  You get a spam assassin tool when you log in to your cPanel.
Additionally, adding a store is simple with JustHost. It comes with one-click install e-commerce options like Magento and Joomla.
4. Free Script Library
This web host gives you access to the free script library; therefore, you don't need to know how to code to get the needed scripts.
It has SimpleScripts that installs common scripts, including OS Commerce, phpBB, Joomla, and WordPress, on your site.
5. 30-Day Money Back Guarantee
JustHost offers a 30-day money-back guarantee if you are unsatisfied with hosting account services.
But, they only provide a partial refund; this service provider takes $15.99 from your refund as a fee for your free domain.
Additionally, the JustHost refund policy does not cover add-ons and upsells. For instance, you will not get a guarantee if you purchase domain privacy, listed SEO tools, or SiteLock.
Web Hosting Server is the lifeline of every website. It should be up and running 24/7.
— Dr. Chris Dayagdag, CEO at Marketlink Web Solutions
Pros
Easy installation process

Simple website builder

Reliable uptime

Versatile web hosting services
Cons
Automatic backups only for premium plans
Our Rating
Load Time: 4.5
Support: 4.3
Disk Space: 4.0
Security: 4.4
Pricing: 4.0
Free Migration: No
Downsides Of JustHost
JustHost is a good web host, but it has a few weak points. The web hosting offers all users email and live online chat on shared web hosting and VPS plans.
However, only those with dedicated servers get  24/7 phone support. Also, customer support is slow, and you may be unable to troubleshoot or get answers quickly.
Their shared, VPS, and dedicated hosting plans only offer the best rate if you commit to paying a three-year contract upfront.
How To Use JustHost?
To use JustHost, you simply sign up on the website and choose a hosting plan that fits your needs. The Basic plan is ideal if you are a beginner or looking to host one website. All plans come with a free domain name.
Once you select your hosting plan, it takes you to the domain page, where you can choose your free domain name. Here, you can choose the domain extension you would like to go with.
However, if you already have a domain name, click on the "I have a domain name field" and enter your registered domain name.
Then, you will be directed to create your account page, and you can begin creating your site and choose a theme.
JustHost Pricing 
JustHost comes with affordable pricing plans, but this only applies if you sign up for three years. 
Shared Hosting
The shared hosting plan comes in four Linux-based packages: The basic plan starts at $7.99 or $3.95 per month if you commit to three years.
It offers unlimited monthly data transfers, five email accounts, one free domain registration, the ability to host one website, and 50GB of storage.
The Plus plan starts at $14.99 per month or $6.95 per month if you pay 3 years upfront. It comes with unmetered storage, unlimited domains, and unlimited emails.
The choice plus starts at $17.99 monthly for a one-year plan or $6.95 per month for a three-year commitment. It offers Codeguard basic automated website backups and free domain privacy.
VPS Hosting
VPS Hosting comes with four VPS plans: Standard, Enhanced, Premium, and Ultimate. The standard plan starts at $29.99 per month or $19.99 for a three-year contract.
It offers 30GB of SAN storage, one free domain, 2GB of RAM, free secure sockets layer (SSL), and 1TB of monthly data transfers.
The enhanced plan starts at $59.99 per month or $29.99 with a 3-year commitment. It comes with 60GB of storage, 2TB of monthly data transfers, and  4GB of RAM.
The Premium plan costs $89.99 per month or $44.99 per month with a three-year commitment and comes with 90GB of storage and 6GB of RAM.
The Ultimate plan at $119.99 per month or $59.9 per month with a 3-year commitment offers storage to 120GB, server RAM of 8GB, and monthly data transfers to 3TB.
Dedicated Hosting 
JustHost comes with three dedicated hosting plans: Standard, Enhanced, and Premium.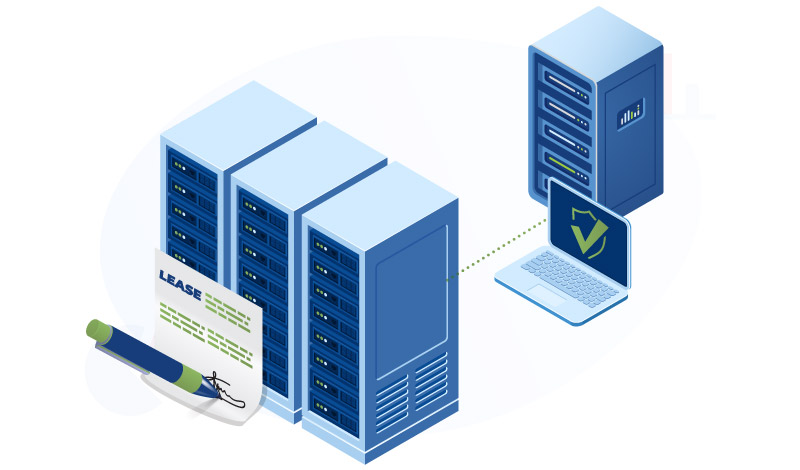 The standard starts at $149.99 per month or $79.99 for 3 years and offers 4GB of RAM,5TB of monthly data transfers, a two-core, four-thread,2.3GHz CPU with 3MB CPU cache,500GB RAID storage, SSL,  and a free domain name.
The enhanced dedicated plan is priced at $199.99 per month or $99.99 with a 36-month contract and comes with 1000GB RAID storage, a four-core, eight-thread Intel Xeon 2.5 GHz CPY with 8MB CPU cache,10TB of monthly data transfers, 8GB of RAM, free SSL and a free domain name.
The Premium plan costs $249.99 per month or $129.99 per month with a 3-year contract and offers 16GB of RAM, a four-core, eight-thread Intel Xeon 3.3 GHz CPU with 8MB CPU cache, 15TB of monthly data transfers,1000GB RAID storage, and a free domain name, and SSL.
Justhost User Reviews
Very happy with the hosting and amazing 24/7 support team! hosting is very fast, although my servers are not on SSD – uptime SLA is very good! overall very happy with JustHost, and I will continue with them for many more years to come P.s I have tried many hosting providers, JustHost is the best I've seen so far.
– Robert, Trustpilot

I'm a client of Justhost since 2016, so far it's been a good hosting without hidden fees, it's not cheap, but there are no surprises after sing up. I had several issues, "technicals," but they were resolved pretty fast. Their support is very good, and they try solve issues always. In 6 years I only had 1 big issue, they resolved and helped me with my part too.
– Jorge Hidalgo, TrustPilot
Justhost Alternatives
We compared JustHost to other web hosts that are slightly different, including HostGator, SiteGround, and GoDaddy.
Justhost Vs. HostGator
HostGator is a popular web host and a sister brand to JustHost, as the same company owns them.
This web host is simple to use and comes with affordable plans. It has excellent uptime and is recommended for beginners who are just starting to build websites. 
Both HostGator and JustHost give you value for money.
Still, HostGator offers $100 Bing credit and $100 Google Adwords for all shared web hosting plans compared to JustHost, which offers the same but for high-tier plans only.
However, JustHost is a lot more reliable, so I would choose it over HostGator any day.
Justhost Vs. SiteGround
SiteGround is another web host with a good reputation.  It offers instant and helpful customer service, faster speeds, and solid uptime, and you get the ability to choose your own data center across four continents.
JustHost, on the other hand, offers affordable pricing compared to SiteGround. Besides, you are limited to a shared plan since it does not offer VPS or dedicated server plans.
Justhost Vs. GoDaddy
Both JustHost and GoDaddy are good web hosting accounts for small businesses and beginner website owners.
These two hosts deliver on affordability and support. GoDaddy is well known for its domain, shared web hosting, and email services.
When it comes to WordPress hosting, GoDaddy takes the lead since JustHost does not have any WordPress-optimized hosting plans.
Additionally, GoDaddy is a cheaper option in terms of shared hosting. JustHost's affordable plan only applies if you commit to three years upfront.
FAQs
Does JustHost Offer More Than Shared Hosting?
JustHost offers more than shared hosting; it offers an expanded selection of web hosting services, including VPS and dedicated IP addresses.
Where Is JustHost Located?
JustHost is located in Utah. The main data center is based in Utah but also has bases in Australia and the UK.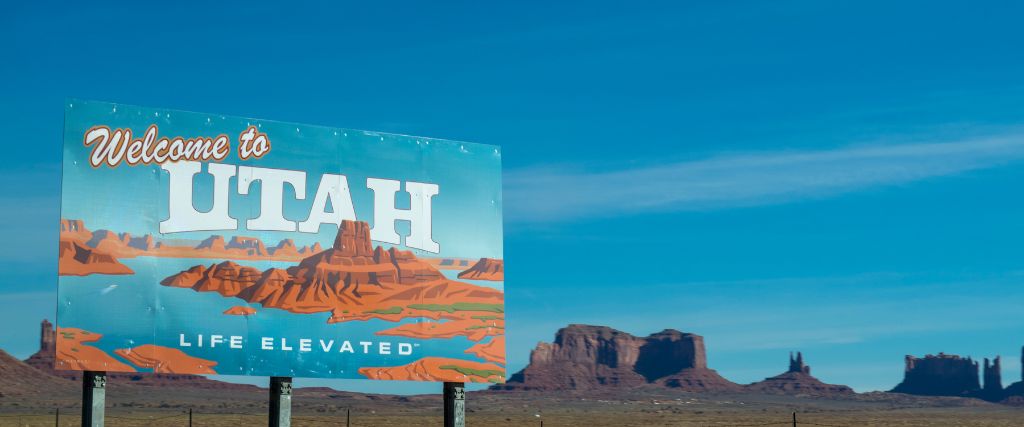 Are Bluehost And Justhost The Same Company?
Bluehost and JustHost are sister companies that are owned by the same parent company  Endurance International Group.
Is JustHost Right For You?
We highly recommend JustHost since it offers good performance and reliable web hosting.
JustHost offers straightforward service and a simple backend with super introductory discounts. Additionally, rock-solid uptime, decent features, and web hosting plans to suit your needs. You get to enjoy the low prices if you sign up for 3 years- a good option if you are on a tight budget.
If you are new to building your website, consider the shared web hosting plan to get excellent user experiences for your web visitors.
Our #1 Recommendation: JustHost