Choosing a domain name is key to having a recognizable business that your customers can identify with. Choosing a domain registrar, a company that manages internet domain name registration is just as important as the domain name itself.
The largest domain registrars have a large selection of domain name availability, affordable prices, and excellent customer service.
Leveraging our extensive industry experience and the insights gained from months of rigorous research on various registrars, we're poised to guide you toward the best choices for your domain name registration.
1. GoDaddy
GoDaddy is among the largest domain registrars in the world. They were founded 23 years ago and have created over 84 million registered domains.
In 2005, GoDaddy became one of the largest registrars, and in 2018 they began to offer hosting.
GoDaddy has become famous for its selection of extensions, including .com, .org, .co, .uk, and more unique extensions such as .space, .buzz, and .app. 
Godaddy also offers the option to pre-register names that will be available to purchase soon. When you purchase domain names with GoDaddy, you will get a domain with up to 100 available subdomains.
They also set up your domain for you, monitor it 24/7, and help you avoid downtime. In our experience, GoDaddy provides the largest selection of domain names, and their uptime is consistent.
Pros
Free domain with annual plans

You can manage your domain via Plesk or cPanel

Free email hosting included with your domain

99.99 percent uptime guarantee
Cons
Above-average prices for domain names
Our Rating
Load Time:

5.0

Support:

4.9

Disk space:

4.9

Security:

4.9

Pricing:

5.0

Free migration:

Yes
---
2. NameCheap
NameCheap is both a registrar and a web host. They have registered around 11 million domain names. Namecheap formed over 20 years ago. In 2010 and 2019, Namecheap was voted the best domain name registrar by Lifehacker [1].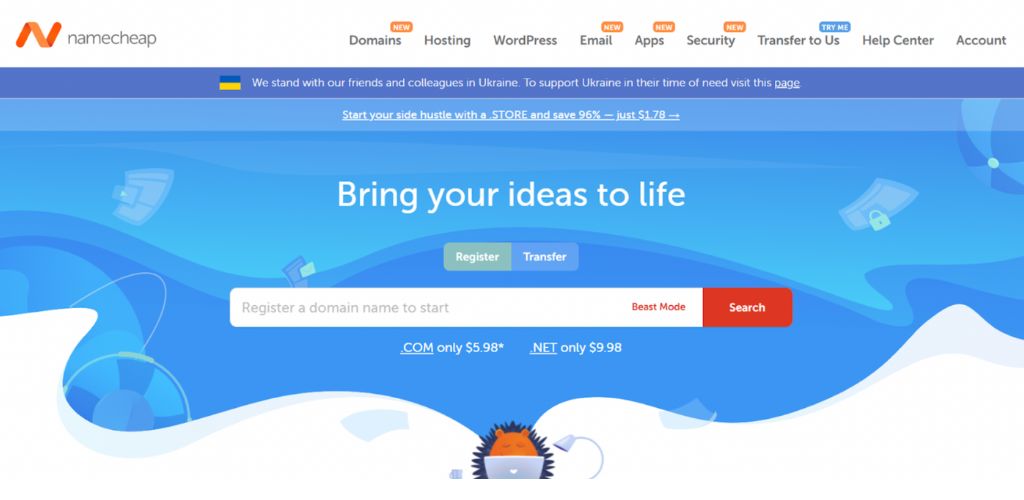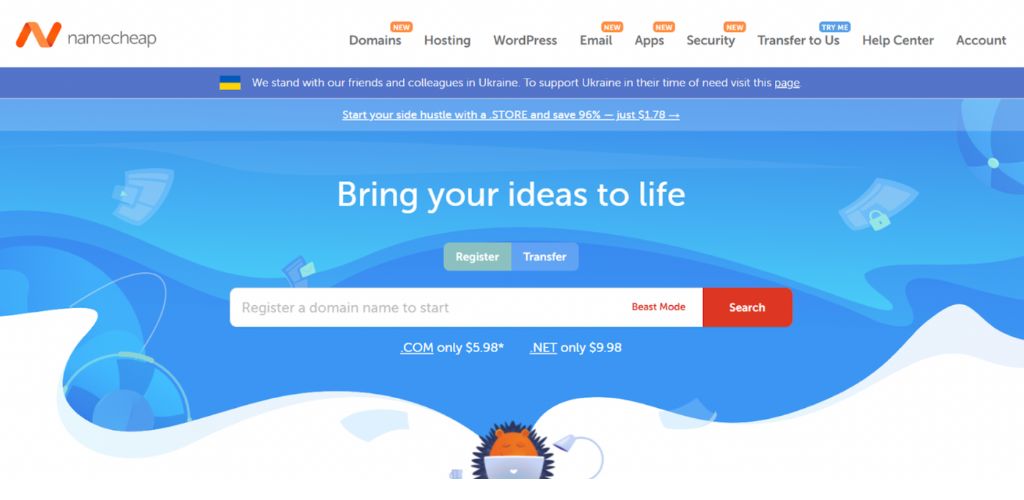 NameCheap was also one of the first registration services to accept Bitcoin for payment. Browsing Namecheap domain names are simple because they are grouped in country code TLDs. They also support international registration services.
Purchasing a domain name with NameCheap includes automatic URL and email forwarding, 24/7 customer support, and free BasicDNS. They also provide a free email address for two months.  
In our experience, NameCheap offers some of the most affordable registration and several added free extras. 
Pros
Low registration prices

24/7 support

Affordable SSL certificates
Cons
DDoS protection is extra
Our Rating
Load Time:

4.9

Support:

4.8

Disk space:

4.9

Security:

4.9

Pricing:

4.9

Free migration:

Yes
---
3. Hostinger
Hostinger is both a hosting provider and a registrar. Hostinger's premium shared hosting plan includes a domain name for a single purchase, all for under $3 a month.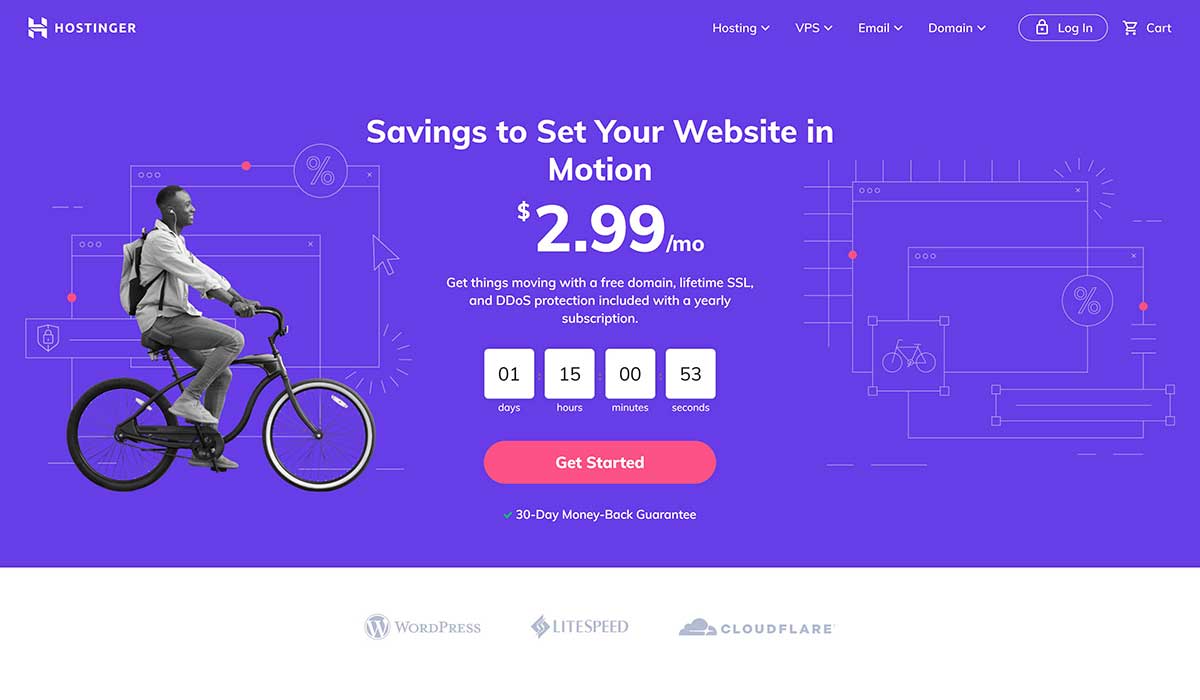 They also provide several tools to improve your site, including a domain management dashboard, a free SSL certificate, auto-renewals, and more. All of their hosting plans include DNS protection and free website migration [2].
In our experience, if you're looking for a great web host and registrar rolled into one, Hostinger is a great option. 
Pros
Free domain name with hosting 

Affordable prices

Data centers on four continents
Cons
Charge extra for privacy protection
Our Rating
Load Time:

4.9

Support:

4.8

Disk space:

4.8

Security:

4.8

Pricing:

4.8

Free migration:

Yes
---
4. HostGator
Since 2002, HostGator has been listed among the world's biggest domain name registration services. They host over nine million domains. They are also a web, VPS, and dedicated hosting provider with 24/7 customer support.
HostGator's annual prices per domain name starting at $12.99. Depending on the extensions chosen, fees range from $0.95 to $39.95 per year. If you're looking for a simple domain name registration, HostGator is an affordable option.
In our experience, HostGator offers some of the most affordable domain name registration services.
Every business needs a website, whether a fully functioning e-commerce setup or a simple blog. HostGator is a top choice.
– Brain Westover, Lead Analyst, PCMag
Pros
Web service bundles

Affordable extensions

24/7 support
Cons
Expensive privacy options
Our Rating
Load Time:

4.8

Support:

4.8

Disk space:

4.7

Security:

4.8

Pricing:

4.8

Free migration:

Yes
---
5. Google Domains
Google is easily the biggest name in search traffic and other industries. Google is relatively new to the domain registrar industry. Google Domains became a domain registrar in 2015 and now has over 7.9 million domains [3].
They offer excellent security and data privacy. Their privacy protection protects customers from spam and identity theft, and their Domain Name System Security Extensions saves users from DNS spoofing.
Google Domains also provides users tools to build professional-looking websites with Google Sites, Google Cloud, and more. 
In our experience with Google Domains, they offer excellent security and so many helpful tools to start your online business.
Pros
No hidden fees

Ease of use

Lots of useful tools for website building
Cons
No DDoS protection
Our Rating
Load Time:

4.7

Support:

4.7

Disk space:

4.6

Security:

4.7

Pricing:

4.7

Free migration:

No
---
6. NameSilo
NameSilo is an internet domain registrar service and web host that provides affordable prices. They have over 5.3 million registrations. NameSilo focuses primarily on domain registrar service.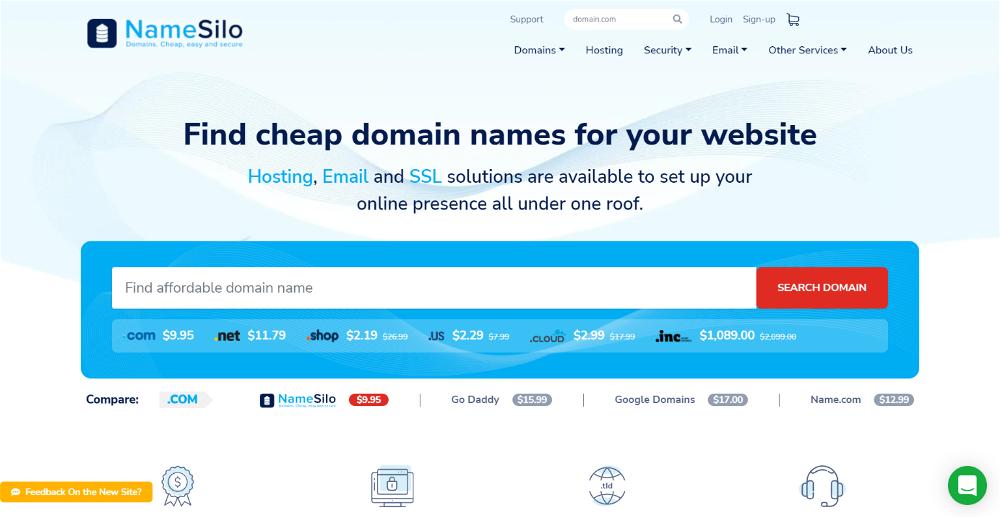 They have transparent comparison tables that compare pricing differences and features between most domain registrars, including NameCheap and GoDaddy.
NameSilo offers advanced security for your domain names from unauthorized access or cyber-attacks. They also provide simple registration, transfers, renewals, and more with their domain management.
In our experience, their registration is simple, and their prices are affordable. 
Pros
Affordable registration

Free WhoIs security

User-friendly panel
Cons
Support only through chat or email
Our Rating
Load Time:

4.6

Support:

4.6

Disk space:

4.5

Security:

4.6

Pricing:

4.6

Free migration:

No
---
7. Tucows
Tucows is a Canadian registration business that manages over 15 million domains and sells email services, web hosting, ssl certificates, and more. They have over 500 extensions available.
They also offer pre-registrations for multiple domains on a first-come, first-serve basis. 
Tucows doesn't sell domains directly to customers, but individuals can purchase domains through one of their affiliate providers or Hover, their in-house provider.
Hover's domain management system is easy to use for those setting up their first internet domain names but also powerful enough for domain name experts. 
In our experience, they have a wide variety of extensions available, and their management system is user-friendly.
Pros
24/7 customer support

User-friendly

Transparent pricing
Cons
Have to pay extra for WhoIs privacy
Our Rating
Load Time:

4.6

Support:

4.5

Disk space:

4.5

Security:

4.5

Pricing:

4.5

Free migration:

No
---
8. Ionos
Ionos is a domain registrar founded in 1988 with around 7.2 million registered domains. They also price most of their domains at just $1 for the first year.
Their domain names are categorized as geographic, business, tech, personal, and leisure. They also offer pre-reservation for domains.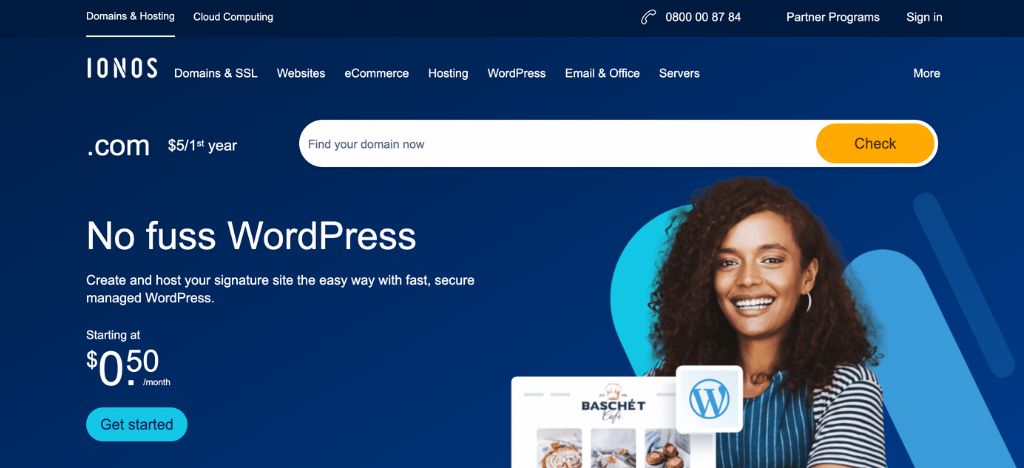 All registered domains come with free private domain registration and an email address with 2GB of mailbox space. You can also have up to 10,000 subdomains. They also offer email hosting, web hosting, 24/7 customer support, and more.
In our experience, their registration is affordable, and their customer support is helpful and professional.
Pros
Great value

No hidden fees

Lots of great extras 
Cons
The interface can be complex.
Our Rating
Load Time:

4.5

Support:

4.4

Disk space:

4.5

Security:

4.4

Pricing:

4.4

Free migration:

Yes
---
9. DynaDot
DynaDot is different from most domain registrars in that they also include domain auctions in their marketplace, whereas other DynaDot customers can sell old domains they don't need any longer.
They also offer a backorder option to get a domain that isn't available but will be if it isn't renewed. 
The prices are affordable; for example, their .com websites are priced at $7.99, a .co or .uk domain will be $2.49, and a .org site is $8.99. They also offer many extras like a website builder, free domain forwarding, DNS support, ten email addresses, and more.
In our experience, DynaDot is affordable and has unique features.
Pros
Lots of free extras

User-friendly interface

Simple registration
Cons
Limited hosting plans
Our Rating
Load Time:

4.5

Support:

4.4

Disk space:

4.4

Security:

4.3

Pricing:

4.3

Free migration:

Yes
---
10. Domain.com
Domain.com offers some of the most popular domains across 25 country codes and sells premium domains. They have over two decades of experience in registration and web hosting. They offer average prices compared to their competitors.
You must pay extra for privacy protection, email, web hosting, and SSL certificates. Their primary website builder is free with every domain, including a drag-and-drop builder, lots of templates, SEO tools, and a stock image library. They also offer 24/7 support. 
In our experience, their customer support is knowledgeable and easy to contact, and their website builder is an added benefit in creating a domain.
Pros
Great customer support

No hidden fees

Lots of TDLs
Cons
Have to pay extra for privacy protection
Our Rating
Load Time:

4.4

Support:

4.4

Disk space:

4.3

Security:

4.3

Pricing:

4.2

Free migration:

Yes
---
Buyer's Guide: How to Choose the Best Registrar for You?
To choose the best domain registrar, there are several things to consider and understand about domain registrars. 
What Is a Domain Registrar?
A domain registrar is an online service that sells domain names. When you register a domain with a domain registrar, you don't own it but rent it, which is why you have to renew a domain name every year. 
What Is a Domain Name?
A domain name is the location of a website on the internet that is typed into the web by someone using the internet when they want to find a specific website.
How Do Domain Names Operate?
The internet is a large network of computers connected through a global network where every computer can communicate with each other. Each one has a specific IP address, a series of numbers identifying a particular computer to the internet.
Domain names were created to make it easier for people to remember and visit specific websites [4].
The IP address is similar to the phone number of a computer. The company usually keeps the user's physical address bound to their IP address.
– Peter Wayner, Software Writer, TechBeacon.
What Is the Main Difference Between a Domain Name and IP Address?
As stated above, domains made visiting a website easier than typing an entire IP address into a search bar to take you to the desired internet location.
To understand how this works, here is an explanation of the process:
1. When a person enters a domain name in their web browser, it sends a request to a global network of servers within the Domain Name System. 
2. The servers search for the name servers related to the domain and relay the request.
3. Next, a hosting business forwards the request to the website's computer, called a web server. It has special software installed to help it act as a server. 
4. The server loads the web page and information and sends the data back to the user's browser.
Domain names and additional information are registered and maintained by domain registries. They work with domain registrars to provide domain registration services to customers.
The users select the registrars that provide the registration service; that way, registrars become designated for the domain chosen by the user.
Finally, only the designated registrar can change or delete information about the domain names in a central registry database, which is why users occasionally switch registrars.
This is called a domain transfer between domain registrars, and it is regulated by specific domain name transfer policies.
Everything and everyone on the internet depends on the Domain Name System functioning.
– Dr. Tom Leighton, CEO, Akamai
What Are the Differences Between Domain Extensions?
The most widely used domain extension is .com, but others include .net, .org, .edu, and .gov. There are hundreds more extensions to choose from, and the less popular an extension is, the less expensive it typically is. 
Specific extensions are restricted and can't be purchased unless you meet specific requirements, such as .edu and .gov extensions. Overall, however, all extensions work the same.
How to Choose the Right Domain Extension
Domain names fall into several categories to choose from:
Generic extensions like.com which also includes .net, .org, .edu, .mil, and .gov. The prices of these domains vary greatly.Edu; and .gov has specific restrictions. These extensions depend significantly on your budget.

Cc extensions are country code domains like international direct dialing codes for phone numbers assigned by country. For example, .co. Uk signifies the UK, .fr signifies France, and .it signifies Italy.

Consider the purpose of your website. A .com or .biz designation can add a professional element to your business if you are running a business. If you want to form a blog or anything less experienced, having a .com extension may not matter as much as having a .com extension.

Consider a local TLD. Consider targeting the specific area you are in with the rise of local SEO. There are over 200 different country codes, so you can easily find something that matches your location, such as .us for The US. UK for the UK or .ca for Canada.

Search engine optimization is another major factor to consider. If you want to increase traffic for your website, SEO ranking is crucial. 

Branding is another crucial consideration. Your website reflects upon your brand, and your domain pushes traffic to your site. Your domain is an extension of your website. You want your domain name to focus on your brand and reflect your brand positively.

Choose a user-friendly extension. If it is easy for your customers to type and remember, it is better for your site. If your domain is user-friendly, it will promote your site and allow your users to reach your website easily.
Tips to Choose a Great Domain Name
Due to the popularity of.com extensions, you may need help finding your domain name available as a.com. You can try a less popular extension like .info, .store, .shop, or others.
If you are set on getting a .com extension, consider modifying your business name slightly [5].
For example, assuming your desired domain name is brightstar.com, and it isn't available, try these changes:
Add articles, such as "a," "the," or "an" (abrightstar.com, thebrightstar.com)

Try adding another word to your domain name (brightstarservices.com, brightstarcompany.com)

Possibly include a hyphen in your name (bright-star.com, the-bright-star.com)
Other Domain Name Tips
Keyword Research

: Do your keyword research. Ensure the domain and its associated URL will be good for search engine visibility. You can check this on tools like Google Suggest, WordTracker, and Keyword Discovery.

Linkability

: Will your domain appeal to bloggers or others who may consider linking to your domain? Links are a crucial component of your site's SEO. 

Top-level Domain

: Choose the right TLD, such as .com, .net, .org, etc. .com is the most popular option. .Net and .org domains are seen as less professional than a .com domain. The .org domain is usually viewed as a nonprofit organization.

Used URLs

: Use query operators to check your site to see if anything is indexed. You can use a source like URL check.

Website Age

(if it is a used URL): Check the URL through

The Wayback Machine

to ensure there aren't any previous associations with pornography, hate, or violence. Suppose there are, it's best to avoid the domain.

Backlinks

(if it is a used URL): Ensure a previously used URL doesn't have negative links tied to it. You can check this with sites like DomainName.com. 

Blacklist Check

: Check if a URL or its IP address has been blacklisted.

Relevancy

: Ensure your domain name is relevant to your company. Don't simply choose a URL because it sounds good. Buy it because it is related to your business and has focused keywords.

URL Length

: Don't get too detailed or long with your URL; you can always get more into specifics with subdomains. Shorter domain names are more accessible for users to remember.

Legal Conflict Potential

: Check for trademarks and copyrights belonging to other businesses. Use the search engines to research the keywords in your URL. If anything comes up that is a conflict, it most likely is.
A better domain name will lower your lifetime marketing costs.
– Frank Schilling, CEO, Uniregistry.
Why WHOIS Privacy Is Important
WHOIS is a nonprofit corporation responsible for keeping the internet secure and naming websites the way they are. They require anyone registering a domain to give accurate contact information, including a name, address, phone number, and email.
Only some people want this information to be public, however. 
Domain registrars have found how to keep your information safe and still give WHOIS the information they need.
The domain privacy features publicly replace your information with your registrar's information to keep its users safe from phishing, spam, and identity theft. 
How to Choose the Best Domain Registrar
To choose the best domain registrar, you will need to know what to look for [6]. Domain names typically consist of your name or business name with a dot from the top-level domain, such as .com or .xyz. 
Your choice of these will greatly impact how easily visitors can find and remember your website. Finding a registrar that can give all the elements you need for your desired domain name should be the one to choose.
You will need to check that your desired domain name is available, and checking multiple domain registrars is a way to find out which one has the domain you want.
The domain registrar you choose should offer features like DNS management and email forwarding. It's best to compare pricing, renewal rates, support, and add-ons to get the best value.
Pricing can be challenging to handle because the initial registration fee can be low with an expensive renewal.
Prices also vary among extensions, so a registration service that provides a good value for a .com extension may have a poor deal for a .org extension. There can also be extra costs involved.
WHOIS privacy prevents your personal information, like your phone number, address, and email address, from the public and being listed on the domain. Some registrars provide this service for free, and some charge for the service.
Many registrars also offer web hosting, but web hosting services can also register your domain. If you have a web host in mind, they may be able to register your domain for free when you get a hosting plan, which can save you some serious cash.
Next, review the support that the registrar offers. It is essential to be able to contact your registrar quickly if you have any issues with your domain.
Another factor to include is the number of domains. If you are managing several domain names or just one, it can highly impact the service that you choose.
If you are planning on managing several domains, you will need an efficient registrar to manage all those domains. You will also need to consider the company's reputation.
A domain registrar with a good track record of service that values privacy, security, and excellent customer service is crucial to your domain registration.
An Alternative Option: Purchasing Domain Management Through a Web Host 
Web hosts are a great alternative option for purchasing domain management. Many web hosting providers offer free domain registration, domain transfer, and more, which can save you a lot of money.
However, it would be best if you still ensured that the web hosting plan was right for you.
The best web hosts offer shared, virtual and dedicated hosting with 24/7 support, high uptime guarantees, and affordable plans.
Overall, the best hosting package for you depends on your individual needs. Features like money-back guarantees and managed hosting services are added bonuses.
How We Test Domain Registration Services
We test domain registration services by inserting a keyword with a domain extension on the homepage of each service provider to see their ability.
Afterward, we purchase the domain and see if the service has all the features it claims to offer. We then compare prices to check the value of each service.
We also researched the extensions available, the user-friendliness of the interface, the customer service available, the privacy protection offered, and other features included with every domain registrar.
FAQs
Do I Really Need a Domain Registrar? Can't I Buy a Domain Directly?
Yes, it would be best if you had a domain registrar. There isn't any other way to buy a domain directly. Going through a registrar is as direct as the process can be. 
Can I Receive a Free Domain?
You can get a free domain with some web hosting services. Remember to check for any hidden fees, and make sure you really own the domain you are getting. 
Do Some Domains Cost Thousands?
Premium domains can cost a million dollars. These are usually short domains with one word, such as "cat.com ."When buying a premium domain, you are generally paying for a brand that already has traffic and isn't a new domain.
Now That I Have a Domain, Do I Need Web Hosting?
If you want to have a website along with your domain, you will need web hosting.
However, you can buy a domain and hold on to the brand name and build the business later. You will want to ensure, however, that your domain matches your business purpose.  
I Had a Domain but Didn't Pay For It. Can I Get My Domain Back?
Yes, in theory, but this depends on several factors like how popular the domain was and if someone else has registered the domain. If someone else took over your domain, it is now theirs and can't be reclaimed.
How Can I Buy a Domain?
You can easily buy a domain through a domain registrar. Once you've chosen one, the registrar will walk you through the process and guide you on how to connect the domain to your website.
Does the Registrar I Choose Matter?
Yes, not all registrars offer the same extensions or features. Some include web hosting, email, marketing tools, free domain privacy, and more. 
Can I Permanently Buy a Domain?
No. Domain registration is more like a rental. Domain registrars allow you to register the domain for ten years at a time, and you will have to keep renewing your domain annually
What Do the Domain Extensions Stand For?
The most popular extension, .com, stands for commerce. .Net stands for network, .org stands for organization, .edu for education, .gov for government, .info for information, .biz for business, .mil for military, and .pro for professional.
Do I Need a Domain for My Website?
No, it is possible to create a website without a domain name. However, without a domain, you won't be able to brand your website correctly. A domain helps you rank your website, be remembered by your customers, and have those customers share your site.
Is It Difficult to Sell a Domain?
Selling a domain can be difficult. You will often have to find the right buyer. Finding that buyer can take several months or even years.
However, this also depends on the popularity of the domain; a domain that is more likely to be in demand will be easier to sell.
What Are the Top Five Domains?
The top five domain extensions are .com, .net, .org, .co, and .us. These extensions are all in the most demand, and you will most likely pay the most for these. 
Can a Hacker Steal My Domain?
Yes, a hacker can steal your domain. A hacker uses illegal tactics to transfer the ownership of your domain from your name to another and gain control of it. This is called domain hijacking. 
What Is an Unsafe Domain?
An unsafe domain is an external link to a website that can contain malware, unwanted software, or phishing. Phishing is designed to get you to share personal or financial information to steal that information from you.
How Can I Protect My Domain Name?
You can protect your domain name by creating a unique and strong password. Hackers often hijack domains using the information you can provide from other accounts. 
What Should You Avoid in a Domain Name?
There are several factors you should avoid in your domain name, including numbers, trademarks, hyphens, hard-to-spell words, an extended domain, and homophones. 
What Happens if Someone Else Uses Your Domain Name?
If someone else uses your domain name, it can result in trademark infringement. If you infringe on someone's trademark, a court can order you to stop using that name and pay damages to the owner of the domain name.
Who Owns My Domain?
Typically when you buy a domain, the registrar still owns your domain name. You pay the registrar to host your domain. 
Can I Get a Domain for 5 Years?
Yes, you can get a domain for five years. The maximum registration time for a domain is ten years. Generally, domains get extended every year, so it is possible to get a domain for five years only.
What Happens to Your Domain After Ten Years?
After ten years, your domain name can be reactivated. The majority of domain names can be registered for up to ten years. The Domain Registry marks a domain name as expired when the expiration date begins.
Which Registrar Do We Recommend?
Choosing one of the largest domain registrars can benefit your business with some of the largest domain options available, the best security options, excellent customer service, and even web hosting for your website. 
We recommend GoDaddy as one of the largest domain registrars worldwide. They have over 23 years of experience and over 84 million domains. They have become famous for their extensive selection of domain extensions.
GoDaddy also offers the ability to pre-register domain names. They provide free domains with all their annual hosting plans and even offer free email hosting, a 99.99 percent uptime guarantee, and great customer service.
Try GoDaddy today to register your domain name and get your business started.
Our #1 Recommendation: GoDaddy