As experienced web professionals, we know that Linux is the premier operating system for web servers, acclaimed for its stability and efficiency. Impressively, 96% of the world's top million websites rely on a variant of Linux OS.
If you're seeking the ultimate Linux hosting provider, you've come to the right place.
We tested over 40 different Linux web hosting providers in terms of speed, uptime, stability, ease of use, customer support, and of course, pricing.
In this article, drawing on our extensive knowledge of the hosting landscape, we present the top five Linux hosting providers. We'll analyze their strengths, weaknesses, and key features to help you make an informed decision.
Let's dive into these outstanding Linux hosting options!
What Is Linux Web Hosting?
Linux is a popular operating system (OS) that is used by most web hosting providers. In fact, most hosting services run on Linux.
It's a versatile, more affordable, and powerful alternative to Microsoft Windows and can be accessed for free or on a "freemium" plan.
Although there is a range of commercial tiers and applications of Linux, many hosting providers — particularly shared web hosting providers — default to the free version.
Even enterprises like Google use it to run their vast network of servers. In Google's case, it operates over 15,000 servers on Linux, and there are thousands of companies around the world that do the same.
As such, it can be hard to know which Linux hosting companies are the best on the market. That's why we've put them all to the test and shared our findings in this article.
Benefits of Linux Web Hosting
Linux offers a number of benefits for hosting. Particularly, it makes enterprise-grade data center services available to website owners through shared hardware.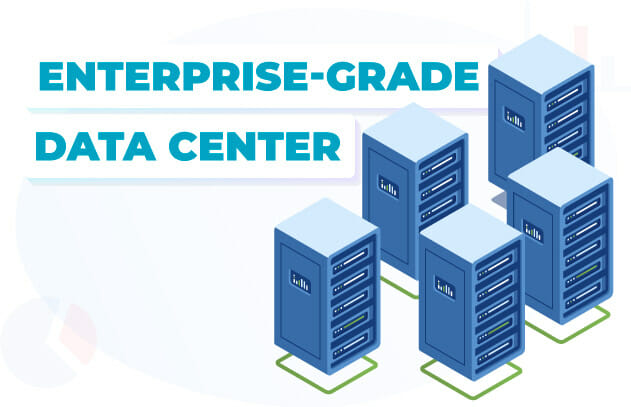 It is often far more cost-effective for businesses and developers to partner with the best Linux hosting providers instead of managing their own on-premise servers.
Linux also offers the following benefits over other operating systems:
Affordability: It's a cost-effective OS that significantly reduces the cost of hosting.
Great performance: Linux is very lightweight and has an adjustable code structure.
Open source: Linux is globally supported (and contributed to) by a global network of developers.
Stable, private & secure: Vulnerabilities and hacks are quite rare. But when present, they're fixed very quickly.
Large developer community: Global expertise and support network available.
Versatile: Linux is compatible and adaptable for many devices, languages, and tasks.
3rd party compatible: You can use industry-leading software like cPanel to manage your website hosting and minimize disruptions if migrating from another service.
Multiple options available: Choose from a range of Linux distributions (also known as 'distros') and work with the operating system that fits you best.
The biggest reason the Linux operating system is used by 96% of websites is its cost-effectiveness in the long term. Competitors like Microsoft Windows are expensive, with product costs accumulating over time.
Linux vs Windows Hosting
Linux and Windows are both operating systems that can be used to manage servers used for web hosting and more.
However, not all types of programs and files can be run on both operating systems. That's why there are cases where Linux is a better option than Windows and vice versa.
Popular applications like WordPress or Perl can be used on either operating system. However, applications like ASP, .NET, and IIS can only run on Windows.
Windows is a pretty good all-rounder, and it can run most applications well. However, it costs more than Linux, which is why it's not circulation as much. Either way, here are the biggest differences side by side.
| | | |
| --- | --- | --- |
| Features | Linux-Based Servers | Windows-Based Servers |
| Price | Linux is open-source, making it cheaper | Microsoft has a number of licensing fees making it more expensive. However, you also get Microsoft support included. |
| Stability | Linux stability will vary depending on the kind of distribution you have running on your server. | Microsoft runs extensive tests to ensure Windows is very stable. |
| Learning Curve | Fairly steep learning curve and not beginner-friendly. | More beginner-friendly as it is quite familiar to most people. |
| Performance | Linux performance depends on the distribution you choose. However, it can be made very lightweight. | Windows is a large product that can be far more clunky than Linux. |
Top 5 Linux Hosting Providers
There are many benefits to using Linux, but that doesn't make all Linux hosting come equal.
A great Linux web host should offer feature-rich hosting packages that make managing your account, adding domains, and creating websites as simple as possible.
So let's now take a look at our top picks for Linux hosting that do all of the above and more.
1. Hostwinds — Best All-Rounder
Just about every hosting company offers Linux hosting. But, unless you opt-in for a dedicated server, the web host usually manages and maintains the Linux installation on your behalf.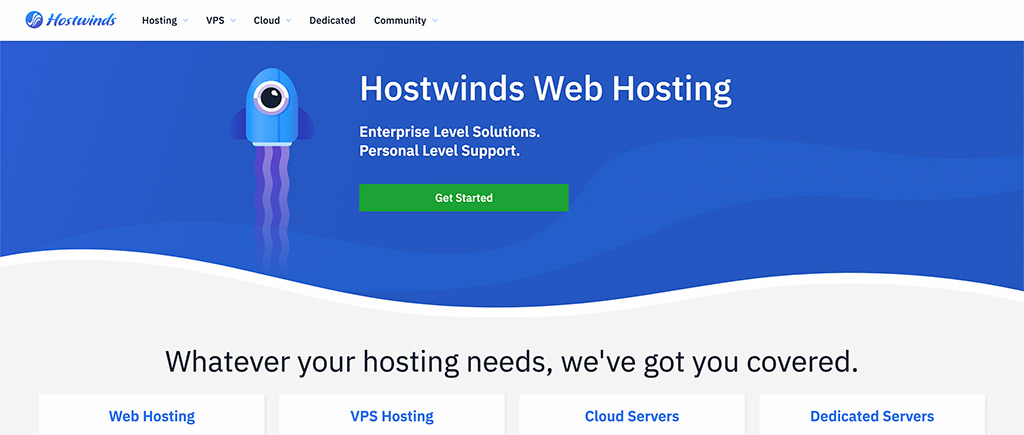 While this is great for beginners, more experienced users can often be frustrated by the lack of features and control they can access on lower cost or VPS hosting.
Thankfully, Hostwinds offers affordable options for both kinds of users. If you're a beginner or after a managed solution, you can opt-in for managed Linux hosting.
Otherwise, an even more affordable option is available in Hostwinds unmanaged Linux server hosting providers.
Linux Hosting Plans
| | | | |
| --- | --- | --- | --- |
| Hostwinds Plans | Promo Pricing | Renewal Pricing | Storage & Features |
| Shared Hosting | From $5.24/mo | From $6.99/mo | From 1 website with unlimited storage & bandwidth. |
| Business Web Hosting | From $8.99/mo | From $11.99/mo | From 1 website with unlimited storage & bandwidth. |
| Reseller Hosting | From $5.24/mo | From $6.99/mo | From 1 website with unlimited storage & bandwidth. |
| Managed Linux VPS | From $8.24/mo | From $10.99/mo | From 30GB storage, 1TB RAM & 1GB RAM. |
| Unmanaged Linux VPS | From $4.99/mo | From $4.99/mo | From 30GB, 1TB bandwidth & 1GB RAM. |
| Linux Dedicated | None. | Varies based on customizations. | From 120GB SSD or 1TB HDD storage, 10TB bandwidth & 16GB RAM. |
Key Features
With Hostwinds, you can choose from a range of Linux distributions, including
CentOS
Ubuntu
openSUSE
Debian
Fedora
You can tweak and set up the operating system however you like for as little as $4.99/month with an unmanaged Linux hosting package. Compared to an unmanaged Windows server, which starts at $10.99 per month, that's over 50% savings right there.
That being said, unmanaged Linux hosting brings about a fair few additional responsibilities you wouldn't have with a managed web hosting service. You'll need to take care of updates, fix server and software issues, ensure security, and more.
If you're a seasoned Linux user, there's nothing here that will differ from what you're already used to. Hostwinds also makes many elements of its packages super easy to use.
For instance, you can easily access site management tools, automated WordPress installs with Sottaculous, and a web host of other one-click installs too.
All in all, Hostwinds is a great Linux web host to consider!
If you're looking for a Linux web host that offers great features and outstanding support, check out SiteGround.
While it doesn't offer any VPS or dedicated server packages, its Linux shared and cloud hosting plans are among our top picks for the best web hosting services on the market right now.
With solid performance and server reliability that knocks most other companies right out of the competition, SiteGround ticks all the right boxes for hosting that means serious business.
Linux Hosting Plans
| | | | |
| --- | --- | --- | --- |
| | Promotional Pricing | Renewal Pricing | Disk Space |
| Shared Hosting | From $2.99/mo | From $14.99/mo | From 10GB web space |
| WP & Woocommerce Hosting | From $3.99/mo | From $14.99/mo | From 10GB web space |
| Managed Cloud Hosting | From $100.00/mo | From $100/mo | From 8GB memory, 40GB SSD and 5TB data transfer. |
| Reseller Hosting | From $6.69/mo | From $24.99/mo | From 20GB web space |
Key Features
What we love most about SiteGround is that all of their hosting plans are packed with features.
Their cheapest plan even includes free daily backups, unlimited e-mail accounts, unlimited bandwidth, and unlimited MySQL databases.
It's also super beginner-friendly, with a custom dashboard that includes a range of one-click installs.
Even people with no experience using Linux or managing web hosting can easily set up an SSL certificate and optimize the performance of their website thanks to SiteGround's custom-built tools.
SiteGround also sports the following noteworthy features:
All servers run on Fedora, one of the best and most stable Linux distributions
Offers 100% renewable energy match via Google Cloud servers
Makes server management easy with custom cPanel and SSH
Daily site backups available on all out-of-the-box plans
99.9% uptime guarantee and 24/7 network monitoring by in-house experts
In our tests, SiteGround outshines most of its competition, especially when it comes to server reliability and uptime.
| | | | | | |
| --- | --- | --- | --- | --- | --- |
| | 2018 Uptime | 2019 Uptime | 2020 Uptime | 2021 Uptime | 2022 Uptime |
| SiteGround | 99.99% | 99.99% | 99.99% | 99.99% | 100% |
While it's not the cheapest option out there, in our books, it's worth the cost for such a high-quality service that also offers expert support to all customers.
3. Liquid Web — Best for VPS & Dedicated Linux Servers
Unlike most popular web hosting companies today, Liquid Web doesn't offer shared hosting. Instead, it pours its resources into next-level options, like its VPS and dedicated hosting plans.
It is an ideal hosting solution for designers, developers, and agencies seeking to grow their businesses or clients' websites.
In fact, Liquid Web claims that its VPS hosting is more affordable, secure, and faster than AWS, Rackspace, and Digital Ocean (leading providers of cloud hosting and infrastructure solutions).
What's impressive is that these aren't unsubstantiated marketing claims either. Check out their Cloud Spectator Performance Report and see for yourself how Liquid Web's VPS performance blows most other companies out of the water!
Linux Hosting Plans
As is typically the case, Liquid Web's Linux servers work out more cost-effective than their Windows servers. You can also save a great deal by paying for a long-term plan in advance.
In the below chart, the top figures are discounted rates offered when you sign up for 2 years. The figures below that are the prices when paid monthly.
| | | | | |
| --- | --- | --- | --- | --- |
| | Linux | Linux Bundle | Windows | Windows Bundle |
| 2 GB RAM | $25/mo – $59/mo | $40/mo – $79/mo | N/A | N/A |
| 4 GB RAM | $35/mo – $99/mo | $50/mo – $119/mo | $65/mo – $134/mo | $100/mo – $169/mo |
| 8 GB RAM | $45/mo – $139/mo | $65/mo – $159/mo | $85/mo – $174/mo | $120/mo – $209/mo |
| 16 GB RAM | $105/mo – $189/mo | $145/mo – $219/mo | $145/mo – $224/mo | $190/mo – $249/mo |
Key Features
Liquid Web offers a great deal of flexibility and in-depth control over your server specifications. For instance, you're not stuck with CentOS, the only Linux distribution most other hosting companies offer.
Liquid Web offers:
CentOS 6 and 7
CloudLinux option
Debian 8, 9, and 10
Ubuntu 16.04, 18.04
Fedora 30
There is a mix of managed, unmanaged, and semi-managed options on offer so you can have just the right amount of control and support that you need.
You can also customize your backup plan and if anything goes wrong, you have Liquid Web's 24/7 support on hand.
Not to mention that if you're looking for the kind of resources a private data center could offer you but for a fraction of the cost, definitely take the time to check out their private VPS parent services. In any case, here are some of the most notable features Liquid Web offers:
Linux & Windows servers
100% uptime service level agreements
RAM: From 2 GB to 16 GB
CPU Cores: Between 2 and 8
SSD Storage: From 40 GB to 200 GB
Generous 10TB Bandwidth on all plans
4. OVH Cloud — Best for Enterprise Cloud Solutions
If you want to try out enterprise-level, power-packed Linux hosting options, OVH Cloud may just be what you're looking for. It offers a broad range of private and dedicated servers that run on Linux.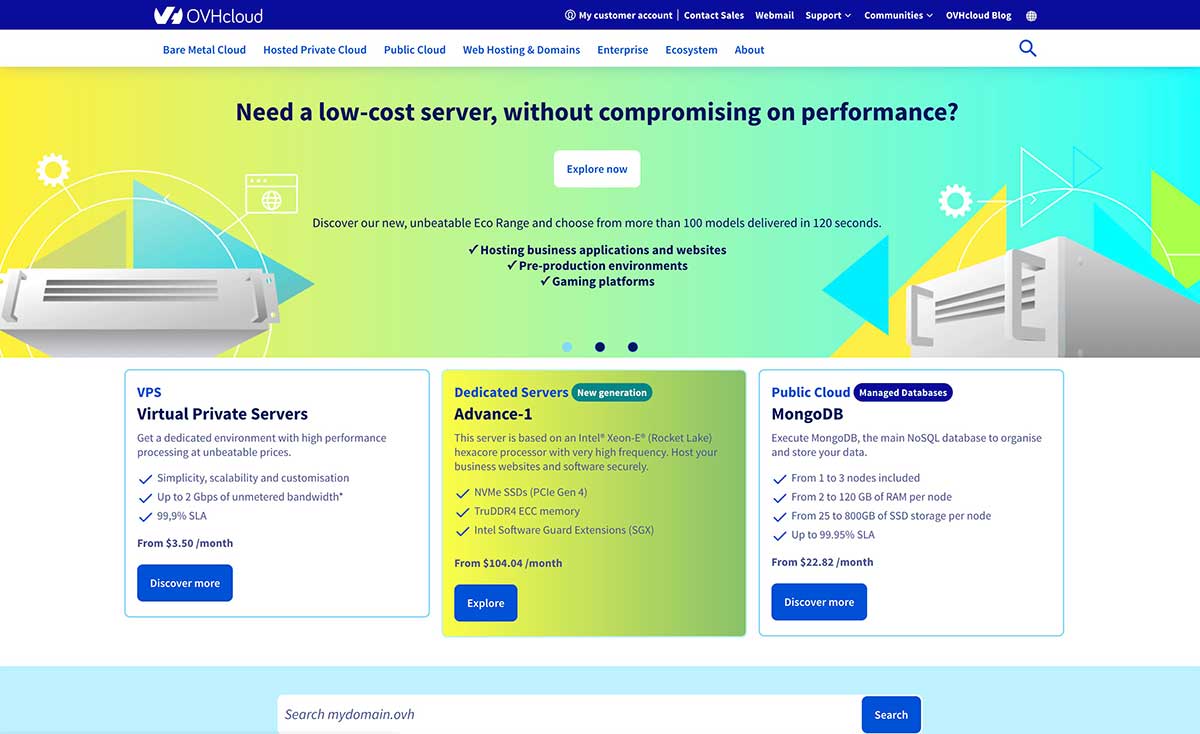 With several different Linux distributions also available, you get the ultimate options for your operating system and server setup. Choose from:
Arch Linux
CentOS 6
CentOS 7
Debian 7
Debian 8
Debian 9
Fedora 26
Ubuntu 14.04
Ubuntu 16.04
Kubuntu 14.04
You're also not restricted to using cPanel as a website manager either. OVH also supports CozyCloud, Plesk Onyx, Vesta CP and Virtualmin, to name a few.
No matter how you look at it, OVH offers you the ultimate flexibility to manage your website hosting exactly how you want to.
Linux Hosting Plans
| | | | |
| --- | --- | --- | --- |
| Hosting Type | Promo Pricing | Renewal Pricing | Features |
| VPS Hosting | From $6.90/mo | From $6.90/mo | From 1vCore, 2GB memory, 40GB NVMe storage, 250 Mbps unmetered bandwidth. |
| Bare Metal Cloud Servers | From $90.25/mo | From $95/mo | Up to 1TB memory, 99.99% uptime SLA, and up to 6Gbps bandwidth. |
| Hosted Private Cloud | N/A | From $1,669/month | Private data center in the cloud. From 48GB RAM x2 and 12 cores. |
Key Features
OVH offers a range of enterprise-grade solutions. It even allows you to set up your own virtual, cloud-hosted data center. As such, it's not beginner-friendly, and its services can be overkill for many people.
However, if you are a developer or have solid technical skills and you're looking for Linux hosting options with power-packed features, OVH is worth your consideration.
You can run many content management systems here including:
WordPress
Drupal
Joomla!
PrestaChop
And more
You also get full root access, so you can manually set up whatever you need.
However, it's worth repeating OVH is not suitable for beginners. Not only does it not offer easy, one-click installation options like other Linux hosting providers mentioned above, but its customer support team can also deliver responses that aren't always beginner-friendly.
You need technical expertise to get the best value out of OVH's enterprise cloud solutions.
5. Inmotion Hosting — Best for Unlimited Hosting
InMotion Hosting offers a suite of professional Linux hosting plans which deliver high levels of power and control to users.
It offers a versatile mix of beginner-friendly managed Linux installations on shared servers and a high-performance, dedicated hosting server.
What we like best about InMotion hosting is its generous unlimited hosting plans for affordable prices.
For as little as $4.99/month, you can enjoy a Linux web hosting plan that offers a free domain, free SSL, unlimited hosted websites, unlimited NVMe storage, unlimited bandwidth, and more.
What's not to love with such incredible value for money?
Linux Hosting Plans
| | | | |
| --- | --- | --- | --- |
| | Promotional Pricing | Renewal Pricing | Disk Space |
| Shared Hosting | From $2.95/mo | From $8.99/mo | From 100GB SSD + unlimited bandwidth. |
| WordPress Hosting | From $3.99/mo | From $11.49/mo | From 100GB NVMe storage, unlimited bandwidth + free lifetime SSL. |
| VPS Hosting | From $19.99/mo | From $59.99/mo | From 4GB memory, 90GB SSD and 2 TB bandwidth. |
| Dedicated Hosting | From $139.99/mo | From $169.99/mo | From 16GB RAM, 1TB SSD & 4 CPU cores. |
| Unmanaged Cloud VPS | None. | From $6/month | From 1vCore, 30GB SSD storage & 2TB data transfer. |
Key Features
InMotion's hosting includes many beginner-friendly features, like:
Free website migration
Website builder
Regular backups
And that's just the start. More experienced users will be happy to see support for MySQL and PostgreSQL databases, PHP 7, Ruby, Perl and Python, SSH access, and more.
You can also opt-in for the unmanaged cloud VPS packages. These give you a choice of OS and a firewall, but after that, you're able to install, optimize and configure the server however you like.
Unlimited features on most shared plans
Free domain name included
Free SSL certificates
Hack & malware protection
DDoS protection
Automatic backups
Website builder
Marketing tools
Choose your Linux OS from CentOS, Ubuntu, or Debian
Code with Ruby, PHP, Perl, and Python
If you are looking for web hosting with no limits on how many websites you can host, storage or bandwidth, InMotion is ideal for you!
Our Methodology: How Did We Pick the Best Linux Hosting Companies?
Over the years, we've used many different hosting companies and have first-hand experience. However, we also stepped things up and started running tests on the top hosting companies.
So far, we've tested over 150 hosting companies worldwide and reviewed over 1,000 hosting plans.
To select the list of the best Linux web hosting services, we pared down our list to the web hosting companies that offer great performance and customer support.
Operating Linux web servers was not enough for a company to qualify if they also did not meet our expectations of being a great hosting company in general.
What to Look For in Linux Hosting
So now you know how we selected the top Linux web hosting services recommended above, here's how to help you narrow down to the best one for your needs.
Hosting features: Finding a hosting company that offers Linus-based servers isn't hard. But you'll need to consider the other features you get on your hosting plan and evaluate the value for money you'll receive.
Uptime guarantees: Many Linux web hosting companies offer uptime guarantees. The industry benchmark, which most companies adhere to, is 99.9%. However, we always advise looking for the best possible uptime that's also backed by a service-level agreement (SLA).
Intuitive control panel: Managing your own Linux OS setup is crucial, but if the dashboard interface isn't user-friendly, you might find it challenging to complete even basic tasks.
Customer service: Quality customer support is at the top of our list when reviewing web hosting companies. If a company has poor customer reviews, that's a major red flag and often a deal-breaker for us.
As with any type of hosting, you should also look for a hosting package that suits your needs. Linux web hosting service isn't necessarily more secure than any other kind of hosting but with the right add-ons and features, it can be incredibly secure.
So if you're building a website for your business, look for a Linux web host that includes additional extras like security, ample storage space, and decent bandwidth.
Frequently Asked Questions (FAQS)
What Is Linux?
Linux is a computer operating system similar to Windows. There are different types of Linux, known as distributions. Each has its own brand name, and there are many Linux distributions that are completely free to use.

Is Linux Hosting Easy to Use?
Yes, Linux web hosting service is fairly easy to use.
If you're a beginner, you won't need to touch the Linux operating system at all since your web hosting provider will set up and maintain it on your behalf.
Most of your hosting management will be done through a control panel.
Most hosting companies have custom-designed their control panels to be intuitive and easy to use.
What Does Linux Web Hosting Typically Include?
Linux web hosting inclusions vary according to what types of hosting package you've purchased.
With Linux shared hosting, you'll get a chunk of server space with resource limits according to the package you purchase.
While you'll have access to a Linux server, you will not be able to access the operating system at all.
However, with a dedicated Linux-based server, you'll get access to all of the resources yourself..
You'll also get access to the software you need to access Linux and run programs directly on the operating system.
Our Verdict: Which Is the Best Linux Hosting Provider in 2023?
Finding the right Linux web hosting solution can take some time, especially if you are looking for a platform with a wide range of features. Although the right choice mainly depends on your needs, SiteGround is the all-encompassing Linux web host.
It offers a variety of features and great customer support, which will make your experience hassle-free. SiteGround also offers multiple pricing plans catering to each budget.
If you are struggling to find a Linux web host, look no further, and try out SiteGround today.
Our #1 Recommendation: Siteground