Python hosting powers popular websites such as Google, Mozilla, and YouTube. The best Python hosting services match the programming language and have many broad applications.
Regardless of what you are using Python for, you will need the proper dedicated server hosting to go with it.
As a website owner myself, I have personally used several Python services for months and tested all of their features.
Here is an organized list of the best web services based on my personal experiences, load time, support, security, pricing, and whether the web hosting service offers free migration.
1. Hostinger
Hostinger offers hosting plans for shared hosting, cloud hosting, email, and VPS hosting. Windows users can also choose from four Windows VPS options.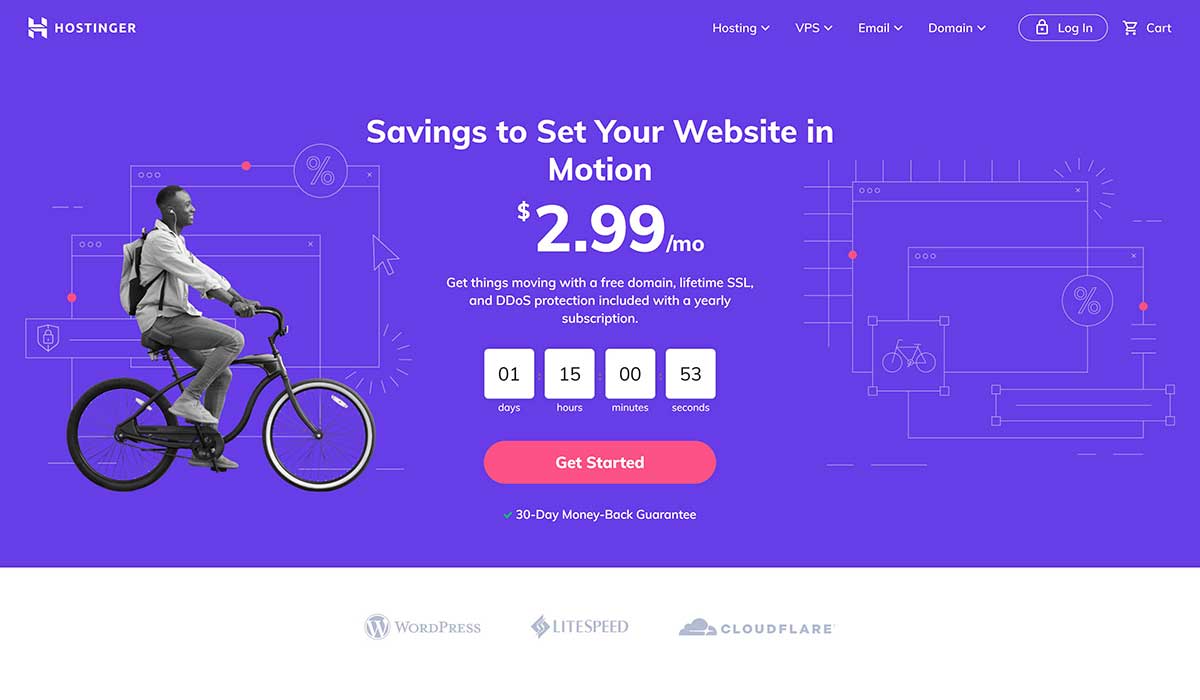 Every option comes with a 30-day money-back guarantee and 24/7 support. Hostinger also offers dedicated IP addresses and supports high-level backup management, a user-friendly VPS control panel, a Python app, and other programming languages.
Hostinger also provides a helpful drag-and-drop website-building service, domain name check, and more.
In our experience, Hostinger offers many valuable tools for those starting a website and has affordable hosting options.
Pros
Free SSL certificate

Low introductory pricing

G suite integration

24/7 support
Cons
No shared Windows server
Our Rating
Load Time:

5.0

Support:

4.9

Security:

4.9

Pricing:

5.0

Free migration:

Yes
2. A2 Hosting
A2 Hosting is a Python web hosting solution that utilizes fast dedicated servers to boost loading speed. A2 hosting has focused on high-end development software since its inception, such as Apache, Python, PHP, MySQL, etc.
Their dedicated server helps with SEO rankings and conversion rates. You can also choose your web server location closest to your customer base. They even offer a 30-day money-back guarantee and unlimited bandwidth [1].
Our experience with A2 hosting has shown that high-end software options can benefit those experienced with VPS hosting, and choosing a web server close to your customer base helps improve website speed.
Pros
99.99% uptime guarantee

Four data centers across three continents

24/7 customer support
Cons
It doesn't offer options for Windows.
Our Rating
Load Time:

4.9

Support:

4.9

Security:

4.8

Pricing:

4.9

Free migration:

Yes
---
3. Bluehost
Bluehost is a well-known web hosting service that provides a low-cost, one-stop solution for web services. They offer advanced hosting, including VPS hosting, dedicated server hosting, and managed hosting.
Bluehost also provides SEO services, marketing services, and content creation services. 
Bluehost also offers a free website builder with thousands of templates, provides a free SSL certificate and CDN acceleration, and only costs $2.95 a month.
In our experience, Bluehost is one of the most cost-effective web hosting options. And it's much better than any free Python hosting option out there. You can also check out our in-depth Bluehost review for more insights.
Pros
60-day money-back guarantee 

Lots of storage

Unique security features
Cons
Doesn't offer hosting options for Windows
Our Rating
Load Time:

4.8

Support:

4.8

Security:

4.8

Pricing:

4.8

Free migration:

Yes
---
4. Scala Hosting
Scala is a managed python hosting service focusing on security, maintenance, optimization, and initial server setup. They also offer a control panel named SPanel, which comes with python support.
They also provide SSH access and an app installer to install the python version of your choice quickly and easily. 
Scala also offers unmanaged servers, an optional CPanel, SShield security for the SPanel, and daily backups.
In our experience, Scala is a fitting choice for those looking for advanced security and premium features for a lower cost.
Pros
Advanced security

User-friendly control panel

Premium networking
Cons
It doesn't offer dedicated hosting.
Our Rating
Load Time:

4.7

Support:

4.7

Security:

4.7

Pricing:

4.7

Free migration:

Yes
---
5. HostWinds
Hostwinds is a web host provider with data centers in the US and Amsterdam and primarily targets the European and North American markets.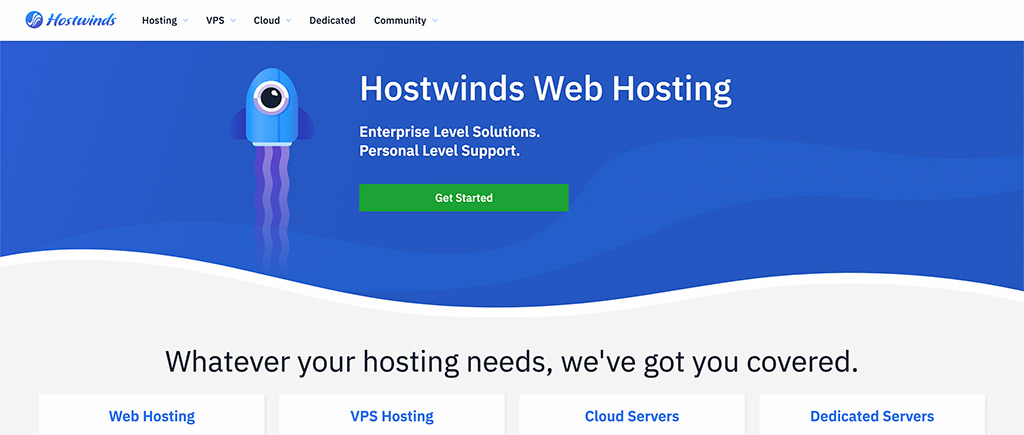 Their services are inexpensive, and they offer VPS hosting, dedicated hosting, WordPress hosting, reseller hosting plans, and shared hosting. Their affordable plans provide a 99.99% uptime guarantee and customer support over chat and phone.
They also offer a private network that eliminates the risk of identity theft and third-party tracking and free installation of SSL certificates. Users can also choose to secure their websites with 256-bit encryption. 
In our experience, their web services are relatively affordable, with excellent, consistent uptime and secure servers.
Pros
60-day money-back guarantee 

User-friendly dashboard
Cons
Expensive upon renewal
Our Rating
Load Time:

4.6

Support:

4.7

Disk space:

4.6

Security:

4.6

Pricing:

4.6

Free migration:

Yes
---
6. SiteGround
SiteGround offers several hosting plans compatible with python applications. They offer shared hosting plans with SSH and SFTP access.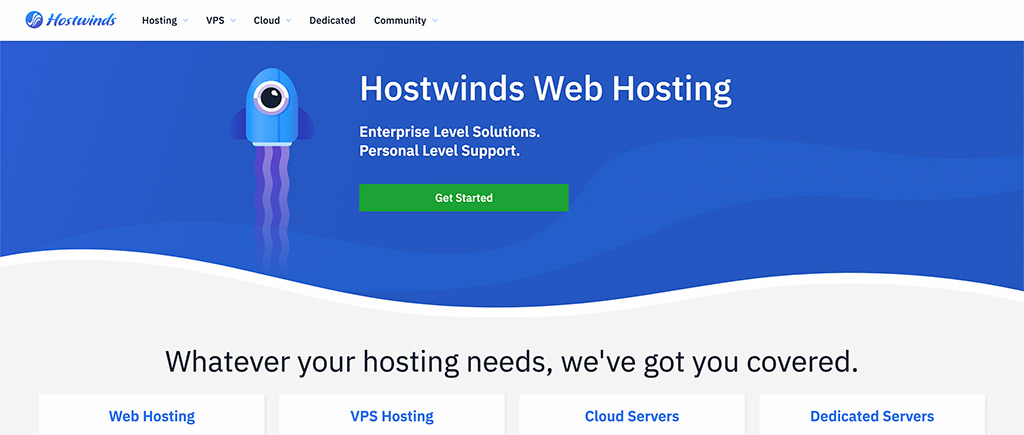 SiteGround also provides customizable cloud setups and can be configured to your python framework. They also offer many features for free, including dozens of eCommerce apps, extra security features like Cloudflare CDN, great support, and more.
SiteGround's offerings make hosting your python framework simple and reliable. 
Pros
Free SSL certification

Consistent uptime

Ability to choose server location
Cons
Only supports Python versions 2.4 and 2.7
Our Rating
Load Time:

4.5

Support:

4.5

Disk space:

4.6

Security:

4.6

Pricing:

4.5

Free migration:

Yes
---
7. Liquid Web
Liquid Web is one of the premium Python web hosts that comes at a premium cost. It focuses on VPS, cloud, and dedicated hosting. This is the only one among Python web hosts with a premium control panel on all plans.
They have CentOS machines and a choice of Plesk, cPanel, or InterWorx as your chosen control panel…
Liquid Web's premium services can be helpful if you're willing to pay a premium price.
Pros
Powerful servers

Server management included

100% uptime guarantee
Cons
Premium price
Our Rating
Load Time:

4.5

Support:

4.4

Disk space:

4.5

Security:

4.5

Pricing:

4.4

Free migration:

Yes
---
8. HostPapa
HostPapa is a great hosting option if you are committed to saving the environment. They are committed to using fully-renewable energy for all their services.
They offer self-managed, managed, and fully-managed hosting options. They also provide multiple dedicated IPs regardless of the VPS plan you choose.
Their VPS servers are ready for use in less than a minute. Their 99.97% uptime standard is not ideal in comparison to other platforms.
While HostPapa offers a variety of hosting options, their uptime guarantee isn't as good as competitors, although it is standard.
Pros
Free domains

Free site migration

30-day money-back guarantee
Cons
Weaker performance than other providers
Our Rating
Load Time:

4.4

Support:

4.3

Disk space:

4.4

Security:

4.4

Pricing:

4.3

Free migration:

Yes
---
9. DreamHost
DreamHost is one of the most extensive Python hosting services known for its WordPress hosting and 97-day money-back guarantee. It also has an online knowledge base with detailed guides and answers to any questions you might have.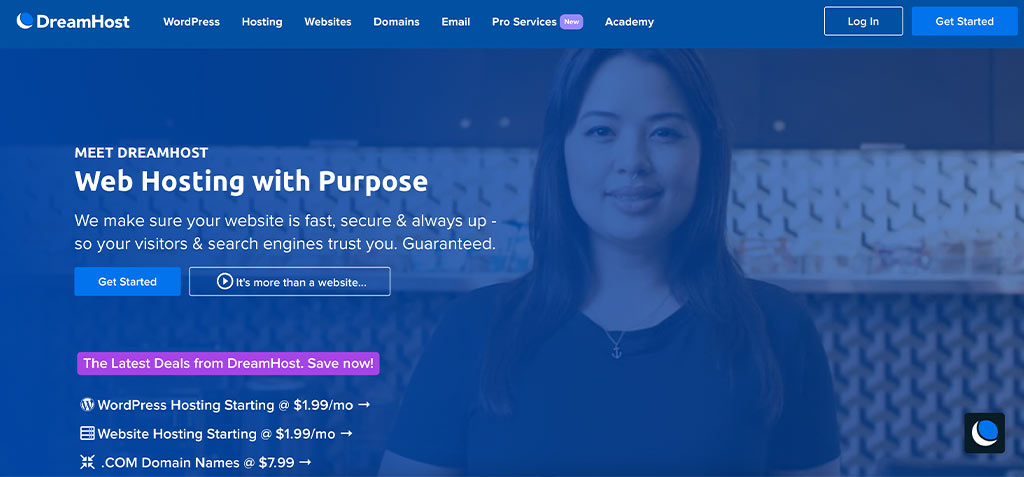 They offer shared hosting, cloud hosting, VPS hosting, dedicated hosting, or email hosting options. DreamHost also offers unlimited bandwidth, storage, and a user-friendly control panel and their cloud hosting is among the best. 
DreamHost claims to offer 24/7 support, but their live chat is only available between 5:30 am to 9:30 pm Pacific standard time. While their customer service is friendly and knowledgeable, they aren't available 24/7. 
Pros
97-day money-back guarantee

Unlimited bandwidth

Friendly customer service 
Cons
Limited Windows options
Our Rating
Load Time:

4.3

Support:

4.2

Disk space:

4.3

Security:

4.3

Pricing:

4.3

Free migration:

Yes
---
10. Kamatera
Kamatera is a household name in cloud hosting with 25 years of experience and 13 data centers worldwide.
They offer great deals for cloud hosting but as a Python host as well. Kamatera allows you to build a cloud VPS platform from the ground up and set the exact RAM you need for your python applications.
Compared to other VPS hosts, Kamatera is more customizable with low prices. They also offer a risk-free 30-day trial to try out their cloud VPS without limitations.
In our experience, Kamatera offers some of the fastest loading speeds with consistent uptime. 
Pros
30-day free trial 

Worldwide data centers

5TB monthly bandwidth
Cons
Need to maintain server yourself
Our Rating
Load Time:

4.3

Support:

4.1

Disk space:

4.2

Security:

4.2

Pricing:

4.2

Free migration:

Yes
---
Buyer's Guide
It can be crucial to understand the basics of how python hosting works to make the best choice for a web host. 
What Is Python Hosting, and How Does It Work?
Python web hosting is a web service designed to support websites and applications that use the python programming language. Python hosting allows running a Python-based website, including a python interpreter, a Python-based web server, or a python library [2]. 
Python hosting isn't suitable for every website. Suppose your website or application is written in a different programming language, such as PHP or Ruby. In that case, you'll need a different type of hosting to run your website or application successfully.
My favorite programming language for maintainability is Python. It has clean syntax, object encapsulation, decent library support, and optional named parameters.
– Bram Cohen, Computer Programmer, Inventor of BitTorrent
Python has gone through three versions since its inception. Some businesses continue to use Python 2, but Python 3 is becoming the new standard of hosting. Python 3 has additional capabilities that Python 2 lacks.
Over time, some hosts may also no longer support Python 2, so it's best to choose a host that supports Python 3. 
Which Python Host Is Best for Me?
The best Python hosting services option for you will depend on your experience level. Certain hosting services will better suit beginners for Python development, and others are better for advanced users.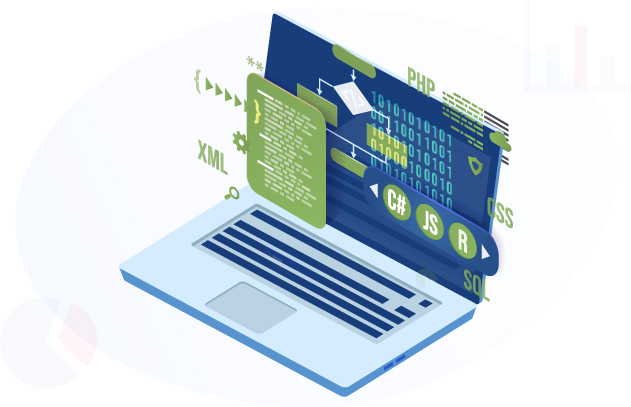 Options like Kamatera offer the most customizable VPS available. They offer unmanaged cloud VPS at low prices, which can be custom-built to your specific needs.
Web hosting like 1 & 1 IONOS offers more beginner-friendly options and entry-level virtual servers. They also provide a dedicated consultant to help you throughout the process of starting your website.
Python is fast enough for our site and allows us to produce maintainable features in record times, with a minimum of developers.
– Cuong Do, Software Architect, YouTube.com.
Things to Look for When Choosing a Python Host
The most common frameworks used by Python are Flask and Django, so you will want a host that supports either both or one of these common frameworks.
These frameworks allow for the fastest development and production of clean code to make your Python app run smoothly.
If your chosen host does not support these frameworks, it can be a sign that the company isn't up to date on Python programming and will not be able to offer the best support available.
Evaluating the Cost of Python Hosting
As with any investment, cost plays a significant role in choosing a Python host. Different hosts come with different pricing models, each offering varying features. Therefore, understanding what you need for your Python-based web application and mapping those requirements to the pricing models becomes a crucial task.
Shared hosting is usually the cheapest option, where multiple websites reside on one web server, sharing the server's resources. While it may be the most cost-effective solution, it might not be the best choice for Python hosting. Python applications often require more resources than shared hosting can provide, and not all shared hosting services support Python.
A Virtual Private Server (VPS) hosting is often a better option. With VPS, you share a physical server with other users, but you have your own dedicated portion of the server's resources. VPS hosting tends to be more expensive than shared hosting but offers more power and flexibility, making it a good choice for Python applications. Prices can vary widely, from a few dollars a month to several hundred, depending on your needs.
Dedicated hosting is the most expensive option, where you have an entire server dedicated to your website. This type of hosting is suitable for large-scale Python applications that require a lot of server resources. It's also the best choice if you have high security or compliance needs.
Remember, the cheapest hosting isn't always the best. You must also consider factors like reliability, speed, and support when evaluating the cost. It may be worth paying a little extra for a host that offers high uptime guarantees, fast server speeds, and excellent customer support.
Importance of Customer Support in Python Hosting
Customer support plays a pivotal role in Python hosting. No matter how efficient or well-equipped a hosting service is, there are always times when you may need technical assistance. The quality of customer service can make or break your hosting experience.
A host that provides 24/7 support ensures that you can get help whenever you need it. This is particularly important for businesses with international audiences, where downtime can result in lost revenue. The support should also be knowledgeable about Python and its related software to provide accurate and efficient solutions.
Different hosts offer different support channels, including phone, email, live chat, and online ticketing systems. Some even offer community forums where users can help each other out. When choosing a Python host, consider your preferred method of communication. If you prefer real-time assistance, a host with live chat or phone support would be a good choice.
Another important aspect of customer support is response time. How quickly does the support team respond to your queries or problems? A host that responds quickly and efficiently to issues can save you a lot of time and frustration.
Finally, consider the quality of the support. Does the support team go above and beyond to help you, or do they just provide basic, scripted responses? Reading reviews from other customers can give you a good idea of what to expect.
---
FAQs
What Is Python Used for?
Python is used for developing websites, software, data analysis, data visualization, and task automation. Anyone can even use Python for a variety of everyday tasks like organizing finances, and it is easy to use for non-programmers.
What Server Is Best for Python?
The Daphne web server is best for Python. Django uses the Daphne web server. Daphne is one of the first ASGI servers.
Do You Need a Server to Support Python Applications?
Yes, you typically need a server to run a Python application. A server is required to interpret the code and deliver desired results.
Is Python Harmful for Your PC?
Python is not any less safe than any other software you may be running on your PC. As with any program, be sure to download it from the correct websites.
Are Python Servers any Good?
Python servers are a fantastic language for developing servers and Python apps. However, Python isn't ideal for mobile computing used by smartphone applications [3].
Can Python Run on any Platform?
Python can run on almost any platform. Python is a cross-platform program that can run on Windows, macOS, Linux, Java, and .Net virtual machines.
Is Python an Efficient Web Server?
Python is very efficient and offers quick speeds. Python uses server-side scripting to provide these fast speeds. The code allows you to execute Python based on user actions. 
Is Python Good for WordPress?
Python is good for WordPress. The WordPress REST API allows the use of Python. Python is a programming language with diverse use that makes it a powerful tool for managing WordPress accounts remotely.
Which Is Better: Python or PHP?
Python is better than PHP for long-term use. PHP is easy to get started with, but Python uses indentation enforcements that are strict and more readable than PHP [4].
Do Professionals Use Django?
Several major companies use Django for development. Django is a python web framework that gives developers the tools for stress-free development. One major company that uses Django for development is Instagram.
How Much Does Python Hosting Cost?
Python hosting can cost as little as $2.00 per month up to over $100 a month. The price all depends on the hosting service and what they charge. Depending on the hosting service, you may also get more features for the money.
What Is a Python Web Application?
A Python web application is an application that uses Python code to determine actions to take and content to show. Your code is run by the python server that hosts your website. 
Which Python Hosting Platform Do We  Recommend?
The web server you choose to run your Python website or application is crucial to the smooth running of your business. Python allows users to execute tasks effortlessly and features a user-friendly design.
Choosing the right hosting service to harness the full power Python has to offer is essential.
We recommend Hostinger for your Python web hosting needs. Hostinger offers 24/7 support, dedicated IP addresses, a user-friendly VPS control panel, and helpful drag-and-drop website-building tools to create your business website easily.
They also offer a 30-day money-back guarantee so that you can try their service with no strings attached. 
Try Hostinger today for all your Python-based web hosting needs.
Our #1 Recommendation: Hostinger