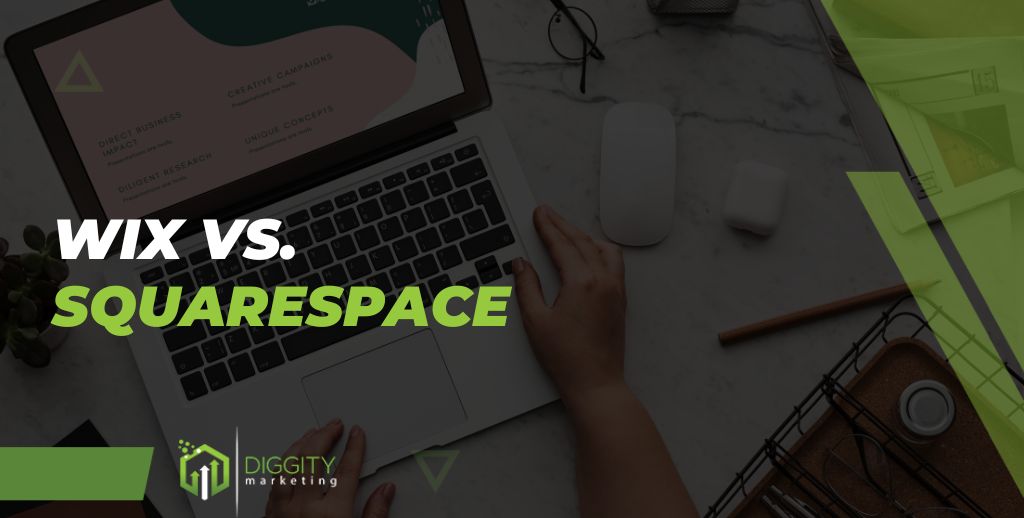 Website builders are essential for creating a website that is organized and successful. Wix and Squarespace are the two biggest site builders in the industry. While both are popular, they do have varied differences.
As a website builder expert who has built and optimized several websites over the years, I have used both tools to create websites for multiple clients.
In this article, I will evaluate Wix and Squarespace based on their features, price, and performance and help you make the right choice for your website.
What Is Wix?
Wix is a cloud-based site builder with user-friendly drag-and-drop tools and over 500 templates to build your Wix site.
Wix lets you speed up the process and provides you the creative freedom to build your desired site. Wix has helped over 200 million registered users in 17 languages [1].
What Is Squarespace?
Squarespace is a site builder designed to help website owners build their ideal site. Squarespace was created in 2003 as a blog hosting service and eventually evolved into one of the industry's most versatile website builder options [2].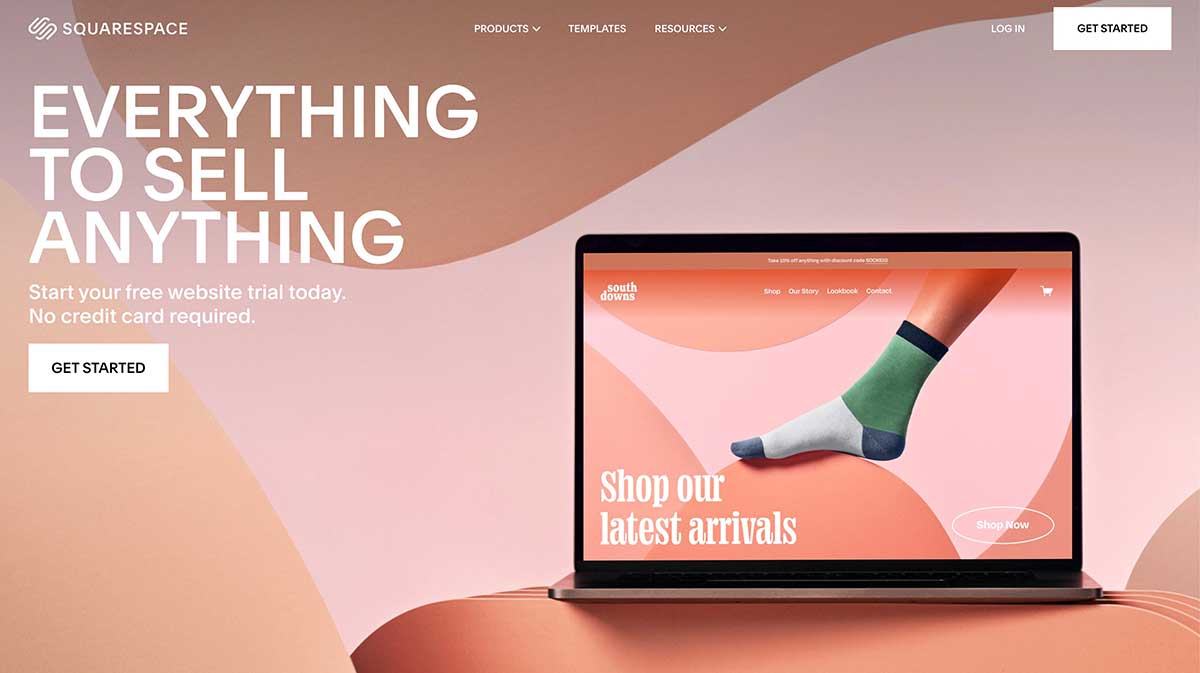 Squarespace Vs. Wix Comparison
Squarespace offers a wide range of useful features, and this is how they compare.
Editor Comparison
The largest difference between what Squarespace offers and Wix offers is their editors.
Wix
Wix offers a highly customizable unstructured site Wix editor. Wix's drag-and-drop editor allows you to move any element anywhere on the page and allows your business to drag and drop elements anywhere. 
Wix users can choose fonts, colors, sizes, and more for text, gives many strip choices, each with different designs, colors, and typography, and allows you to move things out of the gridline. Wix ADI tools also allow you to optimize your website structure
Squarespace
Unlike Wix, Squarespace offers a structured Squarespace editor. You can't move any element anywhere on the page. Instead, the Fluid Engine editor only allows you to drag elements in rows or columns.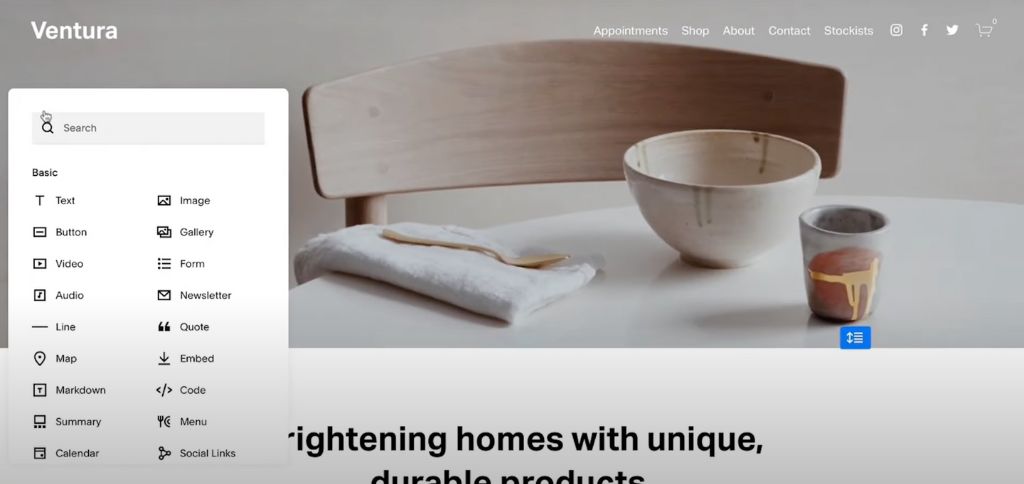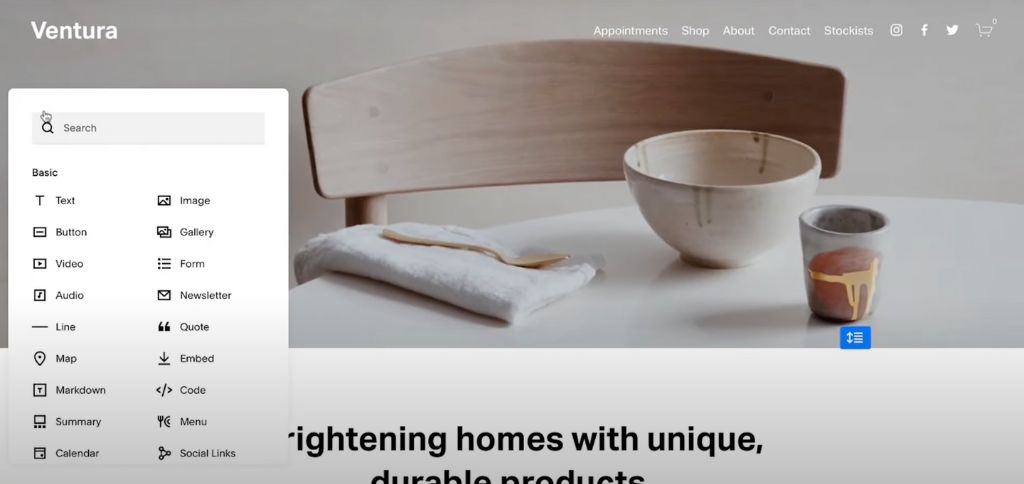 It's a very customizable drag-and-drop editor with a sensible structure.
Squarespace
Squarespace offers the best templates that are both clean and modern. Squarespace templates are consistently good and help you produce a more modern website, and they can be customized in multiple ways.
Winner: Wix allows you to change every element, including fonts, colors, sizes, designs, typography, and more. This is very important for creating a unique platforms.
Great website design without any functionality is similar to a sports car without an engine.
– Paul Cookson, Marketing Consultant at Ad Army Group Marketing Services
Templates Comparison
In terms of the number of templates, Wix offers more than Squarespace, but quantity isn't everything.
Wix
Wix's modern templates aren't quite as nice as Squarespace's. The Wix template quality is inconsistent, and they don't delete outdated templates, which means some of your options for Wix templates are simply old-fashioned. 
Squarespace
Squarespace offers the best templates that are both clean and modern. Squarespace templates are consistently good and help you produce a more modern website, and they can be customized in multiple ways.
Winner: Squarespace offers a bit better choice of templates that are more in line with today's style and themes, although Wix 
Web design is not only about what it looks or feels like, it is about how it works.
– Steve Jobs, Cofounder and CEO of Apple
Features Comparison
There are core features every site builder should have, such as maps, photo galleries, forms, and audio players. Both Squarespace and Wix include these features. However, it is moving past the basic features in which they differ.
Wix
Unlike Squarespace, there are several features and Wix apps you can add from the Wix store that Squarespace doesn't offer, including a Wix forum, autoplay of videos, uploading of WebP images or WebM videos, the ability to build landing pages without a header or footer even on their free plan, and auto-saving pages as you edit.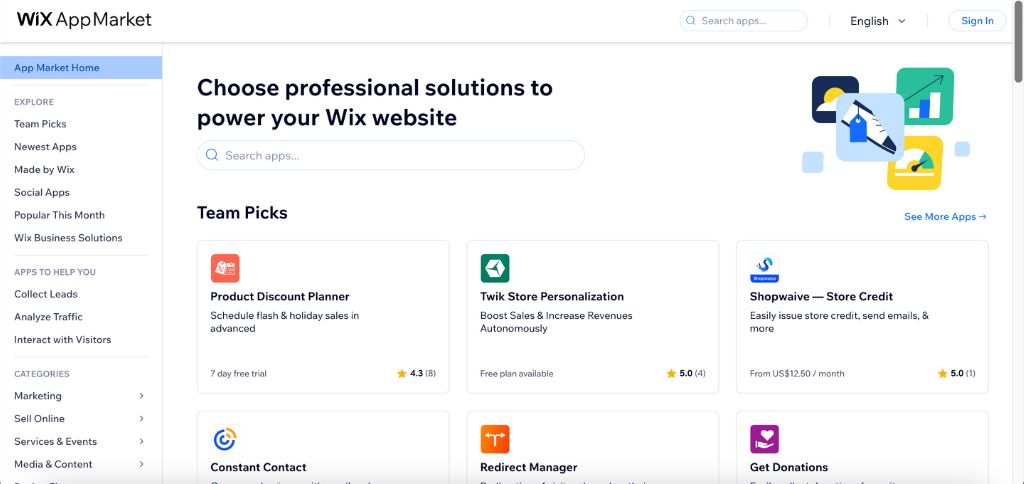 Squarespace needs to use third-party apps to offer these features.
Squarespace
Squarespace does a better job on features that they match with Wix. It does a better job on its donation feature with a fully-featured system. Wix can accept donations, but it's just a basic button that sends users to Paypal. 
Squarespace is also the only builder that can syndicate podcasts. Wix also doesn't offer the features needed to make a good podcast site. Wix does offer a podcast player but doesn't syndicate podcasts. However, Squarespace has multiple features only if it is connected with third-party apps, which complicates the whole process.
Winner: Wix offers more apps than Squarespace that benefit your website, such as auto-playing videos, building landing pages, auto-saving pages, and more.
E-commerce Comparison
Both Wix plan options and Squarespace plan options have e-commerce plans and builders. Both cover the basics, including inventory management, discounts, taxes, and product variations [3].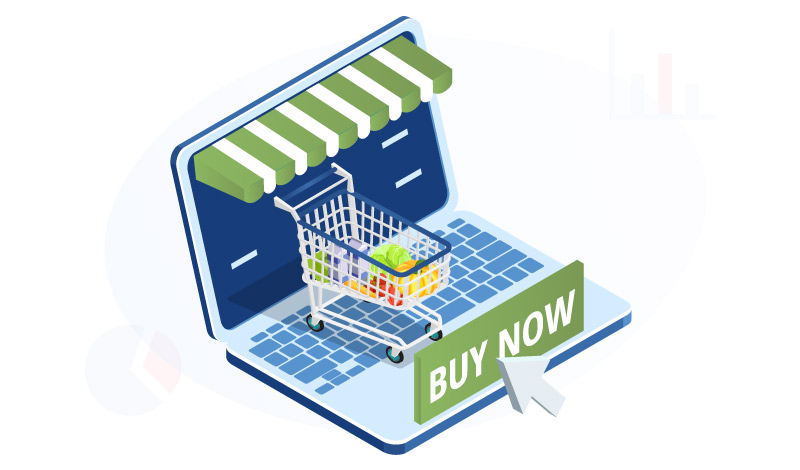 Wix
Wix offers e-commerce features, including digital products, custom email receipts, POS systems, automated cart recovery, recurring payments, gift card options, stock notifications, and more, which makes it an all-encompassing tool.
Squarespace
Squarespace offers all the same features but is a bit more sophisticated.
For example, Squarespace allows you to add sophisticated forms to products to ask for additional information when the customer is checking out, such as phone numbers and file uploads. However, this doesn't mean their features are very reliable.
Squarespace's inventory management, tax settings, shipping, and product editor are better than what Wix offers.
Winner: While Squarespace offers the ability to get more information from the customer, Wix is the winner here for their more simple and uncomplicated approach and 100% reliable features.
Blogging Comparison
Both Wix and Squarespace offer basic blogging tools, including categories, tagging, drafts, comments, SEO tools, user roles, RSS feeds, social sharing, and more [4].
Wix
Wix offers all the tools needed for search engine optimization to help rank on browsers, Wix ads for social media, marketing tools, etc.
It also comes with different user roles and social sharing options. However, Wix focuses on the basics and doesn't offer advanced features for your Wix website.
Squarespace
Blogging Squarespace goes a step further beyond basic blogging features such as giving you the ability to have multiple authors on one post, setting separate social media images when you share on social media, allowing you to add an Instagram feed, newsletter forms, scrolling, event tickets, and more. It is very interactive, appealing, and easy to use.
Winner: Squarespace offers more useful tools for blogging, from multiple authors to social media images and more, making it a modern solution.
Mobile App Comparison
Both Wix and Squarespace offer mobile apps that allow you to connect to Google Analytics for both Apple and Android devices. 
Wix
The Wix mobile app allows you to view reports and analytics, live chat, build and send email campaigns, build and share social media posts, manage your blog, and manage Wix bookings and your storefront online [5].
The app is easy to use and allows you to sort things out through your mobile phone, hassle-free.
Squarespace
The Squarespace app allows you to build content, accept online payments for your store, and more. You can edit your whole website, add products, check analytics, check inventory, and add SEO descriptions.
Winner: Wix has a bit more of a user-friendly mobile app that allows you to manage almost anything you need via the app.
Security Comparison
Both Squarespace and Wix offer excellent security and maintenance features. 
These platforms offer pretty much the same security features, and these are the most important ones:
SSL Certificates

: Domains connected with Wix or Squarespace are automatically protected with free SSL certificates. 

PCI DSS Compliance

: PCI compliance refers to a set of security standards businesses use to secure customer data. Both Wix and Squarespace are compatible with the highest PCI standards [

6

].

Development Process

: Both Squarespace and Wix follow all security best practices during development.

Third-party Security

: Wix and Squarespace have strict policies and programs to ensure no third-party app or app update with safety threats is published.

Security Monitoring

: Both platforms monitor all sites to catch security attacks during and after website building.

Bug Bounty Program

: Both Squarespace & Wix minimize the risk of fraud and hacking by having a bug bounty program. They pay independent security researchers a bounty for finding and reporting bugs during website building.
Winner: Although both platforms offer pretty much the same features, Wix takes the edge because it is considered to be a more secure solution.
Pricing Comparison
Wix
Combo ($16 per month):

 Includes a free custom domain, a free domain for a year, a free SSL certificate, 2GB of storage space, 30 minutes of video hours, and 24/7 customer support.

Unlimited ($22 per month):

Includes everything from the previous plan plus 5 GB of storage space, 1 video hour, a Google Ads budget for your Wix business website, a site booster app from the Wix app market, and a user analytics app. 

Pro ($27 per month):

Includes everything from the previous two plans plus 50 GB of storage 

space, 2 video hours, a calendar app, a professional logo, and social media logo.

VIP ($45 per month):

Includes everything from the previous plans plus priority customer care, 5 video hours, and 100 GB of storage space.
Wix only offers paid plans and does not offer a free plan or trial.
Squarespace
Personal ($16 per month):

 Includes SEO features, unlimited bandwidth, 30 minutes of video storage, 24/7 support, a drag-and-drop editor, basic website metrics, SSL certificates, Squarespace extensions, and two contributors.

Business ($23 per month):

Includes everything from the previous package plus unlimited contributors, a professional email from Google, complete customization with CSS, promotional banners, more features fully integrated for e-commerce, and more.

Commerce Basic ($27 per month):

Includes everything from the previous plans plus a POS system, product reviews, customer accounts, advanced merchandising features, the ability to sell on Facebook and Instagram, and limited availability labels.

Commerce Advanced ($49 per month):

Includes everything from the previous plans plus for Squarespace users plus abandoned cart recovery, sell subscriptions, advanced shipping and discounts, and commerce APIs.
Squarespace only offers paid plans but does offer a 14-day free trial.
Winner: Wix and Squarespace's prices are similar; however, Wix offers more useful features for website builders, such as Google Ads, video hours, and a site booster, and its plans are priced better for value.
Wix Vs. Squarespace: Which Is Better?
 Wix and Squarespace are great website-building tools, and both have their pros and cons.
If you want a more customizable editor and website builder, basic blogging features, basic e-commerce features, lots of templates, and more, Wix is a better option for you.
However, if you want a more structured editor that provides more up-to-date templates, a more user-friendly app, more in-depth e-commerce options, and more, then choose Squarespace. You can also check other Squarespace alternatives.  
We recommend Wix as our top pick. Their highly customizable editor, affordable prices, free custom domains, ability to build landing pages, and more makes them an ideal choice for anyone building a website.
Our #1 Recommendation: WIX