Navigating through the myriad of Squarespace alternatives can be a daunting task. 
As an expert in website builders, I have dedicated time to exploring and evaluating numerous alternatives to Squarespace. 
My journey has involved in-depth testing, side-by-side comparisons, and uncovering valuable insights. I have invested the time and effort so you can make an informed decision without hassle.
This article will take you through the best Squarespace alternatives available. 
Best Squarespace Alternatives 
1. Wix
Wix is a great Squarespace alternative providing the tools and infrastructure to build and scale your online presence confidently.
It offers lightning-fast web performance, enterprise-grade security, and reliable infrastructure, ensuring your website is always running smoothly.
My experience with Wix has been exceptional. It has helped me create professional, functional, and visually appealing websites without requiring extensive technical expertise. Wix has one of the strongest website builders available. 
It was incredibly convenient for me to track and optimize my website's SEO performance. The platform provides intuitive SEO tools and analytics, allowing me to monitor keyword rankings, analyze website traffic, and make data-driven decisions to improve search engine visibility. 
However, you can't switch your template once you've published your site without starting from scratch, which can be frustrating. 
Pros
Strong business features

Modern templates

Terrific versatility

A great app store
Cons
Some options require expertise
Our Rating
Features: 4.9
Customer support: 4.8
Pricing: 4.8
---
2. GoDaddy
GoDaddy offers various solutions to meet online needs. With services encompassing domain name registration, website building, WordPress site hosting, SSL security, and professional email, GoDaddy provides a one-stop solution for individuals and businesses.
As someone who has personally relied on GoDaddy for two years, I vouch for its exceptional reliability and effectiveness in acquiring Second Level Domains (SLDs) and accessing a vast array of domain extensions. 
Throughout my experience, the GoDaddy website has consistently impressed me with its user-friendly platform, making the domain purchasing process seamless and hassle-free.
The added benefit of promo codes has been a delightful surprise, allowing me to enjoy substantial cost savings. 
GoDaddy has undoubtedly exceeded my expectations regarding professionalism and cost-efficiency, making it my go-to choice for all domain-related needs.
Godaddy's biggest disadvantage is that its digital product renewal pricing is high.
GoDaddy offers a comprehensive suite of domain registration and web hosting solutions, making it a reliable choice for individuals and businesses looking to establish a strong online presence.
– John Smith – Senior Web Developer at Cloudcookie
Pros
Easy-to-use site builder tool

99.9% uptime guarantee

Free domain registration for the first term
Cons
No free site transfer
Our Rating
Features: 4.8
Customer support: 4.7
Pricing: 4.7
User-friendliness: 4.8
---
3. Weebly
Weebly is a versatile platform combining web design and hosting to create a website, blog, or online store easily. It caters to many users, including individuals, freelancers, start-ups, small business owners, and nonprofits. 
Its user-friendly approach sets it apart, allowing users to design and customize their websites through a simple drag-and-drop editor. You don't need coding or web design expertise to create a stunning website with Weebly. 
I began using Weebly in 2010. Without any experience in web design, I have created and maintained a website that looks and functions great. I often get comments about how good my site looks and how easy it is to use. I can add images I create, link to other sites, and include widgets, which shows how amazing their website builder is.
However, phone support is only available on the Professional plan and above, which is not very good for users just figuring things out.
Pros
No programming skills required

Free SSL security

Offers e-commerce features
Cons
Phone support only available on the Professional plan and above
Our Rating
Features: 4.7
Customer support: 4.5
Pricing: 4.7
User-friendliness: 4.6
---
4. HostGator
HostGator is a powerful website-building software that offers a range of hosting options, including shared, WordPress, dedicated, and VPS hosting. It's a one-stop solution for businesses looking to create websites, online stores, and portfolios. 
What's great about HostGator is that it puts the power in your hands, allowing you to easily register domains and securely store files easily, thanks to its adherence to secure sockets layer (SSL) protocols [1].
Using HostGator, I could bypass the need for professional web developers. This not only saved me significant costs but also gave me the freedom to make edits to published content whenever I wanted. 
I didn't have to rely on third-party technical experts to make changes. It was empowering to have full control over my website, making the process much more efficient. 
Although their shared hosting is fine, their cloud hosting prices are too high for a starter. Also, their prices change when you renew the hosting. 
Pros
Free Migration

Speedy shared hosting plans

45-day money-back guarantee
Cons
Underpowered VPS and dedicated hosting plans
Our Rating
Features: 4.6
Customer support: 4.4
Pricing: 4.5
User-friendliness: 4.5
---
5. Shopify
Shopify is an exceptional commerce platform that empowers individuals to effortlessly sell online through an online store, a physical retail location, or anywhere in between. 
It provides a professional online storefront, a secure payment solution to accept credit cards, and a user-friendly Shopify POS application for retail sales.
Also, it offers a wide range of integrated tools and apps that help businesses manage inventory, track sales and growth, automate marketing campaigns, and provide exceptional customer support. 
With Shopify, entrepreneurs can focus on their core business while leveraging the platform's scalability and flexibility to adapt to evolving market needs.  
I can attest to the exceptional experience of bringing my business into the digital world with Shopify. The step-by-step instructions and comprehensive knowledge bases made the process remarkably straightforward and stress-free. 
I was pleasantly surprised by how everything I needed was conveniently provided under one unified platform. 
My only problem is that it does not help with product marketing. All the store fees, processing, and transaction fees will add up and get expensive quickly. 
Pros
6,000+ app integrations

Powerful eCommerce features

Great internationalization options
Cons
A limited number of free themes
Our Rating
Features: 4.5
Customer support: 4.2
Pricing: 4.4
User-friendliness: 4.3
---
6. Webflow
This platform combines two powerful site-building tools, a comprehensive template library, and even eCommerce capabilities in one convenient place.
One of the standout features of Webflow is its intricate editing tools, which are tailored for design-savvy professionals, freelancers, and agencies. 
Whether building a website for yourself or working on projects for a diverse range of clients, Webflow provides the flexibility and customization options you need to bring your creative vision to life.
One of the things that impressed me was its continuous dedication to improvement. They regularly enhance their software, introducing fantastic new features that expedite deployment and improve the overall user experience on the backend. 
It's incredible how responsive they are to customer feedback, swiftly addressing any support issues that may arise. 
Yet, I didn't like that some fairly basic features, such as modifying the publishing date on a CMS post, are missing.
Pros
Wide range of templates

No transaction fee on certain plans

Easy learning curve
Cons
Cannot connect a custom domain name
Our Rating
Features: 4.4
Customer support: 4.1
Pricing: 4.2
User-friendliness: 4.2
---
7. WordPress
WordPress offers comprehensive tools for designing visually appealing sites, tracking visitor activity, managing content, and more. With WordPress, users can quickly set up a blog, website, or both, using just an email address.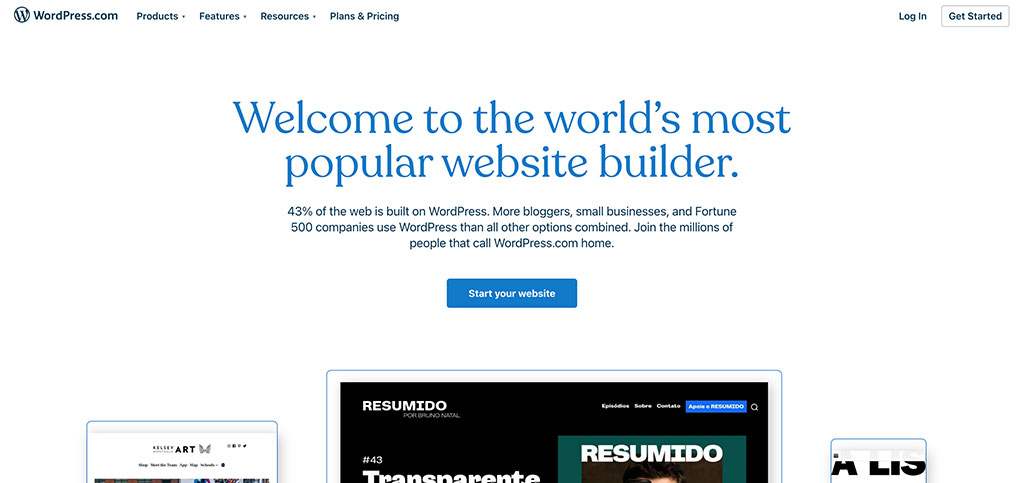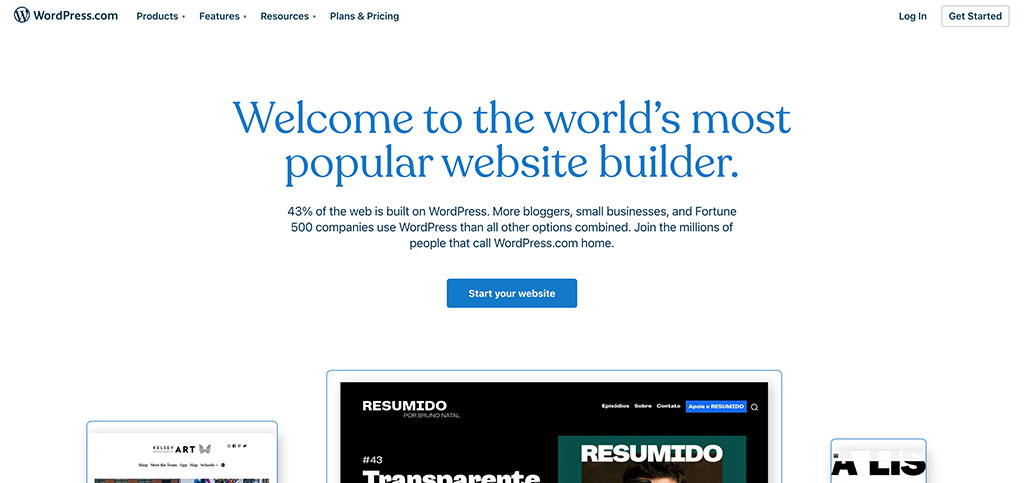 Using WordPress to design and manage websites, especially those requiring content management has truly been a game-changer for me.
It has significantly reduced the stress and time associated with coding, allowing me to focus more on creating engaging content and providing a seamless user experience [2]. 
What impresses me the most about WordPress is its effortless installation process and the ability to customize every aspect of a website. 
The intuitive interface and vast library of plugins make enhancing functionality and integrating with various tools and services incredibly easy. You can check how WordPress compares to Squarespace in our article.
From social media integration to e-commerce solutions, WordPress offers limitless possibilities for expanding the capabilities of your website.
One area where WordPress falls short is in its customer support. While a massive community of users and developers creates resources and answers questions, official support is only available for paying customers. 
Pros
Free content management system

Add nearly any feature with third-party plugins

Thousands of themes to choose from
Cons
Potential plugin conflicts cause sites to break easily.
Our Rating
Features: 4.3
Customer support: 4.0
Pricing: 4.1
User-friendliness: 4.1
---
8. Duda
Duda is one of the leading website-building platforms designed specifically to support scalable growth. 
With its robust suite of automation, collaboration, and design-rich tools, Duda empowers agencies and web professionals to create and manage stunning, responsive websites for clients in half the time.
Its intuitive interface and powerful features allow us to efficiently bring our client's visions to life without compromising quality.
What truly sets Duda apart is the unparalleled flexibility it provides. The availability of API access and white labeling features allows us to make customizations that elevate our client's online presence. 
Additionally, the exceptional customer support we receive further solidifies our confidence in Duda's capabilities.
I've found that Duda doesn't offer as many region-specific apps and features as it does for its American audience. This can occasionally limit the platform's functionality and customization options, especially for businesses catering to local markets. 
Pros
SEO-optimized pages

Good scalability

Unlimited bandwidth and storage
Cons
Email-only support
Our Rating
Features: 4.1
Customer support: 3.9
Pricing: 4.1
User-friendliness: 4.2
---
9. Strikingly
Strikingly is a platform that allows you to build a stunning and mobile-optimized website effortlessly. 
The platform offers a seamless experience where you can customize every aspect of your site according to your preferences. 
Alternatively, if you're looking for a quick and hassle-free option, you can choose from a wide range of eye-catching templates and easily import your information from LinkedIn. Within minutes, you'll have a polished website ready to be published.
From my experience, Strikingly combines simplicity, versatility, and aesthetic appeal seamlessly. It offers a user-friendly interface, which has empowered me to create impressive websites without the need for extensive technical knowledge. 
With Strikingly, I managed to showcase my online presence and make a lasting impression in today's digital landscape. 
However, the website builder and editor sometimes get "stuck" when I make changes, so I have to reload the entire page, which is frustrating.
Pros
High value for the cost

Thoughtfully designed templates

Lets you switch templates without rebuilding your site
Cons
Widgets are confusing
Our Rating
Features: 3.9
Customer support: 3.8
Pricing: 4.0
User-friendliness: 4.1
---
10. BigCommerce
BigCommerce is truly a unique all-in-one SaaS e-commerce platform that caters to the needs of both growing and established online businesses.
Its powerful features and user-friendly interface make it ideal for anyone looking for a robust e-commerce site solution.
Having designed multiple online stores using Bigcommerce, it exceeded my expectations. The platform offers an impressive array of industry-leading templates to drive conversions and boost sales. 
Whether starting from scratch or migrating from an existing platform, Bigcommerce's easy-to-use store and website builder simplifies the process, allowing you to create a professional online store effortlessly.
I didn't like that you must go into many different tabs to view the customers' information. I wish they had just put it all on one screen to view simultaneously.
Pros
Drag-and-drop website builder

Strong reporting functionality

Well-rounded entry-level plan
Cons
A limited number of free themes included
Our Rating
Features: 3.7
Customer support: 3.6
Pricing: 3.9
User-friendliness: 4.0
---
Buyer's Guide 
When exploring alternatives to Squarespace, it's essential to consider various factors to find the best product or service that aligns with your needs. Here are some key points to keep in mind during your search:
1. Features
Each alternative platform offers its unique set of features. Look for alternatives that provide customizable design options, strong website builders, and integrated tools to enhance your website's functionality.
2. Ease Of Use
Evaluate how user-friendly the alternative platforms are regarding the initial setup and ongoing use.
Opt for platforms with intuitive interfaces and streamlined workflows that simplify the website building and management process, allowing you to focus more on your business and less on technical complexities.
3. Pricing
Determine your budget and compare the pricing structures of different Squarespace alternatives. Some platforms offer tiered pricing plans, while others may provide a free version with limited features.
Be sure to understand the pricing details, including any additional costs or restrictions that may apply. If pricing is a big factor you can check our Squarespace and Drupal comparison.
4. Customer Support
Consider the level of customer support provided by each alternative platform. Look for platforms that offer reliable support channels, such as email or chat support, comprehensive documentation, and active online communities or forums.
Responsive customer support can be invaluable when encountering technical challenges or having questions about using the platform effectively.
By carefully considering these factors, you can confidently evaluate and choose a Squarespace alternative that best suits your website-building requirements and helps you achieve your online goals.
FAQs 
Can A Squarespace Website Rank On Google? 
Yes, a Squarespace website can rank on Google. Squarespace provides the tools and features to optimize your website for search engines, such as customizable meta tags, mobile-friendly designs, great website builders, and built-in SEO settings.  
Is Squarespace Good For SEO?
Yes, Squarespace is good for SEO. The platform offers built-in SEO tools that allow you to optimize various aspects of your website, including page titles, meta descriptions, URLs, and image alt tags. 
Is Squarespace Not Free Anymore?
Yes, Squarespace is not free. Their cheapest plan is the Personal, and it costs $16/month on an annual term.
What Is The Best Squarespace Alternative For You?
Each platform has unique strengths, and the best choice ultimately depends on your specific needs.
However, having tested and compared all these platforms, I recommend Wix as the top Squarespace alternative. 
It stands out from the rest with an impressive feature set, user-friendly design, great customer support, and competitive pricing. 
Many users attest to its effectiveness in building professional websites with ease. So, if you want to get the best Squarespace alternative, go for Wix.
Our #1 Recommendation: WIX