We're living in a time where, with the right strategies, businesses, personalities, and influencers can exponentially increase their reach.
One of the best ways to do this is using platforms that drive mega traffic, like YouTube. If you're thinking about using this platform to get your brand out there – whatever it may be – then you're on the right track.
We've analyzed the latest, most important statistics to help you gauge just how effective this platform is.
These stats will also give you a good idea of how YouTube can be used to boost your following and its benefits.
Top YouTube Statistics
1. YouTube is the second most visited website in the world, with 35.1 billion visits in July 2022.
2. T-Series, an Indian music network, is a popular YouTube channel with the most subscribers worldwide as of July 2022, with 220 million users.
3. In April 2022, India had the most YouTube users, with approximately 467 million users.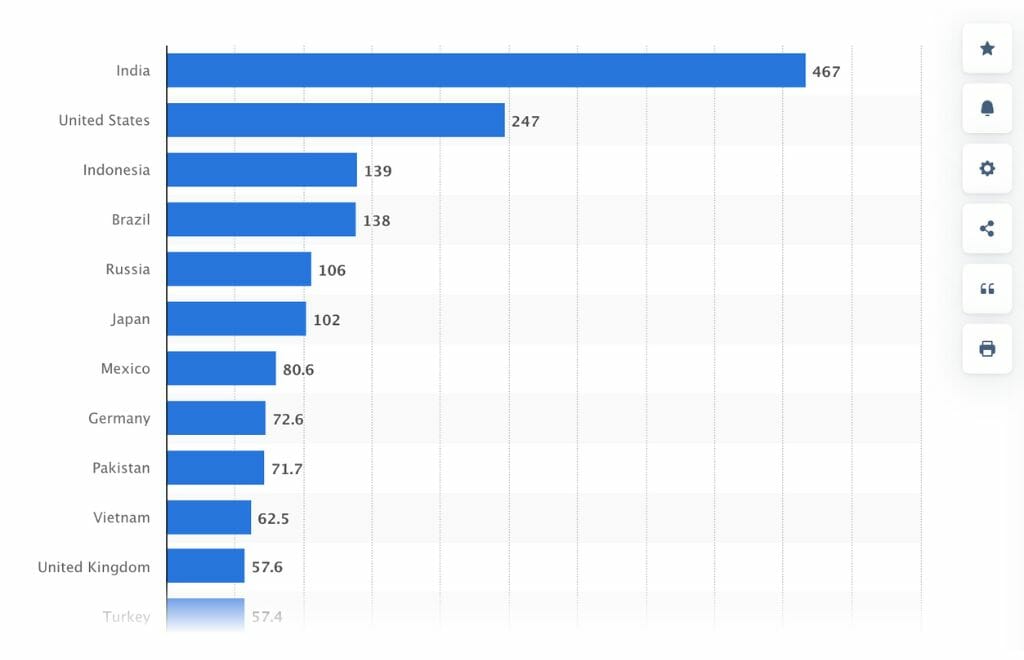 4. The US has the second most YouTube users in the world, with 247 million YouTube viewers.
5. YouTube's algorithm accounts for 70% of what people watch on the platform.
6. As of 2020, 500 hours of content are uploaded to YouTube every minute, an estimated 30,000 hours of content each hour.
7. Users are 23 times more likely to visit or subscribe to a brand's channel if they watch at least 30 seconds of a YouTube ad.
8. 694,000 hours of video content are streamed on YouTube every minute, according to Statista.
YouTube User Statistics
9. 62% of US internet users visit YouTube daily
10. YouTube Premium has around 20 million paying subscribers.
11. 40.9% watch YouTube on their mobile devices.
12. In 2021, YouTube had a user base of 2,24 billion users around the world. According to Statista, the current growth trend shows that the number of YouTube users worldwide is predicted to grow to 2.85 billion users by 2025.
13. In the last quarter of 2021, the YouTube app for mobiles had 866 million monthly active users on iPhones and iPads. And 23.76 million YouTube mobile app users on Android worldwide.
14. According to Statista, as of April 2022, approximately 53.9 percent of YouTube users were male and 46 percent of female users.
15. The 18-25 year age category accounts for 81% of YouTube visitors, and the second highest age category is 26-35 years old, with 71% of visitors (Global Media Insight)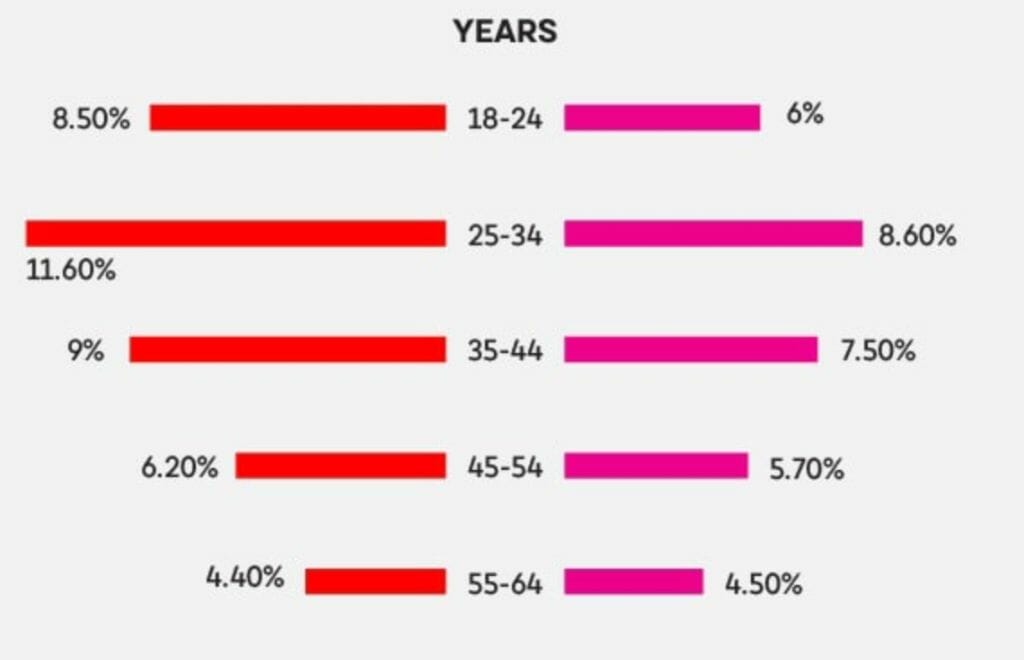 16. In 2021, users spent an average of 18 minutes on YouTube daily, browsing roughly 8 different pages.
17. YouTube is the second most popular search engine, following Google.
YouTube Video Statistics
18. The Baby Shark Dance song by Pinkfong is the most viewed kids' YouTube video of all time with 10.06 billion views to date.
19. "Despacito" by Luis Fonsi (feat. Daddy Yankee) with 7.7 billion views is the second most viewed YouTube video, and "Johny Johny Yes Papa" by LooLoo Kids is the third most viewed video on YouTube with 6.1 billion views. (Lifestyle Asia)
20. According to Brand Watch, 81% of parents in the US use YouTube to find entertainment and educational content for their kids.
21. Over 70% of those who watch videos on YouTube use mobile devices.
22. In 2019, there was a 39% increase in YouTube viewing from TV screens.
23. YouTube is the second most favorite platform for millennials to access online video content – with Netflix being the first.
YouTube Channel Statistics
24. YouTubers can make between $3 – $5 per 1,000 video views globally.
25. According to YouTube Press, the number of channels earning six figures from their content creation on YouTube grows by 40% year on year.
26. 85% of Generation Z have posted video content. (YouTube Trends)
27. According to the YouTube Culture & Trends Report 2022, 78% of YouTube users use the platform because it gives them access to content they can relate to.
28. 69% of Generation Z YouTube users agree that they often return to creators or content that comforts them. (YouTube Trends)
29. According to YouTube Statistics, YouTube has more than 51 million active channels as of 2022.
30. The most popular brand channel on YouTube is Lego with 11.5 million subscribers in January 2022.
YouTube Ad Statistics (And Marketing)
31. In the second quarter of 2022, YouTube's worldwide advertising revenues were 7.34 billion U.S. dollars.
32. 70% of viewers purchased a brand after they saw it on YouTube
33. According to Statista, in March 2021, Facebook's link shim l.facebook.com directed a large amount of traffic to YouTube, leading to around 40 million visits. YouTube's URL link shortener, known as youtu.be, led to more than 33 million visits per month.
34. According to Think with Google, TrueView ads are 10 times more likely to prompt viewers to take action than they would on their own.
35. According to Think with Google, paid YouTube mobile advertising is 84% more likely to grab viewers' interest than TV advertising.
36. Pre-roll skippable YouTube video ads are thought to be the more effective form of advertising using YouTube by 29% of marketers. (Statista)
37. 55% of marketers utilize YouTube. (Social Media Examiner)
38. YouTube was ranked the fifth most used social media platform for marketers as of 2020.
39. Hyundai's x BTS | For the Earth ad was the most popular YouTube ad worldwide in 2021.
40. 70% of marketers agree that YouTube is essential for influencer marketing strategies. (Sprout Social)
41. YouTube viewers are 50% less likely to skip ads compared to television viewers, who are 2 times more likely to skip ads.
YouTube for Business Statistics
42. According to Oberlo, 90% of digital US consumers use YouTube.
43. Only 9% of small businesses have a YouTube channel
44. 62% of businesses have been shown to use YouTube as a channel to post video content.
45. In 2021, YouTube generated a revenue of $28.8 billion and continues a 46% year-on-year increase. (Business of Apps)
46. YouTube Advertisers find that Awareness formats drive 28% of their conversion assists. (Think with Google)
47. A custom Nielsen meta-analysis revealed that full-funnel YouTube strategies drive 10% more ROI compared to awareness advertising on its own. (Think with Google)
48. In 2020, YouTube's advertising revenue in the third quarter was $5.04 billion – a 32% year-over-year increase. (Statista)
Why Businesses Should Use YouTube
1. YouTube Has a Massive Amount of Traffic to Tap Into
YouTube is a well-known platform with billions of viewers. And it's estimated that around 250 million hours of video content is watched on YouTube daily. This goes to show how huge your potential target audience is.
And apart from being the second most popular search engine, YouTube has over 3 billion searches a month.
YouTube has a ton of traffic available for you to tap into. With such a high amount of users, there's traffic suitable for almost anyone's business or brand.
The benefit of this is that YouTube is for all ages, and even kids watch YouTube. In fact, as of 2021 YouTube Kids has had 35 million weekly users worldwide.
So as the stats show, your target audience is already present. You just need to target and hone them in by sharing content that offers a solution or sparks their interest.
You can create a YouTube channel for your business to post brand-related content like tutorials and commercials. And you can do this within your budget.
2. Marketing on YouTube Boosts Your SEO
Google doesn't only consider text-only pages for ranking. Videos are also appearing in Google's search results.
When you write a high-quality written piece on your business website and create a great video on the same topic, you can potentially double up on your traffic.
The huge benefit of using YouTube for your videos is that it's really well-known with existing traffic.
But also, creating YouTube videos for your business increases your site's credibility, according to Google. This also means a higher ranking and more traffic.
SEO
is vital for the success of any online business today. And not using YouTube can affect the potential for your business's website to rank well.
Did you know that linking your domain name and your YouTube channel name increases your authority because YouTube then sees you as the official representation of your business brand?
3. YouTube Allows You to Repurpose Your Content
The concept of repurposing content means taking one form of content you've already created and creating different forms of content from that.
For example, you have a how-to-tutorial blog post, and you turn it into a video to post on YouTube.
You can work on repurposing tons of content by using them in videos for your YouTube business channel.
This way, you get to keep your content forever and save time by using high-quality content that you already have to boost your YouTube channel.
4. Gain a Global Audience
YouTube is available in over 100 countries, which means you can reach a global audience. It is also available in 80 different languages.
Starting a YouTube channel for your business means you get access to this already existing international traffic.
This also allows you to explore various avenues within your business to sell. You can cater to any market with many niches and audiences available on the platform.
5. Use YouTube to Build Your Email List
Providing high-quality, engaging, free content is one of the most used methods to collect people's email addresses today.
By posting great content on your business YouTube channel and driving your audience to a lead-magnet.
You can use software to embed 'pop-ups' to your YouTube videos to drive people to your landing page and collect email addresses.
This helps to increase your email marketing list by converting your traffic into leads. This is a key method to succeeding as an online business today
6.  You Can Target Your Audience with AdWords for Video
You can get Google AdWords for Video to boost your ability to reach your target audience.
This means your ads will be displayed to users who, according to algorithms, will be more likely to find your ad appealing to them.
You will likely gain more leads by refining your target audience and addressing them directly.
Google AdWords charges you for each engaged view. In their terms, an engaged view is considered when a viewer watches your ad for 30 seconds or more.
7. You Can Gain Important Insight Using YouTube Analytics
YouTube offers all the tools you need to monitor the progress of your channel, including:
The ranking of your videos according to your views
Access to your video's performance in real-time
Insight into the ways that different people find your channel
Metrics to help you monitor your channel like impressions, views, click-throughs, and unique viewers
The length of time your viewers are spending watching your videos.
These insights help you to see what works and what may need to be improved to convert viewers into customers, through better engagement.
8. A Video Sells a Brand Better Than Text Does
Videos have been shown to help viewers retain 95% of the message, which is much higher than the 10% message retention when reading text.
This is a massive motivator for businesses to move towards video content for marketing. And what better place to do this than the video platform giant, YouTube?
It is also known that videos can connect with viewers' emotions because of the added elements like music and special effects.
This not only makes videos more engaging as a means of advertising, but it also makes them more relatable to viewers.
And when viewers connect with your brand, they are much more likely to purchase your products.
In fact, KISSmetrics reported that videos with CTAs (calls-to-action) generate 380% more clicks than other CTAs.
And while video content takes a lot more time and skill to create and needs to be published frequently, it's worth it in the long run due to its success rates.
Concluding Thoughts
There's no denying that YouTube is a powerhouse platform for anyone to get their message out there.
Whether you want to create your own channel to share your passion or create a business channel to drive traffic and sales, YouTube is the place to do that.
With a little bit of investing in various strategies, you can harness YouTube's massive popularity to monetize your brand and reach a global audience.
Using YouTube is also a massive SEO advantage for any website. It's definitely something to consider if you want to be very successful.