Video conferencing platforms have been improving rapidly over the years. Video call apps now have a full range of tools to make you feel like you are in the room with anyone you talk to, no matter where they are. A video conferencing tool can be essential to a business's ability to perform quality video calls. 
We have spent months using both tools to determine which offers better features. In this article, we will give your business tips on choosing the best video conferencing and compare the features of Zoom and GoTo Meeting so you can find the best fit for your business.
Quick Summary
Zoom is among the most popular video conferencing software options in the industry, with a variety of tools for communication.

GoTo Meeting is another popular video conferencing tool that allows versatile business communications with screen sharing, HD video, and more.

Zoom and GoTo Meeting offer several common features, including breakout rooms, HD video, text chat in video calls, mobile apps, and more.
What Is Zoom?
Zoom is among the most popular video conferencing solutions in the industry. For small businesses and home use, Zoom's Basic Plan is free but has a limit of a 40-minute Zoom meeting with up to 100 attendees [1].
Zoom offers a variety of tools for unified communications throughout your business, such as call forwarding, HD video quality, a feature called Zoom Rooms, dedicated phone support, advanced features, and more.
What Is GoTo Meeting?
GoTo Meeting is a popular video conferencing solution that provides businesses with versatility. GoTo Meeting has useful features such as screen sharing, HD video, SSL encryption, and more. It also offers a free plan that includes a 40-minute time limit [2].
Zoom Vs. GoTo Meeting Similarities
Zoom and GoTo Meeting both offer the following:
HD video

Text chat on video calls

Q&A and raise hand function

Direct sharing of computer audio

Mobile apps to access meetings on the go

Virtual backgrounds for a video meeting

Dial in features

Great meeting security features

Dedicated breakout rooms
Where Zoom And GoTo Meeting Differ
While they do have some similarities, Zoom and GoTo Meeting also have several differences.
Zoom Offers Better Audio And Video
Zoom has invested in its infrastructure and software to give customers consistent audio and video-on-video Zoom meetings even with a patchy network connection. They also offer settings that can improve your video quality even more. You can adjust Zoom to low lighting conditions or use Zoom's Touch up my appearance setting.
They also offer many audio settings, including background noise suppression, recording tools, etc. GoTo Meeting does have high-quality audio, but it can struggle on slow networks, affecting video quality.
GoTo Meeting Offers Unlimited Cloud Recording
GoTo Meeting offers saved cloud recordings if you subscribe to their business and enterprise plans. They will transcribe your audio to search for the part of the meeting you are looking for. You can also view stats and download or share the meeting with anyone. You can store unlimited meetings with unlimited storage.
Zoom also offers cloud storage; however, they only provide 5GB of storage with the Zoom business plan or pro plan and 10GB if you choose the business plus plan. Considering Zoom's pricing, GoTo Meeting offers more storage at a lower price point. You can store all your recorded meetings on the cloud storage for a year, starting at $19 per month. There is no limit to how many meetings you can store.
Zoom Offers Better Screen Sharing And Whiteboards
Zoom's whiteboard is simple to use. It allows you to add text, shapes, and sticky notes. They even have templates to allow you to quickly collaborate [3].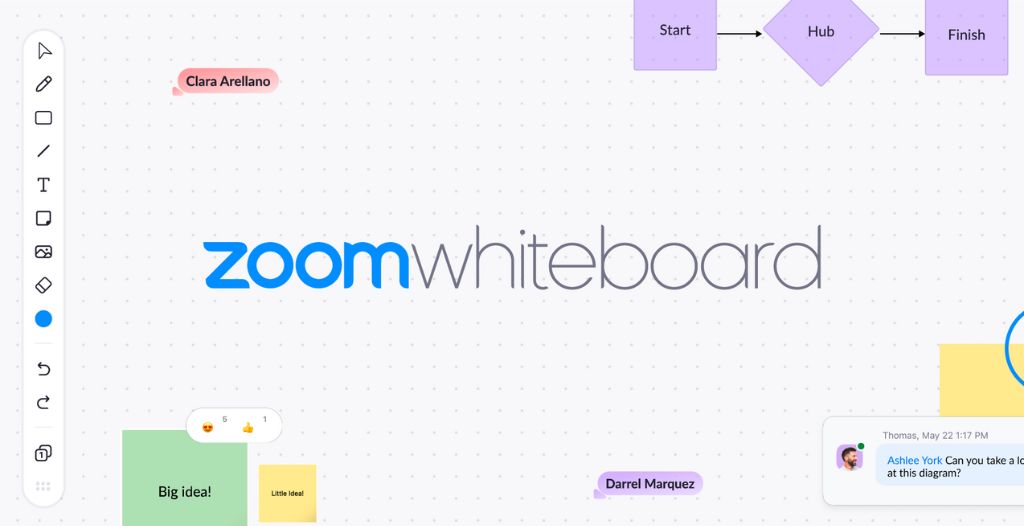 When it comes to screen sharing, Zoom is very flexible. In addition to sharing your screen with Zoom software, you can also: 
Crop and share only part of the screen

Choose which application to stream

Stream your phone's screen in a basic Zoom call

Play a video

Plug in content from a second camera

Use a PowerPoint presentation as a virtual background

Share files
GoTo Meeting offers more limited options. Their whiteboard is more challenging to access, and you have to click to pop out the window to see drawing tools, and there aren't many tools to use. It offers all the common screen-sharing features and the ability to share computer audio…
The ability to bring people together visually and capture participants' facial expressions and gestures adds a completely new dimension to the conversation and creates a more satisfying communication experience.
– Dennis Matz, Senior Manager of Network and Infrastructure, Nutrisystem
Zoom Offers Better Integration
Zoom lets you browse and access connected apps while on a call. You can link to fun icebreakers, Hubspot CRM, Miro Boards, Google Calendar, Zapier, Microsoft Teams, Calendly, MailChip, and more. This can keep small businesses interconnected with apps they already use.
GoTo Meeting integrates with several apps such as Slack, Google Calendar, Calendly, Zapier, MailChimp, etc.; however, you can't access apps during video meetings like with Zoom.
Pricing Is Mostly Comparable 
GoTo Meeting's pricing has four tiers:
Free Plan:

Up to three participants, 40-minute time limit, live chat, and other essential meeting tools

Pro:

Up to 150 people and dial-in, starts at $14 a month per organizer

Business:

Up to 250 people, unlimited cloud recording, and meeting transcription for $19 a month per organizer

Enterprise Plan

: Unlocks everything, but you'll have to talk to sales to get a custom quote.
They also offer two additional add-ons, including:
Dial In And Call Me

: Automatically place phone calls to meeting attendees when the meeting starts. This is on a pay-as-you-go basis for the Pro plan and $5 per month per organizer for the Business plan.

Webinar Features:

Starting at $20 per month.
Zoom's pricing has 5 tiers:
Free Plan:

The free version includes up to 100 attendees, a 40-minute time limit, a whiteboard, a team chat, and a calendar.

Pro:

Up to 100 people, 30-hour meetings, added 5GB cloud storage and essential apps, starts at $149 per year per user. 

Business:

Up to 300 people, 30-hour meetings, SSO, and managed domains for $199 per year per user.

Business Plus

: Up to 300 meeting participants and 30 hours, unlimited and regional phone, translated captions, and workspace reservations.
There are also add-ons if you want larger meetings, more cloud storage, audio conferencing, and confection to conference room systems, all at their own prices.
GoTo Meeting is less segmented in its feature offering; however, Zoom's free plan offers more than GoTo Meeting. Among the Zoom alternatives we reviewed, GoTo Meeting emerges as our top choice.
FAQs
Do I Need To Download Zoom To Join A Meeting?
You do not need to download Zoom to attend scheduled meetings. The organizer must have a Zoom account, however.
What Happens If Your Meeting Goes Over 40 Minutes On Zoom?
If you have the free plan and go over 40 minutes once you reach that limit, you will automatically be kicked out of the call unless you have Zoom Business, business plus, or Zoom enterprise which have more extended call limits.
Do I Need To Download Software For GoTo Meeting To Join Meetings?
No. The GoTo Meeting web app is a browser-based version of GoTo Meeting that is run online and doesn't require any downloads to join meetings.
Does GoTo Meeting Have Screen Recording?
Yes, GoTo Meeting does offer screen recording. You just need to hit the record button at the bottom of the control panel. All recorded videos are sent to the cloud. You can also get a link to share the meeting afterward.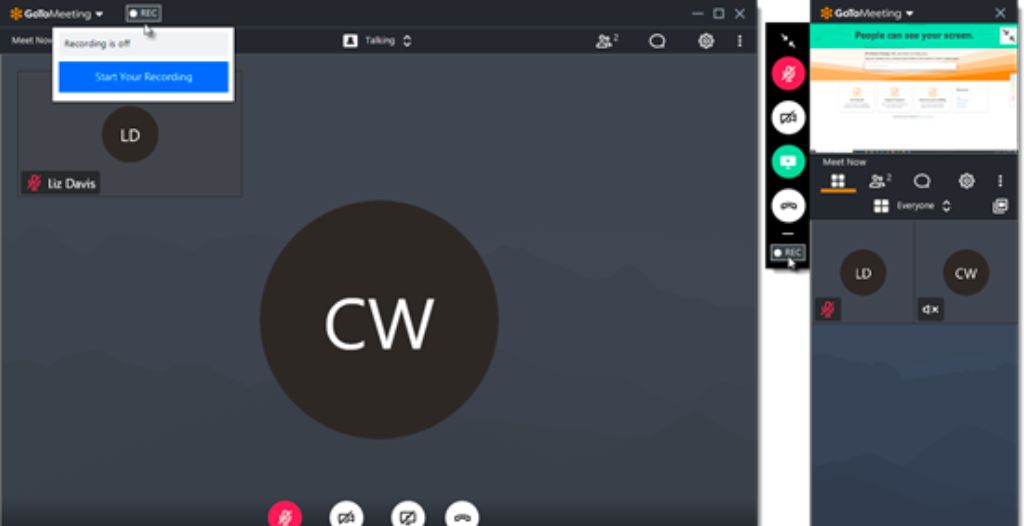 Can I Use GoTo Meeting Without A WiFi Connection?
Yes. You don't always need reliable WiFi to enter calls. You can employ the Call Me feature to dial in or host and attend a GoTo Meeting with the app.
What Is The Best Zoom Package Option?
The best Zoom package option for you depends on your business needs. However, the Business and Enterprise Zoom packages offer the most value for the features.
Where Are Zoom Recordings Stored?
You can find your recorded Zoom meetings on Zoom's website. Click on "recordings" within your account, and your video should either be in "cloud recordings or "local recordings."
Zoom Vs. GoTo Meeting: Which Should You Choose?
Ultimately, the tool you choose depends on your business needs. However, you should choose Zoom if you or attendees have network quality issues, need collaboration features and app integrations in meetings, and your work depends a lot on screen sharing. Choose GoTo Meeting if you want unlimited cloud storage or to have meetings without leveraging productivity or collaboration features.
No matter which tool you choose, you can benefit from enhanced security, high-quality video, file sharing, HD audio, the ability to manage participants, and more.