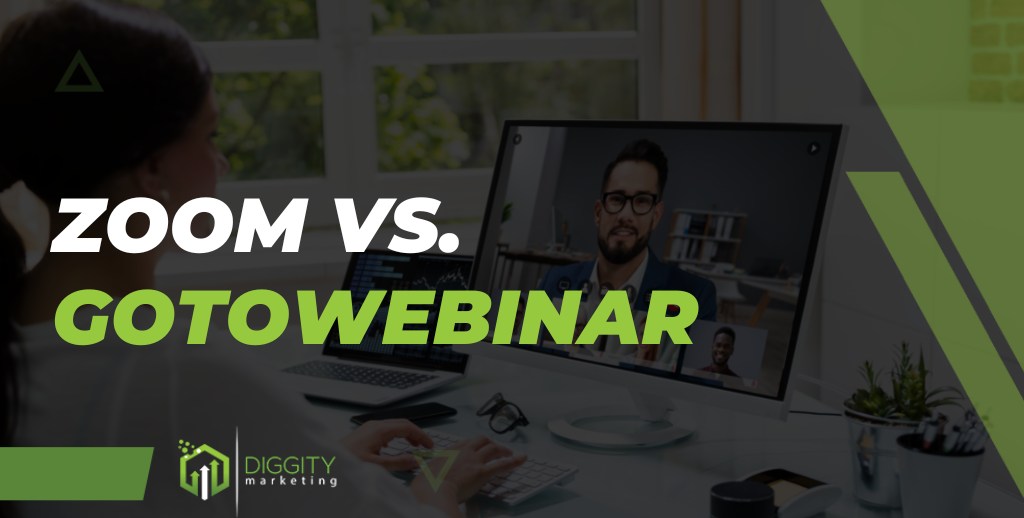 Over the last few years, video conferencing tools have become more vital to business meetings. There are so many video tools to choose from that all have different features and tools for varying sizes of businesses and business needs.
I have spent months using both of these platforms and evaluating their features. In this article, I will compare the features of Zoom and GoTo Webinar so you can select the best webinar software for your business.
Quick Summary
GoTo Webinar is a webinar software that helps businesses and individuals host online events. 

Zoom is a webinar and video conferencing software for online meetings for businesses and individuals.

GoTo Webinar webinar software doesn't offer a free plan, while Zoom has better pricing, including a free base plan and meeting support options.
What Is GoTo Webinar?
GoTo Webinar is a webinar software that helps to host online video events. GoTo Webinar was formed in 2006, and its largest software clients are education and marketing professionals.
Their team has experience in both marketing and sales to help your business reach its goals[1].
What Is Zoom?
Zoom is a videoconferencing and webinar software that facilitates virtual communication. They
were founded in 2011. There are over 7,000 team members that work for the platform, with most having degrees in Business Administration and Sales. Their clients are located in America, Europe, Asia, Africa, and Australia [2].
GoTo Webinar Vs. Zoom Features
GoTo Webinar users can access the software on the web or through a mobile app. Zoom can also be used on mobile, browser, or desktop.
GoTo Webinar users can also ensure the viewers see their brand clearly with a personalized webinar channel. Zoom also offers a customizable registration page for your branding.
GoTo Webinar features engagement tools such as polls, surveys, and an engagement dashboard updated in real-time; however, they don't offer emoji reactions. Zoom helps engagement through chat, polls, Q&As, and emoji reactions.
GoTo Webinar provides event analytic tools but no replay analytical tools. Zoom also offers a useful analytics dashboard but has limited automation functions.
What a new technology does is create new opportunities to help with a job someone wants done.
– Tim O'Reilly, CEO, O' Reilly Media
GoTo Webinar Vs. Zoom: Integration Options
GoTo Webinar offers an API that allows third parties to develop their own integrations. They also connect to Salesforce, Marketo, and more. Zoom also has an API and a dedicated website portal for developers to use and also integrates with Pipedrive, Hubspot, Keap, and more.
GoTo Webinar also provides a public SDK to allow developers to create custom widgets and plugins. Zoom also introduced an SDK in 2021 for the creation of apps and widgets to enhance the video experience of webinars.
All of GoTo Webinar's integration options are presented on their integration marketplace. Clicking on integration will bring you to a tutorial. All of the Zoom apps and integrations are also listed on their app marketplace. 
GoTo Webinar Vs. Zoom: Price
GoTo Webinar doesn't offer a free plan. Zoom offers a free version that limits video and audio meetings to 40 minutes and allows you to host webinars with up to 100 people.
GoTo Webinar offers multiple video plans for webinars, including: 
Lite:

Up to 250 viewers for webinars, and it is $49 a month, billed annually.

Standard:

Up to 500 viewers for webinars which are $99 a month, billed annually.

Pro Plan:

The pro plan includes up to 1,000 user spots, unlimited cloud storage, video sharing, and editing features and is $199 a month, billed annually.

Enterprise Plan

: The enterprise plan includes up to 3,000 participants for webinars, unlimited cloud storage, video sharing, and editing features, and starts at $399 a month, billed annually.
Zoom also offers multiple video plans for webinars, including:
Basic:

40-minute meetings or webinars, up to 100 viewers, whiteboard, team chat, mail, and calendar. The pricing for this plan is free.

Pro:

Up to 30-hour webinars or meetings, 100 participants, everything from the basic plan and 5GB of cloud storage and free premium apps for up to a year. The cost of this plan is $149 per year.

Business:

The business plan includes up to 30-hour webinars with up to 300 attendees, everything from the previous plans, plus SSO and managed domains. This plan is $199 per year.

Business Plus

: Up to 30-hour webinars with 300 attendees, everything from the previous plans, unlimited regional phone, translated captions, and workspace reservation. This plan is $250 per year.
Areas Where Zoom Excels
Zoom offers HD video calling, audio calls, cloud recording, and the ability to record meetings locally. You can track meetings, insights, and attendees with the higher-paid plans.
They also offer some unique features, such as the Touch Up My Appearance feature for webinars that applies a filter to smooth out your skin tone. Zoom also provides advanced screen-sharing features, such as sharing only a part of your screen.
Zoom also excels at call quality and offers some of the most reliable quality in the industry. Their interface is also very efficient and easy to use.
Areas Where Zoom Could Improve
Zoom hasn't always offered the best security, and there have been successful attacks from hackers. However, Zoom is improving and now uses 256-bit TLS encryption, and all shared content in webinars is also encrypted [3]. 
Areas Where GoTo Webinar Excels
The GoTo Webinar platform provides excellent features, including screen sharing, unlimited cloud recording, advanced security and support, and SSO logins. Zoom only offers limited storage of webinars in the browser; if you want extra, you have to pay for it.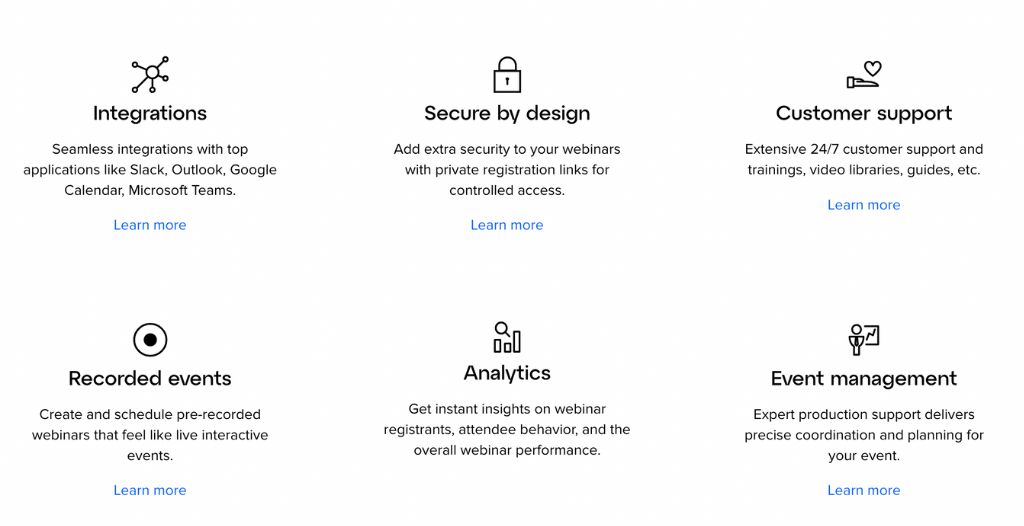 GoTo Webinar doesn't offer image softening like Zoom, but they offer settings such as saturation, sharpness, and gamma for webinars. GoTo Webinar's pricing is also simple, but Zoom offers no free version. 
GoTo Webinar does, however, offer a large number of attendees with the pro plan and enterprise plan for webinars. This can be excellent support for a large company that has virtual events.
Areas Where GoTo Webinar Could Improve
Some features that GoTo Webinar offers for webinars could be improved. 
For example, when hosting live webinars, the presentation tools are clunky when opening and closing tabs. The only way to share a slideshow in webinars is with screen sharing. You also can't see what the attendees are seeing.
GoTo Webinar also offers limited customization options. They have pre-built templates but aren't fully customizable to meet your business needs. GoTo Webinar also has a bit of a learning curve, and it can take time to learn how to use the platform.
FAQs
Do I Have To Download GoTo Webinar To Join A Meeting On The Platform?
No, you don't need to download GoTo Webinar to join a meeting on the platform. GoTo Webinar can be run entirely on the web or mobile on your phone. The Instant Join app doesn't require any downloads for the platform.
Where Do My GoTo Webinar Recordings Go?
You can either save your recordings in the cloud or on your phone or computer. If you have cloud recordings, your recordings will be held online on the meeting history page for a user to access.
Do I Need To Download The Zoom App To Join A Meeting Room?
No, you don't need to download Zoom before joining. You can join from your phone or browser automatically.
Can I Answer A Phone Call While On Zoom?
Yes, you can answer your phone call while on Zoom. If you are in a meeting room on Zoom, you can pause the meeting and answer, end the meeting, and answer or ignore the call.
GoTo Webinar Vs. Zoom: Which Is Best?
Ultimately, the best webinar platform depends on the user or business and their specific needs. GoTo Webinar is an excellent tool for a small or large company that doesn't place a lot of importance on interaction and engagement.
Zoom can be a more effective and affordable collaboration tool with more engagement options and the ability to interact with others in real-time.
No matter which you choose, you can benefit from enhanced interaction with participants, better communication on any device, quality webinars, excellent support, and more.