Webinars are an effective tool for building positive relationships between your business and your customers by creating a dialogue between the two. They can lead to higher customer loyalty, engagement, and sales. To host these webinars, you need webinar software that is reliable and easy to use. 
We spent months researching over twenty platforms to find the best webinar software and evaluated the best based on user-friendliness, features, price, customer support, and more. After narrowing down the options, we tested each hosting platform to see if it lived up to its claims to bring you a list of the ten best webinar software options available.
1. Demio (

Editor's Choice

)
If you're looking to spend your time focusing on your webinar audience rather than learning to run webinar software platforms with complex webinar tools, Demio offers a simple interface.
Demio allows you to create a live webinar that is scheduled, on-demand webinars, or a pre-recorded webinar.
They also have many webinar features to customize your online meetings, such as a customized thank you page, polls, calls to action, automated email notifications before your live webinar starts, and more.
When it's time for your webinar to start, hosting it is easy. Their experience is minimal and clean, with a toolbar to control the camera, microphone, chats, and polls. You can also connect Demio to your favorite apps with Zapier.
You can also register customers for your webinars and add them to your marketing campaign. Their starter plan is $34 a month for 50 webinar attendees and one webinar host.
In our experience, Demio offers excellent, easy webinar software for simple virtual events.
I spent years fumbling with other webinar platforms with clunky interfaces and terrible customer service. Finally, I found Demio, and I haven't looked back since then. I can confidently say this solution has everything I was looking for and more.
– Hailey Friedman, Marketing Expert and CEO of GMP Agency, GrowthMarketingPro.com
Pros
14-day free trial

It can be used with standard marketing tools 

Customizable web pages
Cons
A higher number of attendees costs more.
Our Rating
Features: 4.9
Customer support: 4.7
Pricing: 4.8
User-friendliness: 4.8
---
2. Livestorm
Livestorm is a video webinar platform that allows you to manage webinars and meetings in one place. This webinar platform provides engagement and reporting features to simplify hosting webinars.
Livestorm allows you to use polls, Q&A, virtual whiteboards, breakout rooms, virtual backgrounds, and more.
They allow you to customize your form fields, send emails to remind your customers of an upcoming webinar, and track attendance and engagement directly on their analytics dashboard.
In our experience, Livestorm is simple to use and has useful webinar tools. 
Pros
They offer a free plan

A browser-based webinar platform that can be reached from anywhere on any device.

Allows branded registration pages to be created for each live webinar

Engage webinar viewers with upvoting, polling, and Q&A sessions
Cons
Doesn't have a slideshow upload feature for live webinars
Our Rating
Features: 4.9
Customer support: 4.8
Pricing: 4.9
User-friendliness: 4.9
---
3. WebinarJam
WebinarJam is among the webinar platforms developed by the same people as EverWebinar, but WebinarJam focuses on live webinars.
This is similar to a traditional platform created for online events, so there is no scheduling with this webinar tool. WebinarJam syncs with EverWebinar to provide cheaper and more capable webinar software.
WebinarJam offers to stream to Facebook Live, Youtube Live, or WebinarJam's private broadcaster.
They automatically record every webinar, show customized branded pages, the ability to engage your viewers with polls, live chat and a virtual whiteboard, password-protected webinar rooms, and reporting on live webinar performance. 
Pros
14-day trial for $1

User-friendly

Auto-record feature 
Cons
Expensive, their basic plan with 500 webinar attendees is $499 per year.
Our Rating
Features: 4.8
Customer support: 4.7
Pricing: 4.7
User-friendliness: 4.8
---
4. WebinarGeek
WebinarGeek is a webinar software that provides live, on-demand, and hybrid webinar marketing tools. Their webinar software is affordable for small businesses.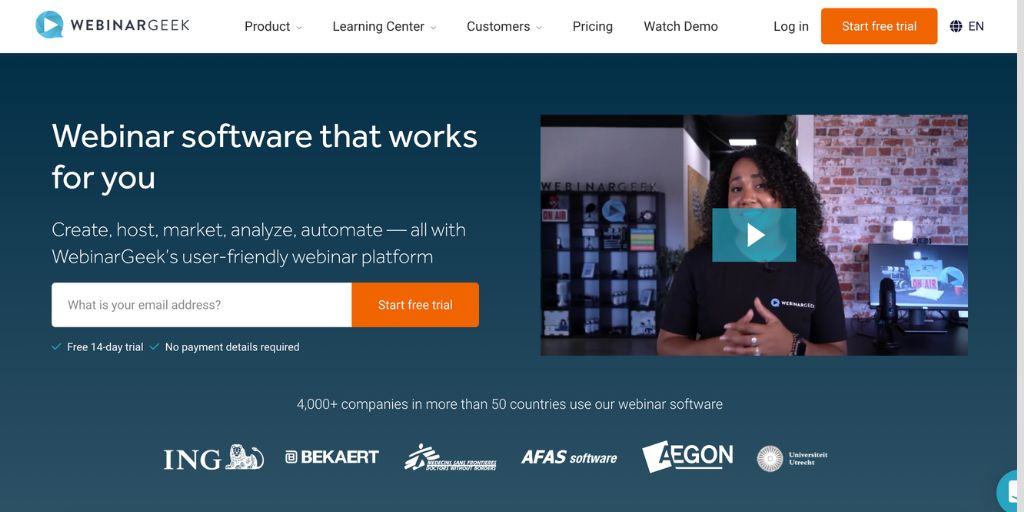 It includes excellent tools, such as creating your webinar channel to showcase all your automated webinars in one place, highly rated customer support, and no downloads necessary for your customers to attend your webinar. WebinarGeek starts at just $22 a month for 25 viewers.
In our experience, WebinarGeek is an easy-to-use webinar platform that allows simple screen sharing and webinar hosting. 
Pros
Custom branding for your webinars 

User-friendly

Excellent customer service
Cons
Initial setup can take a long while
Our Rating
Features: 4.7
Customer support: 4.7
Pricing: 4.6
User-friendliness: 4.7
---
5. Zoho Meeting
Zoho Meeting is an online video conferencing platform that allows real-time audio, video, and screen sharing at no cost.
They feature online and dial-in options for viewers, secure moderator controls to lock meetings, switch presenters, and hand control the presentation. A monthly meeting plan with up to 100 viewers costs just $3 to $12 a month [1].
In our experience, Zoho meeting is an affordable, simple option to host webinars online.
Pros
Affordable

It can be used on any device

User-friendly
Cons
It doesn't include a lot of features
Our Rating
Features: 4.6
Customer support: 4.6
Pricing: 4.6
User-friendliness: 4.7
---
6. GoTo Webinar
GoTo Webinar is among the best webinar software platforms that make running live video conferencing simple and smooth.
They include live webinar tools like automatic recording, engagement tools, 24/7 customer service, source tracking, and analytics to help you continually improve [2].
In our experience with GoTo Webinar, their customer service is knowledgeable and easy to reach, and their tools are simple. For a comprehensive analysis of features, you can also check GoTo Webinar and GoTo Meeting comparison.
Pros
Excellent quality video and audio

Quality engagement tools

Lead management
Cons
Viewers need to download software to view the webinar.
Our Rating
Features: 4.6
Customer support: 4.5
Pricing: 4.5
User-friendliness: 4.6
---
7. WebinarNinja
WebinarNinja is a webinar software that focuses on webinar features that make it easy to track and customize your webinars.
They provide targeted, customized tracking with a Facebook tracking pixel, gated landing pages with the option to charge for online conferences or high-value content, and integration of Hubspot to track leads. Their starter plan starts at $49 a month for 100 viewers. 
In our experience, WebinarNinja makes it easier to track your leads with these key features to increase attendance at webinars.
Pros
Landing page templates

Quality engagement features such as live chat and polling

Add sales offers into unlimited webinars
Cons
The backend can be difficult to navigate.
Our Rating
Features: 4.5
Customer support: 4.5
Pricing: 4.4
User-friendliness: 4.5
---
8. EasyWebinar
EasyWebinar is a webinar marketing platform for live and automated webinars. Their packages start at $78 a month for 100 viewers.
They offer an automated webinar or live webinar option with every plan. They also provide a WordPress Plugin and audience engagement features such as polls and surveys, live chat, and Q&A. We coverd more features in our EasyWebinar and WebinarJam comparison.
In our experience, EasyWebinar's webinar solution is simple to use for any webinar event.
Pros
Provides screen sharing with multiple presenter options

Easy to use

Automated webinar replay
Cons
Not the most affordable option
Our Rating
Features: 4.5
Customer support: 4.4
Pricing: 4.4
User-friendliness: 4.4
---
9. Live webinar
LiveWebinar is among the best webinar software available. They are very flexible, and this platform is excellent for hosting hybrid webinars, interactive webinars, or simply serving as an online communication tool.
Livewebinar works right from your browser and doesn't need to be downloaded.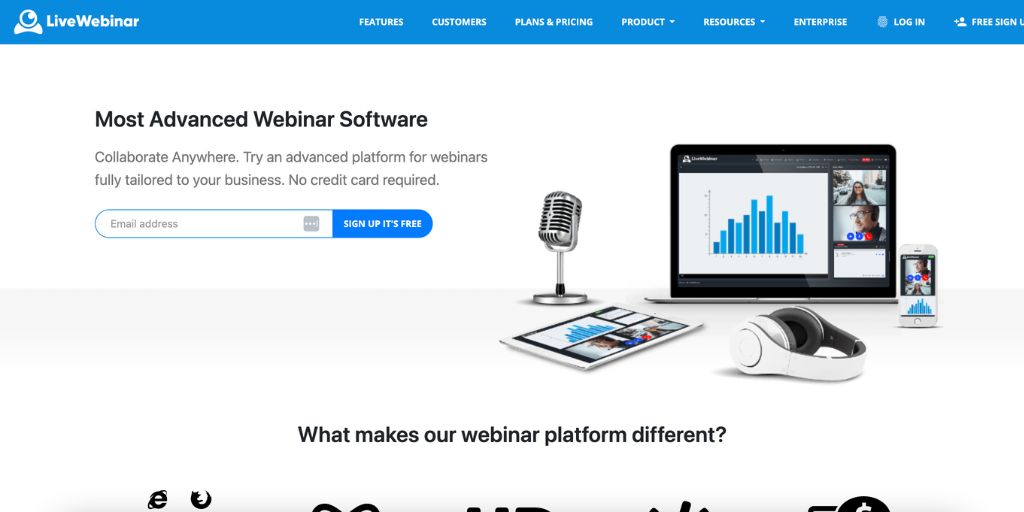 LiveWebinar has other webinar tools such as logo customization, a whiteboard, and screen sharing features to easily illustrate ideas, polls, breakout rooms, and marketing features to integrate education or email marketing platform applications such as MailChimp, Zapier, and more.
Their plan with up to 100 viewers is just $14.99 a month.
In our experience, LiveWebinar offers unique registration pages, unique branding abilities, and more. 
Pros
Offers a free plan if you have five or fewer viewers

Affordable

Ability to broadcast webinars to social media
Cons
Complicated user interface
Our Rating
Features: 4.4
Customer support: 4.3
Pricing: 4.4
User-friendliness: 4.3
---
10. MyOwnConference
MyOwnConference is among the best webinar software options for video conferencing, online meetings, and webinars. This webinar software platform is one of the most reliable and best webinar platforms available.
They offer 24/7 access and failure protection as well as affordable pricing. The webinar software provider can be easily added to any website. They also provide the ability to record, broadcast, and publish on social media. 
They offer a chat option, automated webinars, Q&A, screen sharing, and viewer statistics. MyOwnConference also includes survey and drawing functions, single or multi-presenter options, and more. Their base plan is $39 a month and includes up to 60 viewers.
In our experience, MyOwnConference offers excellent video quality and helpful marketing features and is an overall reliable webinar platform.
Pros
Voting and poll features

Webinar room with an always-on function

Ability to easily upload webinar URLs to YouTube or other social media
Cons
No Paypal integration
Our Rating
Features: 4.3
Customer support: 4.2
Pricing: 4.3
User-friendliness: 4.2
---
Buyer's Guide
How To Choose The Best Webinar Software
When choosing the best webinar platform, there are a few key factors to look for. First, decide what webinar tools are most important for you to have.
For example, if you have a worldwide team, you will want to ensure your software offers an international dial-in option. If you're looking for software for marketing strategy, you will need software that provides webinar registration sourcing, Q&A, and more [3].
Another feature to consider is price. Price typically varies greatly among webinar platform options. If your budget is tight, you may want the best free webinar software or something affordable.
Last, read reviews online from real users before making a decision. This can give you a good idea of what those who are really using the software think of it and if it will be right for you.
FAQs
Do I Need a Webinar Software?
Yes, to host webinars, you need webinar software. The software allows you to screen share, record, generate leads, and more. 
How Do You Set Up a Webinar?
To set up a webinar, you need an account with a webinar software platform, a webcam, a microphone, and speakers. Certain services require you to download the webinar software before hosting a webinar.
Is Webinar Softwares Secure?
Yes, the best webinar software offers security features like two-factor or multifactor authentication, data encryption, privacy protection, and more.
What Are The Benefits of The Best Webinar Software?
The best webinar software provides the ability to generate leads, collaborate with your team, build relationships with your viewers, and build sales.
Are Webinars Still Relevant?
Yes, webinars are still relevant today. Virtual events are still popular, especially since the onset of COVID. It also adds a level of convenience to the user.
What Are The Best Methods to Promote Your Webinar?
The best methods to promote your webinar include email, social media, teaming up with an influencer, using employee networks, optimizing your registration page, using targeted ads, and more.
Which Webinar Platform Do We Recommend?
In conclusion, Demio stands out as a premier webinar platform that excels in providing the best service for businesses and individuals alike.
With its user-friendly interface, seamless integration options, and advanced features, Demio offers a comprehensive solution for hosting engaging and impactful webinars. Its real-time interaction tools, customizable registration pages, and reliable streaming capabilities make it a go-to choice for successful online events.
Whether you're a seasoned marketer or a beginner seeking effective communication, Demio's commitment to excellence makes it a clear frontrunner in the world of webinar platforms.
Our #1 Recommendation: demio