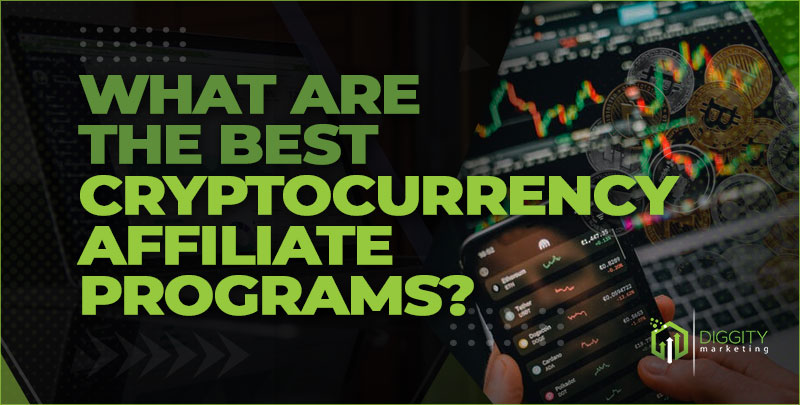 The 2008 banking crisis was a turning point, costing American taxpayers $70,000 each.
The ensuing loss of faith in FIAT currencies paved the way for the emergence of Bitcoin and decentralized finance.
In just a decade, this experimental industry has grown to an impressive value of US$2.48 trillion. As the next Bitcoin and cryptocurrency bull market is projected for early 2024, the crypto industry's worth is expected to approach US$5 trillion.
Now is the perfect time to stake your claim in this niche with the right crypto affiliate programs.
Drawing from my personal experience and in-depth knowledge of the market, I will guide you through the best crypto affiliate programs that can help you thrive in this rapidly expanding sector.
Let's explore these promising opportunities together.
The Best Cryptocurrency Affiliate Programs
1. Binance
And the first crypto affiliate program in our roundup is Binance.
Founded in 2017, this crypto exchange claims to be the largest in the world with $2 billion in daily trading volume spread across its crypto investors.
The Binance affiliate program pays you a 40% – 50% cut of the transaction fees charged to a new user that signs up through your referral link.
This crypto affiliate program is run in-house and requires you to complete a Google Form for approval. So far, I have found Binance to be the best crypto affiliate program out there.
Why You Should Promote Binance
Binance is one of those Bitcoin affiliate programs that is front-of-mind with your audience so requires less of a pre-sell. Plus, they offer a recurring revenue stream.
My affiliate marketing buddy Nate Ginsburg over at SellerPlex  also agrees that Binance is the best crypto affiliate program:
"I think exchange affiliates are the best. We have the most sign ups/revenue from Binance."
Commission: Up to 50%
Cookie Duration: 90 days
Payment Methods: Binance Wallet
Products: Cryptocurrencies
---
2. Coinbase
Coinbase has been part of the cryptocurrency scene since 2012.
This was back when the world was just starting to pay attention to the new phenomenon which is decentralized finance and Bitcoin affiliate network.
They operate a really simple business model: Be the easiest cryptocurrency exchange for people to trade on.
The Coinbase affiliate program pays you a 50% cut of your referral link trading fees…but only for the first 90-days.
But the upside here is that their crypto affiliate program is managed by Impact, so you get solid reporting and they also offer payments via PayPal.
You can become a Coinbase affiliate by using the sign-up affiliate link at the end of this mini-review. Their affiliate offer doesn't have specific traffic or audience requirements, unlike some other random affiliate programs in the Bitcoin affiliate network.
Why You Should Promote Coinbase
They're a recognized name in the cryptocurrency market thanks in no small part to their recent IPO. Coinbase offers a professionally managed affiliate program and a competitive, if short-lived, commission rate.
Commission: 50%
Cookie Duration: 30 days
Payment Methods: PayPal, direct deposit to your bank account
Products: Cryptocurrencies
---
3. Bybit
And now we come to the last of the crypto affiliate programs in our round – Bybit.
This is another cryptocurrency trading platform in the same vein as Phemex, except that Bybit does charge fees for its trading services.
From its launch in 2018, Bybit has experienced huge growth, amassing 1.6 million users.
This affiliate program offers a fast and secure platform for trading popular crypto pairs and other derivatives.
You'll earn 30% on the transaction fees of anyone who signs up with them via your affiliate link. 30% is at the lower end of the commission scale in this market.
Why You Should Promote Bybit
This is a relatively new affiliate network with low fees and a lot of liquidity. A claimed 60% conversion rate is also very attractive, especially when combined with their 30% commission rate.
Commission: 45% + 10% for sub-affiliate activity
Cookie Duration: TBC
Payment Methods: In the same currency/coin as the trade
Products: Cryptocurrencies
---
4. KeepKey
Even the biggest crypto exchanges can and do suffer from data breaches[1].
The sensible way for your visitors to keep coins safe is with an offline cold storage device like the KeepKey.
This hardware wallet supports more than 40 of the most popular cryptocurrencies with additional protection for your investments in the form of PIN and passphrase security.
You get a 25% commission rate from this affiliate program for starters and the ability to track your referrals thanks to the marketing and tracking tools on offer. If you're a dedicated affiliate manager, you can get a lot more.
Why You Should Promote Keepkey
As cryptocurrencies move rapidly into the mainstream (thanks Dogecoin!), there will be growing demand for storing data offline in crypto companies and wallets such as the KeepKey. Research indicates this specific market will increase in size by 27% within the next 5 years.
With Crypto in general, you need to be at the top of your game according to my buddy Tung Tran over at TK Ventures.
"Everything in this niche moves at 10x speed. 6-8 months feel like years."
Commission: 25%
Cookie Duration: TBC
Payment Methods: Bitcoin
Products: Hardware crypto wallets
---
5. Kraken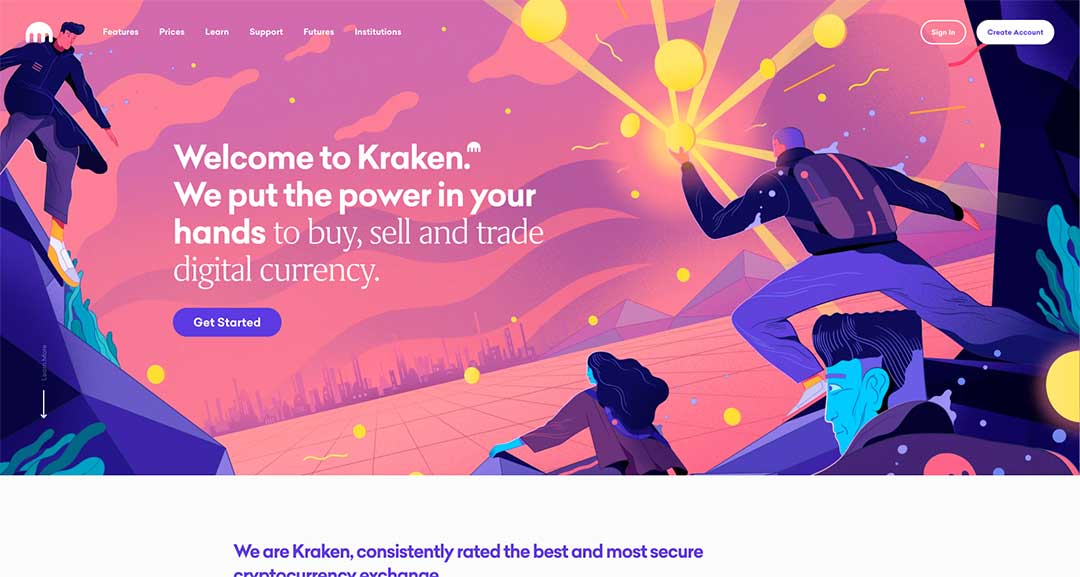 Kraken is a leading cryptocurrency exchange popular with the altcoin audience as well as those with more advanced trading strategies. The Kraken affiliate program is becoming very popular in the affiliate marketing world.
But another reason for this popularity is that Kraken charges low fees, combined with strong security because most of their assets are stored offline.
Kraken affiliate program pays its affiliate partners a 20% commission for the lifetime of the referral and not just the first 90-days offered by most other exchanges.
Referrals do have a $1,000 commission cap, so it's "lifetime" but with an income limit.
Why You Should Promote Kraken
They've been in the market for almost a decade, so have longevity on their side as well as an industry-standard commission rate. The "lifetime" commissions deal would be super-sweet if it wasn't limited to just $1,000 in earnings per customer.
Commission: 20%
Cookie Duration: 180 days
Payment Methods: Bank transfer
Products: Cryptocurrencies
---
6. Bitcoin IRA
A typical IRA (Individual Retirement Account) is backed by investments in a variety of financial products from Treasury bills, to mutual funds, and a stock portfolio.
Bitcoin IRA – the first product of its kind – allows your audience to trade in cryptocurrencies as part of your retirement planning, providing them with fiscal diversity.
This affiliate program pays $50 per lead, but with the opportunity to earn performance-related cash bonuses.
The Bitcoin IRA affiliate program is managed by Commission Junction, so you'll need an account with them to promote this offer.
Why You Should Promote Bitcoin IRA
Being an early adopter in a relatively new market can be very profitable, especially when it involves a service that blends a traditional investment model with the promise of tax-free cryptocurrency trading.
Commission: $50 per lead
Cookie Duration: 30 days
Payment Methods: Check, bank transfer, Payoneer
Products: Crypto investment service
---
7. Coinrule
Keeping up with the latest dip or rally in the crypto market can be very time-consuming.
But it's something crypto traders need to be able to do if they want to make money.
Coinrule automates your investments across the 10 most popular crypto exchanges.
The Coinrule affiliate program is available via Commission Junction, but you can also sign up through FlexOffers if you're declined by CJ.

You will receive 25% commission on any monthly plan you sell via your affiliate link, but 30% on any annual plan purchased by a referral.
Why You Should Promote Coinrule
They offer an innovative product in the cryptocurrency space that's also competitively priced.  You can use their 'Free' plan to encourage your readers to sign up and take Coinrule for a zero-commitment test drive.
Commission: Up to 30%
Cookie Duration: 45-days
Payment Methods: Check, bank transfer, Payoneer
Products: Crypto trading software
---
8. Ledger
The smart crypto investor makes sure that the bulk of their assets are secured in cold storage i.e. offline.
An offline crypto hardware wallet like those made by Ledger is one of the safest ways to do this.
These devices look like simple USB keys but have all kinds of clever encryption and security chips hidden away inside them.
Their affiliate program pays 10% on all sales, which means you'll average $5.90 to around $12 per sale.
This offer is managed by the Awin affiliate network. If you're not already a user of this affiliate network you'll need to pay a $5 refundable deposit to sign up with them.
Why You Should Promote Ledger
Ledger has solid products, tons of social proof from the affiliate network in the form of 5-star product reviews, and a claimed average order value (AOV) of $100+ per sale.
Commission: 10% on all sales
Cookie Duration: 30 days
Payment Methods: Bitcoin
Products: Hardware crypto wallets
---
9. Phemex
Phemex is a cryptocurrency and derivatives trading platform launched in 2019 by a group of former Wall Street investors and traders.
You can buy and sell, but also trade in, 21 different coins as well as in gold and USD FIAT cash on Phemex.
What sets this affiliate network apart from their competitors is that you can trade crypto contracts without having to pay fees.
But only their paying customers with a membership get to take advantage of that particular benefit.

This affiliate program offers a 50% commission rate on all referral trading fees.
Why You Should Promote Phemex
This is a crypto exchange run by a group of financial experts with 40+ years of experience in the game. They also offer new crypto traders a signup bonus of up to $60 worth of either Ethereum or Bitcoin, and you can earn an extra 10% from the earnings of other affiliates that sign up under you.
Commission: 50%
Cookie Duration: TBC
Payment Methods: TBC
Products: Crypto trading platform
Note: I used their customer support chat tool to get more information on their affiliate payout options. It wasn't an entirely positive experience.
---
10. CCG Mining
The first Bitcoins were mined by enthusiasts[2] who built custom rigs in their basements.
These days you can simply invest in a Bitcoin mining contract that runs on one of the 600+ mining rigs operated from the Eastern European headquarters of CCG Mining.
Or you can purchase a crypto mining rig from them outright, but leave them to manage the hardware for you.

Affiliates get a 6% cut of all cloud mining contracts sold through an affiliate link from this affiliate network, and 3% if a referral purchases a mining rig.
2023 Update:
As of 2022 CCG Mining stopped operations and its's affiliate program, which had allowed users to earn commissions by referring new customers to their platform, was also discontinued.
The closure of CCG Mining and its affiliate program is indicative of the dynamic nature of the cryptocurrency industry. The closure of CCG Mining serves as a reminder of the importance of due diligence when considering investments in cryptocurrency.
---
11. Local Bitcoins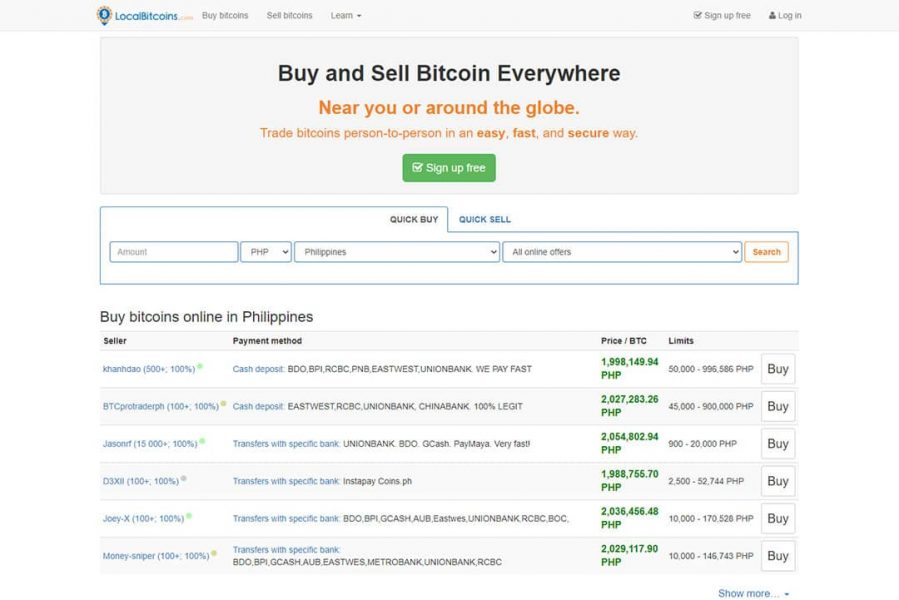 The idea behind decentralized finance is to give you more control over your money i.e. away from central banks. People are also investing in metaverse land very recently.
So it seems a little counterintuitive to then centralize your crypto-financial trading with just a handful of exchanges.
LocalBitcoins offers an alternative in the form of a person-to-person online marketplace where you can exchange crypto for other cryptos or just cold hard cash.
Promoting this cryptocurrency affiliate program with your custom affiliate link will earn you a 20% commission on the trading fees for both buyer and seller. That's a total of 40% on trading fees.

The downside to the LocalBitcoins affiliate program is that you only receive a commission for the first 3 months of your referral's trading activity. So we don't recommend this affiliate program long term.
2023 Update:
As of 2023, LocalBitcoins, a widely recognized platform for peer-to-peer cryptocurrency trading, has announced the discontinuation of its services, including its affiliate program.

---
12. BlockFi
Founded in 2017, BlockFi has a simple mission: To create a bridge between the world of traditional finance and decentralized currencies.
Your audience can now put their cryptocurrency to work for them in one of two ways:
Earning up to 8.6% in interest
Used as collateral to borrow FIAT currencies

Commission rates vary depending on the product but start at 0.5% of all crypto deposits within a 30-day attribution window. You can also earn a commission of up to $500 per funded loan.
That makes this one of the best affiliate programs in this roundup based on earnings potential.
2023 Update:
BlockFi has officially announced the discontinuation of its affiliate program. This decision comes as the company grapples with financial challenges, culminating in the filing for bankruptcy.
---
What Is a Crypto Affiliate Program?
A Crypto affiliate program is a marketing program where affiliates earn a cryptocurrency commission for referring customers to a cryptocurrency platform. This creates an incentive to refer new users, who become full-fledged participants in the exchange's ecosystem. 
---
Why Use a Crypto Affiliate Program?
You can use a crypto affiliate program to tap into the cryptocurrency market and earn commissions through crypto-related services or product sales.
Furthermore, it provides access to the latest cryptocurrency technologies while maintaining a secure and transparent payment system. 
---
Can You Make Money With a Crypto Affiliate Program?
Yes, you can make money with a crypto affiliate program. Crypto affiliate programs allow users to earn a commission for promoting cryptocurrencies products and services like wallets and exchanges.
---
How To Choose a Affiliate Program in Crypto Niche?
You can choose a crypto affiliate program by researching to identify which best meets your needs. When evaluating crypto affiliate programs, you'll need to look at the following factors: 
1. Security Measures
Consider the security measures in place to protect your data and investments. Look for programs that utilize two-factor authentication and encryption to ensure your information is secure. 
Additionally, research the program's reputation and track record. Ensure the company has a history of providing secure and reliable services.
2. Commission Rates
Research and compare different programs to ensure you receive the best value for your efforts. 
Depending on the program, commission rates can range from a few percentage points to up to 50% or more. 
3. Payment Methods
Select a program that offers payment methods that are convenient for you. If you prefer payments in cryptocurrency, consider programs that pay in Bitcoin, Ethereum, or other popular digital currencies.
Alternatively, choose a program that offers payments in USD, EUR, or GBP if you prefer fiat currency.
---
Cryptocurrency Niche Challenges You Need to Know About
The crypto niche is chock full of scams, so you have to be careful about the offers you promote i.e. there's a reason why we didn't feature certain other crypto affiliate programs.
Affiliate marketers need to do their due diligence when it comes to evaluating any cryptocurrency affiliate program within this affiliate network.
Remember, the affiliate marketing has an audience made up of either grizzled cynics or wide-eyed newbie:
"At this point, crypto people are savvy and wise to marketing efforts. They can be extremely skeptical and a difficult audience to convert. "
---
FAQs
What Is the Best Bitcoin affiliate Program?
The best bitcoin affiliate program for now  is Binance. When a new user signs up through your referral link, you'll receive 40-50% of the transaction fees charged to the user who used your affiliate link. Binance also offers generous bonuses for those who can generate a high volume of referrals. 
How Can I Promote Crypto Affiliate Programs?
You can promote crypto affiliate programs by creating content that appeals to your target audience. You can:
Write blog posts covering topics on the crypto affiliate program 

Create social media posts and ads

Reach out to influencers 
Also, consider creating a referral program and incentivizing customers to refer others to the program.
How Do I Get Started With the Best Crypto Trading Affiliate Program?
You can get started with the best crypto trading affiliate program by researching and finding a reputable affiliate platform. You can then set up an account. Once you have an account, you'll be able to access the company's promotional materials and track your progress. 
How Much Can I Earn?
Depending on the program, you can earn from a few extra dollars in your pocket to larger amounts for higher volume trades. Some platforms pay up to 50% or more, while others pay anywhere from 5-20% on all referred trades.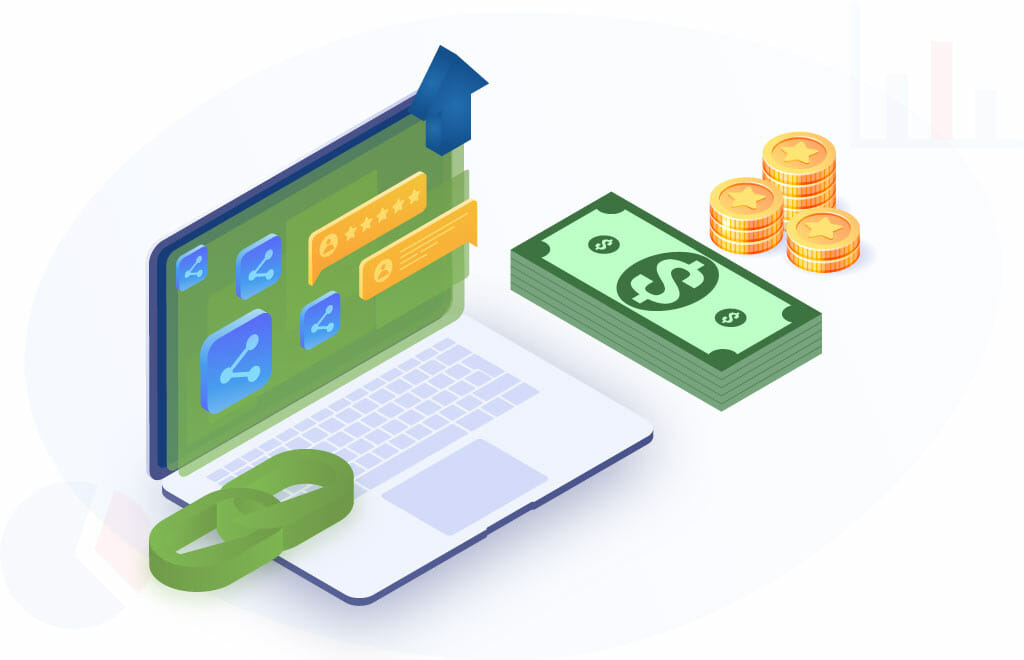 Are Crypto Affiliate Programs Safe?
Crypto affiliate programs are safe as long as you take the same precautions for them as any other online program. Look into the company itself, read reviews, and check for any red flags indicating something is wrong. 
Do I Need To Invest in Crypto To Become an Affiliate?
You don't need to invest in crypto to become an affiliate. However, some affiliate programs reward affiliates who invest in the cryptocurrency they promote, so it can be worth considering if you'd like to build more passive income.
Should You Invest Your Time in Crypto Affiliate Programs? 
So there you have our list of the best crypto affiliate programs out there right now.
We didn't just focus on Bitcoin affiliate programs because the cryptocurrency affiliate scene is now much bigger than just one coin.
This is a very lucrative niche right now.
But financial niches also tend to be super competitive.
There's also the inevitable risk of another crypto crash and the resulting loss in traffic and income.
With that said, decentralized finance is a growth market.
Which you can profit from…if you know how to build a profitable affiliate site to generate passive income.
Lucky for you, this is exactly what I teach in the Affiliate Lab.
I've already made dozens of costly mistakes…so you and other affiliate marketers don't have to.
Want to Become a PRO Affiliate?
Comprehensive lessons
Niche Grading tool
Step-by-step website building guide
Regular updates


Private Facebook community
Bonus courses
Lifetime course access