Domain value refers to the price you pay to acquire a website name, which can range from a few dollars to six or seven figures.
Determining the value of a domain name can be challenging, and incorrect assessments can cost thousands of dollars.
As a Search Engine Optimization specialist and founder of The Affiliate Lab, I've gained valuable experience and knowledge on this topic.
In this guide, we'll provide essential information on the top domain appraisal services to help you make informed decisions when purchasing a domain name.
Best Domain Appraisal Services of 2023
Here is the list of best domain domain appraisal services and our mini review for each one:
1. Sedo (

Editor's Choice

)
Sedo is a massive marketplace of domains. To better serve the domain marketplace, they've added several services, including appraisals.
I once opted for their paid appraisal service ($99/report), and it felt like a personalized research project. Rather than just supplying existing data, Sedo assigned my request to their in-house experts, who conducted a thorough review of my domain value and niche.
Their expert examined aspects such as search engine suitability, advertising effectiveness, and the potential for the site to sell.
A custom report was prepared and delivered to my email a few days later. This tailored approach offered valuable insights that helped me make informed decisions about my domain.
---
2. Flippa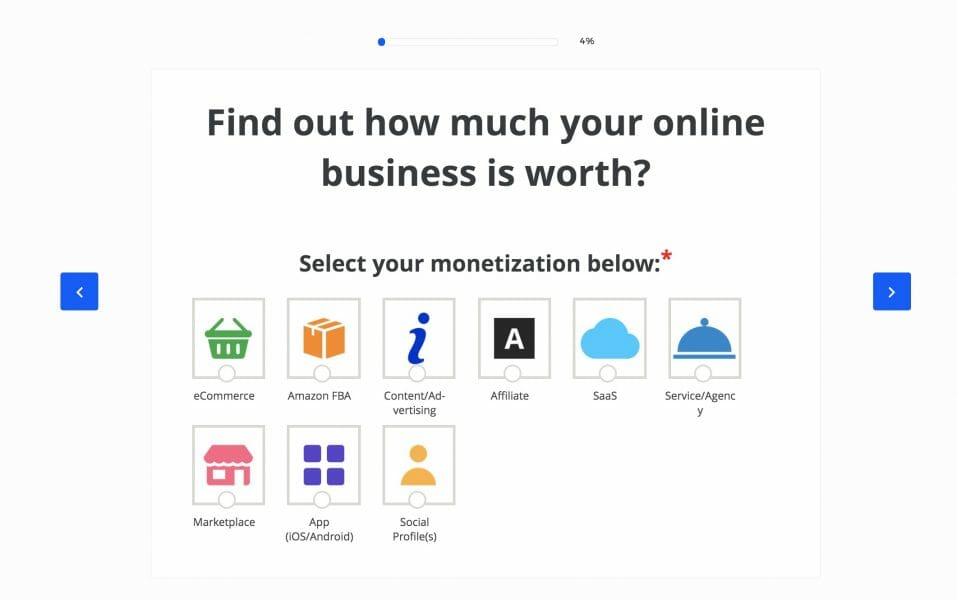 Flippa has a valuation tool that starts by asking how you want to monetize the site.
After you enter a site into its valuation calculator, you'll be able to get a reading based on whether you want to use the site for:
eCommerce
Content/advertising
SaaS
Affiliate marketing
Apps
This allows you to get a more personalized evaluation of your site.
What impressed me the most about Flippa, however, was the community valuations feature. I found it valuable to see estimates from other members who had hands-on experience in buying and selling websites. Their insights, combined with the tool's assessment, contributed to a more comprehensive understanding of the site's worth and helped me make a more informed decision.
---
3. Epik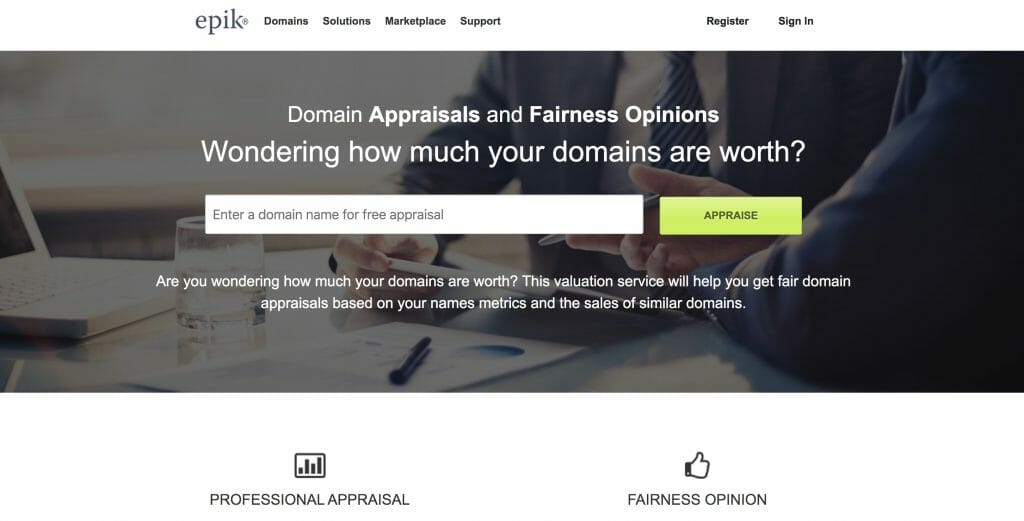 Epik offers a free domain appraisal service and it that gives you an estimated dollar amount along with a rundown of both standard and uncommon statistics.
This tool proved to be useful when I was searching for specific data, such as::
The language used on the website (by percentage)
Average monthly searches for the name
Average CPC
Alexa and Google page rank
If you want to take the next step up, you can try the professional domain appraisal that they also have available ($399).
---
4. Estibot
Estibot offers a free tool that can offer you an excellent domain appraisal service. It collects a lot of data you can use to nudge a sales price.
From the homepage, you can enter any name and click to see a report card of data about it. You'll learn:
The last sale price
The sale price of comparable domains (and the dates they sold)
The search volume of the domain's name
SSL status
From my experience, Estibot supplied a fair market estimate for the domain, although it's important to note that this figure is only an estimate. I found it useful to consider the additional data provided to make my own judgment.
---
5. GoDaddy Appraisal Tool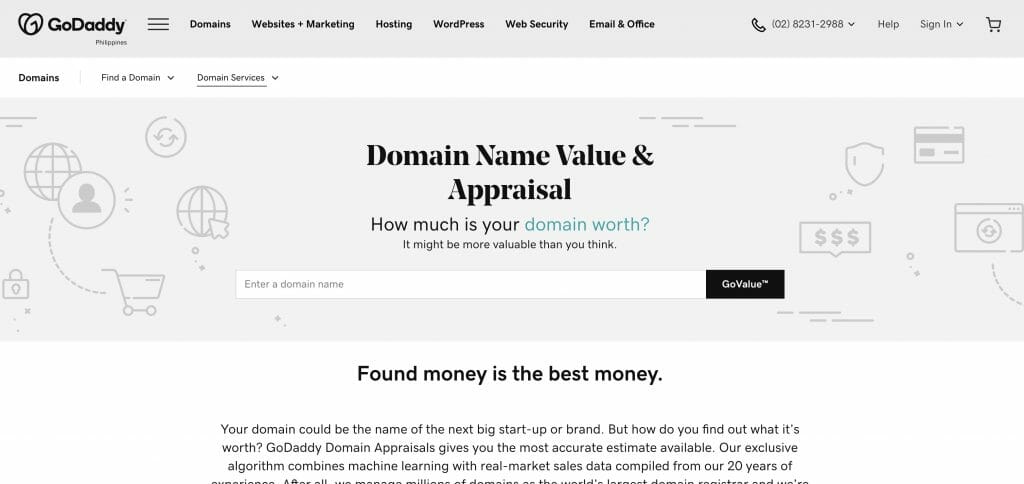 GoDaddy has a light appraisal tool that may still cover all your needs. Simply type in any existing (or hypothetical) URL to get a free domain appraisal.
If GoDaddy determines that it is valuable, it will give you an estimate and some reasons. For example, the tool will analyze whether the name is memorable or whether it contains valuable keywords.
GoDaddy also provides a list of comparable domains sold. This information is drawn from the data that they have access to as a large domain aftermarket. Not all of this data may be available elsewhere.
---
6. Free Valuator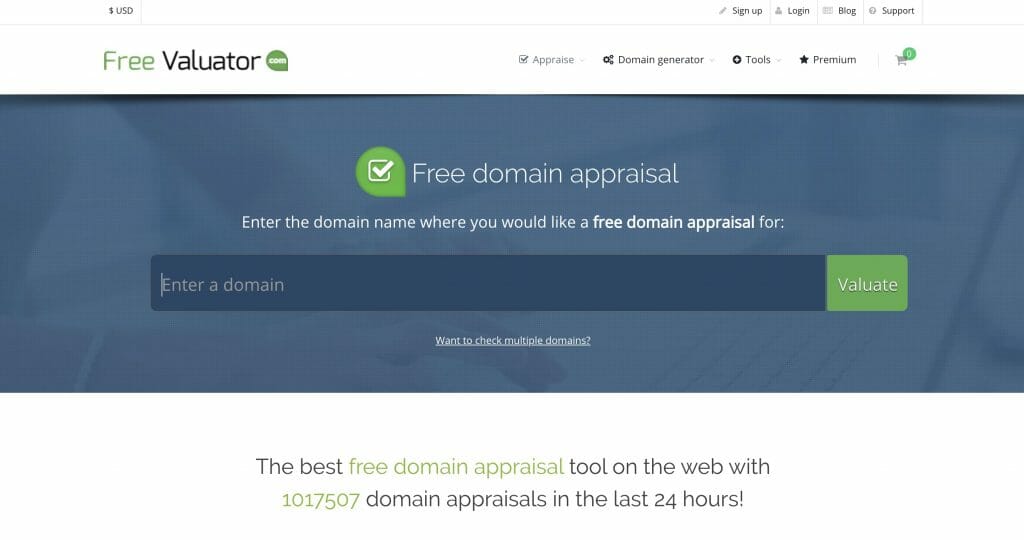 Free Valuator is a tool that calculates an estimate based on keywords, statistics, and website rankings.
That's all pretty standard, but it has a couple of features you might not find anywhere else. One such feature is crowd appraisal, which allows users to crowdsource opinions on a domain's reasonable estimate. This gave me valuable insights into the community's perspective on whether a particular domain purchase or sale would be worth pursuing.
While the basic service is free (with registration), you can also opt for a professional appraisal. This type is done by site staff and costs $69.
---
7. Domain Index
Domain Index isn't the strongest tool, but it does provide you with a quick rundown of domain-related stats that are helpful when you are buying or selling. Some of this information isn't easy to find with other services.
The age
TLD rating
Language of keywords
Monthly types-ins
Whois records
You can perform a few searches without even registering, but you'll need to log in and pay for some of the more advanced features—including paid consultations with experts in domain names.
In my experience, Domain Index is a useful tool for getting a quick snapshot of domain-related statistics, especially when considering a purchase or sale.
---
8. Website Outlook
Website Outlook is a free tool that calls up more than twenty different metrics in order to determine the real value of your domain.
As an SEO professional, I found their domain value calculator particularly useful, as it provided valuable insights into how popular SEO tools interpreted domain values. In any case, it gives you a lot of insight into how other popular SEO tools are interpreting the value of a domain. In addition to the standard metrics, it tracks:
Moz rank
Semrush rank
Adwords traffic/budget
These metrics could give more ideas for how to monetize sites that you're purchasing for SEO purposes. If you're selling, they could provide some ideas on how to communicate the site's worth to SEO-focused buyers.
---
9. $iteprice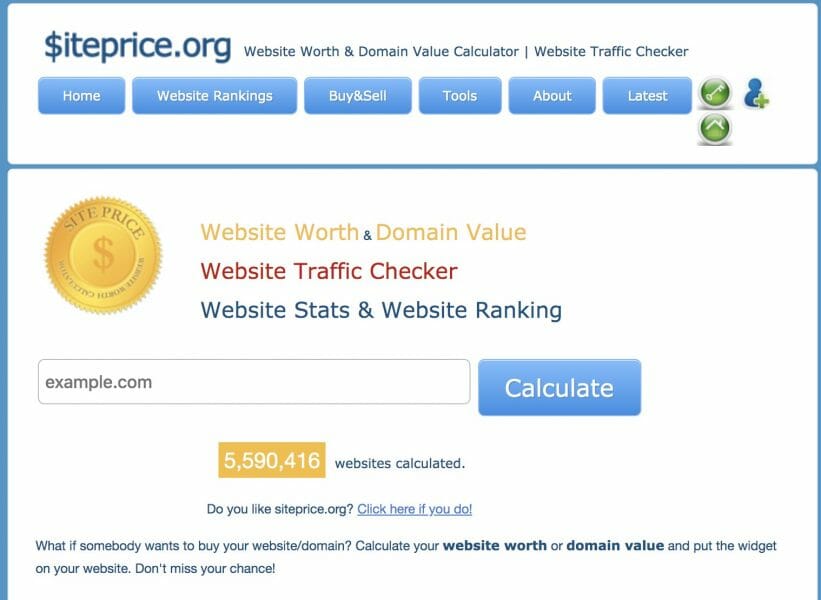 $iteprice offers a no-frills domain appraisal tool that provides you with a rundown of data based on the information it draws from several different sites.
While it has many features in common with others on this list, it emphasizes ad revenue stats over other monetization methods. For that reason, it's valuations are based on the assumption that the site uses Google Adsense.
It crawls individual sites to pull meta and site information, but it also draws from sources like Moz, Majestic and Facebook to put together an extended list of facts advertising revenue, traffic rank, and visibility.
In my experience, $iteprice is a useful domain appraisal tool for those interested in focusing on ad revenue-based valuations, providing a unique perspective compared to other tools that cater to various monetization methods.
---
10. StatChest
StatChest prides itself on having an exhaustive list of stats (hence the name). There are certainly some here that you won't see in some other services on this list.
This service keeps track of many of the ways that the wider internet interacts with the site. For example, it tracks:
Facebook's share counts
Facebook comment counts
Tweets that use the name
Pinterest pins that use the name
The final set of stats covers page speed recommendations. In cases where the tool finds bad practices (for example, render-blocking resources or overly-large images), it makes recommendations on how to improve page speed.
As per my experience with StatChest, I believe it is an excellent tool for gaining a comprehensive understanding of a domain's performance and its engagement across different platforms, which can help you make informed decisions when buying or selling domains.
---
How to Find the Best Domain Appraisal Services
Finding the best domain appraisal service can be difficult – you want to ensure you get the best service possible. However, some elements can help you make the right decision.
1. Market Demand for the Domain Name
The demand in the marketplace largely determines the value of a domain. So, it is important to evaluate the potential for the domain that interested buyers will purchase. Factors to consider include: 
Domain's relevance to current trends

Potential for future growth

Number of competitors offering similar domains
2. Characteristics of the Domain Name
The domain name's characteristics may include the following:
Its length

Its keyword density

The extension (e.g., .com, .org, .net)

The age of the domain
Longer domain names with higher keyword density and older domain extensions tend to have higher values. Additionally, the domain name should be easy to remember and pronounce. This can also have an impact on the value. 
3. Domain Name Search History
The domain name search history can provide insight into the domain's past, such as: 
How long has it been registered

Previous ownership 

Previous usage for a website

Any past issues related to the abandonment of the domain, such as trademark infringement or a lapse in payment 
These insights can help you assess the accuracy of the appraisals and the quality of the services.
4. Domain Name Usage History
Appraisal services that consider the domain name's usage history can provide a more accurate assessment of the domain's current worth. The domain usage history will give you the domain's past performance.

Here are some of the performance trends to look at:
Its past usage 

How much traffic it received

How successful it was 
Additionally, The usage history can provide the domain's age information to determine its current value. 
---
Methodology for Choosing the Best Domain Appraisal Services
When choosing the best domain appraisal services, it is important to consider the following methodology:
1. Buying Domains Vs. Selling Domains
If buying domains, look for services that provide accurate appraisals and competitive prices. This ensures you are not overpaying for a domain and getting the best value for your money.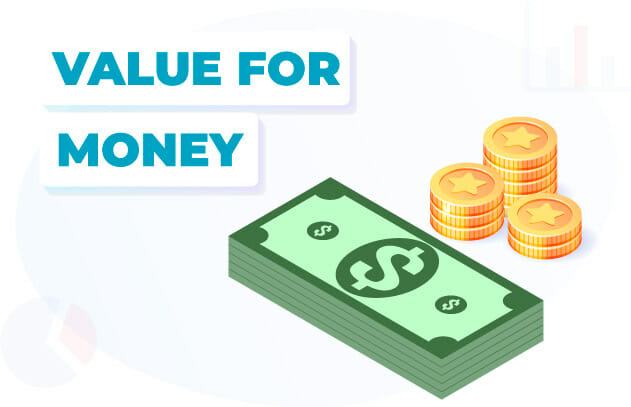 If you are selling domains, look for services that can accurately assess your domain's value and provide a fair market price. This will help you maximize the domain's worth and get the best return on your investment. 
2. Size Of Domain Portfolio
The size of the domain portfolio is a crucial methodology in choosing the best domain appraisal service. 
A larger portfolio of domains provides a wider range of options for evaluation and offers access to more specialized domain-specific knowledge..
It also provides insights into market trends, which is beneficial when making decisions about the value of a domain.
3. Depth Of Appraisal Report
A comprehensive appraisal report should include an evaluation of the domain's market appeal, estimated value, and potential revenue streams. 
The report should also include a thorough analysis of the domain's history and usage and an assessment of its potential for future development and growth.
4. Assistance With Sale
Look for an appraisal service that will help you through the entire process of selling your domain. This can include helping with negotiations, setting up escrow accounts, and providing legal advice. 
Some services may also provide marketing assistance to help increase the domain's visibility and maximize its sale value.
---
Get the Best Value from Domain Appraisal Services
Sedo offers a large domain marketplace, and its appraisal service is completely personalized, with a goal to help you improve your performance.
They have multiple in-house experts ready to conduct thorough research and help you on your journey. Sedo also offers solutions quickly, so they are the best choice if you need your domains handled in a short time.
Improving the value of your site is needed for successful business operations, and if you are ready to embark on that journey, you should give a try to Sedo.
Our #1 Recommendation: Sedo