In today's digital age, there are several opportunities to make money online, including getting paid to read emails. Yes, you read that right!
Several websites offer compensation for reading emails, which can be a great way to earn some extra cash on the side.
I've been involved in the digital world for a long time and here are my picks for the top 13 websites that pay you to read emails and provide you with practical insights on how to get started.
Whether you're a student, stay-at-home parent, or just looking to make some extra money in your free time, this article will equip you with the knowledge you need to become a successful email reader and earn money from the comfort of your own home.
Quick Summary
Getting paid to read emails is legit, but you must beware of scams
InboxDollars and Swagbucks remain the most trusted pay-to-read websites
Check your inbox regularly and open all emails to earn the most money possible
Is Getting Paid to Read Emails Legit?
Getting paid to read emails is legit and serves as a great way to earn extra money if you can find a reputable pay-to-read company to join.
However, many online scams exist that you must be aware of to avoid identity theft and financial losses.
You should only ever use trusted, verified sites where you can get paid to read emails legitimately.
Since this opportunity works online, beginning your side hustle with paid emails proves quick and easy. All you need is an internet connection and a device.
Often, companies require you to answer surveys about the emails you just read.
Other ways to earn extra money include:
Watching videos
Playing games
Completing additional surveys
Below, we cover the most legitimate sites to earn money by reading emails.
How Can I Get Paid to Read Emails?
You can get paid to read emails by joining a reputable pay-to-read company, checking your inbox regularly, and opening all available emails.
If you want to know how you can get paid to read emails as soon as possible, follow our guide to running a side hustle that fits your schedule.
Although you should not expect to make serious money from reading emails alone, by using the information in this article, you can set up a new revenue stream for yourself with little effort.
Most paid email sites offer referral bonuses, daily rewards, signup bonuses, and other ways to earn rewards to help you make cash quicker.
Making money by reading emails might not cover the bills, but it does open up opportunities to make some extra money while working through your everyday routine.
Below, you can find the most legit sites that we verified. You can trust the following companies if you're looking for legit ways to get paid to read emails.
"A penny saved is a penny earned." – Benjamin Franklin, American Founding Father and author of Poor Richard's Almanac
Trusted Sites for Making Money
Discover the most legit websites to get paid for reading emails below.
1. InboxDollars
Inbox Dollars claims our top spot as the best way to get paid to read emails delivered straight to your inbox.
Inbox Dollars is a legit site run by the company Proedge, and offers free signup, a start-up bonus, and referral bonuses to make some real cash.
Before you can access your money, you must meet the minimum payout limit of $10. After you've accumulated more than $10, you can withdraw the money to your PayPal account or as gift cards.
Do you want to make money from playing games, as well?
InboxDollars offers payouts for gaming as well. Aside from getting paid to open emails, you can get paid to watch videos, play games, by taking surveys, and more!
Inbox Dollars offers a $5 signup bonus to everyone at least 18 years old and sends paid emails directly to your separate email address.
2. Swagbucks
Swagbucks represents the ideal site for those looking to earn dough by reading.
You can make some quick cash on this legit site by reading your emails, completing surveys, taking polls, and more.
Swagbucks rewards you with SB points, which you can redeem for cash or use to shop online at qualified stores.
Some of the less common ways to earn SB points include app testing and submitting receipts by scanning them and uploading them to the website.
The minimum payout amount is $5, equivalent to 500 SB. However, you can redeem your SB points in even lower amounts if you exchange them through gift cards.
You can also earn a $5 signup bonus by creating an account with Swagbucks.
If you want more variety beyond getting paid to open emails and watch videos, then Swagbucks is worth checking out! However, Swagbucks only registers adult residents of the United States and Canada.
Swagbucks is also owned and operated by Proedge, the same company that owns InboxDollars. For this reason alone, we put InboxDollars and Swagbucks ahead of the other sites on our list of verified companies.
3. MyPoints
MyPoints uses a completed task system to track the money you earn on the website.
Like the other sites on our verified list, these tasks include reading emails, watching videos, and online shopping.
MyPoints also offers rewards for referring friends to their platform via a referral link. If your friends sign up and use the site, you will receive a referral bonus. However, check the conditions that you must meet and pass on that information to your friend.
After completing tasks in MyPoints, you can convert those points to cash.
Some of the unique rewards for this legit site include travel miles for United Airlines, free gift cards to around 70 different retailers, and a VISA gift card. You can also choose standard payment to your PayPal accounts.
Another special feature of MyPoints is that the minimum age requirement to work is only 13 years old, while most major sites require you to be 18 years old.
4. Inbox Pays
InboxPays represents another verified site that focuses more on market research.
To register with Inbox Pays, you must be a United States resident over 18 years of age.
Unlike the other major sites that pay you to open and read emails, InboxPays pays you for your time.
Market research that you complete through Inbox Pays pays a maximum of two $25 withdrawals per month. So, even though you can invest more time into completing assignments, you can only get paid a maximum of $50 per month.
Inbox Pays also awards online discounts and coupons in addition to entering users in giveaways for chances to win different rewards.
5. InboxPounds
Not a resident of the United States or Canada? InboxPounds represents the first website on our list that caters to United Kingdom residents and serves as a rewarding online cash rewards company.
When you register for InboxPounds, you'll receive your first £1 instantly as a signup bonus. Then, you'll be paid for reading emails, with additional incentives for completing offers within the emails.
You can also surf the web on the InboxPounds website to earn even more money.
After earning at least £20, your rewards become redeemable for PayPal cash or gift cards from Amazon and other retailers. Note that InboxPounds enforces a minimum age of 18 years.
6. Paid to Read Email
Paid to Read Email is an up-and-coming website to check out if you want to get paid to read.
The company offers a $3 sign up bonus and starts sending emails to your account. Based on the type of email you receive, you can earn anywhere between $0.01 and $0.10 per email.
Before you can pull out your earned cash, you must make at least $15. You can earn points as well as cash through this website.
One of the unique features of Paid to Read Email involves quick payment processing, allowing you to receive your minimum payout amount or more within 24 hours.
By signing up for direct deposit, you can expedite the process even further, facilitating a truly simple way to make money online.
7. Points2Shop
Points2Shop remains a verified online rewards program. However, some user reviews posted several years ago mention difficulties with website operation, so we do not recommend making this your only side hustle.
The program works on a point system, and you can use points to shop online at Amazon. If you prefer cash, then you can redeem your points using most online payment processors like PayPal or another cash app.
On Points2Shop, you earn points when you:
Complete offers
Answer surveys
Play games
Enter contests
Refer friends
The company referral program rewards you with $1 for each time you convince a United States or United Kingdom resident to sign up and use the site.
Points2Shop lets you claim your cash after you hit a minimum balance of $1, allowing you to get paid quickly.
"I do love email. Wherever possible, I try to communicate asynchronously. I'm really good at email." – Elon Musk, innovator and businessman
Potentially Problematic Sites
The following websites allow you to get paid for reading emails. However, you must meet strict conditions.
8. Cash4Offers
After you've exhausted the previous options, Cash4Offers serves as another website that provides cash for reading emails. However, the minimum withdrawal amount is $35.
And, the company only sends you 1-2 emails per day at $0.01-$0.001 per email. At that rate, the best-case scenario involves reading emails for five years before withdrawing real money.
Although Cash4Offers remains technically legit, we recommend passing on this one.
9. EmailCashPro
Just like Cash4Offers, EmailCashPro allows you to earn cash for reading emails.
Also, just like Cash4Offers, they limit the emails you receive daily to three and maintain a minimum payout threshold of $11.
At $0.01 per email or less, the fastest you could receive a payout would be just over one year.
While marginally better than Cash4Offers, our advice involves skipping EmailCashPro and moving on to websites with a better return for your time.
10. FusionCash
FusionCash represents yet another technically legit site with sketchy withdrawal limits. In this case, you'll need to earn $25 before making a withdrawal.
Many one-star user reviews on TrustPilot accuse the site of blocking their accounts or allowing points to expire after 180 days, making it all but impossible to hit their minimum withdrawal threshold and accessing your hard-earned cash.
Don't risk your time. Steer clear of this one.
11. Unique Rewards
Unique Rewards offers $0.01 for opening emails and visiting the advertiser's website.
The company also provides a variety of rewards when you answer surveys, play games, watch videos, and test products.
However, the minimum withdrawal amount is $20, and the site has many negative reviews and complaints from users who did not receive the money they earned.
Unique Rewards makes our list of sites to avoid if you want to get paid to read emails.
12. Rupee Inbox
RupeeInbox has far too many negative reviews for us to recommend using it.
Many people complain that the site is fake or a scam because of payment issues and a high minimum payout amount that the company does not seem to allow everyone to reach.
This site is aimed at residents in India, and although the negative reviews go back several years, we suggest looking elsewhere if you want to get paid by a reputable site.
Defunct Pay-to-Read Websites
You won't earn PayPal cash from the following websites anytime soon.
13. Vindale Research
As of November 1st, 2021, registration for new users closed. However, if they start to recruit again, beware.
14. Send Earnings
An older site that went defunct. If you see a website pretending to be Send Earnings, avoid it.
15. Daily Rewards
Although Proedge once owned this site, it no longer exists.
16. Cash Crate
Cash Crate no longer works and rounds out our list of defunct pay-to-read websites.
Tips on Getting Paid to Read Emails
We all know how to read emails; we do it every day. In our personal and professional lives, emails serve as a great way to communicate with friends, family, coworkers, and more.
However, when it comes to getting paid to read emails, you should follow a few tips to maximize this new way to earn money.
For example, setting up direct deposit through whichever pay-to-read websites you work for will secure your money the fastest.
Also, by treating pay-to-read like a part-time job and separating it from your usual email routine, you will set yourself up for success if you adhere to the following tips.
Register a New, Unsynced Email Account for the Job
Do not use your personal or work email to register with a company that allows you to work online reading emails.
By creating a new and separate email address to handle all your paid emails, you can easily organize and complete these simple tasks to get paid.
Also, make sure that your new email address remains unsynced with any of your personal or work emails. This additional separation ensures focus on your new revenue stream.
Some sites provide their own platform and email system to use. Even so, you should create a new email for the onboarding process.
Enable Email Notifications on All Devices
Another must-do when getting paid to read emails involves enabling your email notifications for your newly created email address on all devices.
This extra step allows you to keep your paid emails and non-paid emails separate and helps you stay on top of your work so you can make more money.
Beware of Scams
Scams still flourish online. Many companies will pretend to look and act like legitimate paid email sites to take advantage of the trend.
A common tactic of scam sites is to appear legitimate while creating impossible benchmarks to get paid.
For example, a paid survey site might lure you in with promises of making good money, but once you sign up, you suddenly learn that you can only withdraw money after completing an inordinate number of tasks.
Scam companies bank on the fact that most people give up before reaching their minimum payout amount. That way, they rarely have to pay anyone while exploiting people for free labor.
Always read the reviews from current and former users to understand potential problems or to decide whether you wish to avoid them altogether.
Some of the red flags common to most scam sites include:
Asking for bank account information or money upfront
Asking for personally identifying information, such as a social security number
Promising higher than average signup bonuses – the highest legitimate bonus on all the sites we researched stood at $10
Making outlandish promises like you will earn enough money to quit your job or win fabulous prizes worth far more than you can legitimately earn with this side hustle
"I'm scammed almost every day. Or, if not scammed, at the very least, someone tries to scam me. Usually more than once a day."

– James Altucher, author and hedge fund manager
Give Referrals for Extra Cash
All companies want to grow quickly and gain market share.
One of the best ways to grow involves cash incentives and referral bonuses for sending out referral links and invitations.
Typically they offer extra cash to the referrers and the new users.
Make sure you read the conditions of the bonus. Just because it says you can earn "up to" some amount, some general requirements exist that you must satisfy to receive the maximum payout.
Check Your Inbox Regularly
After you have made your new custom email and enabled notifications for it, you still need to check your inbox regularly to make sure you have not missed out on the best jobs.
Skipping even a day or two could mean you fail to meet your payout thresholds or miss out on a huge sale or promotion
Paid to Read Emails FAQs
So, you want to get paid to read emails, but you still have more questions? You are in luck because you have come to the right place.
Below, you can find some of the most frequently asked questions about the best ways to get paid to read emails.
How Do You Make Money on InboxDollars?
You make money on InboxDollars by reaching a minimum payout amount of $10. The rest of the money you make depends entirely on how much work you put into it.
Aside from reading emails, you can increase the points you need to earn money by playing games and taking surveys.
According to the website, gold members can earn money totalling over $30 per month by completing 1-3 quick paid surveys per day.
What Is InboxPays?
InboxPays is an online based company that specializes in market research.
The company pays up to $50 per month and offers discounts and coupons so you can save money. You can also get entered into giveaways to earn additional points and prizes.
Why Do Companies Pay to Read Emails?
Some companies find it more effective to pay people to read emails rather than hoping that a small percentage of people open their emails.
Most marketers believe that you have a very high likelihood of buying a product if you see it three different times in three different ways.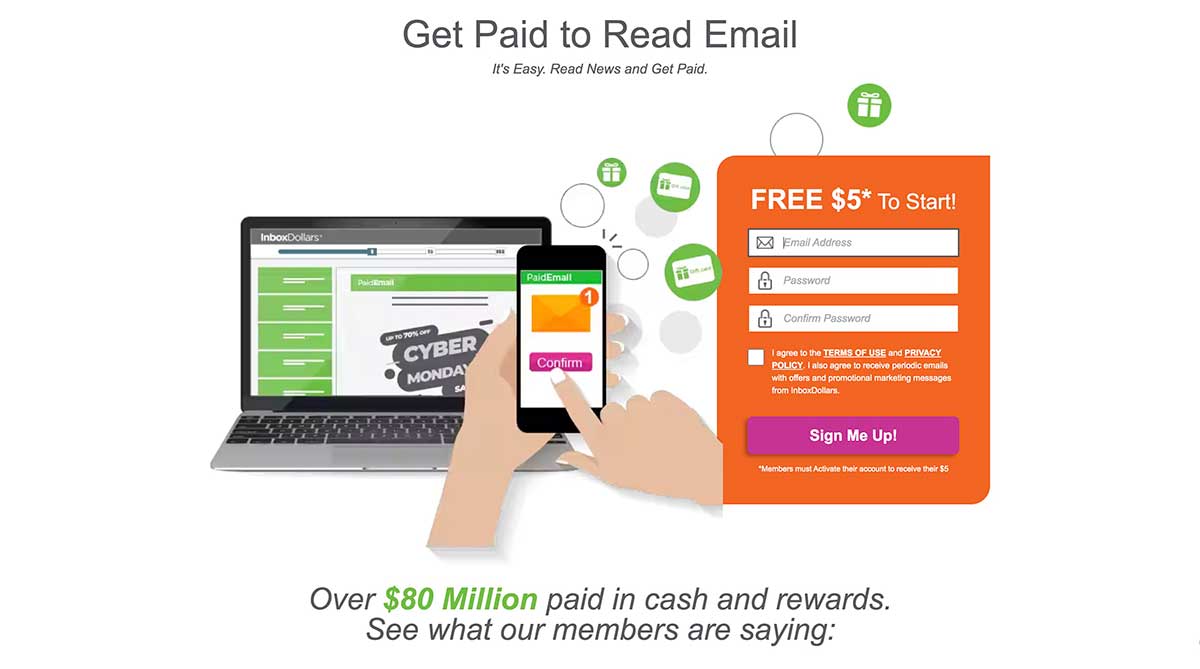 At the very least, you will remember the brand so that when you have the need, you will automatically reach for the product you feel the most comfortable with.
Analytics, data from surveys, and feedback on content prove highly valuable because they allow companies to identify what works and why.
Pay-to-read websites sell this information to companies that use this data to improve their services.
It may not sound like much work, but the information you provide the company remains incredibly advantageous for them. That's why you now have many opportunities to earn extra cash by reading emails, playing games, and otherwise participating in their programs.
How Much Can I Get Paid to Read Emails?
The amount of money you can make for reading emails varies by website and the content they send you.
You can earn different amounts from each assignment based on how individual companies value their content.
The average payouts for various tasks performed for pay-to-read companies include:
Read emails – Most reputable sites will pay you anywhere between $0.01 and $0.10 per email, and sometimes more depending on the opportunity
Play games – Payouts vary widely based on time requirements and subject matter
Complete surveys – Payouts remain volatile depending on the effort required and how strict the eligibility requirements are.
Refer friends – Bonus average of about $5 if new members use the platform and meet specified conditions
Find More Tips on Earning Money From Home at The Affiliate Lab
Find even more tips and tricks on how to earn extra money from home by joining The Affiliate Lab!
At The Affiliate Lab, you can ask questions and compare notes with some of the most successful affiliate marketing professionals.
Use our rich marketing resources and take advantage of new networking opportunities to go from reading emails to getting paid for promoting other companies' products and services.
Gain access to the most powerful tools in the affiliate marketing business and put yourself on the path toward financial independence.
Want to Become a PRO Affiliate?