Are you looking for a lucrative side hustle? Do you love making costume jewelry and want to monetize your handicrafts?
Breaking into the Jewelry market is far easier than you think, even for novices. The key involves finding your way through a maze of revenue channels and roadblocks.
Once you've made your way through that maze for the first time, however, you'll wonder why you waited so long to start selling some jewelry on the web.
Below, you will discover how to make money from the online jewelry store.
Quick Summary
selling jewelry online involves using platforms like Amazon, Shopify, Etsy, eBay, and Bonanza, and affiliate programs such as Kobelli and Jared.
Success strategies include studying competitors, avoiding fake jewelry, creating detailed product descriptions, and developing a strong marketing strategy.
This can be a profitable business, with options including selling handmade creations, reselling antique jewelry, or participating in jewelry affiliate programs.
Why Sell Jewelry From Home?
Silver and gold jewels will always have a market because most people still wear them. Wearing fine jewelry has become a growing trend again, making right now a great time to start selling.
The internet brought about a significant change in consumer shopping habits. The lockdowns of the 2020s only accelerated the move online.
While many brick-and-mortar stores closed for good, millions of individuals and businesses began selling their products and services to a larger, growing online client base.
Also, let's not forget: jewelry makes a great gift for family and friends. As a beginner jewelry designer, you can make a fair amount of money by selling jewelry online, even if you only sell to people you know.
The rise of the this business online has proven rather steady, influenced by many jewelry suppliers and designers selling their products online.
Access to global markets means you can build an jewelry business online by selling from home, and you'll find it easier than you once thought.
Let's take a look at the top ten best platforms to sell your jewelry on.
Jewelry takes people's minds off your wrinkles.
– Sonja Henie, Figure Skater and Film Actress
The Top 5 Best Platforms to Sell Jewelry From Home
Establishing jewelry stores and selling online proves rather uncomplicated once you've identified the best platforms to join.
Find the top 5 best platforms to sell your jewelry from home below.
1. Amazon
It should go without saying that Amazon remains the most successful online retailer.
To sell on Amazon, you'll need to consider shipping, storage, and handling. Once your jewelry company grows, Amazon can assist you with its affiliated couriers and fulfillment centers.
Choose Amazon Handmade if you wish to sell custom products. It's the best online marketplace dedicated to anyone who creates their own jewelry.
2. Shopify
If you need an easy way to set up online stores and sell your handmade or antique jewelry, then Shopify represents a superb place to start.
Your Shopify store can sync with social media platforms like Facebook and e-commerce outfits like Amazon. It means your customers can purchase your jewelry through their favorite channels, a significant advantage.
3. Etsy
As one of the most popular online marketplaces, Etsy specifically caters to homemade jewelry-making professionals.
The startup costs to create your shop remain low; however, Etsy does collect transaction charges.
4. eBay
Many online platforms strive to match eBay, especially regarding selling second-hand and wholesale jewelry.
Competition remains fierce on eBay, so you'll need to set your prices to get noticed and enjoy success.
5. Bonanza
If you find yourself seeking out a new e-commerce website, Bonanza deserves a look. It's becoming a popular platform, especially in the handmade jewelry trade.
Bonanza requires a more manageable setup cost than some of the more established platforms. It also gives you the potential to stand out and generate a lot of money.
The Top 5 Best Sell-From-Home Jewelry Affiliate Programs
Affiliate programs remain a fantastic way to sell because you don't have to make or even touch the products you sell. Become an effective affiliate marketer with a popular blog, and you can reap the benefits.
Thankfully, you can find several lucrative jewelry affiliate marketing programs to join. Let's take a look at some examples.
1. Kobelli
If you want to join the fine diamond jewelry trade and sell diamond jewelry, then Kobelli represents the best online jewelry business…
Kobelli's affiliate marketers earn 10% of their sales, with customers enjoying a 30-day, money-back guarantee.
2. Jared
Most affiliate marketers find it an unworkable business model to sell products from a single brand. Choosing an affiliate program that covers several brands makes things easier. Jared affiliate programs give you access to well over 5,000 products from many different brands.
You'll receive a commission rate of between 5% and 7% each month.
3. Monica Vinader
Monica Vinader is a popular brand amongst celebrities, which makes promotion a little easier than usual. As a Monica Vinader affiliate, you'll receive 8% to 10% on everything you vend online, along with some valuable marketing materials.
4. Rockford Collection
A luxury menswear brand, Rockford Collection runs affiliate programs that offer a 10% commission on sales whenever customers purchase jewelry with over 80 select designs.
Affiliates gain access to Rockford Collection's online resources, such as articles and lifestyle lookbook pictures, to help create original content.
5. Blue Nile Jewelry
Blue Nile was the first company to sell diamonds online and remains the largest online retailer of fine jewelry.
By joining Blue Nile's affiliate program, you can earn online and phone sales commissions.
You'll also enjoy access to online resources, such as curated text links and banner ads.
Tips on How to Sell Jewelry From Home
Now that we've identified the best platforms to use, and the most lucrative affiliate programs to join, it's time for you to start your sell-from-home business. Use some of the following tips to ensure your web store becomes a profitable business:
Study your competitors. See how they sell their jewelry online, especially if you enter a niche area of the jewelry industry rather than deciding to sell generic jewelry.
Don't sell fake jewelry. Selling replica jewelry remains commonplace, but you don't want to put off your customers and jeopardize your business online.
Draft a comprehensive product description. Your description serves as one of your strongest marketing tools. Customers want to read about the products you offer.
Develop a strong marketing strategy. It's all well and good to set up an online store. However, you still need to entice customers to buy your products.
Insert colorful and compelling images on your website to lure in shoppers and bolster their confidence in your products.
Selling doesn't have to be a guessing game. With a bit of research, some help from the various affiliate programs available, and by leveraging social media sites like Facebook Marketplace, you can soon set up a shop and sell.
Can You Make A Living Selling Jewelry?
Selling jewels is a legitimate business that can bring in reliable income, whether you do it online or via pawn shops and jewelry stores. You can earn a good living with jewelry affiliate programs as well. If you want to make a lot of money by selling cheap things, you have to cut corners here and there. 
FAQs
What Is the Best Platform To Sell Jewelry Online?
Etsy is the finest place to sell handmade jewelry, while Amazon and Shopify are excellent for selling antique jewelry and large quantities of jewelry. Gold and diamond jewelry, for example, fetch the highest prices when sold to collectors via online marketplaces like Sotheby's, Worthy, and Cash for Gold USA.
Is Re-Selling Jewelry Worth It?
Even if the jewelry of the past isn't worth much now, you can probably obtain a reasonable selling price for it. Jewelry retains a bigger percentage of its original purchase price if it is unique and in demand. Up to half of the item's original worth is possible, according to experts' estimates.
Is Jewelry Dropshipping a Good Idea?
Jewelry dropshipping is a good idea. It's possible to earn a profit selling handcrafted jewelry without investing. The fact that jewelry is lightweight and compact makes it ideal for shipping. Because of these reasons, this particular area of online commerce is very successful. But there is still room to join in. 
How Can I Make Money Selling Jewelry?
You can make money selling online by setting up your own jewelry-making business and selling your creations on the internet through eBay, Etsy, or other online marketplaces.
Alternatively, you can join a jewelry affiliate program and add links to your blog that lead to the website of your local jewelry store or even wholesale suppliers.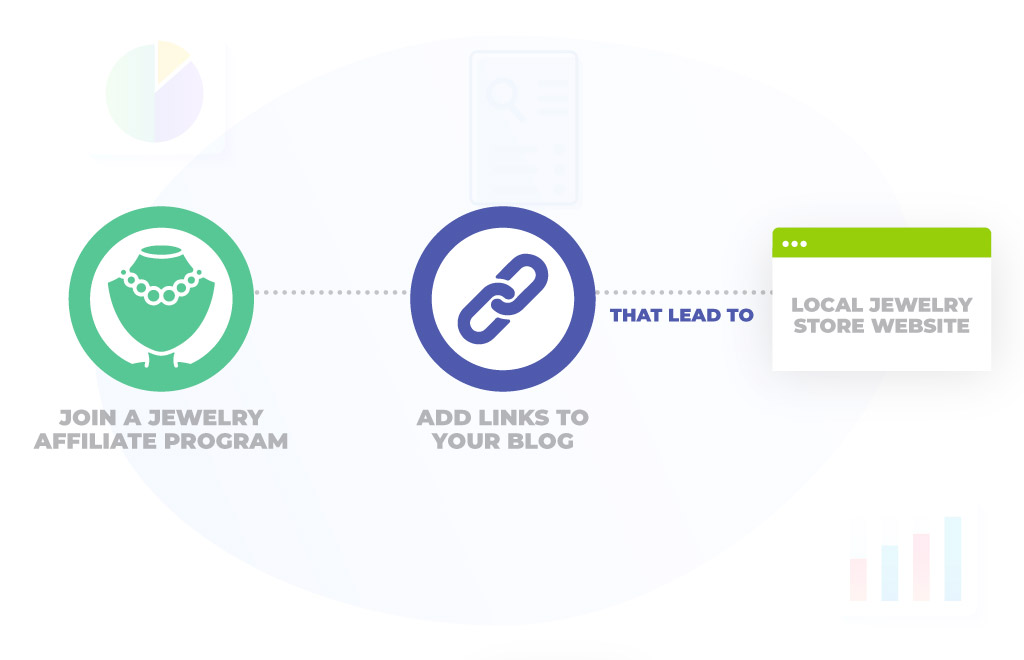 How Do I Start a Small Jewelry Business From Home?
You can start a Jewelry trade from home by first deciding what jewelry you want to sell.
Will you be selling customizable jewelry, antique jewelry, or gold jewelry? Or, maybe, you want to explore your options in the world of fine jewelry.
Make a firm resolution regarding the type of products you wish to sell before determining your customer base.
Who do you think will buy your jewelry? Where will you find them online? Which platforms attract jewelry lovers? Answering these initial questions will guide you if you want to do online jewelry sales.
What Is the Most Profitable Way to Sell Jewelry?
The most profitable way to vend jewelry involves buying low and selling high. Don't forget that the whole idea behind setting up a shop and online sale involves making some money.
You'll need to find the best deals you can from wholesale jewelry suppliers, and sell the products for a higher price at the right time and place.
The jewelry-selling process takes time, practice, and patience. As a new player in the jewelry game, establishing yourself will take perseverance.
You should try to first make money by selling it online. Then, you can start thinking about maintaining a physical presence at select locations.
What Type of Jewelry Sells the Most?
The type of jewelry that sells the most is gold jewelry, especially necklaces, bracelets, and earrings. You should check current trends because they often shift.
However, you shouldn't always follow jewelry trends. Sometimes, you should attempt to position yourself ahead of the next trend.
Also, if you are passionate about another precious material, like platinum, then sell that. You own the web store, after all. And, you will enjoy more success doing what you love than copying others.
Learn How to Sell Online
Now that you know better how to make money from theonline jewelry store, you need to start a website, join an affiliate program, or market your jewelry.
At The Affiliate Lab, you'll learn how to leverage search engine optimization (SEO) to market your products online. If you are new to SEO, watch this free webinar. You'll find out what's working right now and the strategies we use to rank sites in any industry.