We've made it to the final month of the year, but that's no excuse to slow down. This month has been a significant one for SEO knowledge. What you're about to learn can help you rocket-boost your operations into the new year.
First, I've got three deep data dives for you. You'll get to review an analysis of real link building campaigns, what the research says about optimizing for snippets, and how to recognize the anatomy of an SEO attack.
After that, you'll review an unusually-rich set of guides. You'll learn how to use Google Discover to drive traffic, how to leverage keyword mapping, and how to match the user intent to SERP features.
Finally, we'll look at the month's most prominent news. You'll learn the details of the latest December core update, what was covered in Google's crawl stats announcements, and why auto-generated news stories dropped and then vanished earlier this month.
7 Real Link Building Campaigns Analyzed (And Why They Work)
Mark and Gael of Authority Hacker bring us this intensive look at real-life link building campaigns. Multiple sites were put under the microscope to examine exactly what they were doing and how they were doing it.
They covered high-ranking websites in all of the following niches:
Casino
Retirement finance
Insurance
Dating
Health
CBD
VPN/Online privacy
The two hosts examined the backlink profile for each of these sites and dissected what work was being done to build them.
The first casino site—Slotsia.com—provides a great example of the type of things Mark and Gael were able to learn. They quickly pointed out how this site could attract high-value links from news sites by creating a "top party cities" feature that attracted local newspapers.
The CBD site they reviewed—Waytoleaf—ranked number #1 with tactics many might assume are outdated. They built posts on blogging sites and then promoted those posts with forum comment links. That work was apparently worth 800,000+ visits a month.
These are just a couple of examples. The strategies were radically different but gave both sites top rankings in their niche.

It's worth checking out every site in this video to build some new ideas for your own backlink efforts. Now that you have some ideas for links let's look at some data about on-page changes you can make to rule SERPs.
How to Optimize for Google Featured Snippets [Research]
https://www.semrush.com/blog/featured-snippet/
A.J. Ghergich of SEMrush brings us this research into how to optimize for Google Snippets. The study looked at which keywords were involved, where they appeared in the results, and how the winners earned them.
To complete the research, 1 million SERPs with featured snippets were isolated from 46 million different mobile searches. Patterns were pulled out of the isolated data to reveal some interesting statistics, including:
The featured snippet covers 50% of the average mobile screen
6% of questions starting with "Why" have a featured snippet
70% of the articles that appear in featured snippets are no older than 2-3 years
The featured snippet takes the first organic position 99% of the time when it appears
The research revealed which keyword categories were most likely to trigger a snippet. In the top five were:
Travel (62% of searches)
Computers and Electronics (62%)
Art & Entertainment (59%)
Science (54%)
Reference (47%)
The biggest priority for most SEOs is likely how to earn the snippet. The research had some interesting things to say here, too.
Queries also significantly increased the chance of a snippet appearing, but the starting word made a huge difference. For example, 77.63% of keyword phrases starting with "why" triggered a feature, while phrases beginning with "where" triggered one only 18.59% of the time.
That's only a taste of everything in this large set of data. Actioning what you learn from these statistics may allow you to capture features like never before.
Now that we've gone over some data about getting the attention you want, let's take a look at some you don't. The next piece covers the anatomy of a negative SEO attack.
The anatomy of a negative SEO attack
https://www.searchenginewatch.com/2020/11/26/the-anatomy-of-a-negative-seo-attack/
Manick Bhan, writing for Search Engine Watch, brings us this look into the most common types of negative SEO and what steps you can take to recover after an attack.
He identifies the following types of attacks:
Toxic backlinks
Comment spam links
Exact match or unnatural anchor text
Fake negative reviews
For each of these, he shows you how they work and how they might appear when they first seep into your backlink profile. These examples are reinforced with images of how these attacks can be recognized in the wild.
After that, he goes into the steps you can take to protect your profile from attacks. Depending on the type of attacks, He lays out some methods you can use to recover, including:
Directly contact the webmaster hosting the attack link to ask that it be removed. In many cases, the webmaster isn't involved in the attack and will remove posts that are recognizable as spam from their sites.
Add the attack links to your disavow file. This action may stop Google from considering certain links as part of your profile, but it should be used sparingly.
Use positive link-building campaigns to reduce your vulnerability. This is an expensive strategy, but it's one of your best defenses.
That covers the research for this month. Now, let's into the guides that will give you step-by-step instructions on how to be a better SEO. First, we'll look at what Ahrefs has to teach us about how to rank and drive traffic with Google Discover.
Google Discover: How to Rank and Drive Traffic
https://ahrefs.com/blog/google-discover/
Michal Pecánek brings us this guide into how to make the most of Google Discover—the automated personalized mobile feed that tracks and then delivers stories based on your online activity.
Discover may be Google's shot at providing the social media experience right from the search page, and it seems to be effective. As Michal points out, the Ahrefs blog had received over 150k clicks from Discover in just the last six months.
Michal analyzed how Discover generates a feed, how it organizes stories into categories, and what caused people to click links.
His advice includes:
Have a mobile-friendly site: It was already important to have a mobile-friendly site before Discover, but Discover is only for mobile users.
Use unique, high-quality images: Images feature prominently in the Discover feed. To attract clicks, you'll need good ones that stand out.
Publish content about popular topics: Discover shows a clear preference for timely content and current events. Evergreen content can succeed, but it should align with healthy trends.
Work on your E-A-T: Google prefers to showcase stories from sites that have solid E-A-T scores. Keep yours up by providing precise dates, bylines, and publisher information for your articles.
Create a buzz with your content distribution: The content that Discover chooses to showcase also tends to have good engagement on Twitter and other platforms. Promoting your content on social media could increase the chances it gets showcased.
Embed your YouTube videos into articles: YouTube videos have a significant presence on Discover. Michal found that the clicks on embedded videos in content could outperform the content itself by 10:1.
Michal closes by reminding us that outstanding performance on Discover is only a byproduct of applying these tips. Even without attention from Discover, these practices can improve your SEO and bring in more diverse traffic.

Our next guide is also focused on how you can bring in a large spectrum of traffic. The writer argues that the right keyword practices can help you competitively rank for hundreds of different keywords.
How to Leverage Keyword Mapping for SEO Success
https://www.searchenginejournal.com/keyword-mapping-seo-success/
Viola Eva brings us this argument for the necessity of mapping. She defines the goal of keyword mapping as assigning a large target keyword cluster to each page. That cluster should include the main keyword, all variations, and the supporting keywords.
She claims that large topic-spanning content pieces based around keyword mapping are vastly superior to multiple independent pages focused on one aspect of a topic.
It hasn't been very long that it made sense to focus on such a large body of words to do SEO properly. However, as Viola points out, this requirement opens the path to a lot of possibilities.
For example, she shows the stats for a particularly well-performing piece of content built for a software client.
Thanks to the ways this content was mapped, it is currently ranking for more than 600 different keywords, including:
What is [topic]
Define [topic]
[Topic] definition
[Topic] management
[Topic] strategy
[Topic] best practices
To try to target these keywords independently, Viola argues, would have significantly increased the risk of cannibalization.
By mapping keywords based on a wide range of terms, you can create evergreen content with a long lifespan.
She closes with some advice on how you can avoid cannibalization. You can use tools or just review the 1st page for each keyword in Incognito mode to determine if the same results come up.
To follow up on this argument, Ahrefs has some freshly updated advice on doing keyword research for SEO.
How to Do Keyword Research for SEO
https://ahrefs.com/blog/keyword-research/
Tim Soulo of Ahrefs produced this recently-updated guide that takes you through the complete process of keyword research. This is a true beginner's guide that will tell you everything you need to know from start to finish.
It may also help if you're an experienced SEO but haven't updated your research procedures in a few years.
In six chapters, it covers:
The basics of keyword research
How to find keyword ideas
How to analyze keywords
How to target keywords
How to prioritize keywords
Examples of keyword research tools to use
Each chapter is filled with examples, images, and warnings about what to do if you run into snags.
The Keyword targeting section is an excellent example of the kind of value this guide provides. It covers how to identify search intent and structure titles using your keywords to meet that intent.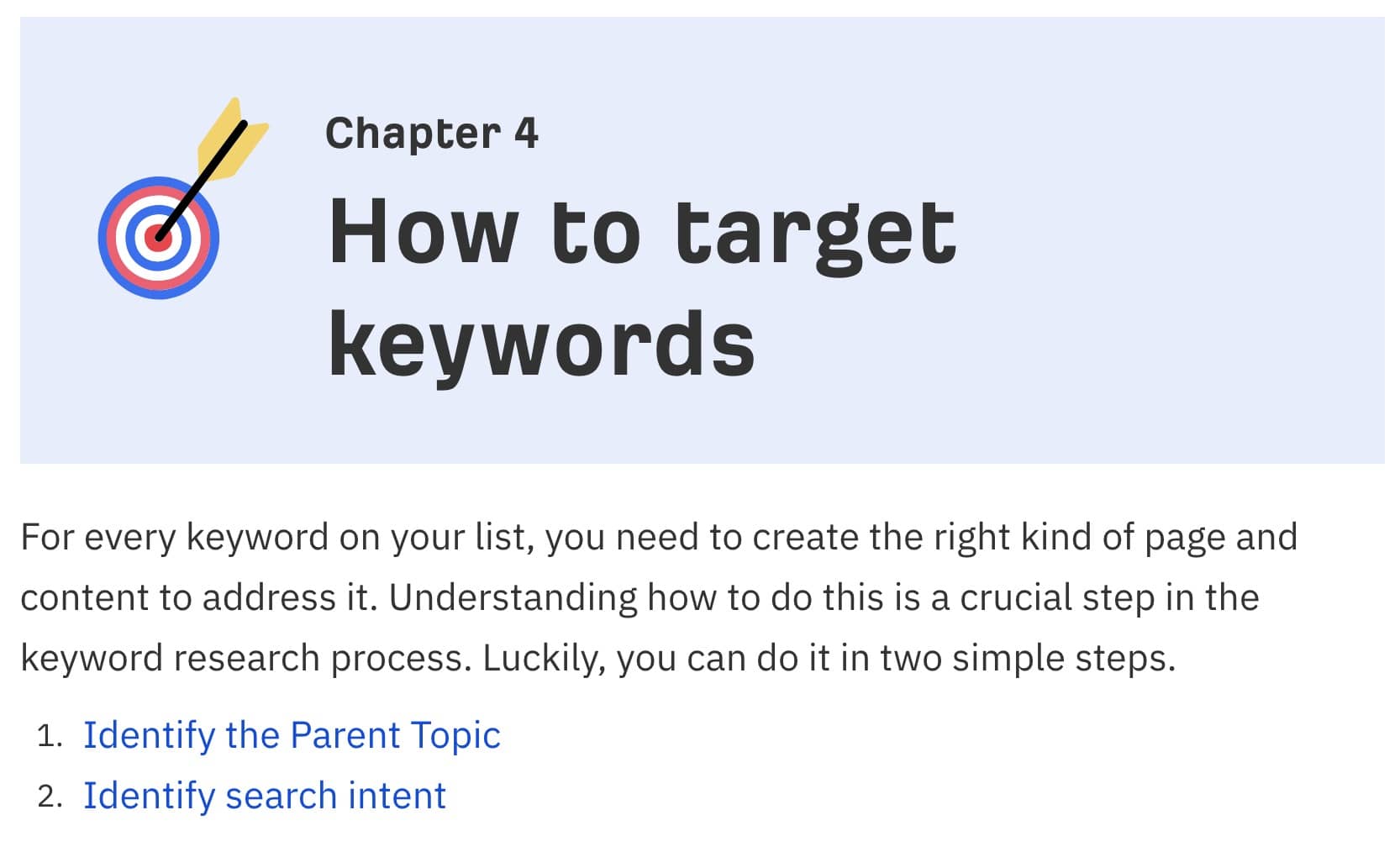 It tells you how to analyze any content you're going to build based on the content type (for example, blog or landing page), content format (how-to, listicle, opinion piece), and content angle (with a budget, without a budget, etc.)
If you're the type of SEO who fields many questions from beginner friends, it's the type of guide you can just link to and trust that they'll get good advice. The keyword research tools it recommends at the end are all free, which makes it even more useful for this purpose.
Our next piece moves into some more experienced territory. We'll be looking at how to combine user intent and SERP features.
Successfully Combining User Intention and SERP Features
https://www.sistrix.com/blog/successfully-combining-user-intention-and-serp-features/
Kevin Indig of Sistrix brings us this look at how to combine user intention and search features. As he points out early on, Google's strategy for the future depends on search features. Through these visually-rich results, Google hopes to implant itself into the entire customer journey.
Kevin claims that by focusing on a SERP strategy feature, he has doubled the traffic to his G2 family of sites every year. The rest of the article lays out the strategy that he uses.
First, he highlights the importance of focusing on only the optimizable SERP features. It's not practical to focus on winning any features that allow Google to provide an answer without a website visit.

For the useful features, he uses a 3-step strategy:
Gain an understanding of the user intent that the product can satisfy—for example, price research, reviews, and comparisons.
Structure of the target keywords (query syntax) according to page type and user intent
Research which SERP features fit the query syntax.
He identifies the best features for this work as:
The FAQ snippets
The featured (content block) snippet
FAQ snippets are controversial with many SEOs because of their potential to draw clicks away from the website. However, Kevin found that seizing them increased the click rate by 4% and allowed his pages to travel from position #6 to position #1.
Featured snippets can be challenging to capture because they depend on how well your content sections perfectly match the query. However, when you can capture them, they launch your page into the top spot and provide a massive boost to your credibility.
Kevin closes by reminding us that SERP features are more than "nice to have." These constantly-evolving features are the key to Google's strategy going forward. Ignore them at your peril.
That's all for the guides this month. Let's move on to the latest news, starting with the latest details of the December 2020 core update.
Google's December 2020 core update was big, even bigger than May 2020, say data providers
https://searchengineland.com/googles-december-2020-core-update-was-big-even-bigger-than-may-2020-says-data-providers-344429
Barry Schwartz brings us this look at the latest core update that began rolling out on December 3rd. He gathered answers from multiple data companies—including RankRanger, SEMRush, and Sistrix—on the changes they've tracked since the update started.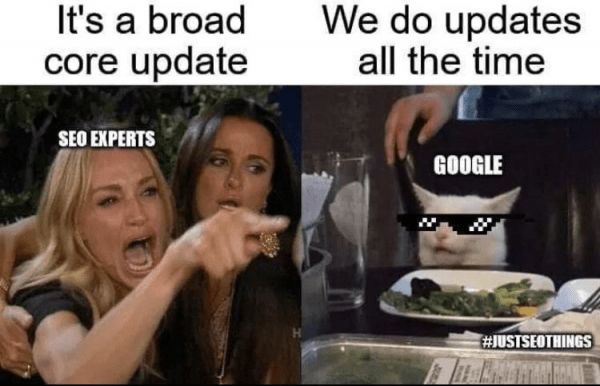 The first thing to note is that this update was
big
. According to RankRanger's data, there were twice as many fluctuations in the top 20 positions than there were in the May update.
SEMRush found that the most affected niches (broken down by desktop and mobile SERPs) were:
Desktop
Health
Real Estate
Travel
Finance
Law & Government
Mobile
Health
Law & Government
Jobs
Education
Pets & Animals
Real Estate
SEMRush also identified some winners and losers. Notable winners included eBay, Vimeo, and Yahoo. Losers included YellowPages, Gettyimages, and Urban Dictionary.
Sistrix found that dictionary and encyclopedia sites were particularly vulnerable to losses. They speculated this may be due to the way new rater guidelines affect sites with small, highly-specific pages.
The fallout is still ongoing, with some SEOs reporting traffic losses as high as 40%. We'll have more news here for you as the dust starts to setting on this update. For now, let's look at an announcement that's good news for everyone.
New and Improved Crawl Stats for your Site
https://developers.google.com/search/blog/2020/11/search-console-crawl-stats-report?hl=en
Google announced in late November that they were dropping a brand new version of the crawl stats report. This report will include three new features:
The total number of requests grouped by response code, crawled file type, crawl purpose, and Googlebot type.
Detailed information on your host status
URL examples to show where in your site requests originated
A summary for properties with multiple hosts and support for domain properties
New over-time charts will allow website owners to see significantly more crawl data related to total requests, download size, and average response time.

The host features will let you check your site's availability to Google within the last 90 days. If your domain has multiple hosts, you'll get to see the host status for each of the top hosts.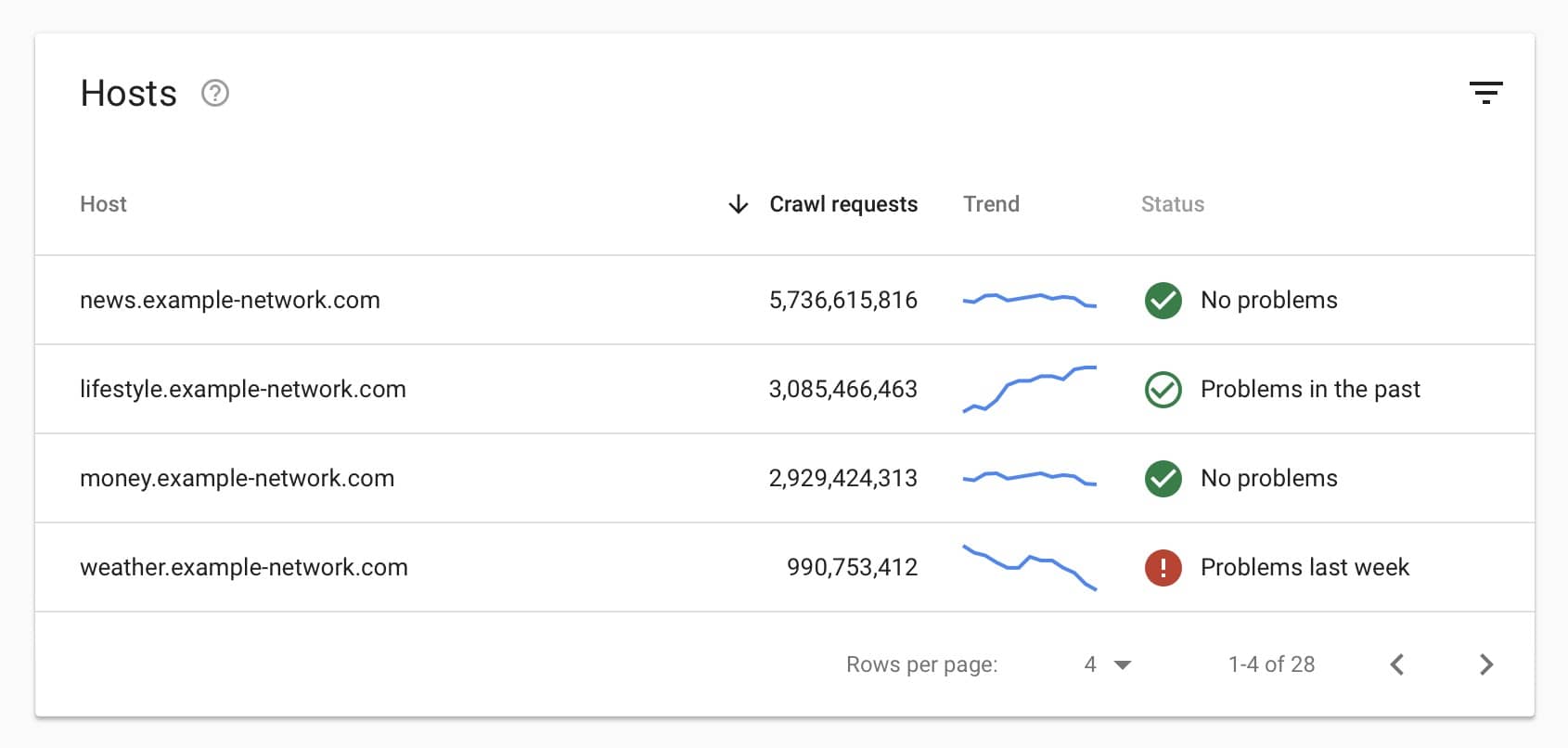 Overall, the new stats should give you significantly more insight into how crawlers behave and what kind of access they have. There's plenty here to action.
While Google gave us this new feature this month, they also took one away with little warning. Let's quickly go over the rise and untimely demise of Google's automated web stories.
Google Deletes Its Autogenerated Web Stories & They Now 404
https://www.seroundtable.com/google-removes-the-autogenerated-web-stories-30496.html
In the last quarter of November, Google briefly experimented with giving snippets to stories that had been automatically generated by Google. Watchful SEOs like Glenn Gabe caught the stories by the 25th, but by the 26th, they all seemed to be gone.
Well, they're not entirely gone. In a few cases, the snippets still exist. The links in those stories end in a 404.
For the time being, Google doesn't have much to say about what may have been an experiment that got released too quickly. To say that Google generating stories from other's reporting might cause some controversy is an understatement.
Google has some tense relationships with publishers because of its focus on providing answers directly on SERPs. Replacing publishers outright would likely result in more tension.
Are the stories gone forever? It's not likely, though we may see the technology used to generate these stories emerge in another capacity. Watch this space for updates.
Got Questions or Comments?
Join the discussion here on Facebook.