If you want to keep your momentum going into the new year, you've come to the right place. Our February roundup includes the tips you need to stay on top.
We'll start with the case studies. First, you'll learn how well PBNs work in foreign SEO. Then, you'll discover one SEOs method for achieving 600%+ growth.
Next, you will pick up some new skills from our top guides of the month. They'll teach you how to reclaim keyword data that's been lost, how to use better SEO formulas in Google sheets, how to extract core web vitals data, and how to keep paywalled content SEO compliant.
At the end, we'll cover the month's can't-miss news items for SEO. We have google announcements for you covering new robots tags, mobile search features, and manual penalties that are coming down.
How Well Do PBNs Work In Foreign SEO? (A 2022 Study)
https://rankclub.io/how-well-do-pbns-work-in-foreign-serps/
Rank Club brings us this comprehensive look at how PBNs work in the foreign SEO market. Using the data gathered from the study, the team sought to answer questions like:
Do PBNs work in <insert country>?
What is the % chance a ranking increase will occur?
What are the best practices to achieve the best results?
The study covers more than a dozen different countries, including both English-speaking and foreign language SERPs. The case study includes separate graphs for each of the covered countries.

The team found that the tested PBNs achieved positive results in approximately 85% of cases. They also found that the PBNs take between 6-14 days to take effect.
You'll find additional insights in the full article, including some conclusions about the potential of PBN links. Next, we'll cover how one SEO massively increased organic traffic through content changes.
SEO Case Study: How I Increased My Organic Traffic 652% In 7 Days
https://backlinko.com/skyscraper-technique-2-0
Brian Dean brings us this look at how he used the skyscraper technique to massively improve his organic traffic. The Skyscraper technique is a content strategy where you find the best, most linkable content in your niche and create content that improves on it.
Brian applies this strategy to a single lagging page to determine its impact in this updated case study. He didn't even need to create a new piece of content, just update an old one based on his research.
The result of this strategy was that the content's organic traffic improved by 652.17% in only a week.
In addition to the data, Brian provides you with the step-by-step process he used to achieve these returns. The guide sections include some great advice—backed up by heat maps and other resources—on optimizing your content around user intent.
Optimizing content takes good data. Unfortunately, some data is getting harder to find with the recent Google Analytics platform updates. Let's jump into the guides, starting with looking at how you can reclaim data that's been lost.
'Not Provided' In Google Analytics: How To Reclaim Your Keyword Data
https://ahrefs.com/blog/not-provided/
Mateusz Makosiewicz of Ahrefs brings us this look at finding data that is currently marked as "not provided".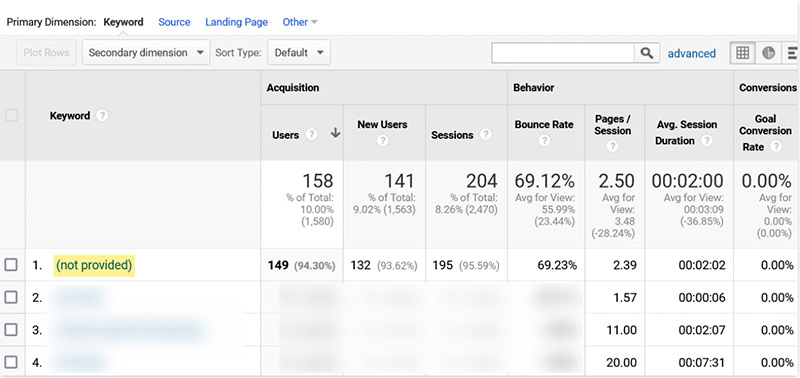 Google has covered up some keyword data to protect consumer privacy. However, this data is not totally gone. You can still analyze it and pull insights out of it. Mateusz discusses several other ways to source this data.
First, he shows you how to set up Google Search Console to track and deliver the data you're missing in monthly reports. He lists all the filters you'll need to make this possible so you can set up the solution easily.
Next, Mateusz covers some free downloadable tools to provide you with the missing information. The guide closes with some advice on putting the missing data to work in your SEO strategies.
If you're looking for better ways to analyze that data for SEO and content audits, the following guide will help. It covers some of the best formula shortcuts you can use to speed up your work.
The Best Google Sheets Formulas For SEO & Content Audits
https://shellshockuk.com/best-google-sheets-formulas-for-seo-content-audits/
Shelley Walsh brings us this compact guide on managing SEO data better with Google Sheets formulas.
She covers a range of useful formulas, including ones that allow you to do all of the following to your existing data:
Extract a path or remove https:// from a string
Remove the URL parameter on tracking IDs from GS data
Search for categories, blog pages, or for a specific keyword
Import sales figures, GSC data, URLs, lists of products, or any data from another sheet
Pull in URLs that are tagged with a specific intent
One great thing about this guide is that you can put it into action right now just by copy-and-pasting. If you've been using outdated or simplified formulas to get your data in order, you can upgrade your entire sheet in a few minutes.
If you're looking to extract a specific type of data, our next guide may have what you need. It's a zoomed-in look at how to get Core Web Vitals data from Google.
6 Core Web Vitals Extraction Methods For CrUX With Pros & Cons
https://www.searchenginejournal.com/extracting-cwv-crux-seo/
Jose Hernando of SEJ brings us this look at how to extract core web vitals data. He starts with a quick lesson on how Google measures these signals and what kind of data will tell us whether we're doing a good or bad job.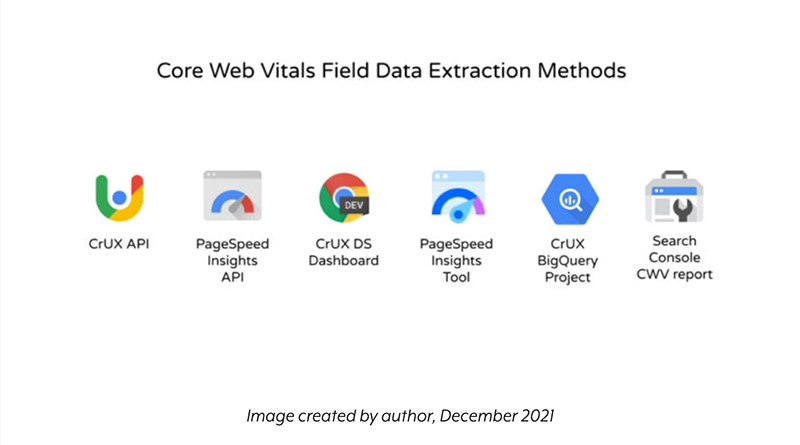 The guide focuses on how to recover CrUX (Chrome UX) data. Fortunately, this data is not difficult to find and interpret. Jose takes you through the six sources you can use to find this data, including:
CrUX API
PageSpeed Insights API
CrUX Data Studio Dashboard
PageSpeed Insights Tool
CrUX BigQuery project
Google Search Console
For each one, he tells you what data is available and how you can access it with step-by-step instructions. For each one, he provides a pros and cons list so that you can tailor the source you use to your needs.
In our final guide for the month, you'll learn how to pull off an uncommon SEO skill—making paywalled content search compliant.
(Thread) How To Be SEO Compliant If You Have Paywalled Content
https://twitter.com/antoineripret/status/1483813748821405700
Antoine Eripret brings us this Twitter thread/guide on how to get credit for content that's behind a paywall.
The guide takes you through all the steps you'll need to follow to ensure that the right crawlers can access your content. You'll learn how to add the right markup, how to keep paywalled content safe from unauthorized users, and some troubleshooting steps you can take.
He provides helpful examples from major newspapers like the New York Times and La Monde. You'll get to see some of the techniques used by these sites to get the right results.
There is some excellent discussion below the thread about different ways to make this work. That's it for the guides. Next, we'll look at the biggest news items for the month.
Google Gives Sites More Indexing Control With New Robots Tag
https://www.searchenginejournal.com/google-indexifembedded-robots-tag/434396/
Matt Southern brings us this look at the new robots tag and some new features coming with it.
As he details, this new tag will give you more control over which content gets indexed in search results. The new tag will override the noindex tag in situations where both are present.
As an example, Matt points out that you can keep a whole URL out of results with a noindex tag, but apply the new tag to specific content sections. This will allow the sections you choose to be indexable when other websites embed them.
This news story closes with some quick advice on how you can start testing the new tag on your own sites. Next, we'll be looking at a new feature for mobile searches.
New Google Mobile Search Feature: People Search Next
https://searchengineland.com/google-people-search-next-mobile-search-feature-379370#.YfQRwPo6w7Q.twitter
Danny Goodwin brings us this look at a new search feature coming to all mobile "near me" searches. It's called "People Search Next" and provides searchers with quick links to common next searches.
The feature is not replacing any others, so it will appear alongside the existing search features People also ask and People also search for. As Danny demonstrates, this feature is already appearing for many mobile searches. In some examples, it was placed above older features.
Google has stated that the feature will expand beyond mobile "near me" searches but has not provided a timeline. The company has also not specified what SERPs are most likely to produce this feature.
Publishers With Manual Actions For Discover & Google News
https://www.seroundtable.com/google-penalties-news-publishers-manual-actions-32842.html
Barry Schwartz brings us this look at a series of manual action penalties applied to publishers active in Google Discover and Google News. The penalties landed throughout January and included all of the following violations:
News and Discover policy violation: Misleading content
News and Discover policy violation: Medical content
News and Discover policy violation: Manipulated media
Barry illustrated the extent of these penalties with testimony from several major SEOs. Glenn Gabe and others experienced a wave of clients who needed help getting a penalty removed. Several examples of internal GSC notices are provided.
These penalties only apply to Google Discover and Google News rankings. You probably have nothing to worry about if you're not fighting in that space. If you are, now would be a great time to review the Google News policies.
Come back for our next SEO news roundup to learn how to stay ahead of new penalties. We'll keep you up-to-date with that and so much more.
Got Questions or Comments?
Join the discussion here on Facebook.