A new year may be upon us, but we're not quite done reflecting on the last one just yet. It was filled with news and advice you need to know if you're involved in SEO or affiliate marketing.
What news was that? Well, have I got a roundup for you.
We'll start with the top guides. In this month's collection, you'll find a beefy guide to SEO in 2020 and a list of mistakes to avoid when managing an outreach team. You'll also learn from well-illustrated examples of successful amazon affiliate sites and content.
After that, make sure you catch the month's most intriguing case studies. Learn what the research has to say about where blogging is going, the meaning of last year's biggest trends, and how one source says you can come out as a winner of every algorithm update.
Finally, we get to the headlines. Google made some important announcements last month that are definitely worth checking out. They include a report on all the biggest search trends, a clarification on when to disavow unwanted links, and the rollout of neural matching to all local searches.
Let's start with Backlinko's huge guide to SEO in 2020.
The Definitive Guide To SEO In 2020
https://backlinko.com/seo-this-year
Backlinko has just published what they are calling the "definitive" 2020 SEO guide. I'll let you be the judge of that, but no one can say they didn't put in the elbow grease.
The guide includes 9 full chapters that cover:
Domain authority 2.0
The rise of visual search
The significance of video
The significance of voice search
The significance of backlinks
What it means to optimize for featured snippets
What is means to master search intent
How to treat decreasing CTR
Sure, not all of this information is going to be new to you. However, there is enough here that everyone should be able to learn something.
It helps that the guide is packed with graphics, embedded videos, and even some podcasts to provide extra depth.
Is that enough to make it the definitive SEO guide of 2020? Maybe, but I bet there's going to be some competition for that title before long.
Look for those in a future roundup.
For now, let's look at what 7 successful examples can teach you about how to develop an amazon affiliate site.
7 Successful Amazon Affiliate Websites (That You Can Learn From)
https://ahrefs.com/blog/amazon-affiliate-websites
If you're someone who learns best by reverse-engineering what works for your competitors, this may be the affiliate marketing guide you've been waiting for.
This guide presents seven successful affiliate sites and then dives deep into what makes them tick. Each example is packed with stats you can compare, including DR, number of referring domains and estimated organic traffic.
After the stats, each section features a more strategic analysis that looks into questions like how the site creates content and builds trust with its unique audience.
Different niches are well-represented in the article. That should make it easy to find something comparable to yours. They include:
Survival gear
Dog food
PC Parts
Adventure travel
Some of the sites here have an estimated revenue in the millions, so don't feel bad if you've got a long way to go to match their polish. There are a lot of ways to reach the next level with an affiliate site.
Now, let's look at how you can make fewer mistakes when you're managing an outreach team.
11 Mistakes to Avoid when Managing an Outreach Team
https://authority.builders/blog/outreach-team-building-mistakes/
This guide features Pete King's experienced take on how to avoid the potholes of managing an outreach team.
Across 11 points, the guide covers the mistakes that are most likely to slow down your process, eat up too much of your time or blow up your budget.
Pete argues that you can build an agile team as long as you put systems in place so you don't…
Hire for the wrong skills
Lose track of the actions being performed
Track meaningless KPIs (Here's our recommended seo kpis to track)
Leave your team without the right leadership
Get dragged into processes that should be automated
Piss off webmasters
You may be able to use this guide to improve an existing process, but it's also detailed enough that it could help you build your first team.
If you like doing things at a large scale, you'll probably also enjoy the next item coming up, a guide to content frameworks for startups.
SEO for Startups: 7 High-Converting Content Frameworks (With Examples)
https://www.robbierichards.com/seo/seo-for-startups/
This guide approaches content building in a different way than many of the guides you may have seen in the past.
This guide is aimed at growth-stage startups trying to attract more qualified traffic. It recommends this be done by developing content along one of seven provided frameworks.
What's a content framework? It's a model for making sure that a certain type of content meets a certain set of goals, and avoids certain dangers. Think of it like a template, but for the content's strategy instead of its look.
The article introduces 7 of them that are based around some of the most common types of articles in affiliate marketing.
Alternative to [Brand] framework
Comparison framework
Best Tools for [Specific Task] framework
How to Choose the Right [Product or Service] framework
Industry Trends framework
Product Use Case framework
Alternative to [Brand] framework is a great starting example.
So, what is "alternative to brand" content? Think of any topic where you're setting your product up as an alternative to a more established brand. When you write this type of content, you need to provide information that matches searcher intent.
You also need to avoid getting sued, which can be a risk when you're making statements about a competitor's products.
The framework provided in this article provides a series of rules for writing this type of content, and for the other 6 types it describes.
The guide closes with a large section on how to analyze SERPs to qualify your keywords and make the content more effective.
If you follow this guide, you could end up putting a lot more blogs out into the world. But how many are out there already? How many are published each year? What length do SEOs feel delivers the best results?
If you've ever found yourself asking those questions, you shouldn't miss the first case study in our set.
How Many Blogs Are There? (And 141 Other Blogging Stats)
https://growthbadger.com/blog-stats/
This data-driven piece has come out just in time to provide you with some insight into the state of blogs across the internet as we move into 2020.
It draws together surveys, polls, consumer reports and other types of data from recent research to give you a broad look at what the future may bring.
Plenty in here may matter to you if you're involved in the strategy or production of content. For example, did you know that…
85% of B2C marketers and 91% of B2B marketers say their companies blog or use other types of content marketing. (Content Marketing Institute)
Or that,
Headlines with negative terms like "never" and "worst" perform 30% better than average, and 60% better than ones with positive terms like "always", "most", and "best". ( ConversionXL)
If not, it may be a good idea to give the stats here a scan. Now,  let's turn to our next case study, a look into what changed with each core update over 2019.
SEO research in 2019 – A Summary of Rank Ranger's Findings
https://www.rankranger.com/blog/seo-research-2019
Google can seem pretty unpredictable at times, but as long as you have two points, you can start drawing lines. This roundup item aims to help you do that by providing data into what changed after each update landed.
The study breaks up the data by the months the updates hit, making for four in total. These are the…
March Core Update
June Core Update
July (Unconfirmed) Update
September Core Update
For each of these, you get tables of data about what changed and where. The tables show you how much volatility there was in the top 3, 5, and 10 results for a variety of important niches such as travel, home/garden, health, finance, and gambling.
This could be useful information for you if you're in one of those niches. You could make all kinds of predictions (or bets) by interpreting the data in your own way.
But what if you could do better than risky odds? In the next case study, the author claims you can win every Google core algorithm update.
How to Become a Winner from Every Google Core Algorithm Update
https://www.oncrawl.com/technical-seo/how-to-become-a-winner-from-every-google-core-algorithm-update/
This ambitious case study takes a deep look into a site that came out of every update of the past year as a winner (after the first one). From that example, they make an interesting case that you can follow the same path to come out the winner in future updates.
Sounds like a bit of a bold claim, right? Let's see what they have to say.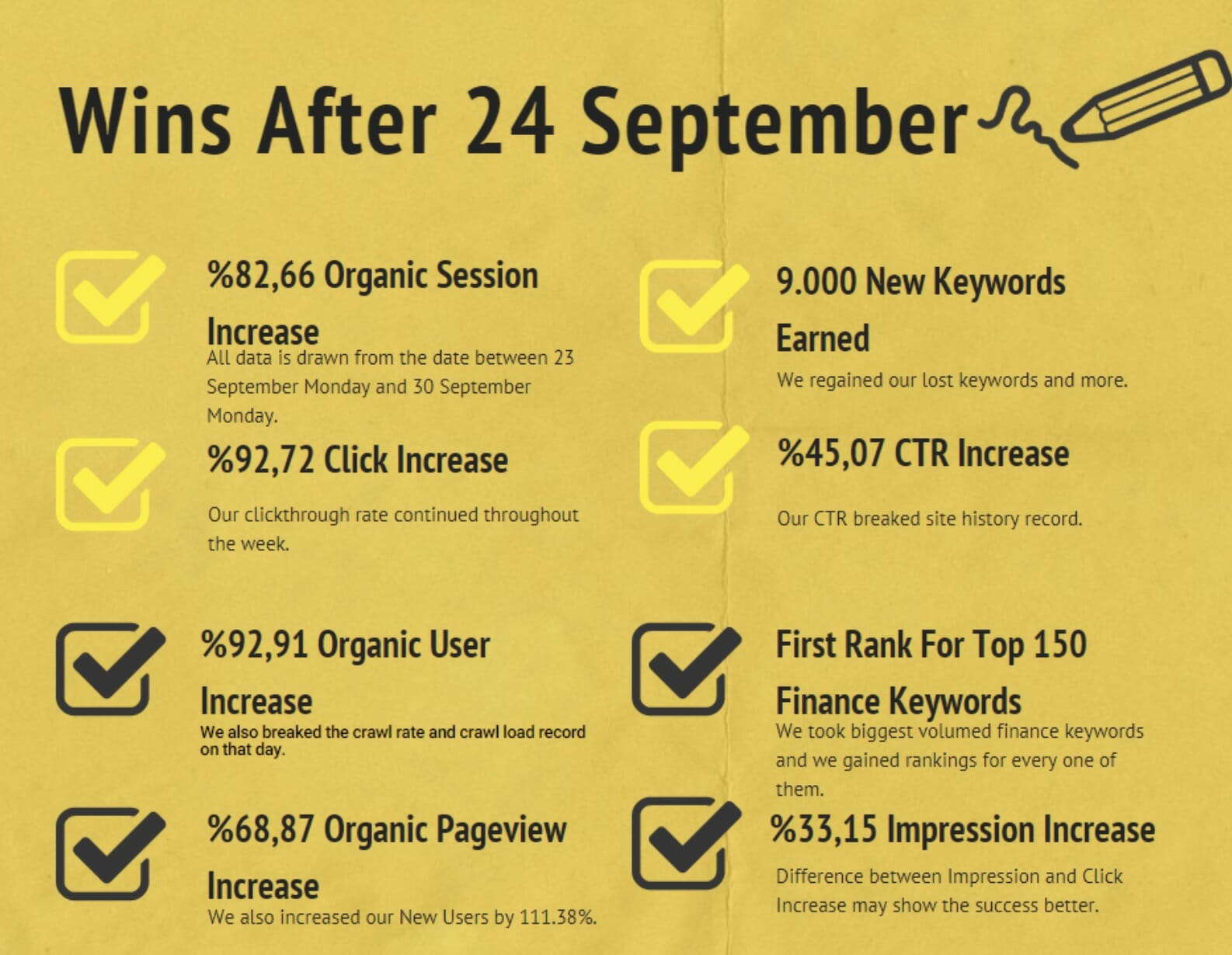 How would you do that? They have suggestions. In each section, they discuss how the algorithm change affected their site and what changes they made. After the first one, the changes mostly worked out for their site, but they claim it took a lot of work to get there, including:
Improving Internal Links
Modernizing Site-Architecture, Internal Pagerank, Traffic and Crawl Efficiency
Improving Content Structure
Building User Trust
Managing Index Pollution, Bloat, and Canonical Tags
Correcting Wrong Status Codes
Optimizing Sitemap and Robots.txt
Examining the Competitors
While '1' isn't a great representative number of samples for a case study, there are definitely opportunities to learn here.
For the site in question, these strategies were a success. They increased their organic sessions by 82.66%, and their site clicks by 92.72% while expanding their keywords ranked for by 9000. Those would be impressive stats even if the site didn't take a hit from the update first.
Has this team figured out how to ride the wave of Google updates to victory? I'd be skeptical, but they've certainly found something that works for their site. If you're also in the rocky financial niche, you may find the tricks you need to break through arrested growth.
Now, let's move on to the news. A lot happened this month, starting with Google's release of the top trending searches of 2019.
Google Reveals Top Trending Searches of 2019
https://www.searchenginejournal.com/google-reveals-top-trending-searches-of-2019/339771/
Here's an interesting summary of all of the year's largest search trends, published by Google. If you want to do some research on what is being searched, how much it's being searched and where it's growing the most, this is a great place to start.
This article only features a few examples that have been isolated for SEOs and affiliate marketers. For example, you can learn the most searched recipes of 2019 (Shepherd's pie and chicken parmigiana are at the top), or the most searched query of the year (What is Area 51).
This article could be a great first stop before you choose the topic of your next money site. While building any site, you're going to want to know that your links are delivering the juice.
Google: We Ignore Links From Sites Where Links Are Unlikely To Be Natural
https://www.seroundtable.com/google-ignores-unnatural-links-28614.html
Google isn't always forthcoming about how they measure sites, but you can occasionally catch some clarification when insiders are answering direct questions.
In this case, John Mueller was asked by a nervous SEO whether a wave of unwanted backlinks needed to be addressed. The asker wanted to know if the links needed to be disavowed or if they could just be ignored.
John assured him that Google already ignores links that are likely to be unnatural and that disavowing them is not something that needs to be done as an emergency.
If "naturalness" is a deciding factor on the ignore policy, I'm wondering why people still build blog comments.
"Likely" may be an important word, here. Google can evaluate signals, but that doesn't give them a 100% accuracy rate. If you start getting manual actions, it may be worth the work to go in and disavow them.
Google Adds Neural Matching to Local Searches
https://twitter.com/searchliaison/status/1201549327144898567
Neural matching has been added to local searches. If you're trying to remember what that means, this quick refresher Google made in the announcement should help.
"Neural matching is an AI-based system Google began using in 2018 primarily to understand how words are related to concepts. It's like a super-synonym system.
For example, neural matching helps us understand that a search for "why does my TV look strange" is related to the concept of "the soap opera effect." We can then return pages about the soap opera effect, even if the exact words aren't used."
The rollout is expected to improve the quality and relevance of local results, as it already has for organic searches. It's not expected to significantly change any positions, but higher quality pages may benefit as spammier results become less competitive.