Is your second quarter going the way you planned? May was a wild month for SEO. Changes came down that were not explained, but now, we know a lot more. The case studies, guides, and news items of this roundup will help you get back on track.
We'll start with some juicy case studies. This month, you'll get a deep dive into the May Google Core Update, the numbers on digital PR as a link building strategy, and a data breakdown on the real power of rich snippets.
Then, you can expand your personal toolset with the month's most cutting-edge guides. You'll learn how to make your content succeed, how to create SEO-friendly URLs, and how to take the business intelligence approach to SEO link building.
Finally, we'll cover the month's breaking news. You'll discover the real culprit of the ranking fluctuations, review Google's closing notes on the May 2020 update, and find out why web vitals have replaced speed reports in Google's search console.
May 4th Google Core Update Analysis
https://surferseo.com/blog/may-4th-google-core-update-analysis/
Surfer brings us the first of what will likely be many deep dives into the May Google Core Update. It was a big one, and the effects (not all of them intended, as we'll discuss in the news items) were felt across most niches.
What those effects were, is the subject of this piece by Michał Suski. He compared a list of thousands of keywords to find out how their SERPs looked on April 22nd, May 8th, and May 11th. Each keyword was analyzed against the following factors:
domain organic traffic
referring domains
exact keywords density
partial keywords
keywords in title and H1 tag
wordcount
All of these were tracked to determine the content of the pages that lost or won in the update. This comparison resulted in several interesting implications for the future:
Winners had more authority than losers on average
Winners had about 60% more backlinks than losers
Winners pages have 10% less content on average than losers
Winners pages tended to be less "optimized"
Among other insights in the article, it seems possible right now that Google may be drifting away from ranking signals that are easy to game, including precise-match keywords.
This is hardly the last word on the May Update, but it may be a good starting point for your first optimization efforts. Link building seemed to win out, so let's dive right into some more data about how to do that right.
A deep-dive into the performance of digital PR as a link building tactic
https://digitaloft.co.uk/digital-pr-success-study/
Rather than guest posts or collaborations, Digital PR campaigns focus on earned media coverage from online sites. The target of these efforts isn't only the links built by the published story, but also by the people discussing and sharing the story.
This method and its results have undergone an intensive round of testing by the people at Digital Loft.

For the experiment, data was gathered from more than 500 digital PR campaigns. Some of the data was provided directly by agencies and other sets were drawn from already published case studies.
They found:
Digital PR campaigns earn an average of 42 links
More than ½ of all links come from domains between DA20 and DA70. However, 20% of links come from DA70 and above
DPR campaigns earn a smaller ratio of nofollow links than other link-building schemes
An average DPR campaign sees 1000+ social engagements
These findings could mean a lot to you if you have the kind of budget to do a PR campaign. Most of us are going to need to focus on more budget-conscious ways of attracting attention, including by claiming the best possible rich snippet.
Rich Snippets: Everything You Need To Know In 2020 [With Case Study]
https://www.seobility.net/en/blog/rich-snippets/
Snippets have enjoyed a lot of attention for the last couple of years. SEObility is here to show us what the data says about how to claim them and how they behave as of now.
This piece is part guide and part case study. The guide portion covers some of the best practices for claiming snippets. The case study examines people using the schema, whether Google chose to recognize it, and if there is an upper limit on the snippets per search.
The findings point toward some possibilities for anyone working to take control of a snippet:
For 'how-to' related results, less than 20% of results are currently using the how-to schema
In 20% of cases, Google failed to show the rich snippet even when top results had implemented the schema perfectly
In all cases where the score was DA70 or better, the snippets were always present
This study was gathered from a small (~100) sample group of keywords, but the implications are still important. There are a lot of snippets left to claim out there.
Let's move on to the guides. First, we'll look at what Sparktoro can tell us about how to resonate with the "right" audience.
Want Your Content to Succeed? Make it Resonate with the Right Audience (no, not that one)
https://sparktoro.com/blog/want-your-content-to-succeed-make-it-resonate-with-the-right-audience-no-not-that-one/
Rand Fishkin is here with a new way of looking at how you can target your content more effectively.
He starts by breaking down the limits of building and measuring content exclusively to convert. He makes the point that the audiences that make up powerful channels come from:
Current customers: people who have already purchased
Potential customers: people who are the right fit, but haven't bought yet
Potential amplifiers: journalists, other bloggers, event organizers, etc.
Broader community: Content consumers who aren't customers
He claims that content marketers must recognize that a content audience can be much larger than a product or sales audience. Not everyone who reads is, or should even be treated like, a buyer. Instead, they can be treated like something that could be more valuable: amplifiers.
Why market content to non-customers? Because—he argues—you can then use them to massively amplify your existence to people who are more likely to be customers. In the end, his argument is one for quality, and for building content that's usable for more people.
Next up, Ahrefs has some of their own ideas about how you can make a better impression. This time, by using SEO-friendly URLs.
How to Create SEO-Friendly URLs (Step-by-Step)
https://ahrefs.com/blog/seo-friendly-urls/
We've known for years that Google prefers simple and appealing URLs, but many have struggled to define what that means as far as implementation.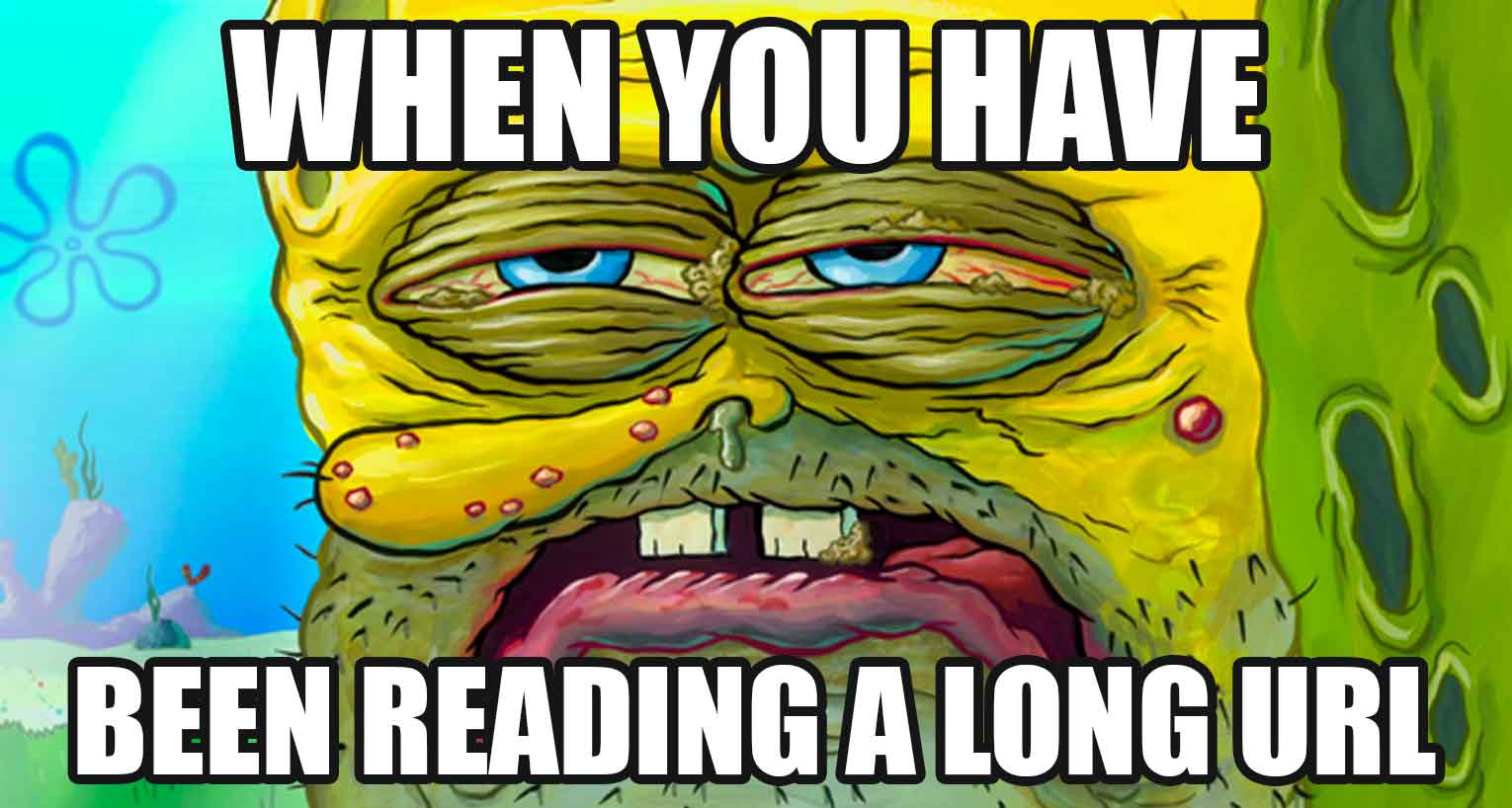 In this guide, Ahrefs guide lays out their interpretation of the most optimized URLs. They provide you with a well-explained series of rules that you can apply to your site including:
Remove any special characters
Limit the use of numbers
Try to boil it down to a single keyword phrase
Make it all lowercase (some servers can treat them differently)
Structure it like a sentence
The second part of the guide goes a little deeper. It looks at the anatomy of the rest of the URL (Protocol, domain, subdomain, slug, etc.) and discusses how you can work to optimize each part. They also provided a list of detailed recommendations for this part:
Use HTTPs
Choose your top-level-domain carefully
Use subdomains only if necessary
Avoid keyword repetition
Avoid dates
Nearly all of the advice in this article is directly actionable and easy to implement the next time you're making changes. The next piece is a little more theory-driven but, hopefully, just as useful. It's a guide to taking a business intelligence approach to link building.
A Business Intelligence Approach To Link Building
https://trafficthinktank.com/bi-link-building/
In this guide, Cody West of Traffic Think Tank argues for the benefits of treating your link building strategy as a serious business venture. He champions a method called Business Intelligence (BI) that uses data and scenarios to define goals and minimize risk.
In the piece, he breaks down how to make the tactical, resource, and profitability considerations that go into a superior plan. You need to be able to answer questions that relate to your bottom line:
How are you choosing the most important link from a domain?
How many links do you need to build to close the "Domain Authority" gap?
How much is that going to cost?
The next part of the guide reads more like a deep-level backlink analysis guide that helps you work out a plausible ROI for your efforts. It details how you can make precise counts of the resources you need.
Now, we're ready to look at some of the top news of the month. First, we're going to cover the real reason behind some of the ranking fluctuations that rocked May.
May 2020 Local Ranking Fluctuations Were The Result of a Bug
https://www.sterlingsky.ca/local-ranking-fluctuations-may-2020/
Near the end of April, many SEOs who were paying attention noticed that local rankings had become surprisingly volatile. It wasn't just that the order was changing, they were erratic. Positions seemed to be fluctuating on a weekly basis.
You may have noticed the second wave of ranking fluctuations that began around May 4th when the algorithm update was officially announced. That led many to suspect that the update may have been the culprit.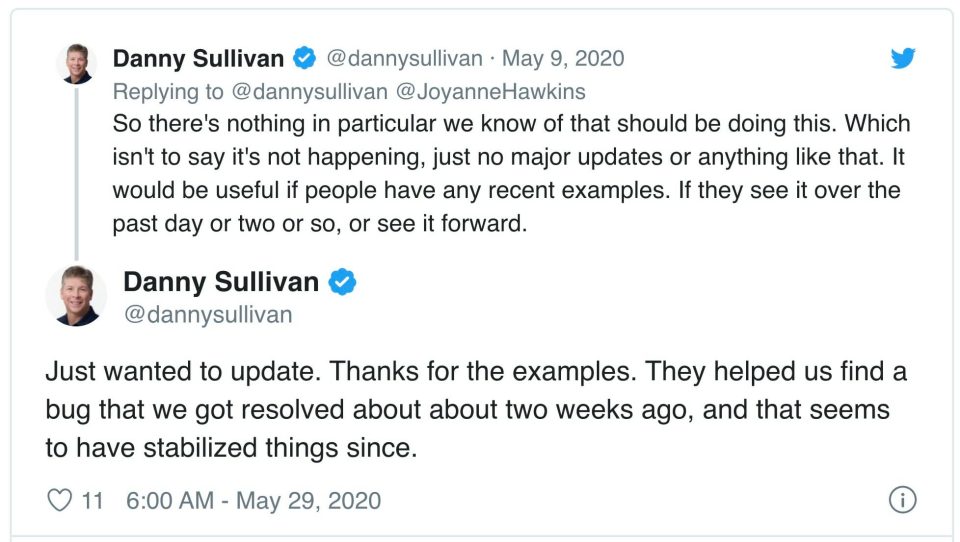 Another week later, things had not really settled down. A large thread on the Local Search Forum tracked hundreds of SEOs experiences with their own data. However, it wasn't until the end of May that we finally managed to get an answer.
In response to multiple complaints, this issue was explored by Google's team. On May 28th, staffer Danny Sullivan announced that a bug had been discovered and resolved.
As the article notes, all of the signals being tracked appear to have returned to normal. Now that we know that, let's look at what all these changes involved. Our next item covers Google's official announcement that this is finally over, along with some rollout stats.
Google May 2020 core update is done rolling out: time for you to review your site
https://searchengineland.com/google-may-2020-core-update-is-done-rolling-out-334826
The update that began rolling out on May 4th has now completed, according to Google.
The completion notice was posted on May 18th. Now that it's complete, we're getting a better look at what happened.
First, this looks like one of the largest updates in a long time. It affected more keywords than the January update, which was itself, already one of the larger updates on record. It appears to have been the largest update since the Medic update that rolled out in 2018.
In addition to being large, it also appeared to affect most keywords in a general sense. No single niches got singled out, and that fact may offer us additional clues into what Google was hoping to accomplish.
For now, we can just be glad that the volatility is over. There will be a lot more details about what changed and why, over the coming months. Let's move on to our final news item. It's a look at why Google replaced speed reports with "Core Web Vitals".
Core Web Vitals Replaced Speed Report In Google Search Console
https://www.seroundtable.com/core-web-vitals-google-search-console-29511.html
Core web vitals were introduced on May 5th. We've only had a short time to get used to them, but they've already replaced the speed report in the Google Search Console.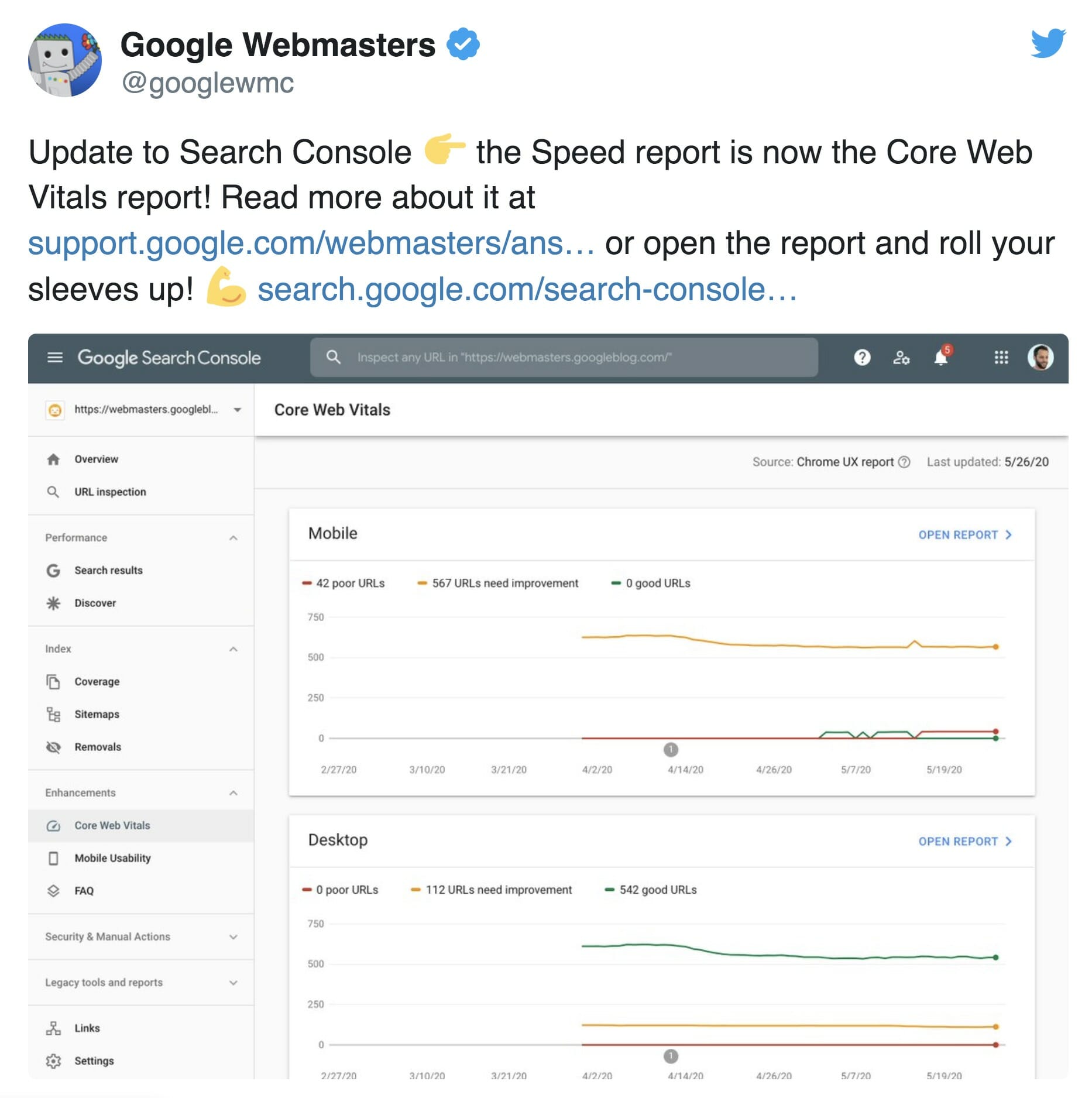 This measure is your new way of seeing how Google thinks your pages perform. As a replacement, it's wider in scope. The 3 measurements that make it up are:
Largest Contentful Paint (LCP): measures loading performance. LCP should occur within 2.5 seconds of when the page first starts loading.
First Input Delay (FID): measures interactivity. Pages should have an FID of less than 100 milliseconds.
Cumulative Layout Shift (CLS): measures visual stability. Pages should maintain a CLS of less than 0.1.
If it's been a while since you checked your site on GSC, now might be a good time to drop in. These metrics are capable of telling you more than the old ones, and they might be telling you that you need to make some changes now.
Got Questions or Comments?
Join the discussion here on Facebook.