Are you looking to make some last major moves before we start thinking about next year? Our latest roundup has some tips and research that can help you make the last quarter your best quarter.
First, we have four thick guides. They'll teach you how to beat Google title rewrites and how to build deep links with PR tactics. You'll then learn how not to get tripped up by copying a competitor's mistake and how to do faceted navigation better.
After that, you can jump into two actionable case studies. The data will tell you how many footer links are a good idea (I bet it's more than you think) and whether you should really be stressing about big changes from the next update.
We'll close on the news. Have Tiny, unannounced updates plagued october? The data seems to say so. We'll also look at one of the funnier interactions coming out of Bing and Google's big case in the EU courts.
5 Ways to Beat Google Title Rewrites
https://zyppy.com/blog/5-ways-to-beat-google-title-rewrites-and-a-new-seo-traffic-tool/
Cyrus Shepard brings us this look at how to beat Google title rewrites. As he notes, Google has recently become surprisingly aggressive when replacing this key metadata. Once, it tended to target results where the titles were missing. Now, it will replace even crafted, researched titles.
Moz did some recent research on the scale of this problem and found that up to 58% of all titles were being rewritten. If you want to keep your titles out of that figure, Cyrus has five pieces of advice that he covers in great detail. Using clear steps and visual aids, he tells you how to:
Use Keyword Explorer and Google Search Performance Reports to identify the keywords that are (as understood by Google) driving the traffic
Understand where the true length cut off is for both desktop and mobile results
Avoid the repeated use of keywords
Limit the use of boilerplates (brand or company names listed at the end of a title) to identify key pages
Be careful with brackets and parentheses. Google's latest rollout seems to be a little bugged when they're in use
It's all good advice, but as he points out, changes may be coming soon. At least some of the effects seem to be unintentional and may be subject to rule changes in updates.
Let's move on to some techniques that may survive better over the long haul. Our next guide has some ideas on how to use content & PR to build deep links.
How to Use Content & PR to Build Deep Links
https://www.screamingfrog.co.uk/how-to-use-content-and-pr-to-build-deep-links/
Tom Jeffery of ScreamingFrog brings us his advice on how content and PR can be mobilized to generate deep links for your sites.
Deep links are links that bypass your home page and take users directly to content that's "deep" in your site hierarchy. Links that go directly to product pages are an example of deep links. The definition has also grown to cover links that take mobile users to content within an app.
No matter what type of deep links you need, Tom argues that you may need more of them. He shows us a graph of how his team used deep links to turn a "COVID restrictions by state" page into a lead-generating powerhouse for an insurance company.
Building normal links to highly commercial content can be a challenge. Tom recommends that you use content PR techniques that can attract deep links from media, such as building themed "gift guides" around products that are well-stocked but not well-linked
You can also create competitions and then use product page links to show the value of the prizes given away free to the winners. Media outlets may link directly to the prize when covering the competition.
Finally, he suggests writing thoughtful content about your industry. As a business owner, you have some existing credibility in your industry. Using your own experience to present yourself as a thought leader on important topics can attract links.
These are long-term strategies, but the glimpses he gives us into how these techniques have paid off for clients are compelling. Next, let's turn our gaze on the competition. We may fear what they're doing right, but what they're doing wrong can also trip us up.
What if the Competition Is Wrong? How to Avoid the Pitfalls of Competitive Content Research
https://moz.com/blog/competitive-research-pitfalls
Travis McKnight of Moz brings us this look at how to avoid the pitfalls of competitive content research.
Competitive analysis has become a major buzzword in SEO for the last few years. Our roundups have included several guides about the data you can analyze to find what your competition is doing or targeting.
This guide asks: What if they're wrong? What if your competitor doesn't know what they're doing right, and they've decided to spend oodles of money in the wrong direction? You don't want to follow them, and Travis has some tips that may help you avoid doing just that.
His long guide includes advice on how you can:
Make sure you're targeting the right competitor rather than just the biggest one
Investigate competitor content to tell if it's worthwhile to create matching content
Spot problems and warning signs that may sink a competitor (and you, if you copied their methods) over time
Putting these methods into practice can protect you from pointing your resources in the wrong direction. Our final guide of the month can also help you point your resources in the right direction with faceted navigation.
Faceted Navigation: Definition, Examples & SEO Best Practices
https://ahrefs.com/blog/faceted-navigation/
Sam Underwood of Ahrefs brings us this important piece about how to develop faceted navigation for your website. Faceted navigation is a kind of UX pattern that carries visitors to their destination faster. It has SEO benefits, but as Sam points out, a lot of risks to control.
Faceted navigation is what it's called when a website filters listings on category pages by their attributes. For example, imagine you're looking at a list of flights and want to see only the ones leaving on a certain date. The sorting options (often appearing in a nearby menu of checkboxes) are a type of faceted navigation.
If you've ever narrowed down a long list of flights, hotels, or other products, you understand the value of these options. However, Sam wants to make sure that you understand the risks.
Sites that implement these options run the risk of:
Duplicate content
Index bloat
Crawling budget waste
The guide covers the potential and consequences of these problems in great detail. Sam follows up with steps you can take to control the risks or repair the damage.
The advice includes:
Searches you can use to find exact problems caused by faceted navigation
Practices you can put in place to prevent indexing problems
Practices to drive more traffic to the new pages
Next, we'll move on to the two case studies for the month. The first will look at the results of a split test study on internal links.
SEO Split-Testing Lessons from SearchPilot: Adding Internal Links to Home Page Footer
https://www.searchpilot.com/resources/case-studies/adding-internal-links-to-home-page-footer/
Daniel Haugen of SearchPilot brings us this look at whether you can positively impact organic traffic by adding more internal links to the home page footer.
The team theorized that it was possible to increase organic traffic just by adding new links, but they were concerned about how Google would react. They decided to perform the research as a split-test with a control page and variant pages that steadily managed more links.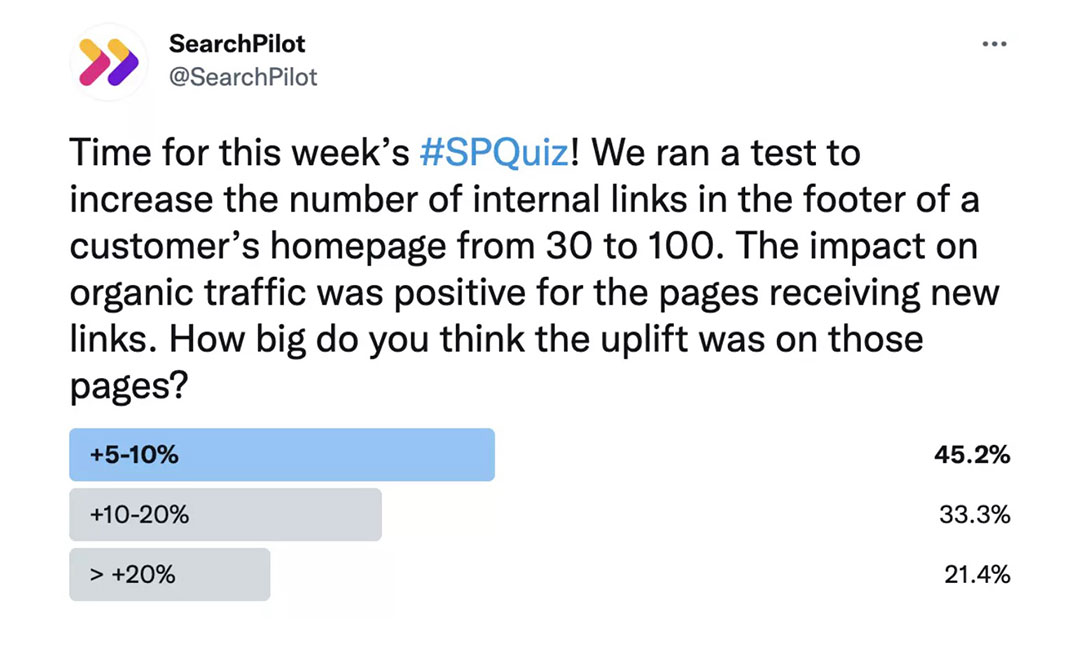 The control and variant pages started with roughly 30 internal links to various categories in the home footer. Variant pages were tested with up to 100 total links in this spot—so many that the font had to be adjusted to a smaller size to display them properly.
The results were good overall for the hypothesis. The team found that the pages with the new footer links enjoyed greater traffic on both desktop and mobile searches. No negative SEO consequences showed up in the data, though the UX risks are pretty clear in the highest ranges.
The next study examines the strength of core updates over time and examines whether they are getting more or less powerful.
Are Core Updates Becoming Less Powerful? [Study]
https://www.semrush.com/blog/google-core-update-trends/
Mordy Oberstein brings us this look at Google's Core Updates and whether the company may have adopted a philosophy to make them less impactful on landing. He admits that this hypothesis may surprise some people who have seen devastating impacts from recent updates.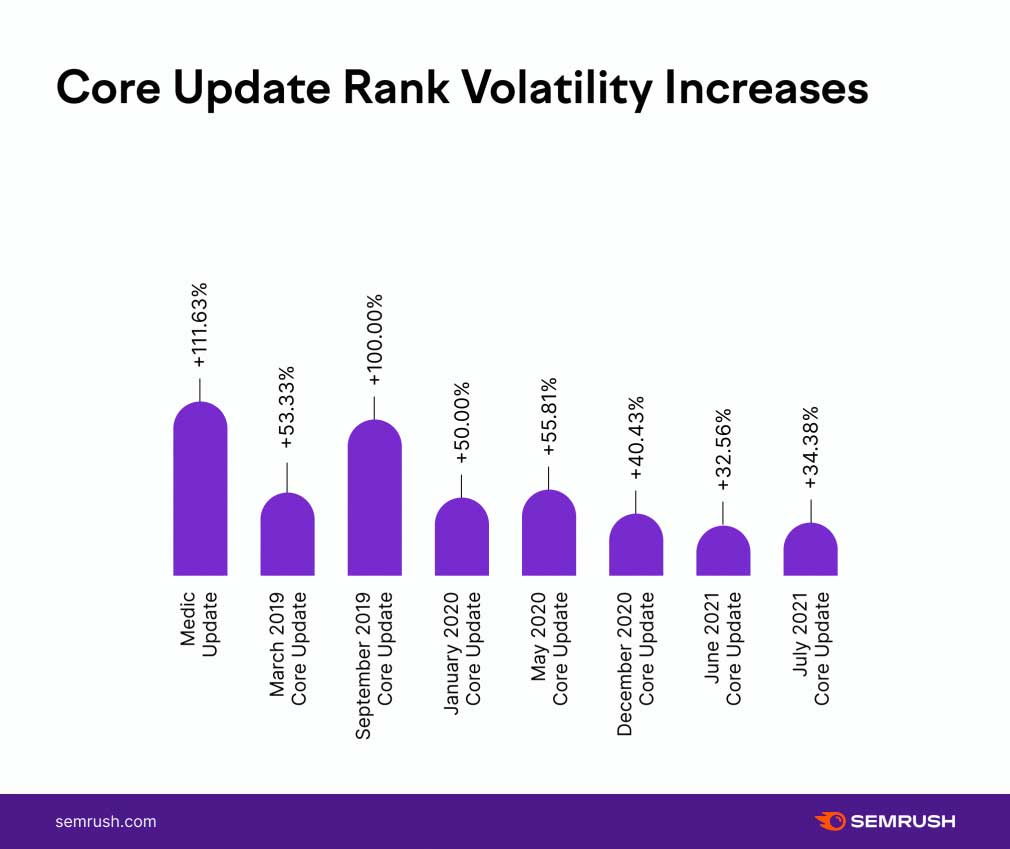 However, he has a lot of data to work from and data points that some SEOs may find hard to argue against. He set out to analyze the rank volatility of every update from the 2018 Medic update.
While updates existed long before this point, Mordy chose to start here because this is when Google began openly discussing updates with the public and announcing them as events, rather than just treating them like typical software updates.
There have been many updates worth studying in that time:
The Medic Update
The March 2019 Core Update
The September 2019 Core Update
The January 2020 Core Update
The May 2020 Core Update
The December 2020 Core Update
The June 2021 Core Update
The July 2021 Core Update
After examining the volatility across each of these updates, the study turned up several important conclusions. Among other findings, the team discovered that the average level of volatility seen during an update has decreased by 51.7% since the January 2020 Core Update.
His thorough writeup covers the study in more detail and dives deep into why the changes are happening and how updates have evolved to target different niches more effectively.
The whole thing is worth your time, but for now, let's jump into our news items. We'll start with a quick review of the algorithm update that shook things up early this month.
Huge Google Search Ranking Algorithm Update On October 2nd & 3rd
https://www.seroundtable.com/google-search-ranking-algorithm-update-32185.html
Barry Schwartz of Search Engine Roundtable brings us some industry chatter about a big update that apparently dropped between Oct 2nd and 3rd.
SEOs across some of the web's biggest forums sniffed out the update when their site traffic started dropping between 30-50%. Barry provided readings from most major tools so that you can see the results for yourself.
Most tools recorded moderate spikes in volatility, which may mean that the affected searches may have been targeted using precise criteria.
Even up to the day this was published, Google has not discussed the update. However, Barry continued to track more sets of updates that dropped Oct 6-7th and October 9th. These updates may be part of a major reorientation that we won't know more about until Google works out the kinks.
This may point to some big news, so make sure you check our upcoming roundups to find out what we've learned. For now, though, let's close on a lighter note. This month, Bing had to endure the indignity of having it recorded in court that their top search term is "Google".
Google Tells Judges It's So Popular It's Bing's Top Search Term
https://www.bloomberg.com/news/articles/2021-09-28/google-tells-judges-it-s-so-popular-it-s-bing-s-top-search-term
Bing has struggled for credibility since its launch, but even some of its harshest critics may find it hard not to be sympathetic right now. Aoife White and Stephanie Bodoni, reporting for Bloomberg, revealed that Bing's struggle to compete is now a part of the permanent court record.
A lawyer for Bing submitted evidence showing that "Google" is the number #1 search on Bing. This is presumably happening because searchers (perhaps elderly searchers in particular) are only using Bing to find Google.
The information was released by Google's lawyer in the case, possibly with an unsporting amount of relish. Both sides seized on the publication of the info, with Bing claiming it proves Google is uncompetitive, and Google arguing the data proves that consumers prefer them.
As amusing as the case is, for now, the ultimate decision may have huge implications for SEOs in the future. If we hear more, you can learn about it here.
Got Questions or Comments?
Join the discussion here on Facebook.