Web hosting is a critical aspect of digital presence, yet most services come with a price tag. Although numerous companies tantalize users with enticing propositions such as free trials, complimentary first-year services, or bare-bone free offerings, truly free hosting services remain elusive.
I've spent several months meticulously investigating the labyrinthine world of "free" web hosting services, focusing particularly on platforms like InfinityFree that claim to be entirely free.
To validate these claims, I personally embarked on a comprehensive evaluation of InfinityFree's services. Together with my team, I thoroughly tested the range of features provided by their free web hosting service to assess the veracity of their "completely free" promise.
What Is InfinityFree?
InfinityFree started in 2016 and incorporated its free hosting service worldwide.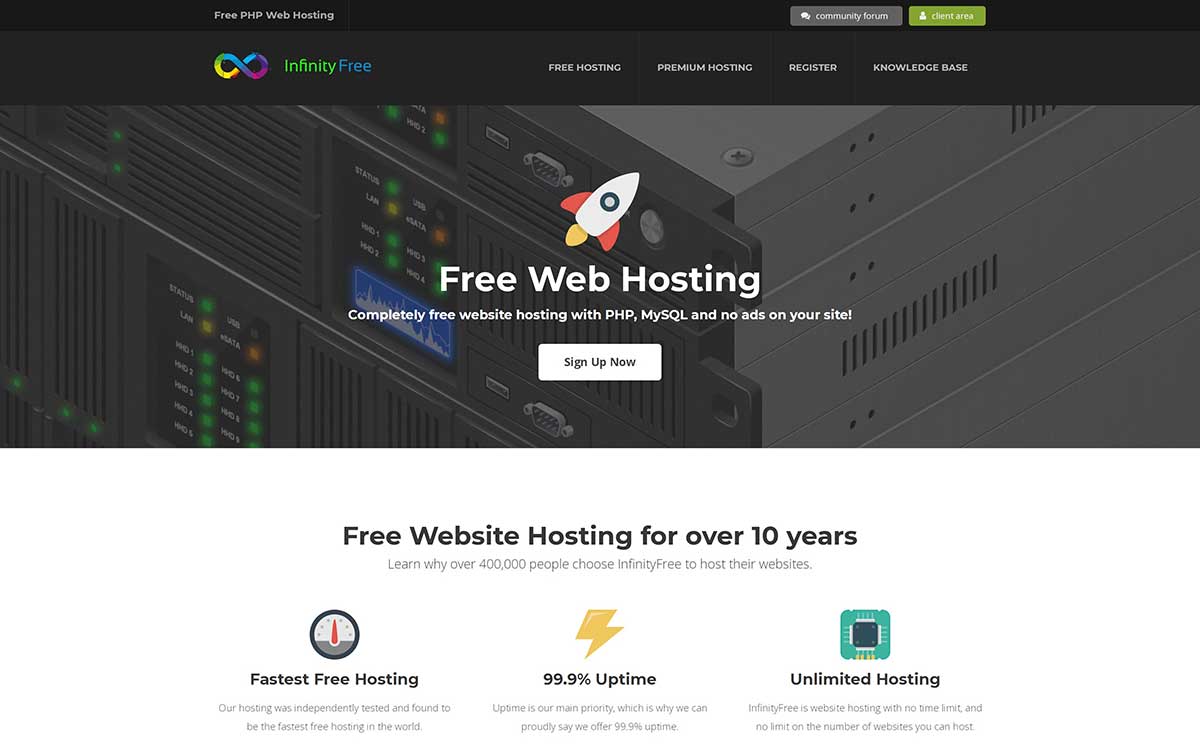 They are one of the only free web hosting providers in existence. InfinityFree also offers unlimited disk space, bandwidth, and free hosting. This hosting platform is ideal for anyone looking to start an online business with free services [1].
Despite offering free hosting, InfinityFree is sustainable due to its deal with iFastNet, whose services are marketed on the InfinityFree site. This partnership gives you things another web hosting provider charges for, like a Softaculous installer and cPanel.
How Does It Work?
InfinityFree offers a free hosting service, including unlimited disk space, unlimited bandwidth, and free domain hosting. You can host as many files as you want, have as many users visit your website as you want, and have as many web addresses as you want, all for free. If you're looking for a free service, you will definitely come across InfinityFree. 
Our Rating
Load time:

4.8

Support:

4.7

Disk space:

4.9

Security:

4.9

Pricing:

4.9

Free Migration

: Yes
Pros
Free forever web hosting

No ads on your website

cPanel for website management

Excellent knowledge base and forum
Cons
No email or phone support 
---
InfinityFree Features
InfinityFree offers lots of great features with their free hosting option, including:
A free subdomain

Free SSL certificates

99.9% uptime guarantee

Unlimited storage

Free domain names

Ad free website
A website without any visitors is like a ship lost on the horizon.
– Dr. Christopher Dayagdag, CEO, Marketlink Web Solutions
---
Benefits
InfinityFree offers several benefits, including:
1. Helpful Tools 
InfinityFree operates on Linux with an Apache web server. With their free services, you will get a cPanel with essential tools like MySQL database management, options for PHP, DNS, error pages, an online FTP manager, backups, and more.
In addition, the free plan also incorporates Softaculous, an automatic software installer that enables you to install over 400 applications with a single click. From content management systems like WordPress to e-commerce solutions such as PrestaShop, Softaculous significantly simplifies website creation and maintenance. These tools have proven invaluable in ensuring the seamless operation of our website.
2. Worldwide Servers
Though Infinity Free's servers are primarily situated in a data center located in the United Kingdom, their singular server location does not inhibit their global reach. They have successfully assisted over 400,000 businesses worldwide in hosting their websites.
Even with a single data center, their worldwide servers have demonstrated remarkable efficiency in hosting our website, ensuring quick loading times and maintaining a satisfactory user experience for visitors regardless of their geographical location.
3. Security
Security is paramount with InfinityFree, as illustrated by their provision of a free SSL certificate that enables your website to operate on the more secure HTTPS protocol. However, while their free plan supports the standard SSL certificate, it doesn't support encrypted SSL certificates. For enhanced security measures, including SSL encryption, an upgrade to their premium plan would be necessary.
4. Speed
In terms of speed, InfinityFree boasts an impressive performance for a free host, loading content within approximately two seconds. This speed slightly surpasses the average, ensuring that users are not frustrated by long wait times. We found this speed factor particularly advantageous, enhancing the user experience and allowing our websites to load expeditiously.
5. User-Friendliness
The ease of starting an account with InfinityFree is another appealing feature. The sign-up process for their free plan is quite straightforward and can be completed within minutes. A few additional steps are required for their premium plans, but the overall process remains user-friendly, with everything being well-structured and easy to navigate.
The Softaculous installer is yet another user-friendly feature, making the installation of applications like WordPress a breeze. The ability to have popular apps up and running in a matter of minutes adds significantly to the overall user experience and the efficient management of your website.
---
Downsides
While InfinityFree certainly brings a lot to the table, it is important to understand that like any other service, it has its own set of limitations. The main downside that we identified in our testing phase is the lack of direct customer support. They don't provide phone or email support, which can be a significant disadvantage, especially when immediate assistance is required.
In addition to this, another limitation of InfinityFree's hosting is that it may not meet the needs of large business websites. The resources provided, while impressive for a free service, might not be enough to support high-traffic sites or complex, resource-intensive applications.
It's also worth noting that although InfinityFree is "free," it does not include all the amenities one would expect from a paid service. For instance, premium features like additional storage or bandwidth, dedicated IPs, or advanced security options may only be available through their paid plans. This might be a limiting factor for users seeking more comprehensive hosting solutions.
All these factors considered, InfinityFree can still be an excellent choice for hobbyists, small businesses, or anyone starting out in the world of web development and hosting. However, larger enterprises or those requiring more robust features might want to consider their needs carefully before choosing this service.
---
How To Use InfinityFree
Harnessing the potential of InfinityFree is a straightforward process. It can be done in just a few steps [2]. 
1. Create An Account
To start your journey with InfinityFree, the first thing you need to do is create an account. Visit the InfinityFree website and click on the 'Sign Up Now!' button. Provide all the necessary details, such as your name, email address, and choose a strong password. Make sure to verify your account through the confirmation email sent to you.
2. Create A Hosting Account
Once your account is active, the next step is to create a hosting account. Navigate to the control panel and select 'Create Account'. Fill in the required details like your domain name and choose a username and password for your hosting account.
3. Create A Custom Domain Or A Subdomain Given By InfinityFree
InfinityFree allows you to use a custom domain if you have one. If not, you can use a subdomain provided by InfinityFree. This can be done from your hosting account settings. If you choose to use a subdomain, InfinityFree will provide several options. Select one that best suits your needs and save your changes.
4. Manage Your Account
With your hosting account and domain set up, you can now manage your account settings. InfinityFree provides you with several tools to manage your website, such as an FTP account for managing files and databases, an SSL/TLS manager for security, and an SEO and Marketing tool for enhancing your website's visibility.
5. Upload Your Files
To upload your website files, you will need to use the file manager in the control panel or connect through an FTP client. Both methods will allow you to upload, edit, and delete files on your website. Ensure your homepage is named 'index.html' or 'index.php' for it to load correctly.
6. Create Your Database
Next, create a database for your website if needed. This can be done from the 'MySQL Databases section in the control panel. Create a new database, assign a user to it, and remember to note down the database details for future use.
7. Change Your PHP Connection Configuration
Lastly, if you're using PHP scripts to connect to your database, you'll need to update your connection configuration. Use the database details noted in the previous step. In most cases, you'll need to update your database host, database name, username, and password.
Congratulations! You've successfully set up your free website with InfinityFree. Enjoy the journey of building and expanding your digital presence. Remember, the InfinityFree team is always ready to assist if you need help along the way.
---
Pricing
Free Unlimited Hosting ($0 per month): Includes unlimited disk space and bandwidth, unlimited hosting domains, 400 MySQL databases, an FTP account, a free subdomain, free SSL certificates, and Softaculous to install over 400 apps.
Super Premium Plan ($3.99 per month): Includes everything from the free plan plus fast SSD servers, 250GB of bandwidth, and six free domains.
Ultimate Premium Plan ($6.90 per month): Includes everything from the previous two packages plus unlimited bandwidth and 21 free domains.
You can pay through Paypal, WorldPay, or 2CheckOut. You can either choose to pay for the service monthly or for a whole year at a time.
When choosing the free plan you can make your purchase at Infinityfree's website, and if you are choosing either of the premium plans you have to go through iFast.Net for the checkout process.
---
User Testimonials
---
InfinityFree Alternatives
A2 Hosting
A2 Hosting offers Linux-based shared hosting plans similar to InfinityFree.
Their startup plan starts at $2.99 per month, which includes 100 GB of storage, unlimited data transfers, unlimited email addresses, and one domain. Obviously, at $0, InfinityFree is more cost-effective [3].
InfinityFree offers unlimited bandwidth, which A2 hosting doesn't. A2 Hosting offers data transfers and unlimited email addresses in their base plan, which InfinityFree doesn't provide.
Depending on if these factors matter to you or not, A2 could be a decent choice that is still inexpensive to get these features. 
---
Hostinger
Hostinger also offers shared hosting plans as low as $1.99 per website.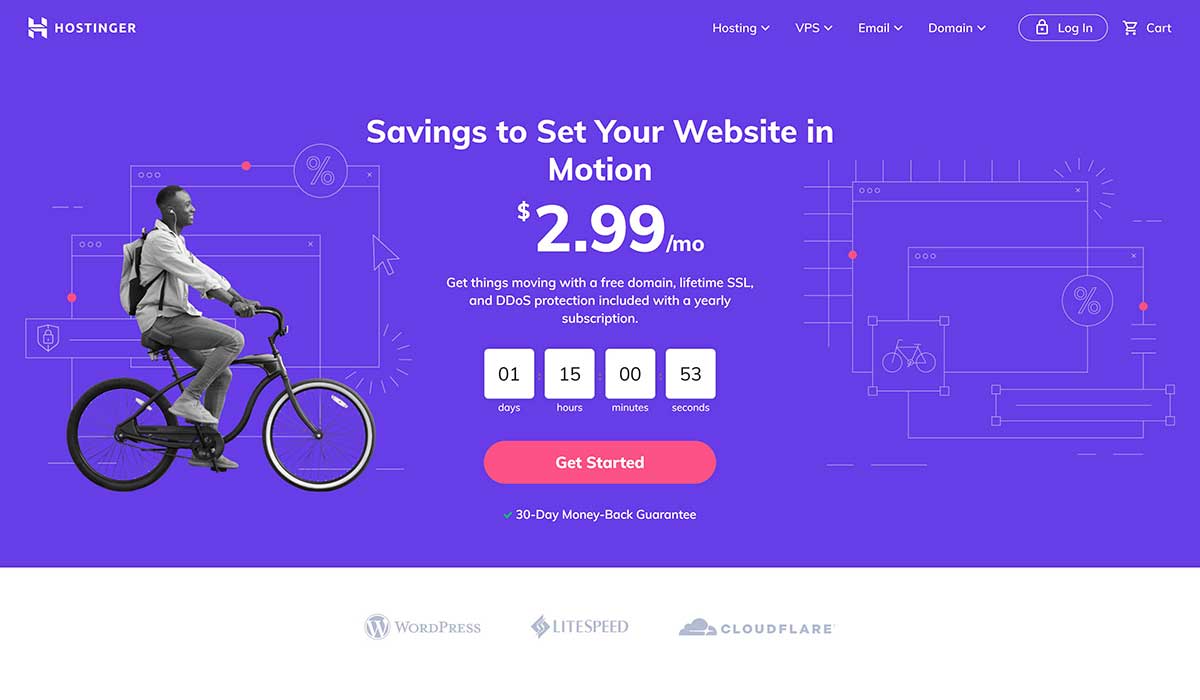 They also provide higher-priced plans that support multiple websites and more. Their base plan includes one website, 50 GB of storage, one email account, 100GB of bandwidth, and two databases.
With plans starting at $0, InfinityFree has Hostinger beat in price. InfinityFree also offers unlimited storage and bandwidth. Hostinger provides an email account and two databases, which InfinityFree does not.
Hostinger also offers better customer support than InfinityFree. This platform does have several tools that InfinityFree doesn't provide, but you will need to invest in your membership, so it is not a cheap solution [4].
---
DreamHost
DreamHost is another affordable shared hosting plan option.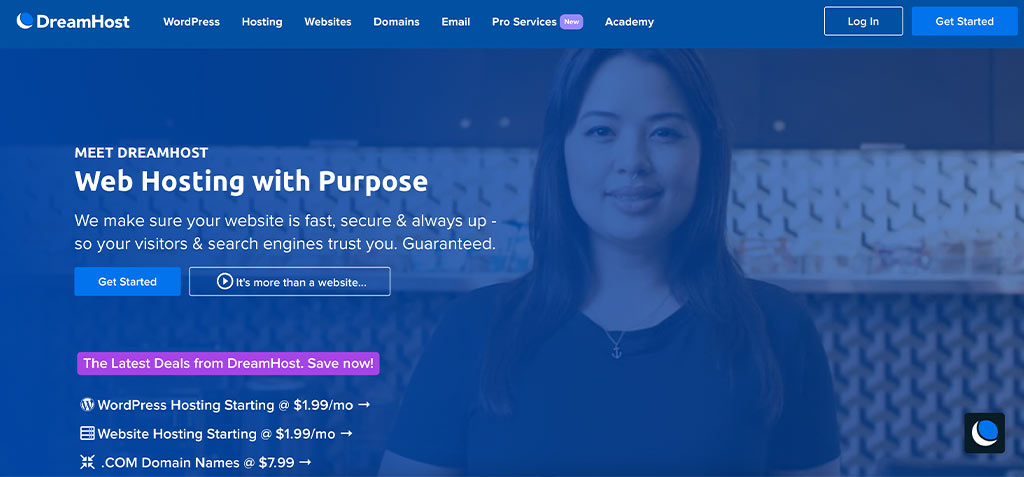 Their starter plan starts at just $4.95 per month and offers unlimited data transfers and storage but no email service.
InfinityFree beats out DreamHost in terms of price, but DreamHost offers unlimited data transfers, which InfinityFree doesn't. InfinityFree also features unlimited storage, and neither service has email.
Here the primary comparison is cost, and InfinityFree wins in that category.
---
FAQs
Is InfinityFree Really Free Forever?
Yes, InfinityFree is really free forever. There isn't a limit to their web hosting. You can sign up whenever and use it for as long as you need without ever having to pay a cent.
Can You Use WordPress With InfinityFree?
Yes, you can use WordPress with InfinityFree. You can easily use the Softaculous app installer to download WordPress from the control panel in just minutes. 
Is InfinityFree Hosting Good Web Hosting?
Yes, especially if you're looking for free hosting. Unlike other free hosts, they don't include ads on your website. Infinity Free is a good option if you're looking for simple, cheap web hosting.
Yes, Infinity Free is a shared hosting provider. They offer three shared hosting plans, their base plan is free. 
---
Is InfinityFree Worth Your Time?
Finding the best hosting server for your website can be crucial to your website's success. Website hosting can quickly become expensive, especially with premium hosting.
Infinity Free offers completely free hosting for those looking to start a website at no cost. While they lack certain features that other hosts offer, such as emails, databases, and unlimited data transfers, they are an excellent option for anyone looking to start a simple website that doesn't need all those extras.
However, if you find that you need unlimited data transfers and email addresses, A2 Hosting offers these features for only $2.99 a month. Paired together, these two services offer affordable hosting options for your new business.
Our #1 Recommendation: A2 hosting