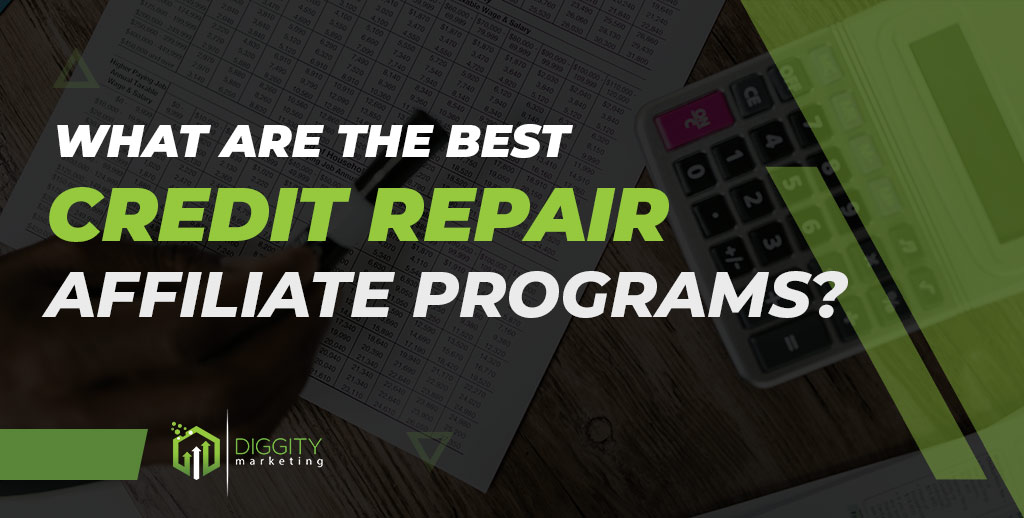 Bad credit is a fact of life for 11% of all Americans.
A good credit score is essential to get a personal loan, credit card, or even something as simple as a smartphone contract.
That's why the credit repair industry in the United States is worth roughly US$3 billion per year.
You can get your slice of that market once you have some credit repair affiliate programs to monetize your traffic with.
But not all credit repair programs are created equal…
As a seasoned affiliate marketer with years of experience, I've seen my fair share of credit repair affiliate program options come and go.
That's why I've taken the time to evaluate and compare the best credit repair affiliate programs on the market to help you make an informed decision.
Best Credit Repair Affiliate Programs:
1. MyFico
MyFico isn't just a clever brand name that tells you what the credit repair company does; they're the public-facing consumer division of Fair Isaac and the company that invented FICO credit scores.
So who better advise you as to your current financial standing than the people at the heart of the credit repair industry for over 25 years?
Just bear in mind that MyFico isn't there to guide your visitors through the credit repair process – they provide reports and preventative tools, but they do not contact creditors on your behalf.
They simply advise on clients' credit scores as a step toward them gaining financial independence.
Your audience can choose from 3 different pricing plans, 'Basic', 'Advanced', and 'Premier', with their entry-level package starting at just $19 per month.
But for $39 per month, a customer gets monthly updates on their FICO score across all three credit bureaus, identity theft insurance, and identity monitoring.
As an affiliate, you'll earn a flat $5 for each customer who signs up for a single report on any of the three credit bureaus, $10 for a 3-bureau product, and a $100 commission for any successful credit repair affiliate program referral who signs up for their annual 3-bureau service.
That's more than most credit card affiliate programs pay.
In addition, their landing pages convert at around 9%, so 1-in-10 of your referrals should be worth $5 in commission to you.
Why You Should Promote MyFico
Commission: Up to $100 per sale
Cookie duration: 30 days
Payment methods: Check, direct deposit, Payoneer
Products: Credit scoring
---
2. Lexington Law Credit Repair
Lexington Law is a credit repair company offering credit score tracking and credit repair services, and guidance through the credit repair process.
Their attorneys work with clients to ensure that they get a fair credit report by challenging any inaccuracies or outright errors in their credit history.
To date, that's resulted in 70 million incorrect entries being removed from hundreds of thousands of reports, improving just as many credit scores as a result.
Your visitors get a no-charge consultation, along with no initial fees on the credit repair services required to repair their credit history.
What does this credit repair service charge?
In terms of pricing options, new customers can choose from their 'Concord Standard', 'Concord Premier', or 'Premier Plus' plan, but only 'Premier' and 'Premier Plus' include credit monitoring to prevent any future problems and credit reports.
This credit repair affilate pays a flat $65 per lead, with a claimed 45% conversion rate.
While that might seem a little bit unrealistic, people who are buried under a mountain of debt need solutions.
So all you need to do is funnel these same people to this offer to make serious money.
Why You Should Promote Lexington Law
They pay a pretty high commission rate and claim to convert almost 50% of their leads to sales.
Commission: $65 per lead
Cookie duration: 30 days
Payment methods: Check, direct deposit, or Payoneer
Products: Credit Repair
---
3. SuperMoney
SuperMoney isn't a credit firm like so many of the other credit repair agencies and credit repair programs featured in this roundup.
Instead, the best way to understand what they do is that they're a price comparison engine for financial services companies.
Your visitors can then filter these services to find credit repair agencies. But SuperMoney goes a little further than just providing surface detail; they also show user-generated reviews for each company.
And the other exciting thing about SuperMoney is they feature credit repair companies that don't appear on other affiliate networks…
But they are interested in working with publishing partners.
So you could also contact some of these directly if you're a serious financial services blogger.
Apart from that, the SuperMoney affiliate program is available to apply to either in-house or through FlexOffers.
You'll earn $75 per lead with FlexOffers so you can expect their in-house offer to be somewhere between 5% – 10% higher than that.
Why You Should Promote SuperMoney
Commission: $75 per lead
Cookie duration:  30 days
Payment methods: Check, PayPal, direct deposit
Products: Financial service comparison
---
4. TransUnion
TransUnion is not only one of the oldest credit monitoring companies in North America, but they're also one of the oldest companies, too – first going into business in 1866 as a railcar leasing company.
This credit repair company first began offering credit monitoring services in 1968, turning the industry on its head by transferring 3.6 million customer records to computer disks.
So they're always looking for ways to improve their services.
Your visitors will get credit reports that are easy to read and help them stay in control of their credit scores.
And that all starts with the free service they offer in the form of a report, the first step in fixing existing FICO score issues and preventing future problems.
If your audience likes what they see in the free report, they can sign up for credit monitoring and protection which costs $24.95 per month.
But they do get unlimited access to their credit reports and get identity theft protection and identity theft coverage included as part of the package.
This affiliate program pays a flat $60 per lead and is available via the Commission Junction affiliate network.
Why You Should Promote TransUnion
Commission: Up to CA$60 per lead
Cookie duration: 45 days
Payment methods: Check, direct deposit, or Payoneer
Products: Credit score monitoring
---
5. CuraDebt
Cura Debt is a credit card debt negotiation and settlement company that takes the hard work out of dealing with repaying creditors.
They deal with unsecured creditors on a customer's behalf, consolidating debts into one payment instead of multiple smaller payments and managing credit reports.
But they also negotiate with creditors to reduce the amount of overall debt owed.
This means that not only does it make repaying debt more straightforward, but it also reduces the total debt burden.
Your visitors benefit from a free consultation, with the only requirement being that they have at least US$5,000 in debt.
Or roughly what the average American owes in credit card debt[1], so you'll find a ready pool of potential referrals to dip into.
To date, CuraDebt has successfully helped over 200,000 clients by providing debt consolidation and repayment services.
This affiliate program pays $30 per lead, which is lower than some other affiliate programs featured here.
But you have a lifetime cookie to work with, so you have more time for your traffic to convert into commissions.
Why You Should Promote CuraDebt
Commission: $30 per lead
Cookie duration: Permanent
Payment methods: Check, direct deposit, Payoneer
Products: Credit Repair
"Most of the credit repair affiliate programs are in-house. All of the top nationwide programs have their programs. Some use CJ, ShareASale, and other affiliate networks, but it's best to contact them and sign up with them directly."
Chane Steiner (Crediful)
---
6. Identity IQ
There are many ways to ruin your credit score, but one of the worst and most damaging is identity theft.
Without the active monitoring of your credit reports offered by Identity IQ, a random person could open multiple lines of credit in your name overnight.
Or even have you been declared dead?
Identity IQ helps you prevent this type of situation from ever developing by providing credit reports and scores from three different agencies on an annual, bi-annual, or even monthly basis.
They also provide alerts when an SSN (Social Security Number) has been queried about taking out a personal loan, for example.
In addition to this, your credit repair affiliate program referral also gets $25,000 in identity theft insurance, as well as a VPN to protect your electronic devices from being compromised by cybercriminals.
Affiliates receive a $35 commission per lead but with the opportunity to earn a lot more if they can generate a high volume of sales.
Why You Should Promote Identity IQ
Commission: $35 per sale
Cookie duration: 30 days
Payment methods: Direct deposit, wire transfer
Products: Identity theft/credit repair
---
7. The Credit People
Next up on our list of credit repair affiliate program options is The Credit People.
They are a credit repair business that offers similar services to the other programs listed here but with some noticeable differences.
Firstly, their credit repair agents remove negative credit scores from their client's credit reports, which would otherwise negatively impact their FICO score.
But they also focus on areas of a report that can positively affect a person's FICO score.
And because they have almost two decades of experience in this industry, they know what they're doing.
Your referrals get access to all three credit reports used in North America and their credit score on each one.
They can then track the progress of the credit repair via the Credit People app, although it will take at least 60 days for them to see a difference in their credit score.
Their affiliate program pays you for phone referrals and the people who arrive from a text link or banner clicks on your site.
Why You Should Promote The Credit People
Commission: Up to $100 per sale
Cookie duration: 3 years
Payment methods: Check or direct deposit
Products: Credit Repair
---
8. National Debt Relief
National Debt Relief was started in 2009 by Danny Tippman after he'd experienced his credit repair journey and the high-pressure tactics used by particular debt consolidation and management companies.
He wanted to offer people a better way of reducing the amount of money they owe and improving their credit scores as a result but without price gouging.
Something they've done for almost half a million people in the United States.
National Debt Relief can help your visitors with most types of unsecured debts, including credit and store cards, personal loans, medical bills, payday loans, business debt, collections, and even certain types of student debt.
They also provide tons of evidence[2] of how well their debt consolidation and credit repair service performs, with some of their customers reducing what they owe by up to 66%.
National Credit Belief's only requirement for taking on a client is that they have at least US$10,000 in unsecured debt.
This credit repair affiliate program pays $27.50 per lead, but you can always ask for a higher commission rate if you know you can drive a lot of traffic to their offer.
Why You Should Promote National Debt Relief
---
Commission: $27.50
Cookie duration: 60 days
Payment methods: Check, direct deposit, Payoneer
Products: Debt counseling
---
9. Credit Saint
Credit Saint is a credit restoration business based in New Jersey that's been in business for over 15 years.
They operate in much the same manner as many of the other credit repair affiliate program options featured above, working with their clients to restore their financial health.
This is achieved by:
Identifying errors on your credit report and contacting the relevant creditor to correct them
Identifying positive areas on your report that would allow you to improve your credit score by getting a secured credit card, for example
Their credit repair packages start at $79.99 per month if you have no more than 5 negative items on your report, all the way up to $119 per month if you need a more aggressive service that can work with a large number of inaccuracies on your report.
They work with clients after their credit issues have been resolved to prevent any future problems.
Credit Saint also offers a free credit consultation, so you can use that to your advantage in pre-selling this offer.
This credit repair affiliate program pays up to $100 per lead generated so there's a lot of potential here for hardworking affiliates to earn a lot of cash.
Why You Should Promote Credit Saint
They have decades of industry experience, offer a better-than-average commission rate, and will create tailor-made packages if required.
Commission: Up to $100 per lead
Cookie duration: 90 days
Payment methods: Check, direct deposit, Payoneer
Products: Credit Repair
---
10. Experian
Experian is one of the better-known credit reporting agencies in the world. They're also one of the longest-established, with a company history dating back to 1968.
They're one of the companies that produce the actual credit reports lenders refer to when calculating credit scores and assessing risk.
So your visitors get to see the same level of information lenders use when they either approve or decline a loan, line of credit, etc.
Repairing your credit is just one aspect of getting your financial standing back in good order, but you also need to improve your existing credit score.
That's where 'Experian Boost' comes into play, allowing you to connect utility bills or bills for streaming services you regularly use to your report i.e. positive payment histories.
This affiliate program offers a commission rate of up to $30 per lead.
Why You Should Promote Experian
Experian is a household name when it comes to credit reporting companies, so all you have to do is send warm traffic to their landing pages and then cash your commission checks.
Commission: Up to $30 per lead
Cookie duration: 10 days
Payment methods: Check, direct deposit, or Payoneer
Products: Credit reporting
---
11. Credit Fix Guy
Credit Fix Guy is another company that helps people repair their credit by finding, reporting, and then correcting various errors in their credit reports.
Except they're different from other credit repair programs because they only charge $50 per customer to remove any negative items from a credit report within 72 hours of receiving payment.
These typically include late payments, foreclosures, tax liens, repos, errors in reporting rental history, evictions, or other inaccuracies in a client's credit history.
Most people don't understand that almost 80% of all credit reports contain at least one error.
This then goes unnoticed until your FICO score starts dropping through the floor.
Apart from that, they offer a subscription service that covers future credit reporting and a digital product that teaches people how to rebuild their credit without the need for expensive consultants.
You'll earn a 25% commission on all online sales referrals or an average of around $9 per customer who signs up to use their service.
Why You Should Promote Credit Fix Guy
They offer an extremely affordable way to remove errors from credit reports when compared with traditional credit repair services, boosting FICO scores as a result. Who wouldn't want a better credit score for just $50?
Commission: 25% per sale
Cookie duration: 30 days
Payment methods: Check, direct deposit, Payoneer
Products: Credit Repair
---
12. Reliant Credit Repair
The next credit repair affiliate program we're going to take a look at is Reliant Credit Repair.
So what do their credit repair programs offer a paying customer?
After an initial free consultation, they'll then analyze your visitor's credit report, identifying any errors or inaccuracies that would negatively affect FICO scores.
They then challenge each of these with the relevant creditor, asking them to correct their records. At the same time, they can issue cease and desist letters to collection agencies.
The net effect of this is that their clients get relief from incessant creditor calls, repair their existing credit score, and even potentially improve it.
Reliant Credit Repair offers two basic plans – a monthly monitoring service that notifies you of any issues around credit scores.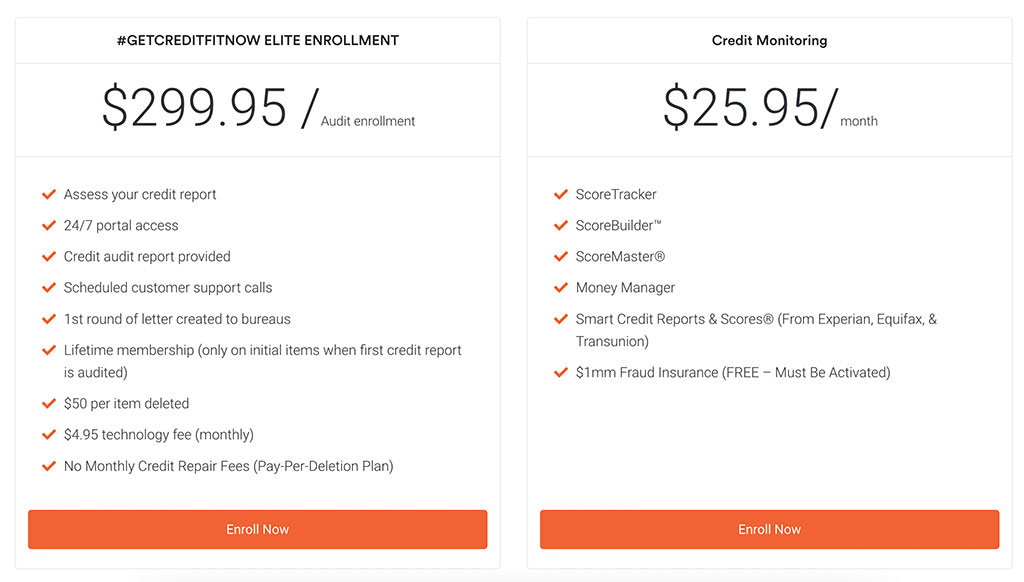 The second option is a full-service credit monitoring and repair service that costs almost $300 but offers a "lifetime membership" deal.
The Reliant Credit Repair affiliate program pays you a 40% commission on all sales generated through your affiliate links.
Why You Should Promote Reliant Credit Repair
They offer a transparent and affordable credit repair service, with the addition of the highest payout by percentage commission rate of any of the credit repair affiliate program choices on this list.
Commission:  40% per sale
Cookie duration: Emailed for info
Payment methods: Emailed for info
Products:  Credit Repair
---
Are Credit Repair Affiliate Programs Right for You?
If you live in the US, these credit repair programs could be very lucrative. The credit repair affiliate niche is pretty diverse – it's a mixture of credit repair services and debt settlement companies.
You could even go lateral on this and look at banks that offer loans or secured credit cards to people with poor credit. Or even bankruptcy services.
Helping restore or improve credit scores can be very lucrative, and there's a lot of demand for credit repair products and debt management services.
Because total consumer debt in the United States right now is around 15 trillion dollars.
So the only thing you need to complete your recipe for success is traffic.
And the good news is that's exactly what I teach how you how to do in my Affiliate Lab course – build a niche site that generates traffic.
Simply follow my step-by-step processes to build an online business you can be proud of.
Want to Become a PRO Affiliate?
Comprehensive lessons
Niche Grading tool
Step-by-step website building guide
Regular updates


Private Facebook community
Bonus courses
Lifetime course access