Great content is the heart of content marketing. With high-quality content, your business can position itself as an expert in the industry.
Content creation is a priority for the majority of digital marketing professionals. The best content marketing tool options can help your business get your content out to your audience through landing pages and other content strategy tactics.
I have spent months researching the best content marketing tools in the industry, and as a content marketer, I have used these tools multiple times.
For that reason, I came up with a list of the best content marketing tools that have been evaluated based on features, support, and pricing.
1. SEMrush (

Editor's Choice

)
SEMrush is a favorite among many SEO professionals due to the large amount of data it provides for SEO, competitor research, content creation, and link building.
SEMrush is a premium digital marketing tool that allows users to perform keyword research, view their competitor's content strategy for social media platforms and general search engine optimization, identify backlinks, and monitor their paid video content management strategies.
SEMrush has a keyword magic tool for high search volume, low competition keywords, an SEO content template, and an SEO writing assistant to create optimized content.
In my experience, its ability to help you increase organic traffic and stand out from competitors makes it the best content marketing tool.
Pros
Free and paid options

All-in-one SEO and marketing tool

Simple interface

Free version
Cons
No video marketing
Our Rating
Features:

5.0

Support:

4.9

Security:

4.9

Pricing:

5.0
---
2. HubSpot
HubSpot is ideal for consolidating multiple content marketing tools into one location. Most of HubSpot's marketing tools are free to try including popup tools, live chat, an all-in-one WordPress plugin, and a robust form builder [1].
HubSpot also offers an excellent CMS and a marketing automation platform to centralize everything with a free CRM. In my experience, HubSpot offers one of the best content marketing options in the industry and is a great all-in-one solution. 
Pros
An all-in-one marketing tool

Free CRM platform

Simple user interface
Cons
Difficult to use when not used as an all-in-one tool
Our Rating
Features:

4.9

Support:

4.8

Security:

4.8

Pricing:

4.9
---
3. WordPress
WordPress is ideal for blogging, publishing content, and creating portfolios. They provide customizable templates that are simple to use and can help you build a website quickly.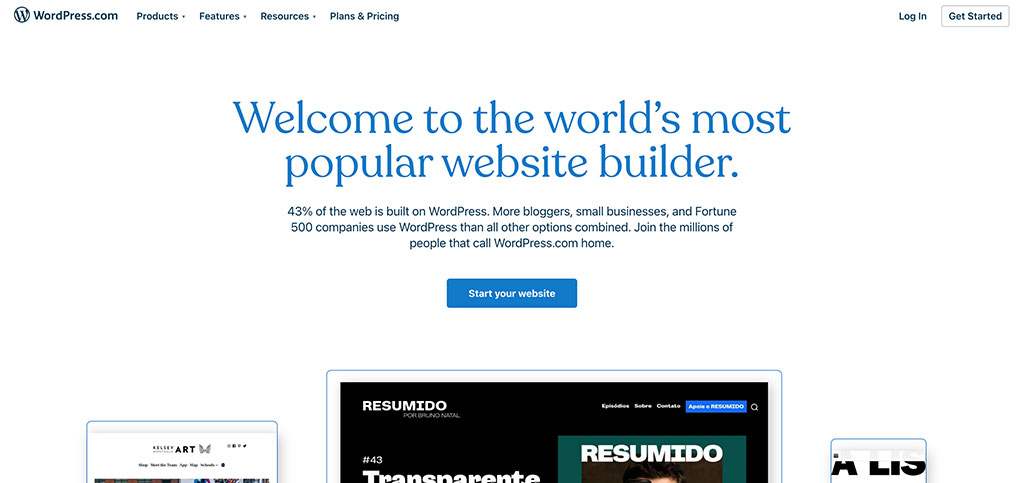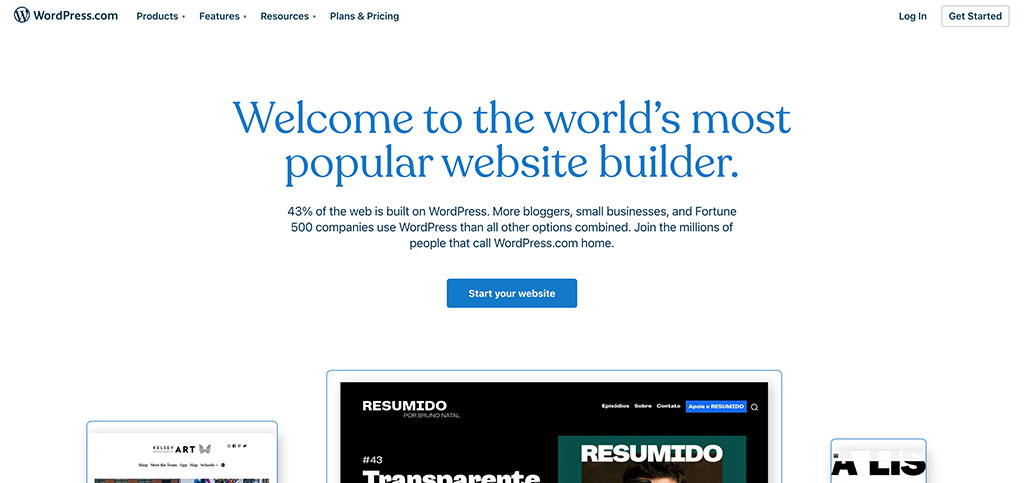 WordPress integrates with multiple plugins, providing an open-source CMS, a customizable platform, and more [2].
In my experience, WordPress is one of the most efficient marketing tools to engage website visitors.
Content is an atomic particle of all marketing strategies.
– Rebecca Lieb, Strategic Advisor and VP at The ClickZ Network
Pros
Thousands of plugins

User-friendly

Promotes SEO best practices
Cons
Updates may cause issues
Our Rating
Features:

4.8

Support:

4.8

Security:

4.8

Pricing:

4.9
---
4. Trello
Trello is ideal for tracking tasks and project management. They put all of your projects in one place that can be customized. Managing the process of producing content ideas can be done when using Trello.
Trello is a simple tool that can be used for many things, such as product roadmaps, sales funnels, growth experiments, and more.
In my experience, Trello is a tool that offers all the tools necessary for project management and managing visual content. 
Pros
Work on projects in real-time

Kanban system

Simple pricing
Cons
Limited customization
Our Rating
Features:

4.7

Support:

4.7

Security:

4.7

Pricing:

4.8
---
5. Yoast
Yoast is an SEO plugin that integrates with WordPress and Google Docs and works by rating your content's readability and SEO friendliness for search engines.
They provide the ability to set focus keywords and a checklist of objectives to optimize your content. The tool can help you rank better in search engine results.
In my experience, Yoast provides quality SEO analytics tools that will improve your website easily.
Pros
Suggests improvements for on-page SEO

Free tool

Simple SEO checker
Cons
Isn't a replacement for SEO keyword research
Our Rating
Features:

4.6

Support:

4.6

Security:

4.6

Pricing:

4.7
---
6. Airtable
Airtable is ideal for managing tasks and databases. It is another project management tool that combines features from Trello and spreadsheets.
It can be used for editorial calendars, influencer/writer management, writing SEO-focused content, and marketing campaign tracking.
In my experience, Airtable is great for managing tasks between multiple people and managing content in Google Docs and other platforms.
Pros
Great for collaboration

Easy to use

Streamlines workflow
Cons
Not specifically made to manage projects
Our Rating
Features:

4.5

Support:

4.5

Security:

4.5

Pricing:

4.6
---
7. Google Analytics
Google Analytics is great for goal tracking, conversion tracking, audience insights, website traffic data, and more. It is a free platform that can help you to improve your content with Google Search Console.
Google Analytics allows you to easily measure page views, session duration, and bounce rate and perform content research to identify what types of content appeal to your audience [3].
My experience has shown Google Analytics provides content analytics tools for tracking site metrics to allow you to understand what the searcher is looking for. 
Pros
In-depth website traffic

Customizable dashboard

Free tool
Cons
Large learning curve
Our Rating
Features:

4.4

Support:

4.5

Security:

4.5

Pricing:

4.6
---
8. Ahrefs
Ahrefs is ideal for doing keyword research, website analysis, and more.
Ahrefs allows you to find out what people are searching for on Google, helps you create web content to generate traffic, identifies link-building opportunities, and allows you to change technical elements of your website content to give you a higher website ranking. 
In my experience, Ahrefs is an excellent tool that helps identify technical SEO tasks and helps with content marketing workflows.
Pros
Simple to use

Useful SEO tools for influencer marketing

Track keywords at the local level for lead generation
Cons
Confusing pricing model
Our Rating
Features:

4.4

Support:

4.4

Security:

4.4

Pricing:

4.5
---
9. BuzzSumo
BuzzSumo helps with marketing, content analysis, trending topics, social media content planning, and performance monitoring. Identifying the right keywords with relevant internal links and scoping out the competition is crucial to creating high-quality content.
BuzzSumo allows you to sort keywords by their social media reach and search the web for content ideas to engage your audience on social media and other channels.
I have used BuzzSumo for months, and it has proven to be a great tool for marketing teams looking to manage their content and social platforms.
Pros
Customizable to content marketing tools

Detailed analytics

Content planning features for multiple channels
Cons
Only offers annual contracts.
Our Rating
Features:

4.3

Support:

4.3

Security:

4.3

Pricing:

4.4
---
10. Buffer
Buffer helps with content planning, user data, social media analytics, team collaboration, and more. Buffer is an all-in-one social media content marketing tool enabling your business to grow its audience and track its marketing performance.
Buffer can help you decide the best days and times to publish content, what content your audience is reading, target keywords to use, and more. In my experience, this platform allows you to create actionable content and improve your social media marketing strategy.
Pros
Plan, schedule, and publishes content all in one place

Affordable

Collaborate with your team
Cons
Limited to social media marketing
Our Rating
Features:

4.2

Support:

4.2

Security:

4.2

Pricing:

4.3
---
Buyer's Guide
The right tool can make all the difference when you want to ensure a successful content marketing campaign. 
It can help you create compelling content, reach your target audience, and measure success. However, with so many options available, how do you choose the best one? 
These are the factors you should always keep in mind when choosing a content marketing tool: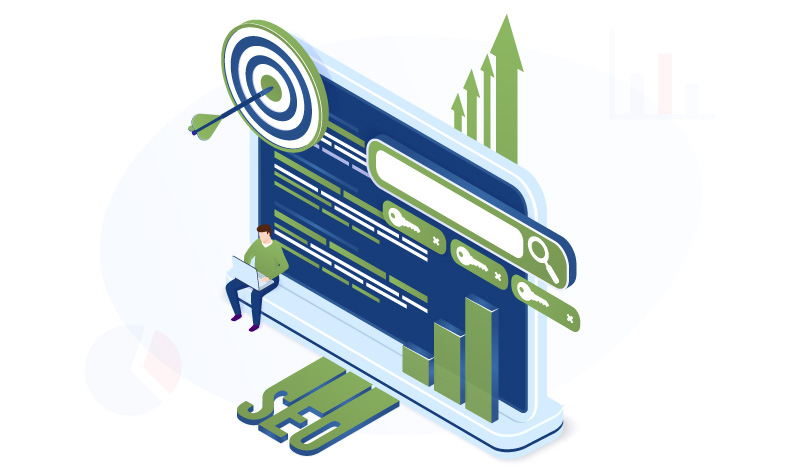 SEO Needs
Are you looking to create visually appealing content, improve your SEO, or manage your social media presence? There are tools designed specifically for each of these tasks.
For instance, a user-friendly design tool would be ideal if you're looking to create stunning visuals. If SEO is your focus, a keyword research and content optimization tool would be beneficial.
Budget
While some tools offer free versions, they may have limitations. Paid versions often provide more features and capabilities. However, ensuring that the tool offers good value for money is vital.
Ease of Use
A tool with a steep learning curve may not be the best choice, especially if you're short on time. Look for tools that are intuitive and user-friendly.
Integration Capacity
If you're using multiple tools, it's beneficial if they can work together seamlessly. This can save you time and make your content marketing efforts more efficient.
Remember, the best tool is not necessarily the most expensive or popular. It's the one that fits your needs, budget, and skill level.
FAQs
Do I Have To Use Tools For Content Marketing?
No, you don't have to use tools for content marketing, but you would be skipping out on a very positive impact on your business. Content marketing allows you to gather data that would be impossible to get otherwise.
What Are The Purposes Of Content Marketing?
The purposes of content marketing are to entertain, inspire, educate, and convince the intended audience.
What Is A Content Marketing Strategy?
A content marketing strategy is a specific approach to attracting and engaging the intended audience by creating and sharing relevant podcasts, videos, articles, and other media.
Are Content Marketing Tools Worth It?
Yes, content marketing tools are definitely worth it. The right content marketing strategy and tools can help you build a loyal audience, create authority for your business, build brand awareness, save time and effort, increase your social media following, and more.
Overall, we recommend SEMrush as the top choice. SEMrush is a great SEO and digital marketing tool that helps with keyword research, link building, SEO, competitor research, and traffic data.
Try SEMrush today to create reliable, SEO-optimized content to build your audience.
Our #1 Recommendation: Semrush