Online courses are an excellent way to build your community and grow your customer list.
Today sharing knowledge is quick and easy, especially with platforms like YouTube, but if you're looking to host an online course to explore a topic more in-depth and earn income, you'll need an online course platform to do it.
We have researched and personally used over twenty online course platforms to sell, create, and host online courses. We evaluated these platforms based on pricing, support, features, and more.
1. Teachable
Teachable helps people create online courses to grow and keep their online audience invested.
The platform enables you to build a website that is reflective of your brand, create sales pages for your online courses, and a course builder that can upload files from Google Drive, Onedrive, and Dropbox [1].
Teachable also offers flexibility in course pricing, so you can offer courses individually or in bundles, offer a payment plan, subscription, or a one-time fee.
Their email marketing tool also allows you to message course attendees when they enroll or complete your course and collect feedback on your course using Google Forms.
Their free plan includes unlimited students and courses with transaction fees of $1 plus 10 percent per transaction.
In our experience, Teachable is an easy-to-use online course platform that allows you to create online courses to grow your business simply.
Pros
Free plan

Built-in payment system

Training on video creating, launching and selling

Email marketing automation
Cons
Limited multi-lingual support
Our Rating
Commission:

5.0

Products:

5.0

Cookie Life:

4.9

Pricing:

5.0
---
2. Udemy
Udemy was one of the first online course platform options to make selling online courses possible. To create a paid online course in Udemy, you must apply to become a premium instructor.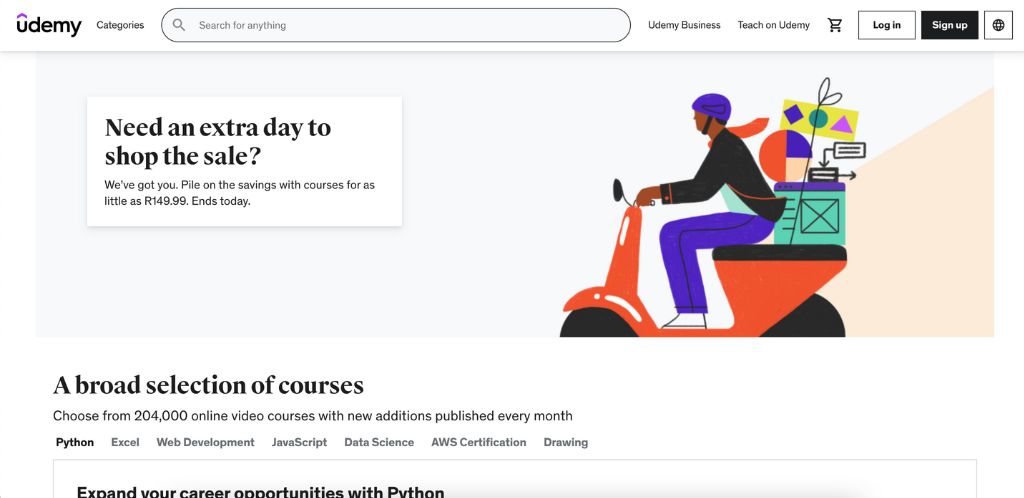 Then you will receive a series of steps to make your online course. You can add quizzes, discussion sections, and assignments while creating online courses.
Udemy offers a large amount of support for creating your online course. If you aren't sure your video lessons on your online course are at the level they should be, you can create a sample for review and get feedback and suggestions from Udemy.
Udemy's marketing programs also offer support to help you start your online course business and make those first sales. 
Udemy online course marketplace insights can help you pick the best course topic and compare it to other online courses on their platform to see how popular your topic is, the number of existing lessons on the topic, the monthly earnings of these courses, and more.
Udemy charges a three percent revenue share on course sales made by instructor coupons and a 63 percent revenue share on all other course sales.  
Pros
A large amount of support for the best online course 

Simple to launch online courses

A large audience of over 50 million students
Cons
It can be pretty competitive.
Our Rating
Commission:

4.9

Products:

4.9

Cookie Life:

4.9

Pricing:

4.9
---
Skillshare is a great option to teach creative skills through an online course. Their online course software has all kinds of topics, including marketing, cooking, photography, painting, and more.
The online course creation platform gives students access to a membership plan to access all its premium courses. It is a free, all-in-one platform for course creators to create and sell courses.
Skillshare encourages students to share their feedback and progress with course creators [2].
In our experience, Skillshare is a great free platform for online course creation. 
Pros
One month free trial

Affordable

Project-based learning
Cons
No certificates of completion
Our Rating
Commission:

4.8

Products:

4.8

Cookie Life:

4.8

Pricing:

4.8
---
4. Thinkific
Thinkific is among the best course platforms that take the effort out of creating the best online course with course templates.
They offer several templates for an all-in-one online platform, including pre-sell, mini-course, flagship course, membership resource library, and webinar replay options.
Unlike most online course platforms, their templates provide the right tools to build the best online course, including sample quizzes, surveys, downloads, and more.
You can also connect Thinkific to applications like Zapier to automatically add students to your marketing campaign or send SMS messages when they purchase the course. Thinkific is free for one course with unlimited students.
In our experience, Thinkific is an affordable option to create an online course with its useful templates easily.
Pros
First course free 

Customizable course creation

Payment options for students
Cons
No online course marketplaces for the course marketing
Our Rating
Commission:

4.7

Products:

4.8

Cookie Life:

4.7

Pricing:

4.8
---
5. Podia
Podia is one of the online course platforms that lets you build an online store for digital content. You can create online courses, coaching sessions, and digital downloads.
Once you create your online learning course, you can publish it and pre-launch it to collect student emails. They also offer videos, audio, text, cheat sheets, and more to supplement your online learning. 
Podia allows you to create your private membership site with different plans and content for members. Podia charges $33 monthly for unlimited everything, including email marketing, and no transaction fees. You can check how Podia compares to Thinkific in our in-depth analysis.
Pros
Ease of use

All in one solution

Built-in storefront
Cons
No phone customer support
Our Rating
Commission:

4.6

Products:

4.7

Cookie Life:

4.6

Pricing:

4.7
---
6. Kajabi
Kajabi allows you to create a marketing funnel, including a landing page, email opt-ins, and course checkout, all in one place. You can add the emails you collect to your email list, send them a thank you after purchase, and more.
Kajabi has templates for unlimited courses. Kajabi starts at $149 a month for online course creation.
In our experience, Kajabi is a one-stop solution for everything you may need to create an online course and market your brand.
Pros
Flexible

Live chat support

Easy-to-bundle offers
Cons
Expensive
Our Rating
Commission:

4.6

Products:

4.6

Cookie Life:

4.5

Pricing:

4.6
---
7. LearnDash
LearnDash is among the best online course platforms focusing on elearning and creating the best course material.
The online courses platform offers blended learning, built-in course creator authoring, certification, eCommerce management, mobile learning, storyboarding, quizzes and assessments, and more. Their basic plan starts at $159 a year.
In our experience, LearnDash is an excellent course platform for building a successful online business, but it is expensive.
Pros
Ease of use

Useful templates

Lots of customization settings for course content
Cons
Limited built-in payment options
Our Rating
Commission:

4.6

Products:

4.5

Cookie Life:

4.5

Pricing:

4.5
---
8. Mighty Networks
Mighty Networks is a standalone online course platform that helps you build an active community with your online business. Creators can sell courses, community memberships, or a bundle.
They also provide options to pay as a one-time payment or some custom option. Every course includes an activity feed to build engagement with members. Members can also share content, including text, images, and links.
As the course creator, you can set various topics to start the conversation and build live events along with your courses.
Mighty Networks plans to sell courses online start at $99 a month. In our experience, Mighty Networks is a great online community, but it is costly to sell courses online.
Pros
Clean and modern design templates

Personalizable notifications

Create and sell online courses
Cons
Overly expensive
Our Rating
Commission:

4.5

Products:

4.4

Cookie Life:

4.4

Pricing:

4.4
---
9. Skool
Skool is an online school created in 2019 and has been available to the public since early 2022, so Skool is new to the game.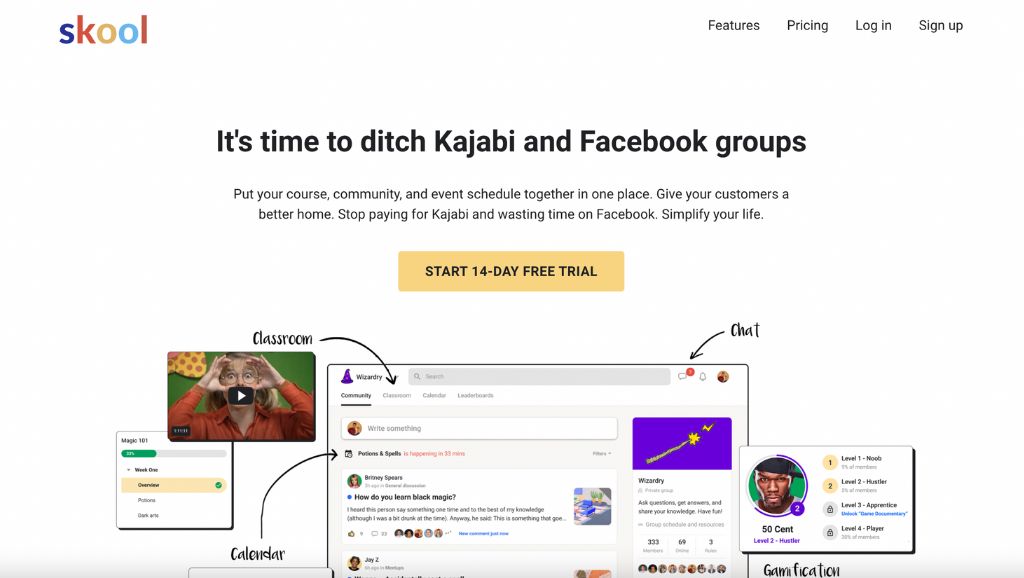 Skool presents itself as a simplified version of online teaching platforms to help creators build and present their online business to their audience. The online course builder focuses on community and tools to promote student engagement and retention.
You will create your own private membership site that your students can access to view your courses. In our experience, their free trial makes it easy to access if it's the right online course platform for your business
People expect to be bored with eLearning—let's show them it doesn't have to be boring!
– Cammy Bean, Vice President, Learning Design For Kineo
Pros
14-day free trial

Simple interface

Unlimited course creation
Cons
Lacks important marketing features
Our Rating
Commission:

4.4

Products:

4.3

Cookie Life:

4.3

Pricing:

4.3
---
10. Academy Of Mine
Academy Of Mine allows you to build a website and host and sell unlimited courses. They offer powerful learning management system features like built-in support for certificates, discussion forums, grade books, and more to boost engagement and enhance the learning experience.
Academy Of Mine's pricing starts at $9,997 for a year, including unlimited courses and users, quizzes, eCommerce tools, web and sales page builder, 24/7 customer service, online community discussion, custom payment options, activity logs, and more.
In our experience, while the Academy of Mine does offer a free trial for their service, it is extremely expensive if you don't need those specific features. 
Pros
User-friendly

Create courses in multiple languages 

Custom pages
Cons
Extremely expensive
Our Rating
Commission:

4.3

Products:

4.2

Cookie Life:

4.2

Pricing:

4.2
---
Buyer's Guide
How to Choose the Best Online Course Hosting Platform
There isn't the best online course hosting platform for everyone. The one that works for you will depend on your audience, budget, course content, and hosting needs. Before you choose a platform, ask yourself a few questions:
Goals

: Decide what you are trying to accomplish with your course. Are you trying to maximize income and build leads? Or is your profitable online business going to focus just on online courses?

Functionality:

What functionality do you need? Do you have licenses for CMS or marketing software? How much freedom do you want in your customization? Do you need a WordPress plugin or another plugin?

Price:

What is your budget for hosting as many courses as you need? Do you need a free or low-cost option, or can you afford something a little more expensive?

Viewers:

Do you have an existing audience, or are you looking to build one through course creation software? 

Content:

What kind of course or video content do you plan on making? Will everything be a video or a hybrid mix of video and written? Will your audience take your course on their phone or a computer?
Once you answer these questions, you will be able to find the best host for you.
When it comes to elearning, content is everything. If elearning content isn't well designed, the rest will just go down the drain.
-Christopher Pappas, Founder, eLearning Industry LLC
Different Categories of Hosting Platforms
There are four different types of online hosting platforms to choose from:
Standalone Hosting Platforms:

Standalone hosting platforms give you custom domains to host courses. Standalone platforms are great for entry-level course creators and include beginner-friendly tools to simplify course creation. They also give you complete control over pricing, payment structure, and viewer data. Examples of standalone hosting platforms include Teachable and Thinkific

[3]

.

Full Suite Hosting Platforms:

Full suite platforms have everything you need to manage your online business, including CMS, CRM, landing page creators, email marketing, and more. These are robust options that are a little more expensive.

Marketplace Online Hosting Platforms:

Marketplace hosting platforms are the most popular and user-friendly option for hosting. They provide standardized templates along with helpful marketing tools. They don't give you much control over branding, however. The main benefit is that marketplace platforms already have thousands of members, and most of them will market your course for you. 

WordPress Plugin Hosting Platforms:

If you already have a successful WordPress site and want to keep everything there, WordPress plugins allow you to do this. WordPress plugins help build your course on your website, but you need to know some technical information to ensure smooth integration

[4]

.
---
FAQs
What Is the Largest Video Sharing Platform?
Youtube is the largest, most popular video-sharing platform, followed by Tik Tok, Whatsapp, and Dailymotion. 
Youtube and Dailymotion are popular for sharing videos online for free. Other options include Vimeo and VdoCipher [5].
How Much Does It Cost to Host Online Courses?
It can cost between $200 and $10,000 to host online courses. It all depends on the host you use, the equipment, and more. If you are creating the course yourself and not paying a host to do it, time is the main expense.
Which Online Courses Sell Most?
The online courses that sell the most include Blockchain, Crypto, trading video production, graphic design, photography, health and fitness, arts and crafts, and personal development courses.
How Long Should a Paid Online Course Be In Length?
A paid online course should be between 10 and 25 hours on average. 5 to 10-hour courses are about 75 percent as profitable, and courses longer than 25 hours are less profitable. 
Which Platform Do We Recommend?
Choosing the right host for your online course can be crucial to reaching the right audience. Your choice depends on your budget, the features you need, what kind of content you are trying to produce, and your audience.
We recommend Teachable. Teachable helps you create online courses and websites that reflect your brand. Their course builder is simple and can help you create an effective online course.
They also offer flexibility in the pricing structure and email marketing to reach your viewers, and they even offer a free plan. Teachable also provides invaluable training on video creation, course launching and selling, and more. 
Try Teachable today and form an online course to keep your audience informed and engaged.
Our #1 Recommendation: Teachable