If you're grappling with choosing between Hostgator and GoDaddy, two of the world's most popular web hosting providers, you're in good hands.
As an experienced digital specialist, I've rolled up my sleeves and dived deep into both services.
Although they rank among the top five globally, with GoDaddy leading at a 17% market share and Hostgator in fifth at 5.12% market share, popularity doesn't always equal performance.
That's why I've put both services to the test, comparing over ten features and conducting performance trials.
My comprehensive Hostgator vs GoDaddy analysis will provide you with clear insights to help make your decision a data-driven one.
What Is Hostgator?

Founded in 2002, Hostgator quickly made a name for itself in the hosting market. It has hosted over 2.5 million websites and operates with over 1,000 full-time staff.
So it's no surprise why Hostgator was acquired in 2012 by the Endurance International Group (EIG) for an aggregate purchase price of $299.8 million.
---
What Is GoDaddy?
Founded in 1997 in Arizona, GoDaddy also powers over 2.5 million websites. With 7000+ employees on its roster, GoDaddy is among the biggest hosting companies in the world.
Now, you might be wondering whether there's any difference between these services, given they both compete in the cheap web hosting space and offer budget solutions.
Stick with us to the end for all the juicy details on how Hostgator and GoDaddy compare.
---
Hostgator Vs GoDaddy: Web Hosting Plans Compared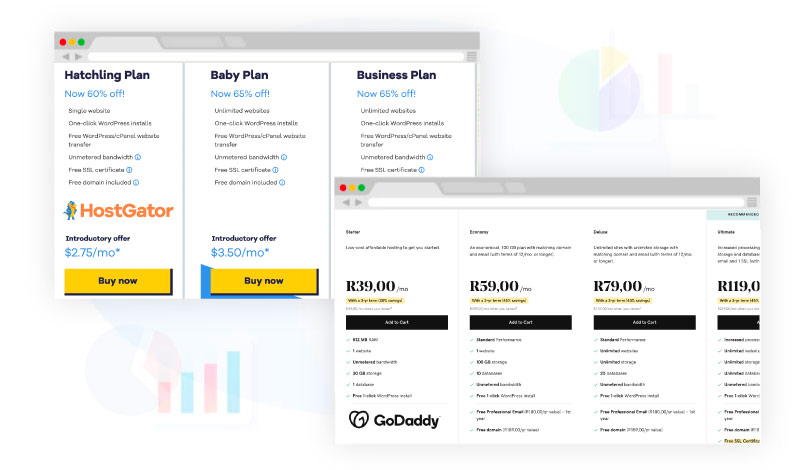 Let's start this analysis by comparing the plans each company offers.
| | Hostgator | GoDaddy |
| --- | --- | --- |
| Affordable Shared Hosting | | |
| WordPress Hosting | | |
| Cloud Hosting | | |
| Virtual Private Server | | |
| Dedicated Hosting | | |
| Reseller Hosting | | |
All in all, Hostgator and GoDaddy are two of the most popular services because they offer affordable prices. The types of hosting plans offered by both Hostgator and GoDaddy are very similar.
The best hosting plan for you will depend on what features you need in your web host.
So let's take a look at how their plans stack up against one another first before choosing outright which provider is right for you.
When looking at Hostgator compared to GoDaddy pricing, first impressions can be deceiving. Both hosting providers offer cheap deals on the condition that you sign up for a 2-year or 3-year hosting plan.
GoDaddy is using loss-lead pricing strategies. Just like Hostgator. They won't make as much money from the initial sale but will win more customers by dropping their rates low enough to attract new clients. They recoup profits through upsells or renewals down the track.
When doing your research, make sure you look beyond the initial deals available. Especially when it comes to how many years you need to sign up for to secure cheap monthly rates.
That's how you get a better sense of the total costs.
Promotional Pricing
| Plan | Hostgator Plans | GoDaddy Plans |
| --- | --- | --- |
| Lowest Tier | $2.75/month | $5.99/month |
| Middle Tier | $3.50/month | $7.99/month |
| Highest Tier | $5.25/month | $19.99/month |
Renewal Pricing
| Plan | Hostgator Plans | GoDaddy Plans |
| --- | --- | --- |
| Lowest Tier | $6.95 - $10.95/month | $8.99 - $10.99/month |
| Middle Tier | $9.95 - $11.95/month | $11.99 - $12.99/month |
| Highest Tier | $14.95 - $16.95/month | $24.99 - $28.99/month |
Winner: Hostgator is a clear winner on shared hosting if the price is a concern for you.
2. WordPress Hosting
Both GoDaddy and Hostgator offer managed WordPress hosting for small businesses and online stores.
We'll get into the features offered by each hosting company later in this article. For now, here's how their WP hosting compares on price.
Promotional Pricing
| Plan | Hostgator WP Hosting | GoDaddy WP Hosting |
| --- | --- | --- |
| Lowest Tier | From $5.99/month | From $6.99/month |
| Middle Tier | From $7.95/month | From $11.99/month |
| Highest Tier | From $9.95/month | From $18.99/month |
Renewal Pricing
| Plan | Hostgator Plans | GoDaddy Plans |
| --- | --- | --- |
| Lowest Tier | $6.95 - $10.95/month | $8.99 - $10.99/month |
| Middle Tier | $9.95 - $11.95/month | $11.99 - $12.99/month |
| Highest Tier | $14.95 - $16.95/month | $24.99 - $28.99/month |
Winner: Hostgator clearly comes out on top with regard to pricing for WP hosting too.
3. VPS & Dedicated Hosting Plans
Now, we can't compare dedicated and virtual private server hosting to shared hosting directly as they are quite different from each other.
Shared hosting uses one server and hosts multiple websites on it. It means your website is open to vulnerabilities affecting the other websites on the same server.
VPS hosting uses a virtual environment that imitates a dedicated server. It's still shared hosting, but you get a partitioned space with all its resources to yourself.
Dedicated hosting allows you to have your own server and is recommended for sites with loads of traffic coming to them every month.
Make sure you read the fine print to know what type of server situation you're getting into with your web host.
A quick word about cloud hosting is also needed here, given Hostgator offers this and GoDaddy doesn't.
True cloud hosting offers dedicated servers and a stack of other customizable options. Hostgator's cloud hosting services aren't what would be considered "true" cloud services. They're more like shared hosting on steroids.
We've written more about this in our Hostgator vs SiteGround review. So for our purposes in this article, we won't look into the cloud hosting option much further.
VPS Hosting
Promotional Pricing
Renewal Pricing
Plan
GoDaddy
Hostgator
GoDaddy
Hostgator
2GB RAM
$9.99/month
$19.95/month
$9.99 - $14.99/month
$79.95/month
4GB RAM
$19.99/month
$29.95/month
$19.99 - 29.99/month
$119.95/month
8GB RAM
$39.99/month
$39.95/month
$39.99 - $59.99/month
$149.95/month
Winner: GoDaddy offers lower-priced VPS hosting than Hostgator. What's more, there is an even cheaper tier starting at only $4.99/month for only 1GB of RAM.
As far as renewal pricing goes, GoDaddy wins again since it allows customers to lock in the promotional price as the renewal price. The condition is that you must renew for another 3-year term.
Concerning resources, GoDaddy and Hostgator have somewhat comparable plans regarding RAM capacity and the number of CPUs offered. However, Hostgator consistently offers more SSD storage.
Even if SSD storage was the most important feature for your needs, it still works out cheaper for you to upgrade to a higher plan with GoDaddy than to wear the significant price increase of Hostgator's renewal fees.
Check out GoDaddy's VPS details[1], and Hostgator's VPS details[2] side by side if you're looking for specific features for any of your WordPress websites.
Dedicated Hosting
Promotional Pricing
Renewal Pricing
Plan
GoDaddy
Hostgator
GoDaddy
Hostgator
Lowest Tier
$129.99/month
$89.98/month
$169.99/month
$189/month
Middle Tier
$169.99/month
$119.98/month
$219.99/month
$249/month
Highest tier
$399.99/month
$139.99/month
$499.99/month
$289/month
At first glance, it would appear that Hostgator is significantly cheaper than GoDaddy. However, the value and resources of GoDaddy's plans far exceed those of Hostgator.
For instance, Hostgator's three pricing tiers offer 8GB, 16GB, and 30GB RAM, respectively. GoDaddy's lowest tier starts at 32GB RAM and is most comparable to Hostgator's highest tier.
It's also worth noting that to get the discounted price, you'll need to pay 36 months upfront with Hostgator and 24 months upfront with GoDaddy.
Honestly, if you can afford to pay that much upfront, your website will likely need a better-performing solution than what either GoDaddy or Hostgator can offer.
Winner: It's a tough one, but we're handing it to GoDaddy due to the level of resources delivered.
If you're making your decision on price alone, Hostgator's smaller plans are better to get you started but will cost you a lot more when it's time to renew. They also won't offer anywhere near the same functionality or resources.
On this note, let's dive into the features and performance of each of these hosting companies next.
---
Hosting Features Comparison
When shopping for hosting, price should not be the only deciding factor. There are many hidden terms, conditions in the fine print, and feature exclusions requiring further investigation.
There's also the matter of validating each company's marketing claims as far as performance is concerned.
In the following sections, we unpack the performance and in-built features of both GoDaddy and Hostgator.
We'll also share the data from tests we've run to quantitatively prove which is the better option between these two web hosts.
1. Ease Of Use
Both GoDaddy and Hostgator offer beginner-friendly dashboards that integrate with cPanel-based solutions. Dedicated and virtual private server hosting options require more technical knowledge as they offer customized server setups on some plans.
But, for most customers who use shared hosting, the range of 1-click installs, intuitive dashboard, and navigation elements are easy to use.
Winner: Both are just as intuitive and easy to use as each other.
2. Speed
It's no secret that loading speed directly impacts user experience and SEO.
Thanks to studies by Amazon and Deloitte, we also know that slow-loading websites are constantly losing money.
In Amazon's case, 100ms extra in load time costs about 1% of revenue [3]. Back in 2006, when Amazon's engineers first discovered this, 1% of revenue amounted to about $107 million. Today, that's over $3.8 billion in annual revenue!
Slow hosting services are the number one culprit that could also be costing you a tonne of hard-earned cash.
So we put GoDaddy and Hostgator to the test to see who puts their money where their mouth is.
GT Metrix
Hostgator
GoDaddy
Performance Score
TTFB
Fully Loaded Time
Performance Score
TTFB
Fully Loaded Time
Vancouver
0.48
1.6s
12.7s
0.98
438ms
5.8s
London
0.27
1.7s
7.1s
0.91
152ms
1.1s
Sydney
0.12
1.3s
9.5s
0.68
392ms
8.7s
Pingdom
Hostgator
GoDaddy
Pingdom Performance
Pingdom Load Time
Pingdom Performance
Pingdom Load Time
San Francisco
65
3.24s
96
1.4s
Frankfurt
65
2.84s
95
1.3s
Tokyo
65
3.09s
96
1.3s
London
64
5.70s
92
1.7s
Washington DC
64
3.65s
93
1.4s
Sydney
64
3.41s
93
1.7s
Winner: The data couldn't be clearer! GoDaddy is miles ahead compared to Hostgator.
You can also check out our post on the fastest hosting companies to see how GoDaddy compares to others.
3. Uptime:
Uptime relates to a server's reliability and can lead to direct income losses when a server is down.
The web hosting industry standard for uptime is 99.90%. Most hosting providers (including Hostgator & GoDaddy) will guarantee at least this amount. However, even 0.09% of downtime per year is over 8 hours that your site is not accessible by your customers.
If this happens during a peak sale season or during a critical time when you're expecting many visitors to your website, the effects could be very damaging.
So here's how Hostgator and GoDaddy compare when it comes to uptime and server reliability.
Hostgator Uptime
There was a time when Hostgator guaranteed 99.99% uptime (the highest amount guaranteed by any of the major hosts back then).
However, we've noticed that Hostgator's server performance has declined over recent years.
Instead of improving its server infrastructure, Hostgator opted to reduce its uptime guarantee to 99.90%.
This allows Hostgator's servers to experience up to 8 hours and 45 minutes of downtime per year instead of just 52 minutes – per the original guarantee.
If we also look at Pingdom's uptime monitoring [4], Hostagtor's average uptime since 2015 has been 99.89%, less than the industry average.
Despite this, in our tests, we observed that Hostgator's shared hosting servers were relatively stable across the board, with only four downtime events in 2021.
GoDaddy Uptime
Compared with Hostgator, GoDaddy's servers are significantly less reliable. We documented over 500 downtime events between 2020 and 2021 in our tests.
It could just be we were very unlucky and experienced the worst of the worst of GoDaddy. Even so, this data is hard to overlook.
| GoDaddy Uptime | Total | 2020 | 2021 | | | |
| --- | --- | --- | --- | --- | --- | --- |
| Total Downtime Events | 500+ | 362 | 139 | | | |
| Total Minutes of Downtime | 346 hrs, 40 mins | 331 hrs & 47 mins | 14 hrs & 50 mins | | | |
| Downtime events < 1 minute | 399 | 285 | 114 | | | |
| Downtime Events 1-3 minutes | 461 | 336 | 125 | | | |
| Downtime events >3 minutes | 42 | 28 | 14 | | | |
Usually, if most downtime events are less than a minute long due to a minor connection timeout, we tend to look the other way. It's not that big a deal.
But when experiencing hundreds of downtime events, and most are over a minute long, some even taking hours to resolve, there's a big problem there that needs addressing.
As you'll also observe in the table below, GoDaddy's uptime has been steadily declining as time goes on. So our confidence in GoDaddy's services for any business-related websites (especially e-commerce stores) is rather low.
Here's the data in a head-to-head format compared with Hostgator.
| | 2018 Uptime | 2019 Uptime | 2020 Uptime | 2021 Uptime |
| --- | --- | --- | --- | --- |
| Hostgator | 99.98% | 99.94% | 99.91% | 99.98% |
| GoDaddy | 99.97% | 99.97% | 99.95% | 99.93% |
Note: These figures are averages across many websites, not just the ones we use for testing.
Most people won't experience the amount of GoDaddy downtime events it seems that we did. But, that's still not enough to excuse GoDaddy's declining server reliability.
All in all, we'd like to see better uptime than either GoDaddy or Hostgator seem to be delivering.
Winner: However, we're handing it to Hostgator for this round as their servers are more reliable than GoDaddy's, according to our testing data.
4. Customer Support
Given that Hostgator and GoDaddy are both web hosts aimed at beginner markets, customer support is another crucial feature that their audiences will need to rely on.
To compare the level of customer support between these two hosting providers, we turned to Trustpilot. You can access GoDaddy's page here, and Hostgator's here.
Hostgator Support Services
As you can see above, HostGator's support tends to get a bad rap.
For basic issues, it may be ok. However, if there's a more technical problem with your hosting server, Hostgator's support has left many clients in the lurch for issues that aren't the client's fault.
This is a major red flag for us. If anything goes wrong, you need to know your hosting provider has your back when you need it most.
GoDaddy Support Services
Upon first impression, GoDaddy seems to have a far higher rating than Hostgator. However, GoDaddy support is far more likely to upsell additional services that are often not needed or understood by clients.
GoDaddy's upselling tactics are known to be quite aggressive, even during support, and their upsold services are consistently overpriced.
Take free domain names, for instance.
GoDaddy may offer ridiculously cheap initial discounts and free domain names with hosting, but they are always more expensive than the average price for renewals.
You can compare the data for yourself in our post about the cheapest place to buy domains. This pattern is the same across many of their other upsells too.
Winner: It's a tough choice and for all the wrong reasons. We're not handing it to either company.
You shouldn't have to settle for terrible support, being left hanging or resorting to spending more money to fix problems that shouldn't be there in the first place.
Check out our list of the best small business web hosts for alternatives if customer support is as important to you as it is to us.
5. Servers & CDN
For anyone targeting audiences in a specific location, it's worth looking at where your website's servers are located.
Both Hostgator and GoDaddy have servers in the US. However, GoDaddy has nine total data centers with most servers in the US and a couple in Amsterdam and Singapore.
If you have an international audience, you'll need to use a CDN service like Cloudflare to help readers access your content quickly from other countries easily. Both Hostgator and GoDaddy provide access to basic CDN services.
Winner: GoDaddy as it has more data centers and can support websites with audiences outside the US better than Hostgator.
6. Storage
GoDaddy offers unlimited storage on many web hosting plans. This includes e-commerce stores which typically need more space for images and product listing details. They also offer a free domain name.
On the other hand, HostGator offers unmetered storage and bandwidth with fair use limitations applied.
Unlimited Bandwidth & Storage: There is no cap on the amount of storage you can use. Check the fine print to ensure you're getting a true "unlimited" service.
Unmetered Bandwidth & Storage: The storage you use is not tracked unless you use more server resources than is deemed fair. Usually, this is around 20% – 25% of a server's capacity for over 90 seconds.
As for VPS storage, Hostgator offers more storage and RAM but for higher prices. As mentioned earlier, it works out cheaper to upgrade to a higher GoDaddy tier (and get extra other resources too) than to choose Hostgator only because they offer more SSD storage.
When it comes to dedicated hosting, GoDaddy's smallest hosting plan offers more storage than Hostgator's highest.
Winner: GoDaddy since they offer unlimited storage options and consistently deliver better value for money than Hostgator for most types of hosting.
7. Backups & Security
"We take security seriously" could be the motto of just about every hosting company out there. They all say something to this effect, so let's take a look at how Hostgator and GoDaddy stack up.
| | GoDaddy | Hostgator |
| --- | --- | --- |
| Free SSL Certificates | Yes | Yes (Let's Encrypt) |
| Free Automatic Backups | Paid Extra | Yes (Weekly) |
| Web Application Firewall | Paid Extra | Yes |
| DDoS Protection | Paid Extra | Yes |
| Brute Force Protection | Paid Extra | Yes |
| Bot Blocking | Paid Extra | Yes - Manual |
| Malware Protection | Free daily scans | Paid Extra |
| 24/7 Server Monitoring | No | Yes |
| WP Security Plugin | No | No |
Winner: Hostgator. Security and backups should be included as part of any decent hosting service.
To get a comparable level of protection to what Hostgator offers in its budget shared hosting, you'd need to spend at minimum an extra $123.36/yr with GoDaddy!
---
Pros & Cons
Hostgator Pros
Very low prices for shared hosting
Beginner-friendly
Offers more storage on VPS
Free website migrations
Free SSL certificate and security features
Free domain name with hosting
Hostgator Cons
Uptime could be improved
Doesn't offer managed Woocommerce hosting
Poor speed performance
Poor website performance
Limited server locations
GoDaddy Pros
Beginner-friendly
More storage than Hostgator
Lower-cost VPS hosting
Better resources on dedicated servers
Better speed performance than Hostgator
International server locations
Free domain name with hosting
GoDaddy Cons
Poor uptime
Poor server reliability
Aggressive upsell tactics
Many standard security features need to be bought separately
Higher than-average renewal prices
---
Hostgator Vs GoDaddy: The Ultimate Winner
If you have a WordPress website and are choosing between these two popular web hosting companies and web hosting services, our top pick for a web hosting provider is GoDaddy.
Despite a few drawbacks, particularly in the areas of performance and support, GoDaddy outperforms HostGator in performance tests, a critical parameter for any website owner.
However, it's worth noting that HostGator maintains a slight edge in the uptime department, illustrating GoDaddy's potential room for improvement.
If you'd like to get started with GoDaddy hosting today, click the link below.
Our #1 Recommendation: GoDaddy